Jeremy Corbyn is haunting British politics – The Japan Times
LONDON – It's tempting to ignore the Labour Party's leadership contest. Like a roadside accident, it almost seems indecent to look too closely and you have other places to be. Yet it's worth slowing down to take stock.
Opposition parties in democracies aren't some superfluous accessory. They hold the governing party to account, call attention to issues the government may overlook and promote the healthy competition of ideas. Britain's House of Commons is designed with opposing benches precisely to underscore that battle. It doesn't work if one set of benches is slouching toward oblivion.
Labour's job has become a lot more difficult after three straight election defeats. The party's first order of business as it selects a new leader is to decide why it lost so badly to Prime Minister Boris Johnson's Conservatives in December. But the campaign so far has been an exercise in avoidance, and the polarizing figure of Labour leader Jeremy Corbyn haunts the process.
Corbyn remains the titular head until a new leader is crowned. He retains a great deal of support among the party's loyal core: the trade unions who are key to the election of a new leader and the grassroots Momentum movement. It's hard to have a frank discussion about his disastrous legacy when he's still in the room.
Some of the most astute analysis of Labour's thumping loss has come from Lisa Nandy, member of Parliament for Wigan, who resigned from Corbyn's shadow Cabinet in 2016 over his management and her party's Brexit position. Nandy is an outside shot for the leadership, but she has impressed with her straight talk on where the party went off the rails. Speaking about feedback from voters, she says:
"There was just a general sense that at the top of the Labour Party we don't speak for people like them anymore, a sense we don't have skin in the game, that we're not rooted in those communities, and we're just not like them, and we don't come very often to just ask people what they think and to listen to what they've got to say."
So far, the battle appears to be between shadow Brexit secretary Keir Starmer and shadow business secretary Rebecca Long-Bailey. Starmer, a former director of public prosecutions, has two strikes against him from the outset: He's male and represents a London seat. Labour is intensely conscious of being the only party that hasn't had a female leader, and also that it's seen as too urban and out of touch with its once loyal base in northern England. He's an establishment figure, however much he claims working-class roots.
It would be a shame if Labour voters let those factors distract them. What Starmer may lack in everyman appeal, he makes up for in intellect, integrity and respect across the benches.
Known more as a pragmatist than an ideologue, Starmer has still taken pains to show his lefty bona fides. At the Labour Party conference in the autumn, he said he couldn't bring himself to seek private medical care or private education; that this had been drilled into him by his Labour-supporting family. He certainly comes across as sincere, but those comments struck me as a sign he's missing something fundamental about many former Labour voters that Johnson instinctively understood: They, too, have aspirations.
While most Britons want improved public services — and are happy to pay for it, up to a point — I see no evidence that responding to inequality and poor services with less choice and competition is the way to win elections, or even the right policy. Labour's approach feels condescending instead of uplifting and Starmer has held that off-key tune so far.
He was at his best when challenging the Tories' Brexit deals or joining other parties to thwart a no-deal exit. But Labour's own Brexit strategy was a muddle — trying to placate both its urban "remainer" support and working-class "leavers." The latter preferred Johnson's simple offer to "Get Brexit Done." Starmer's best hope is that the issue will be less toxic and divisive for Labour once Brexit is completed.
His chief opponent, Long-Bailey, is the "continuity Corbyn" candidate. A protege of Shadow chancellor John McDonnell and a life-long socialist, she says there is nothing wrong with the party's hard-left economic policies and that they could even go further. "You're as likely to see me on a picket line as you are at the dispatch box," she says, "and you can trust me to fight the establishment tooth and nail."
Long-Bailey's diagnosis of the election loss has more to do with style than substance. Labour didn't have a snappy slogan like Johnson's Brexit one. Its compromise position on Brexit was resented by both leavers and remainers, and it wasn't trusted on anti-Semitism. She also blames the media for attacking Corbyn. All of this may be true, but it feels like focusing on a heart attack victim's route to work that day.
On policy, Long-Bailey wouldn't change much. She would refocus the party on her Green New Deal, including a commitment to net zero emissions by 2030. That plan has spooked the unions, who worry that the target, as well as measures against fracking and aviation, would hurt their members. Unless Johnson abandons his own improved climate agenda, Long-Bailey's strategy will look like too much risk for too little benefit.
As the Momentum-backed candidate, however, Long-Bailey has a large organized movement behind her with access to membership data — a definite advantage because the members vote for the leader. (Labour's National Executive Committee ruled the other candidates can't have the data until a week before ballots are sent out).
This race will run for a while yet. The candidates need support from at least 10 percent of Labour MPs (including members of the European Parliament), plus 5 percent of either Labour constituency parties or three affiliated unions. The list is whittled down through preferential voting until one candidate reaches 50 percent, with results announced on April 4.
The early support for Starmer suggests that many party members know a real correction is needed. But there's enough time for Corbynistas to try to influence the vote in favor of their candidate. That will hardly bother Johnson, but it should make the rest of the country deeply uneasy.
Therese Raphael writes commentary on European politics and economics for Bloomberg Opinion.
Love in the Time of Trump: How Do You Approach Politics on Dating Apps? – The New York Times
Americans are watching an impeachment trial against their president unfold, just as the country prepares for the Democratic primaries and caucuses. We're living in an era of heightened politics and divisiveness, and, for many, where you stand politically can feel as important a part of your identity as your religion or profession.
Enter dating apps.
With just a few words and an emoji, you can indicate whether you're for or against President Trump, how you'll vote in the next election and what belief system you're looking for in a partner.
Here are a few recent examples my editor and I spotted on Bumble: "Monthly donation to Bernie." "Moderate." "Jesus on my team 🏆." "Just another immigrant in USA." "I'm fond of progressive/lefty politics and social justice."
Likewise, guessing potential matches' political beliefs through clues in their bios — American flag emojis, campaign slogans, religious references — can determine how you swipe.
If you're on the apps, we would like to hear how you convey where you fall on the political spectrum and what signs (positive and negative) you look for when interpreting others' profiles.
And if you're rolling your eyes at all of this, we also want to hear that — tell us if and why you think politics should have nothing to do with dating.
Please fill out the form below. We may publish a selection of the responses in an upcoming article.
Bill de Blasio's bagel gaffe and the fraught politics of food
If New York City Mayor Bill de Blasio hadn't already dropped out of the 2020 presidential race, #bagelgate might have been the nail in the coffin.
His Jan. 15 tweet praising a toasted bagel on National Bagel Day instantly set off hardline bagel devotees-cum-voters. De Blasio quickly amended his tweet to delete the word "toasted." But the damage was already done. Purists scorned the very idea of toasting a bagel, calling into question his bona fides as a New Yorker.
The outrage over bagel protocol may seem silly. But few acts are as personal as eating, and food is closely intertwined with place and culture.
For a politician, food might seem like a low-hanging fruit. Is there an easier way to appeal to the masses? Everyone, after all, eats.
But when politicians wade into local food customs, they do so at their own risk. My research on presidents and first ladies suggests that uninformed assumptions about food often get candidates and elected officials in trouble.
Bill de Blasio isn't the first politician to run afoul of food norms and face the wrath of voters. And he certainly won't be the last.
Culinary campaign calamities
Most political wannabes try hard to bridge the gap between their wealthy backgrounds and the rest of us. It rarely works.
During the 1976 presidential campaign, incumbent president Gerald Ford, before the eyes of bewildered Texans, peeled back the aluminum foil – but not the corn husk – and took a giant bite out of a tamale. Ford never lived it down.
According to former Arkansas Governor Mike Huckabee, "The Great Tamale Incident" sealed Ford's loss to Jimmy Carter in the Lone Star State.
In 2003, Democratic presidential candidate John Kerry unwittingly broke food norms when he ordered Swiss cheese for his Philly cheese steak instead of Cheese Whiz. Nine years later, Republican Mitt Romney asked for a "sub" in Pennsylvania, where, as locals will tell you, they call them hoagies. And Romney again made himself an easy target for mockery in 2019, when the millionaire businessman claimed his favorite type of meat was a hot dog.
Pizza is treacherous terrain: Republicans Donald Trump, Sarah Palin and John Kasich have all faced withering criticism for eating pizza with a fork. Bill de Blasio made the same mistake, too, in what was dubbed "forkgate."
But no food has a greater potential for campaign catastrophe than the corn dog. The optics of state fair corn dog consumption are never good. The web is full of wince-worthy photos of Michele Bachmann, Rick Perry and Bernie Sanders all struggling to maintain their dignity while biting into a battered, oversized wiener popsicle.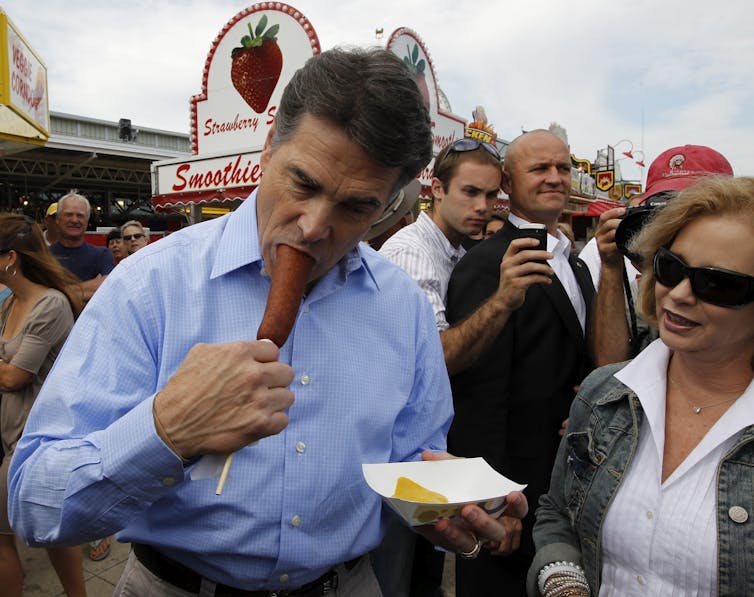 Better to be a vegan like Cory Booker – and avoid them altogether – than be seen on the wrong side of the corn dog. That may be one rule that a majority of voters can agree on.
You're out of touch…
Other politicians are either unaware – or don't care – about their elitism.
In 1972, the beer-swilling, working-class regulars in a Youngstown, Ohio bar cringed when Democratic vice presidential candidate Sargent Shriver hollered, "Make mine a Courvoisier!"
In 1988, Democratic presidential candidate Michael Dukakis suggested to debt-ridden Iowa farmers that they grow Belgian endive, a bitter, leafy green seldom found outside of gourmet restaurants. Almost 20 years later, fellow Democrat Barack Obama told those same farmers that arugula might bring in more profits than corn and soybeans.
Obama also made the mistake of asking for Dijon mustard – and no ketchup – for his cheeseburger. Fox News host Sean Hannity let him have it, calling him "President Poupon."
The producers of an infamous 2004 attack ad damned Democratic presidential aspirant Howard Dean for his elitism. Not surprisingly, food played a role.
Dean, the ad sneered, was a "latte-drinking, sushi-eating, Volvo-driving, New York Times-reading, body-piercing, Hollywood-loving, left-wing freak show."
These gastronomic tales show how the semiotics of what and how we eat matter profoundly to millions of people.
On the one hand, to transgress is to risk looking inauthentic, disrespectful or foolish – none of which is sound politics.
On the other hand, unabashedly embracing the latest health food trends can get a politician ridiculed as elitist and out of touch.
Perhaps the best outcome is simply to win. A president can indulge in guilty gastronomic pleasures. Ronald Reagan loved his jelly beans, George H.W. Bush couldn't put down his pork rinds and Bill Clinton, until his heart surgeries, was irresistibly drawn to McDonald's.
For political candidates, however, a shrewd understanding of American eating habits is the recommended minimum daily requirement on the campaign trail.
Opinion: American Politics Is Messy. But Here's A Little Global Perspective – NPR
American democracy can seem messy in a week like this. Impeachment hearings looming, six-headed debates, people snapping, sniping, and all the costly, time-consuming, and chaotic accouterments of polls, fund-raising and campaign rallies.
It's one way to run a country. But this week might also offer a little perspective from around the world.
Just this week in Russia, Vladimir Putin shifted power in the government so when he leaves that office in 2024, he can continue to rule and enrich himself, as he has for 20 years.
President Xi Jinping ended term limits on China's leaders in 2018. You don't even have to mention Cuba, Iran, North Korea, Saudi Arabia, or any other authoritarian government to see how all over the world, leaders left and right-wing just hold on to power.
Hugo Chavez eliminated Venezuela's presidential term limits in 2009. His successor, Nicolas Maduro, has kept his grip on the government with elections the Venezuelan National Assembly and the Organization of American States call fraudulent, after opposition candidates and electoral observers were excluded.
Turkey's Recep Tayyip Erdogan took power as prime minister in 2003 — was elected president in 2014, then established an "executive presidency" in 2017. He has suppressed a free press, and arrested political opponents and academics.
In Africa, Isaias Afwerki led the Eritrean People's Liberation Front to victory in 1993 — and has been president of Eritrea ever since, a distinction no doubt made easier by outlawing all other political parties and locking up political prisoners.
The Council on Foreign Relations also says at least 17 other African heads of state have tried to change their country's constitutions since 2000 to stay in power.
Viktor Orban is strengthening his hold on Hungary.
Prime Minister Netanyahu wants the Israeli parliament to give him immunity from prosecution on bribery and fraud before Israel's next elections in March.
Today's world abounds with examples authoritarians and autocrats, tightening their grip in chaotic, confusing times.
This week, there may have been a message in all the American messiness.
Elections count.
Legislators have real powers and responsibilities. A free press can break important, critical stories about people in power. Even an imperfect democracy can give dissident voices the chance to be heard and keep open chances for change.