Johnson and Johnson's COVID-19 vaccine trial paused after participant's unexplained illness – CP24 Toronto's Breaking News
The Associated Press

Published Monday, October 12, 2020 10:33PM EDT


Last Updated Monday, October 12, 2020 10:35PM EDT

NEW BRUNSWICK, N.J. – A late-stage study of Johnson & Johnson's COVID-19 vaccine candidate has been paused while the company investigates whether a study participant's "unexplained illness" is related to the shot.
The company said in a statement Monday evening that illnesses, accidents and other so-called adverse events "are an expected part of any clinical study, especially large studies," but that its physicians and a safety monitoring panel would try to determine what might have caused the illness.
The pause is at least the second such hold to occur among several vaccines that have reached large-scale final tests in the U.S.
The company declined to reveal any more details about the illness, citing the participant's privacy.
Temporary stoppages of large medical studies are relatively common. Few are made public in typical drug trials, but the work to make a coronavirus vaccine has raised the stakes on these kinds of complications.
Companies are required to investigate any serious or unexpected reaction that occurs during drug testing. Given that such tests are done on tens of thousands of people, some medical problems are a coincidence. In fact, one of the first steps the company said it will take is to determine if the person received the vaccine or a placebo.
The halt was first reported by the health news site STAT.
Final-stage testing of a vaccine made by AstraZeneca and Oxford University remains on hold in the U.S. as officials examine whether an illness in its trial poses a safety risk. That trial was stopped when a woman developed severe neurological symptoms consistent with transverse myelitis, a rare inflammation of the spinal cord, the company has said. That company's testing has restarted elsewhere.
Johnson & Johnson was aiming to enrol 60,000 volunteers to prove if its single-dose approach is safe and protects against the coronavirus. Other vaccine candidates in the U.S. require two shots.
Cenovus shares plummet on news of its $3.8-billion deal to buy oilsands rival – CTV News
CALGARY —
The all-shares deal by Cenovus Energy Inc. to buy Husky Energy Inc. for about $3.8 billion will likely spark more mega-mergers among Canadian oil and gas majors, according to a veteran oilsands analyst.
"This is likely just the start of big deals in Canadian energy land and thus it begs the question of who is next?" said analyst Phil Skolnick of Eight Capital in a report on Monday.
"As seen in the U.S. with the accelerated M&A activity, when there's one meaningful transaction, there's likely more to come."
Several industry observers point to Calgary-based oilsands producer MEG Energy Inc. as the leading potential target, noting Husky's failed $3.3-billion hostile takeover attempt of its smaller rival two years ago.
In his report, Skolnick presents scenarios where Canadian Natural Resources Ltd. (CNQ) or Imperial Oil Ltd. buy MEG, while also outlining the numbers involved if Canadian Natural combines with Imperial or Suncor Energy Inc., and if Suncor was to merge with Imperial.
"Some (scenarios) have been asked about before and I was just bringing up some new ones — like a CNQ and Suncor merger is not something I've heard out there, but nor was Cenovus-Husky," he said in an interview.
"I'm not going to give zero chance to anything anymore."
Analysts generally applauded the surprise Cenovus-Husky hookup announced Sunday for its operational advantages but criticized the plus-20-per-cent premium in the price for Husky.
"The deal does makes strategic sense," said Manav Gupta of Credit Suisse in a note to investors.
"Like U.S. E&P (exploration and production companies), Canadian energy companies also need to come together, cut costs and become leaner to better adapt to lower energy demand in post pandemic world."
He said Cenovus's reputation as an efficient operator in its steam-driven oilsands projects will help Husky overcome its struggles with operational issues, including higher operating and administrative costs.
The companies have identified $1.2 billion in annual potential cost savings which will include workforce reductions.
But Gupta added the premium is "excessive" and joined other observers in predicting Cenovus shares would trade lower, as they did, falling by as much as 15 per cent or 73 cents to $4.15 in Monday morning trading in Toronto.
Husky, meanwhile, gained as much as 44 cents or 13.9 per cent to $3.61.
Husky shareholders are to receive 0.7845 of a Cenovus share plus 0.0651 of a Cenovus share purchase warrant in exchange for each Husky common share if the deal is concluded.
Cenovus shareholders would own about 61 per cent of the combined company and Husky shareholders about 39 per cent.
The transaction must be approved by at least two-thirds of Husky's shareholders but Hong Kong billionaire Li Ka-Shing controls 70 per cent of Husky's shares and has agreed to vote them in favour of the deal.
The announcement Sunday came just as Calgary's oilsands companies are about to start rolling out third-quarter financial results, with Suncor Energy Inc. set to report Wednesday and both Cenovus and Husky scheduled to report on Thursday.
This report by The Canadian Press was first published Oct. 26, 2020
Jack Ma's Ant Group aims to raise $34.5 billion in largest IPO of all time | Markets – Business Insider
Ant Group will raise $34.5 billion through a dual initial public offering in November, making it the biggest-ever IPO.
The financial services giant aims to evenly split its 1.67 billion-share debut across the Hong Kong and Shanghai exchanges.
Shares will be priced at 68.8 yuan ($10.27) each in Shanghai and at 80 Hong Kong dollars ($10.32) in Hong Kong. The collective sum trounces the previous $29 billion record set by Saudi Aramco's IPO last year.
Ant is set to begin trading in Hong Kong on November 5, according to regulatory filings.
---
Ant Group plans to raise $34.5 billion in a dual initial public offering next month, edging out Saudi Aramco's debut to become the largest listing of all time.
The financial services company – an arm of billionaire Jack Ma's Alibaba empire – will evenly split its offering, selling 1.67 billion shares each in debuts in Shanghai and Hong Kong. Shares listed on the Shanghai exchange will be priced at 68.8 yuan ($10.27) each, according to regulatory filings published Monday. The pricing implies a 114.9 billion yuan ($17.2 billion) windfall from the listing.
Shares set to trade on the Hong Kong exchange are priced at 80 Hong Kong dollars (10.32) each, setting up the other half of the listing to bring in 133.7 billion Hong Kong dollars ($17.2 billion). In total, the dual listing can value Ant at $313.4 billion should its market debut enjoy strong investor demand.
Read more: BANK OF AMERICA: Buy these 11 under-owned stocks ahead of their earnings reports because they're the most likely candidates to beat expectations in the weeks ahead
Such an IPO would also trounce the record set by Saudi Aramco in 2019. The oil titan raised $29 billion in a share sale that temporarily established it as the world's highest-valued company.
Ant could even push its fundraising total just below $40 billion if it sells shares through so-called greenshoe options. The agreements allow the company's underwriters to sell additional shares than initially planned. If investor demand permits, Ant can raise another $5.2 billion across both exchanges through the over-allotment options.
The financial tech firm is expected to begin trading in Hong Kong on November 5, according to the filing. It's not yet known when shares will begin trading in Shanghai.
Ant's debut is slated to bring tech-IPO proceeds to their highest level since the dot-com bubble's 1999 peak. Strong demand for new offerings has lifted the market from its March slump and reinvigorated IPO dealmaking despite the bleak economic backdrop. July alone saw companies raise $19 billion through listings, the biggest one-month haul since September 2014.
China International Capital Corp. and CSC Financial will underwrite Ant's Shanghai listing. CICC, Citigroup, Morgan Stanley, and JPMorgan will lead the Hong Kong IPO.
Now read more markets coverage from Markets Insider and Business Insider:
Cries for more stimulus are overblown and stock investors should stop throwing 'tantrums' about it, says a Wall Street chief strategist
Intel will plunge 17% as 3 major problems boost headwinds, Bank of American says in downgrade
A blue sweep will create a 'stock pickers market' and end secular stagnation — A top US fund manager overseeing $34 billion says these are the 3 sectors to watch
Ant Group raises $34 billion in world's largest IPO – CNN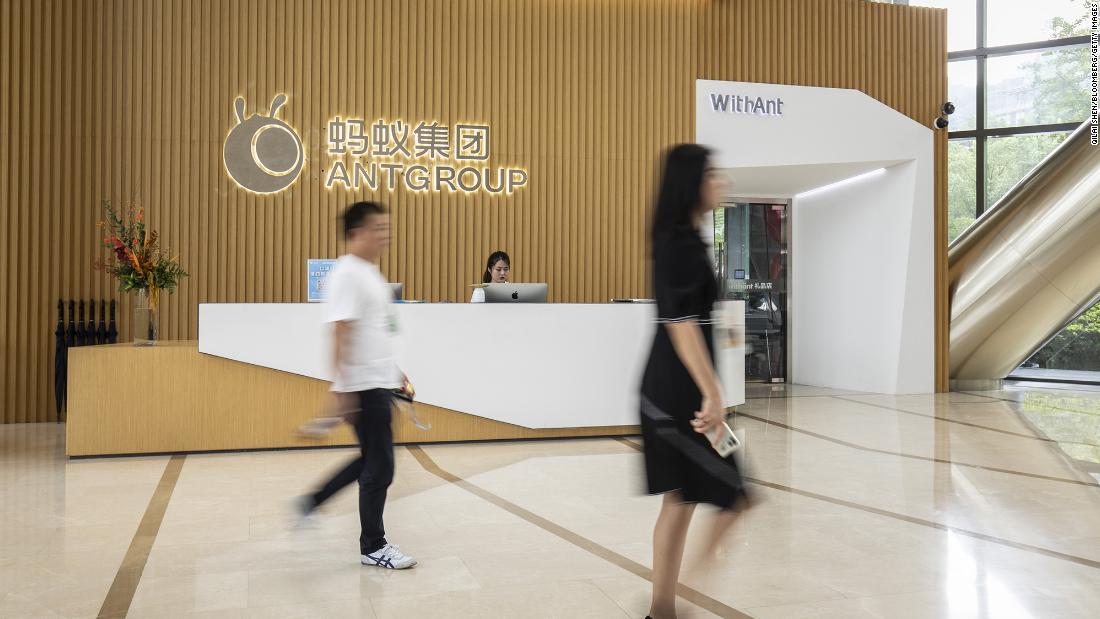 The tech company behind
China's largest online payments platform
priced its dual listing on the Hong Kong Stock Exchange and Shanghai's Star Market at 80 Hong Kong dollars ($10.32) and 68 yuan ($10.13) per share respectively, according to regulatory filings released Monday.
That means the IPO will raise over $34.1 billion and value the company at about $310 billion. The previous record for a stock-market listing was held by Saudi state oil company Aramco, which raised $29.4 billion in an offering on the Riyadh exchange last December.
The listing is a win for China which has been encouraging the country's top tech companies to list at home instead of on top exchanges in the United States.
Ant is splitting the IPO evenly between Hong Kong and Shanghai, selling 1.67 billion shares on each exchange. The shares to be issued are equivalent to about 11% of the company.
Ant is the financial technology company affiliated with Chinese e-commerce group
Alibaba
(BABA)
, which went public on the New York Stock Exchange in 2014 in what was also a world-record setting IPO. Billionaire Ma has ultimate control over Ant.
Ant is one of the biggest technology firms in the world and the biggest online payments platform in China. The app has established its presence in every aspect of financial life in China, from investment accounts and micro savings products to insurance, credit scores and even dating profiles.
The firm's payments app Alipay had 731 million monthly active users as of September, Ant said in regulatory filings. The platform handled 118 trillion yuan ($17.7 trillion) in payments in the 12 months through June.
The company said revenue for the nine months ended in September rose about 43% to 118.2 billion yuan ($17.7 billion) compared to the same period last year. Gross profit for the period rose 74% to 69.5 billion yuan ($10.4 billion).