Kellogg says union did not allow vote on U.S. cereal plant workers' contract
Kellogg Co said on Thursday the union representing striking workers at its four cereal plants in the United States did not allow a vote on the company's revised offer for a new contract and that it had filed for a restraining order at one of its plant.
The revised offer was set to expire Thursday midnight and the company said no further negotiations were scheduled.
About 1,400 workers across the four cereal plants have been on strike since Oct.5, and the company has warned of a hit to earnings if it prolongs.
Kellogg had demanded that workers give up quality health care, retirement benefits, and holiday and vacation pay, the Bakery, Confectionery, Tobacco Workers and Grain Millers (BCTGM) International Union had said at the start of the strike.
BCTGM was not immediately available for comment.
Kellogg said it had sought a temporary restraining order to help ensure the safety of all individuals in the vicinity of the plant, including that of the picketers.
The lawsuit names the BCTGM International Union, the Omaha chapter of the union, and Dan Osborn, the chapter's president, according to a Bloomberg report https://www.bloomberg.com/news/articles/2021-11-11/kellogg-citing-threats-files-lawsuit-against-union-in-omaha?sref=WJKVI5nK.
With plants not operating at full capacity, analysts have raised concerns that some of America's popular cereals could be in short supply in the coming months.
The Pringles maker last week said labor and supply issues could mean its fiscal 2021 adjusted profit growth forecast would be at the lower end of its 1% to 2% range, adding that cost inflation was the highest the company has seen in a decade.
The company said https://kelloggsnegotiations.com operations would continue at the four plants with the help of hourly and salaried employees and third-party resources.
(Reporting by Nivedita Balu and Sanjana Shivdas in Bengaluru; Editing by Vinay Dwivedi)
U.S. stock futures, oil rally as sentiment steadies – Reuters
Register now for FREE unlimited access to reuters.com
Register
<a href="https://tmsnrt.rs/2zpUAr4″>Asian stock markets:</a>
U.S. stock futures bounce, bonds surrender some gains
Nikkei recoups early losses, sentiment stabilises
Omicron spreads, but markets hope effects will be mild
Oil rallies 5% after Friday's plunge
SYDNEY, Nov 29 (Reuters) – U.S. stock futures led a market rebound on Monday as investors prepared to wait a few weeks to see if the Omicron coronavirus variant would really derail economic recoveries and the tightening plans of some central banks.
Oil prices bounced more than $3 a barrel to recoup a chunk of Friday's shellacking, while safe haven bonds and the yen lost ground as markets latched onto hopes the new variant of concern would prove to be "mild".
While Omicron was already as far afield as Canada and Australia, a South African doctor who had treated cases said symptoms of virus were so far mild. read more
Register now for FREE unlimited access to reuters.com
Register
"Another key difference is there are far higher vaccination take up rates globally now compared with when Delta emerged," said Craig James, chief economist at asset manager CommSec.
"What the news on Omicron does highlight is the need for central banks and governments to take a cautious approach to removal of economic support and stimulus."
Trading was erratic on Monday but there were signs of stabilisation as S&P 500 futures added 1.0% and Nasdaq futures 1.2%. Both indices suffered their sharpest fall in months on Friday with travel and airline stocks hit hard.
EUROSTOXX 50 futures rallied 1.7%, while FTSE futures firmed 1.3%.
MSCI's broadest index of Asia-Pacific shares outside Japan (.MIAPJ0000PUS) eased 0.1%, but found support ahead of its 2021 low. Likewise, Japan's Nikkei (.N225) recouped early losses to be almost unchanged.
Bonds gave back some of their hefty gains, with Treasury futures down 16 ticks. The market had rallied sharply as investors priced in the risk of a slower start to rate hikes from the U.S. Federal Reserve, and less tightening by some other central banks.
Two-year Treasury yields edged up to 0.56%, after falling 14 basis points on Friday in the biggest drop since March last year. Fed fund futures had pushed the first rate rise out by a month or so.
The shift in expectations undermined the U.S. dollar, to the benefit of the safe haven Japanese yen and Swiss franc.
On Monday the dollar had steadied somewhat at 113.71 yen , after sliding 1.7% on Friday. The dollar index held at 96.190, after Friday's 0.7% drop.
The euro was struggling again at $1.1276 , following its rally from $1.1203 late last week.
European Central Bank President Christine Lagarde put a brave face on the latest virus scare, saying the euro zone was better equipped to face the economic impact of a new wave of COVID-19 infections or the Omicron variant. read more
The economic diary is also busy this week with China's manufacturing PMIs on Tuesday to offer another update on the health of the Asian giant. The U.S. ISM survey of factories is out on Wednesday, ahead of payrolls on Friday.
Fed Chair Jerome Powell and Treasury Secretary Janet Yellen speak before Congress on Tuesday and Wednesday.
In commodity markets, oil prices bounced after suffering their largest one-day drop since April 2020 on Friday.
"The move all but guarantees the OPEC+ alliance will suspend its scheduled increase for January at its meeting on 2 December," wrote analyst at ANZ in a note.
"Such headwinds are the reason it's been only gradually raising output in recent months, despite demand rebounding strongly."
Brent rebounded 4.8% to $76.20 a barrel, while U.S. crude rose 5.2% to $71.71.
Gold has so far found little in the way of safe haven demand, leaving it stuck at $1,791 an ounce .
Register now for FREE unlimited access to reuters.com
Register
Reporting by Wayne Cole; Editing by Richard Pullin, Shri Navaratnam and Lincoln Feast.
Our Standards: The Thomson Reuters Trust Principles.
U.S. stock futures rise following Friday's omicron-sparked selloff – MarketWatch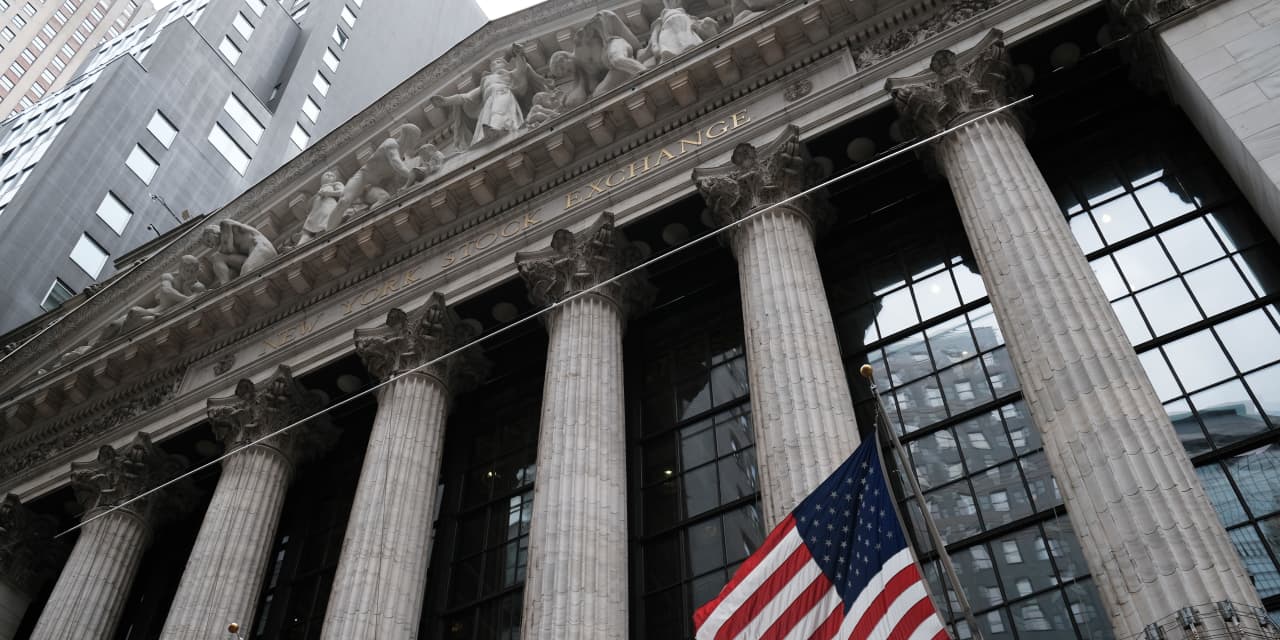 U.S. stock futures rose late Sunday, following a steep selloff Friday sparked by fears of the global economic impact of a worrisome new strain of COVID-19.
Dow Jones Industrial Average futures
YM00,
+0.70%
gained about 230 points, or 0.7%, as of 9 p.m. Eastern. S&P 500 futures
ES00,
+0.92%
and Nasdaq-100 futures
NQ00,
+1.14%
also showed solid gains.
Crude oil futures also rebounded Sunday from a Friday plunge, with benchmark U.S. crude
CLF22,
+5.24%
and Brent crude
BRNF22,
+4.70%,
the international benchmark, jumping roughly 4% higher.
On Friday, Wall Street suffered its worst day in more than a year amid growing concerns over the new omicron variant of COVID-19. The World Health Organization's technical advisory group on Friday declared it a "variant of concern," and a number of countries imposed flight bans from countries in southern Africa, where the variant was first discovered.
Little is known about omicron, but investors Friday braced for bad news.
Read: U.S. health officials urge caution, but not panic, over omicron variant
In a holiday-shortened session, the Dow Jones Industrial Average
DJIA,
-2.53%
slumped 905.04 points, or 2.5%, to 34,899.34, with the index logging its worst daily drop since Oct. 28, 2020, according to FactSet data. The S&P 500
SPX,
-2.27%
fell 106.84 points, or 2.3%, to 4,594.62, and the Nasdaq Composite Index
COMP,
-2.23%
sank 353.57 points, or 2.2%, to 15,491.66.
"The pandemic and COVID variants remain one of the biggest risks to markets, and are likely to continue to inject volatility over the next year(s)," Keith Lerner, co-chief investment officer and chief market strategist at Truist Advisory Services, wrote in a Friday note. "It's hard to say at this point how lasting or impactful this latest variant will be for markets."
Canada to Tap Maple Syrup Reserves to Combat Supply Crisis – TMZ
If your short stack has been feeling a little dry lately due to a lack of (affordable) syrup — that's all about to change … because Canada is tapping its stockpile of sweet nectar.
Quebec Maple Syrup Producers — a quasi-government-sanction agency accounting for over 70% of the world's maple syrup production — just announced they're going to start draining upwards of 50 million pounds of syrup from barrels they have in their strategic reserve.
Yes, strategic reserve … just like the ones we're about to tap to help lower gas prices here in the States. Apparently, Canada has a sea of this condiment at the ready for emergencies.
Welp, that emergency is here … as the global economy deals with a supply crisis — due, in part, to the pandemic among other factors — QMSP says it's time to dip into what they have on hand to make sure countries around the world, especially its #1 customer in the U.S., can keep on drizzling their waffles and pancakes with ease and within reasonable price ranges.
Word is … this harvest season made for a bad batch of syrup, meaning not nearly enough was produced due to a warmer/shorter spring season … the ideal conditions for which are needed to see a solid yield. Add in the fact more people are cooking from home right now — and you have a lopsided supply/demand equation … hence them going to the reserves.
This will be the most syrup they've tapped since 2008. A rep for the org says, "The reserve is there to make sure that we are always able to sell and offer this product."
In anticipation for next year … a reported 7 million additional syrup taps have been OK'd.