Kenney's COVID response pits pandemic against politics – iPolitics.ca
To get a better idea why Premier Jason Kenney is so keen to embrace a post-COVID-19 world you need only look at the numbers.
Not the pandemic numbers, the political numbers.
Kenney's United Conservative Party continues to trail the opposition NDP in popular support and fundraising.
It's a trend that began earlier this year and shows no sign of reversing.
According to a Leger poll conducted July 22-26 for Postmedia, 39 per cent of Albertans would vote for the NDP if an election were held today versus 29 percent for the UCP.
Perhaps more troubling for Kenney is the money, or lack of it.
In the first six months of this year, the NDP raised about $2.7 million from donors while the UCP collected less than half that: $1.3 million.
This is a remarkable development. Governing parties usually have little problem raising money while opposition parties struggle.
But Kenney is the one struggling these days.
He's trying to reconnect with voters, particularly with Conservatives in rural areas who were instrumental in his 2019 electoral victory but who have soured on him during the pandemic because they felt he did too much to restrict their freedoms.
Now he's restoring those "freedoms" as quickly as possible.
That's why he made sure Alberta was the first jurisdiction in Canada to drop almost all pandemic restrictions on July 1. And why Alberta will be the first to stop routine testing and tracing while also allowing those infected with COVID-19 to mingle freely in public without any need to isolate starting Aug. 16.
Alberta's rush to be first has drawn criticism from medical professionals and the federal government worried the province is opening too quickly in the face of COVID variants emerging across the world, most notoriously the Delta variant which seems to be as infectious as chicken pox.
The number of Albertans getting vaccinated has stalled. Even though overall COVID case numbers are low, the virus is now spreading faster in the province than during its third wave.
In a letter to physicians, Alberta Medical Association president Paul Boucher, said "the pace at which public health measures are ending is troubling."
In an exclusive story, the Globe and Mail reported this week that federal Health Minister Patty Hajdu wrote a letter to Alberta Health Minister Tyler Shandro urging the province not to declare victory over COVID so quickly.
"I echo the Canadian Paediatric Society, who has called on you to recognize that this 'unnecessary and risky gamble' could worsen the spread of the virus," said Hajdu.
The Alberta government's response is to point the finger at the province's chief medical officer, Deena Hinshaw, saying it's all her idea.
Indeed, Hinshaw is defending her advice to the government to lift restrictions and allow the infected out in public, saying, "we need to learn how to live with (COVID)."
She did offer an apology if her advice created "confusion, fear or anger" among Albertans but she appears happy to be seen as the trailblazer into a whole new COVID unknown.
This has raised a whole new controversy having nothing to do with public health.
Hinshaw and Kenney have torn down a wall that protects civil servants.
Under our system of government, members of the civil service, including Hinshaw, are under a duty to provide "fearless advice" to politicians but to do so confidentially.
It is the government that makes the final decision on policy and thus takes the final responsibility.
That is in fact how Hinshaw and the Alberta government conducted themselves during the pandemic with both refusing to say what specific advice she had offered.
Until now.
Hinshaw has put her head on the chopping block should Alberta's rush to reopen the economy spark a disastrous fourth wave. Not only that, Hinshaw has set a terrible precedent for civil servants who might be less likely to offer fearless advice if they think they'll be made the scapegoat should things go wrong.
Of course, if heads were to roll, Kenney would no doubt prefer it be Hinshaw's than his.
But Kenney's noggin is on the block, too.
He can point to Hinshaw's advice but he's the one who has been loudly pushing for a return to normal for months.
In the past year he has likened COVID to the flu, downplayed its lethality, defended the rights of anti-maskers to hold rallies and was slow to punish members of his caucus who travelled to vacation hotspots over the Christmas holidays.
More recently, he has declared Alberta is in a post-pandemic world and has attacked as fearmongers those who point out the pandemic is still with us.
Kenney is desperate to press Alberta into a post-COVID world because, among other things, he performed so badly during the pandemic that according to public opinion polls his popularity dropped from 60 per cent to 30 per cent.
For Kenney, opening up Alberta is all about the numbers.
MORE THOMSON: Jason Kenney's longing for Alberta's pre-COVID politics
---
The views, opinions and positions expressed by all iPolitics columnists and contributors are the author's alone. They do not inherently or expressly reflect the views, opinions and/or positions of iPolitics.
Doug Ford says Ontario opposition playing politics over his 'bang on' comments about immigrants – CTV Toronto
Ontario Premier Doug Ford said he believes opposition parties are playing politics over his comments on immigrants and said he's been told his remarks were "bang on."
Ford was asked on Wednesday by Brampton East MPP Gurratan Singh in Question Period whether he is ready to apologize for the comments that "play into racist stereotypes about new Canadians."
"Those comments were hurtful, divisive, and wrong," Singh said.
Ford responded to Singh by saying he has been "inundated with messages from your community, the Sikh community, that said 'You were bang on.'"
The comments about immigrants were made in Tecumseh while Ford was speaking to reporters about a labour shortage on Monday.
"We're in such desperate need of people from around the world," he said.
The premier then specified that he only wanted "hard-working" people to come to Ontario.
"You come here like every other new Canadian. You work your tail off," Ford said. "If you think you're coming to collect the dole and sit around, it's not going to happen. Go somewhere else."
On Wednesday, Singh asked Ford if he was ready to apologize, adding the comments were "just plain wrong."
"Stop playing politics and let's speak the truth," Ford responded to Singh. "You know the backbone of this province are great hard-working immigrants."
"My phone is blowing up all night, all day, day before, from immigrants telling me their story … I'm the biggest pro-immigrant premier we've ever seen here."
Ford told Singh he will "go to his community and door knock and see the response from the Sikh community."
He said he's been told already by the Sikh community that his comments were "bang on" and that he needs to "stay focused."
Many Ontario politicians spoke out and demanded Ford apologize on Monday.
Ford was asked on Tuesday by the NDP to apologize for the "discriminatory" comments. He did not, and instead used the opportunity to say he is "pro-immigration."
How green politics are changing Europe – BBC News
An ocean of conservative blue blankets the electoral map in Germany's southern state of Bavaria.
And yet the conservative vote actually fell across Germany in last month's federal vote, while the Greens achieved their biggest success yet,.
In an election dominated by climate change, a speck of green has made a ripple in Bavaria. For the first time a Greens candidate was directly elected to represent Bavaria in the federal parliament.
It is symbolic of the creeping rise in support for European green parties, from Hungary to Finland.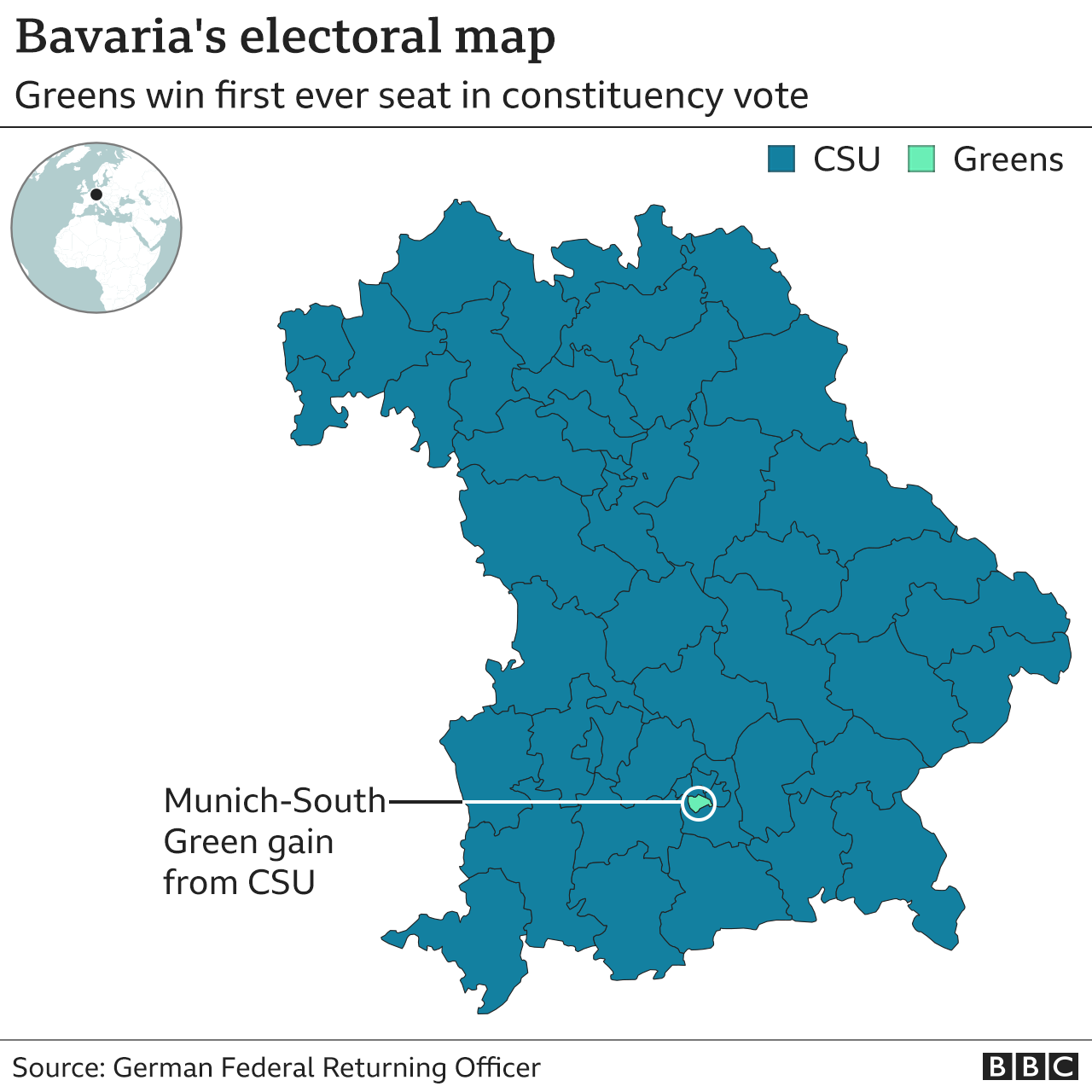 The new MP, Jamila Schäfer, beamed with satisfaction when she recalled her surprise victory in Munich-South, by a wafer-thin margin of 0.8%. Only once before had the CSU lost the constituency since 1976.
"This is a major sign of change," Ms Schäfer told the BBC.
A campaign 'close to the people'
The Greens won 14.8% of the vote nationwide, appealing beyond their eco-protest roots with Annalena Baerbock standing as candidate for chancellor. Now they are in talks to share power as part of a three-way coalition.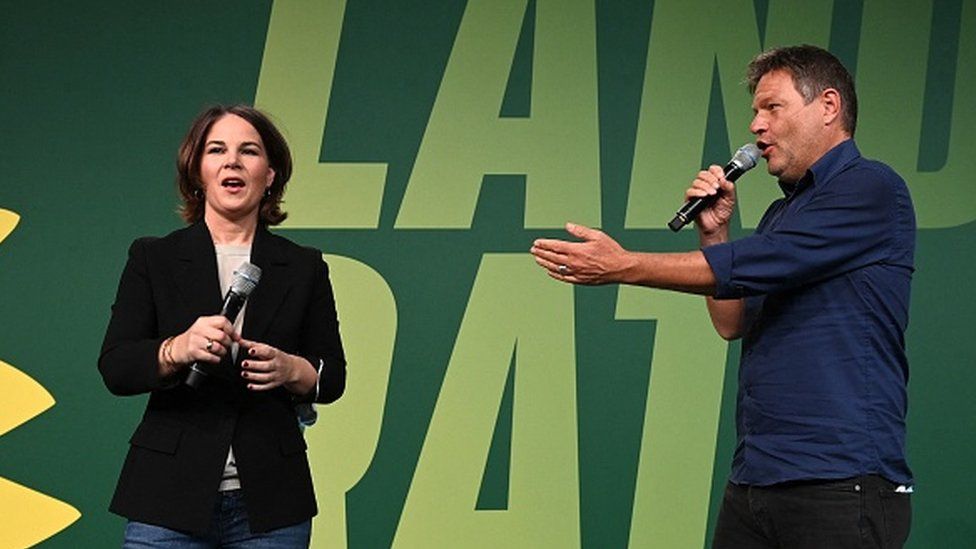 Ms Schäfer, 28, is the Greens' deputy federal chairwoman and typifies a party that has undergone a national makeover after years of power-sharing in several German states (Länder).
She rose through the ranks of Green Youth, taking part in school strikes against education reforms, long before Swedish activist Greta Thunberg made her name by skipping classes for climate protests.
Climate change was consistently ranked as the most serious facing Germany in opinion polls ahead of the election.
Even so, Ms Schäfer targeted her "close-to-the-people" campaign in Munich-South on housing, pensions and taxes.
Green shoots of success
Once ridiculed by many as idealistic hippies, Green parties increased their vote share in 13 European countries at the most recent national elections. In six of those countries – Austria, Belgium, Finland, Ireland, Luxembourg and Sweden – green parties have a share of power in coalition governments.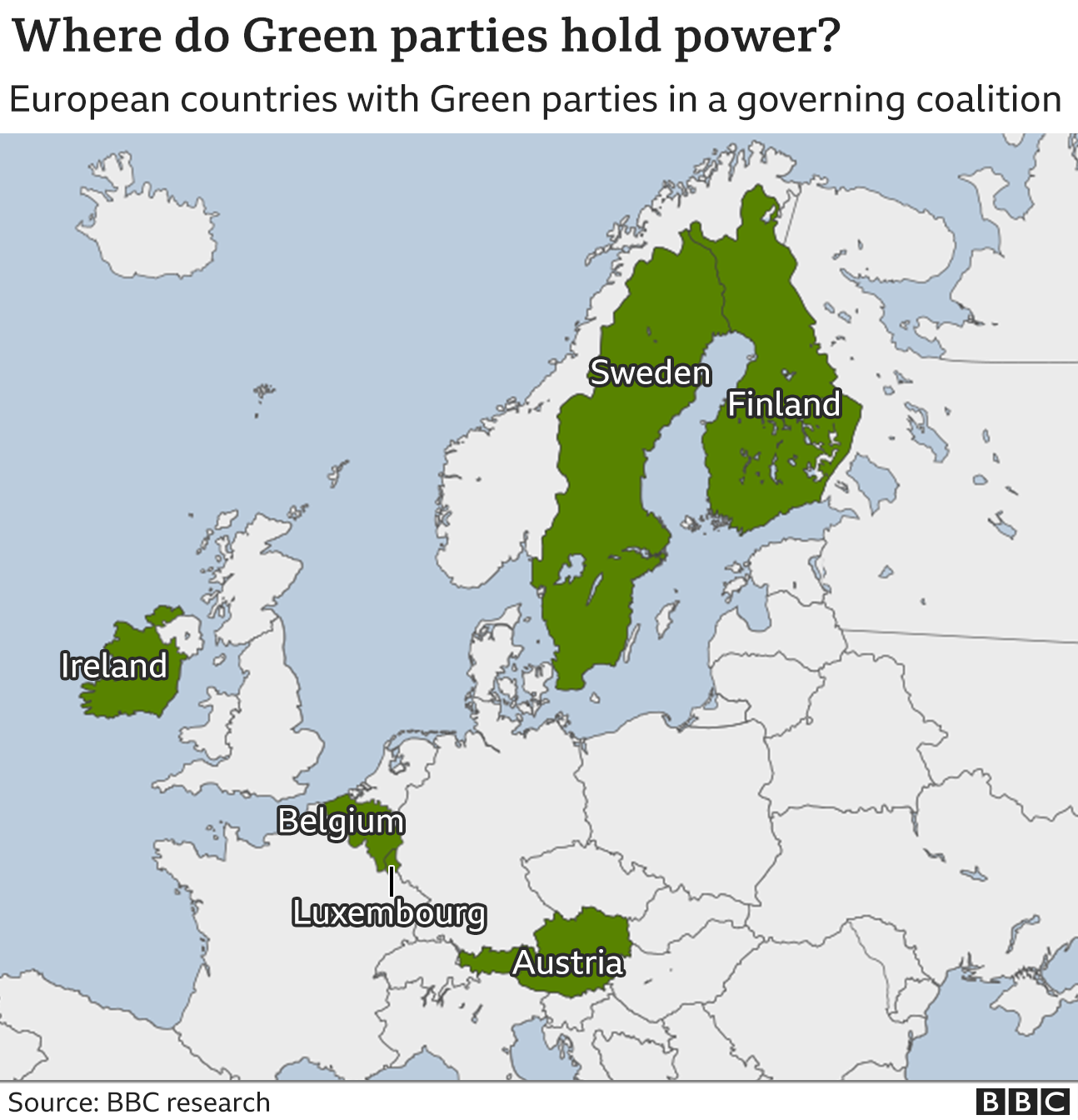 In all those cases, the Greens are pressing their partners to adopt more ambitious targets for lowering carbon emissions. Elsewhere, the green mayors of Amsterdam and Budapest are aiming for carbon neutrality by 2050 and 2030 respectively – to balance the greenhouse gases emitted and absorbed by their cities.
Despite last month's election success for the German Greens, even co-leader Ms Baerbock admitted they had failed to live up to early opinion poll ratings: "We wanted more. We didn't achieve that."
Given the urgency of curbing emissions, what's holding the Greens back?
Trust and fear of change
One explanation is that mainstream parties across Europe have elevated climate change to the top of their agendas.
"If you're concerned about the climate, it doesn't follow that you're going to vote green," Adam Fagan, a political scientist at King's College, London, said. "It means you're going to scrutinise the manifestos of the main parties for their green credentials."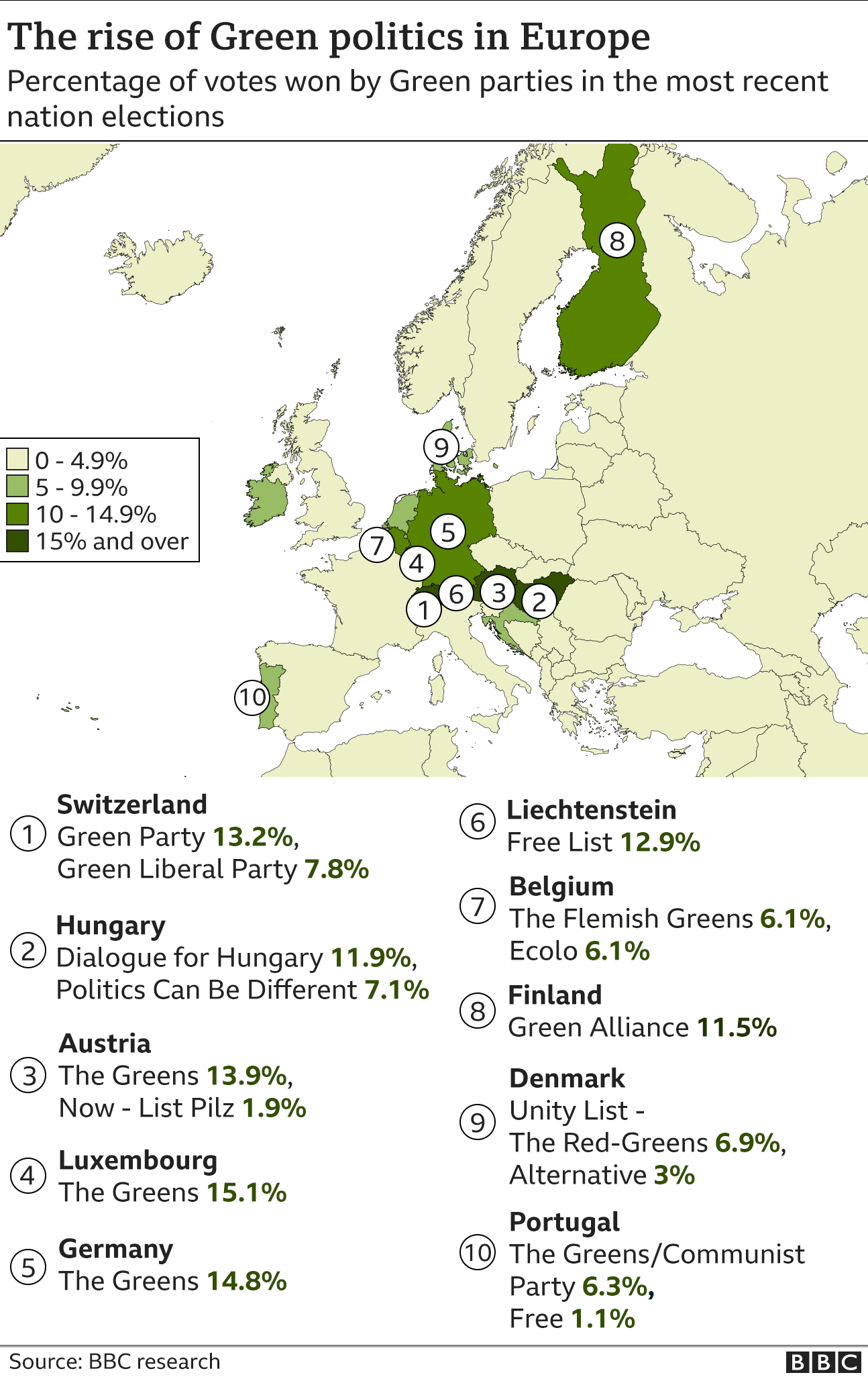 Green parties tend to do better in countries with more proportional systems, as used by the European Union for its parliamentary elections. For example, the Greens/EFA bloc gained 25 seats with 10.8% of the vote in the 2019 election to the European Parliament.
"People think putting the Greens in power [in the EU] is less dangerous," said Philippe Lamberts, co-president of the Greens/EFA.
"From the right and the left, there's always a question hanging over us: can you really trust the Greens with the economy?"
National election results suggest the answer is no.
To reduce emissions, the Greens say big structural changes to the economy are needed. While those reforms are necessary, they scare people and put them off voting green, Ms Schäfer said.
"They're worried they'll be the losers of big transformation," the MP said. "It's a lack of control that people are afraid of. But we need to convince people that our politics is not about giving up control."
'Killing the planet'
It's even more difficult in Southern and Eastern European countries, where support for green parties is fragmented or non-existent. Surveys show that climate change is far from a top priority in post-communist countries such as Poland, the Czech Republic and Lithuania.
Voters and political parties there are generally more concerned about economic development or migration, leaving environmental issues to civil society groups.
Mr Lamberts believes voters find the message that their country's model is "killing the planet" unpalatable.
Unlike in many of the other former Soviet-bloc states, green parties have made inroads in Hungary.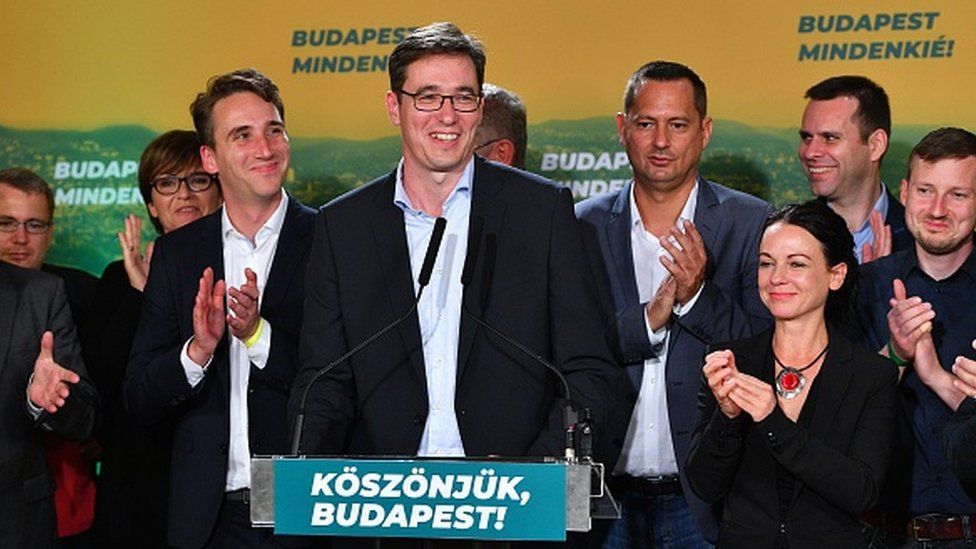 The green LMP party has won seats in three consecutive national elections since 2010, while Dialogue received 11.9% of the vote in an alliance with the Hungarian Socialists in 2018.
Dialogue's success came under the leadership of Gergely Karacsony, who was elected mayor of Budapest in 2019.
He defeated the nationalist incumbent by rallying opposition parties behind his liberal platform, and promising solutions not only to environmental issues, but economic and social ones too.
"In Hungary today, there are three different crises. A democratic crisis, a social crisis and an environmental crisis," Budapest's mayor told the BBC. "The advantage of the green movement is that we have proposals for all three."
He linked green policies such as urban foresting and carbon-free public transport to Hungary's poor record on air quality and other environmental problems.
Particularly in post-Soviet countries, the mayor said, social justice must go hand in hand with the green transition.
"We cannot put the costs of sustainability on disadvantaged segments of society."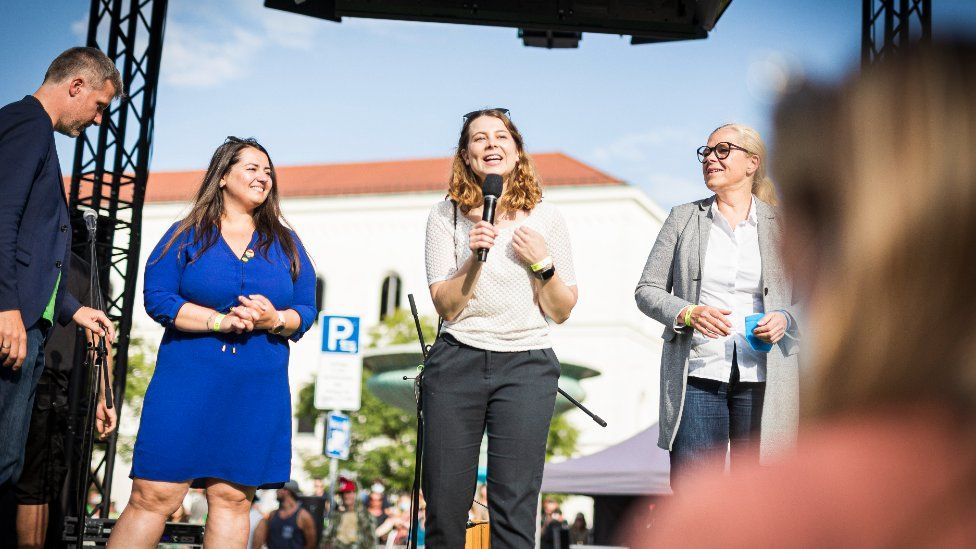 What worked in Budapest may not necessarily follow elsewhere, but green candidates have achieved electoral success where they have channelled voter discontent, united the opposition and diversified their offer beyond the environment.
If the Greens can build on these gains, there is a future for them in coalitions, Professor Fagan said.
"Green politics in Europe is getting bigger and stronger, and I'm sure it will grow in the coming years," Ms Schäfer said.
Biden says he's concerned about Chinese hypersonic missiles
U.S. President Joe Biden said on Wednesday he is concerned about Chinese hypersonic  missiles, days after a media report that Beijing had tested a nuclear-capable hypersonic glide weapon.
Asked by reporters as he was boarding Air Force One for a trip to Pennsylvania whether he was concerned about Chinese hypersonic missiles, Biden said, "Yes."
The Financial Times said at the weekend that China had tested a weapon in August that flew through space and circled the globe before cruising down toward a target that it missed. China's foreign ministry denied the report.
(Reporting by Nandita Bose; Writing by Mohammad Zargham; Editing by Leslie Adler)