Kevin Carmichael: Jobs numbers show Bank of Canada hasn't wrecked the economy after all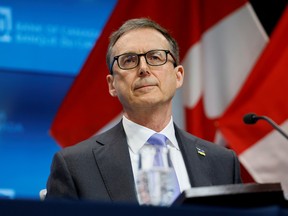 What if the Bank of Canada knows what it's doing?
Inflation is hovering around seven per cent, and the central bank's target is two per cent, so the easy answer is, "No, it doesn't have a clue what it's doing."
The news this week that the Bank of Canada lost money for the first time in its 87-year history only adds to the superficial notion that appointing Tiff Macklem to guide monetary policy was a mistake, even if the losses were incurred fighting a crisis that was unlike anything any living policymaker had ever seen.
"We didn't get everything right," Macklem told the House finance committee on Nov. 23. "We got a lot of things right. We have some lessons to learn."

The inflation miss was a serious mistake that warrants deeper scrutiny in case there are things that can be learned that will keep it from happening again. Macklem told lawmakers that as soon as inflation is back to target, "we are going to have to have a thorough review of how all our tools worked" through the COVID crisis.
When the Bank of Canada gets around to that review, it will turn up positives that are obvious to anyone who bothers to look, but end up obscured by the panic over inflation. The latest evidence that the Bank of Canada hasn't wrecked the economy arrived Dec. 2, when Statistics Canada reported that hiring was little changed in November, and the jobless rate dropped to 5.1 per cent, a possible sign that higher interest rates might be taking the steam out of the economy without severely hurting momentum.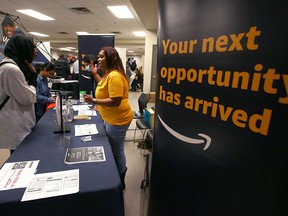 The dollar fell against the U.S. currency after the numbers were released, so some traders saw the news as a negative that would cause the Bank of Canada to balk at additional interest-rate increases. It's possible. Macklem was clear at the finance committee that he isn't finished, but Bay Street and Wall Street are split on whether that means more outsized interest-rate increases, or whether the Bank of Canada might be ready to taper its aggression, given its own forecasts show the economy could easily slide into a recession at any point over the next few months.
Statistics Canada said employers added 10,000 positions last month, less than the survey's margin of error, making it difficult to say more than the labour market stood still. However, the agency's monthly survey of households turned up 108,000 positions in October, an unusually large number, so hiring flatlined at a high level in November.

The jobless rate remains well inside any conventional definition of full employment, which is how economists describe an economy in which there are quantitatively enough jobs for everyone who wants one. Full-time employment increased by about 51,000 positions in November, and have increased by some 460,000 positions since November 2021, another sign of a strong labour market.
"It's quite clear that the labour market remains tight and in solid shape overall," Douglas Porter, chief economist at Bank of Montreal, said in a note to his clients.
Average hourly wages increased 5.6 per cent from November 2021, the sixth consecutive month that pay gains topped five per cent, a sign of upward inflationary pressure that the Bank of Canada has said it will be watching closely. Porter said the "still firm" pace of pay increases could leave Macklem uneasy about inflation heading into next week's interest-rate decision, and re-upped his prediction that policymakers will opt to raise the benchmark rate another half point, which would put the target at 4.25 per cent.
The Bank of Canada's benchmark rate was 0.25 per cent in March, and the possibility of an increase of four percentage points in less than a year will startle those who worried that a decade of ultra-low interest rates would make households and executives supersensitive to higher borrowing costs.
That worry could still be valid. Indeed, after getting beaten up earlier in the year for letting inflation get out of control, the Bank of Canada now regularly faces invective for causing a recession that hasn't yet happened.
Earlier this week, Statistics Canada reported that gross domestic product grew at an annual rate of 2.9 per cent in the third quarter, much faster than most forecasts. The GDP numbers, paired with the ongoing strength of the labour market, supports Macklem's bet that it is better to attack inflation now, when the economy is strong, rather than proceed tentatively, discover inflation is persistent, and end up having to raise interest rates when the economy is weaker. It might even be time to resume talking about a "soft landing," which is how Bay Street talks about the possibility that an inflationary economy can be slowed without crashing into a bad recession.
"We're entering 2023 at least in better shape than we have seen in many other moments in the past where we're entering a slowdown or a recession," Guy Cormier, chief executive of Desjardins Group, told the Financial Post's Barbara Shecter this week, observing that there is "still money" in the personal and business accounts of the financial institution's clients. "Yes, there will be a slowdown, but we feel that there are some positive conditions that could unfold in the next six, seven months."

Here's another positive: Statistics Canada reported that the employment rate of women aged 25 to 54 rose to 81.6 per cent in November, a record that further narrowed the gap with men. One of the goals of the Bank of Canada's assault on the COVID crisis was to keep traditionally marginalized groups from getting left behind, betting that would create the foundation for a sturdier recovery.

Macklem's not wrong when he ways the central bank got a lot of things right.

• Email: kcarmichael@postmedia.com | Twitter: carmichaelkevin
Joe Biden's effort to remake the economy is ambitious, risky—and selfish – The Economist
Get behind the wheel of an electric vehicle made in Detroit and drive south. The outline of a city that was once a byword for industrial decline fades in the rear-view mirror. Head into Ohio, where the battery under your feet was made. The semiconductors that regulate its charging speed were made there too, in a vast new factory that counts the Pentagon among its biggest customers. Recharge with electricity transmitted from one of West Virginia's new nuclear plants, then start the long journey into the heartlands. After the endless wind farms of Kansas, you drive through Oklahoma's vast solar fields, then loop back to the gulf coast. The trip ends by the water, the bright sun glinting off a spanking-new green-hydrogen plant.
This is America in 2033, if the Biden administration has its way. In the past two years Congress has passed three bills, on infrastructure, semiconductor chips and greenery, that will make $2trn available to reshape the economy. The idea is that, with government action, America can reindustrialise itself, bolster national security, revive left-behind places, cheer up blue-collar workers and dramatically reduce its carbon emissions all at the same time. It is the country's most ambitious and dirigiste industrial policy for many decades. In a series of articles beginning this week, The Economist will be assessing President Joe Biden's giant bet on transforming America.
Mr Biden is taking an epoch-making political gamble. He is acting on so many fronts because he had no choice. The only way to build a majority in Congress was to bolt a Democratic desire to act on climate change on to hawkish worries about the threat from China and the need to deal with left-behind places in the American heartland. On its own, each of these concerns is valid. But in terms of policy, the necessity to bind them together has led America into a second-best world. The goals will sometimes conflict, the protectionism will infuriate allies and the subsidies will create inefficiencies.
To grasp the scale of what is under way, follow the money. The Infrastructure Act makes $1.2trn available over ten years for roads, bridges and cables for a new green grid. The CHIPS Act, which promotes making semiconductors in America, contains $280bn of spending. The Inflation Reduction Act contains $400bn in subsidies for green tech over ten years; some analysts suggest the true figure will be $800bn. The money is only part of the picture. With it comes a plethora of rules, from requirements that batteries be made in North America, to restrictions on tech imports and exports on grounds of national security.
A giant plan that has so many disparate objectives does not simply succeed or fail. Its full consequences may not become clear for many years. However, you do not have to be Ayn Rand to question whether the government is up to managing such an ambitious set of projects. For example, because American environmentalism has put preservation first, it takes more than a decade to obtain the necessary permits to connect a renewable project in Wyoming to California's grid. Likewise, if industries are encouraged to focus on lobbying rather than innovating and competing, then costs will rise.
And some of the aims are contradictory. Requiring jobs to be in America would be good for some workers, no doubt. But if green products such as wind turbines become more expensive, then the green transition will become more expensive, too. And if other Western countries lose vital industries to America as they chase subsidies or duck import restrictions, then the alliances that underpin America's security will suffer as a result.
Indeed, the entire enterprise may be hard to pull off for lack of affordable workers. The plan would never create lots of solid working-class jobs: in today's manufacturing, robots staff the assembly lines. But America may also struggle to find enough of the short-term construction workers needed to build out green infrastructure. Unemployment is at 3.5%, a 50-year low. More immigration could help fill vacancies, but it is restricted. Policies intended to help women rejoin the labour market, such as early education, were stripped out of Mr Biden's plans. Green subsidies therefore risk being diverted into higher wages.
The administration has an answer for its critics. It says that, if America can develop new technologies, build supply chains that are less dependent on China and drive down the cost of clean sources of energy, everyone will be better off. And America has significant advantages: a rich internal market, vast landscapes for solar and wind farms, pipelines for transporting hydrogen and reservoirs in which to store carbon. Its universities and venture capital make it a hub for green innovation. The country is already sucking in foreign investment to work alongside the subsidies. And the policy enjoys a degree of political consensus. Although Republicans are less keen on the green bits, they are even more hawkish on China and even more protectionist.
To help the plan realise its good intentions, three things need to happen. First, the effort going into boosting domestic industry needs to be matched by a sustained programme of trade diplomacy. One way to build a bloc in favour of a cheaper green transition would be to give foreign-made goods access to American subsidies (so long as they are not Chinese, Iranian or Russian). Second, subsidies should tilt towards technologies that are not yet commercially viable, such as new types of nuclear reactor and carbon capture and storage. Public money spent reshoring the manufacturing of solar panels that could be produced more cheaply elsewhere will be wasted. Third, to build new subsidised infrastructure, America needs reform of its permit laws, perhaps with a federal law that supersedes state and local concerns.
Half-full
For better or worse, Mr Biden's blueprint for remaking the economy will change America profoundly. It may succeed in helping deal with an authoritarian China, keeping voters at home from embracing a more radical and destructive politics, and defying the gloomier predictions about the effects of climate change. But be under no illusions, it is audacious to believe that the way to cope with three problems which are too hard to tackle separately is to deal with them all at once. ■
For subscribers only: to see how we design each week's cover, sign up to our weekly Cover Story newsletter.
Rates may have peaked, but economy remains fragile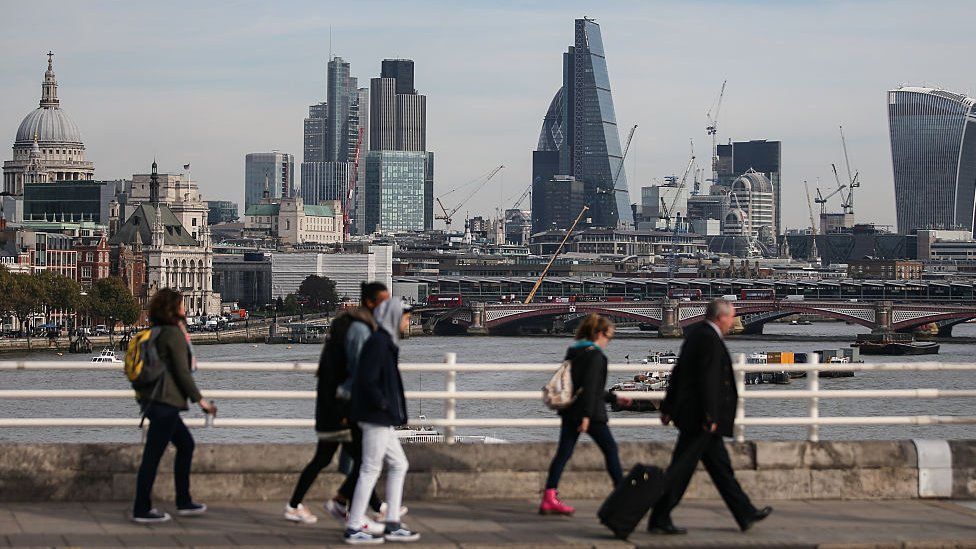 The immediate recession should be milder and shorter than previously expected, as energy prices fall, and interest rates do not rise as high as previously expected.
That picture is reinforced by the Bank's decision while raising official interest rates to 4%, to remove hints that they might go much higher. For the first time in this series of 10 consecutive rises, the language suggests that the job might be done, or very nearly done.
While this is still consistent with the energy shock recession lasting through this year and into next, it is far shallower and does not last as long as the two-year downturn previously predicted.
But on the other side, the recovery out of this downturn in the next few years is expected to be very sluggish indeed.
The Bank assesses that Brexit, the pandemic and the energy shock has led to an enduring hit to the economy. The workforce has not returned to its pre-pandemic size, unlike other major economies. This is mainly down to early retirements and therefore is likely to prove permanent. Fewer EU workers in key sectors suffering shortages also plays a part.
The Bank has also reassessed post-Brexit goods trade data, and concluded that the hit is notably more than suggested by official data. It believes that the expected fall in UK productivity after Brexit "might have occurred more quickly than previously assumed".
In addition business investment – the key to boosting the economy in the long term – remains "very subdued" well below pre-referendum levels, hit by both Brexit and the pandemic.
Throw that all together and an economy that is still smaller now than it was before the pandemic and Brexit, might not exceed that size until early 2026, according to this new analysis. The promised "roaring" 2020s is looking more like a lost half-decade at least.
So the good news is that the immediate shock should be milder, with inflation, energy prices and interest rates higher than they were, yes, but now on a lower path than previously expected. But the shocks have left an enduring mark on the economy.
London's downtown comeback leads the nation. Research credits an economy that's 'not very sexy'
Nearly three years after the pandemic hit, activity in London, Ont.,'s downtown core is at about 79 per cent of its pre-pandemic levels, making it the leader among all Canadian cities and 13th overall in North America, according to a new update to a study called "Death of Downtown?"
The research was co-produced by the University of Toronto and the University of California, Berkley. Researchers used cell phone data to infer the position of users when they stopped at places such as retail stores, public parks, workplaces and restaurants in 62 cities from June to November 2022 and compared it to the same time frame in 2019.
The new data suggests activity in London's core has returned to 79 per cent of its pre-pandemic levels — the highest in Canada and 13th overall across the continent, ahead of such cities as Las Vegas, New York, Ottawa, Toronto and San Francisco.
London's strong showing was a "surprise," according to Karen Chapple, a professor emerita in geography and the director of the University of Toronto's School of Cities, who visited the city's core to see for herself what was behind the robust turnaround.
London's economy 'is not very sexy at all'
"London, oddly, was very lucky that it didn't rely on professional services and tech employment. So London has an economy that is not very sexy at all, and that has made it very resilient. It's very ironic."
Instead, Chapple said, London has construction work in the form of three or four residential highrises taking shape on the city's downtown skyline, a vibrant retail sector and healthcare workers downtown.
Those sectors, in combination with a large number of single-family homes close to the downtown and 500 units in new residential towers, have helped propel activity in the core to levels higher than most cities in the country, she said.
The study is much more positive than some of the recent dour commercial realty data, including reports that suggest one in four downtown London offices remains empty, prompting studies on whether they can be converted into housing and starving businesses that have relied on the once ample foot traffic for decades.
"This has been decades in the making and likely not pandemic-induced," she said.
Unlike commercial real estate reports, Chapple said, the study is far broader in scope, measuring where and when cell phone users stop in the downtown, whether at work or play.
"We're measuring activity overall, not just office space, so all workers of all types, and we're measuring visitors walking around and residents," she said. "I think our study is a bigger picture view of activity downtown, and it gives me a little more hope."
Study doesn't measure homelessness, crime
Homelessness, addiction and crime are also issues in downtown London, but not something the study looked at specifically, Chapple said, adding the presence of social problems in a central business district seems to have little effect on whether a city successfully revives its downtown or not.
"If we did get that data, I don't think we would see a strong correlation."
"If you look at homelessness and crime, you see they can be high in cities that came back, and they can be high in cities that didn't come back," noting Baltimore, San Francisco, and New York are but a few examples.
Barbara Maly, the executive director of the London Downtown BIA, said part of what makes downtown so resilient is the number of "anchors" downtown, such as the Grand Theatre, Budweiser Gardens, the Covent Garden Market and the eclectic shops and restaurants along Dundas Place or Richmond Row that make downtown a destination.
"We've definitely seen a strong return," she said. "I think because of that diversity, because of those anchors and community spots, I think that's where we've benefited."