Key White House economic advisor says U.S. economy is slowing but resilient
The U.S. economy is showing "continued resilience" despite a predictable slowdown, a top White House economic advisor said Wednesday.
National Economic Council Director Brian Deese said low rates of credit card delinquency and mortgage concerns point to resiliency in household balance sheets, while the labor market and the savings rate also indicate steadier growth. What's more, he pointed to slowing inflation as a positive sign for healthier economic growth.
"We need to see a transition to a more stable growth trajectory, but I think if you look at the key elements that you need as part of that, some easing on the inflation side … we're starting to see some evidence in that direction," Deese said Wednesday on CNBC's "Squawk Box."
The November labor market report released Friday showed job growth was better than expected, as nonfarm payrolls increased by 263,000. The unemployment rate was 3.7%.
White House economic adviser Brian Deese speaks during a press briefing at the White House in Washington, March 31, 2022.
The Federal Reserve has steadily raised interest rates in an effort to bring down the highest inflation in 40 years, contributing to concerns about a coming recession. The improving labor market, combined with a 0.6% increase in average hourly earnings last month, also has put pressure on the central bank to continue raising rates.
The Fed's benchmark overnight borrowing rate reached a target range of 3.75%-4% after six consecutive hikes this year. Major U.S. stock indexes have struggled this week, in part due to concerns of a slowing economy and expectations of more rate increases ahead.
The Fed is expected to hike rates again at its meeting next week.
Despite the concerns felt by investors, economic resilience will position the U.S. to become a center of "investment, productivity and innovation" over the next few years, Deese said.
"We were out in (Phoenix) yesterday with a set of CEOs who all underscored this, that even as we're looking at this transition and navigating through this historically unique transition, the United States looks better as a prospect to invest, and that's going to be a driver," Deese said. "That's going be where we get our innovation and our productive capacity, beyond the next month or two."
Canada's economy slowed down in November, but still eked out growth
The Canadian economy grew by 0.1 per cent in November as higher interest rates began to slow spending toward the end of the year.
The Canadian economy grew by 0.1 per cent in November as higher interest rates began to slow spending toward the end of the year.
Statistics Canada's preliminary estimate for December indicates the economy stayed flat, suggesting the economy grew at an annualized rate of 1.6 per cent in the fourth quarter.
The economy grew at an annualized rate of 2.9 per cent in the third quarter.
In November, growth in real domestic product was driven by the public sector, transportation and warehousing and finance and insurance.
Meanwhile, construction, retail and accommodation and food services contracted.
Statistics Canada says economic growth for 2022 was an estimated 3.8 per cent.
Canadian economy grew 0.1% in November, likely was unchanged in December – The Globe and Mail
Canada's economy expanded slightly in November, matching expectations, and likely stalled in December, data showed on Tuesday, broadly in line with the Bank of Canada's expectations for the economy to flatline during the first half of this year.
November gross domestic product (GDP) rose 0.1 per cent in November, Statistics Canada said, and was likely flat in December, according to a preliminary estimate.
"The flash estimate for December suggested that there was little if any growth during the final month of the year. That aligns with our view that the economy is likely stalling," said Royce Mendes, head of macro strategy at Desjardins.
In December, gains in the retail, utilities, and public sectors were offset by decreases in sectors including wholesale, finance and insurance, Statscan said.
Annualized gross domestic product likely gained 1.6 per cent in the fourth quarter, above the Bank of Canada's 1.3 per cent forecast. If the flash estimate proves correct, the economy expanded 3.8 per cent in 2022 from the previous year, above the central bank's 3.6 per cent forecast.
"Today's data show that the Canadian economy continues to cool, but not as yet shift into reverse, in the face of rising interest rates," Andrew Grantham, senior economist at CIBC Capital Markets, said in a note.
The Canadian central bank has raised its key interest rate at a record pace of 425 basis points in 10 months to cool the economy and bring inflation down. After the latest rate hike last week, the Bank of Canada said it would likely hold off on further increases.
Last week, the central bank said the economy would stall and could tip into a mild recession during the first half of this year.
"The overriding message is that the economy is just managing to keep its head above water, which squarely fits with the Bank of Canada's view," said Doug Porter, chief economist at BMO Capital Markets.
Canada's service-producing sector grew 0.2 per cent in November, buoyed by a third straight month of gains in transportation and warehousing. The goods-producing sector contracted 0.1 per cent in November, dragged down by declines in the construction and manufacturing industries.
The Canadian dollar was trading 0.2 per cent lower at 1.3405 to the greenback, or 74.60 U.S. cents, after clawing back some of its earlier decline.
IMF upgrades outlook for the global economy in 2023 – GuelphToday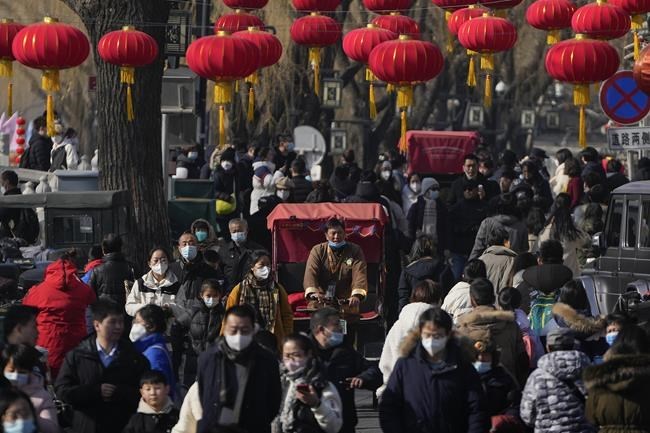 WASHINGTON (AP) — The outlook for the global economy is growing slightly brighter as China eases its zero-COVID policies and the world shows surprising resilience in the face of high inflation, elevated interest rates and Russia's ongoing war against Ukraine.
That's the view of the International Monetary Fund, which now expects the world economy to grow 2.9% this year. That forecast is better than the 2.7% expansion for 2023 that the IMF predicted in October, though down from the estimated 3.4% growth in 2022.
The IMF, a 190-country lending organization, foresees inflation easing this year, a result of aggressive interest rate hikes by the Federal Reserve and other major central banks. Those rate hikes are expected to slow the consumer demand that has driven prices higher. Globally, the IMF expects consumer inflation to fall from 8.8% last year to 6.6% in 2023 and 4.3% in 2024.
"Global conditions have improved as inflation pressures started to abate," the IMF chief economist, Pierre-Olivier Gourinchas, said at a news conference in Singapore. "The road back to a full recovery with sustainable growth, stable prices and progress for all has only started."
A big factor in the upgrade to global growth was China's decision late last year to lift anti-virus controls that had kept millions of people at home. The IMF said China's "recent reopening has paved the way for a faster-than-expected recovery.''
The IMF now expects China's economy — the world's second-biggest, after the United States — to grow 5.2% this year, up from its October forecast of 4.4%. Beijing's economy eked out growth of just 3% in 2022 — the first year in more than 40, the IMF noted, that China has expanded more slowly than the world as a whole. But the end of virus restrictions is expected to revive activity in 2023.
Together, China and India should account for half of this year's global growth, while the United States and Europe contribute 10%, according to Gourinchas.
"China's reopening is certainly a favorable factor that's going to lead to more activity," Gourinchas said. "But this is in the context in which the global economy itself is slowing down."
The IMF's 2023 growth outlook improved for the United States (forecast to grow 1.4%) as well as for the 19 countries that share the euro currency (0.7%). Europe, though suffering from energy shortages and higher prices resulting from Russia's invasion of Ukraine, proved "more resilient than expected,'' the IMF said. The European economy benefited from a warmer-than-expected winter, which held down demand for natural gas,
Russia's economy, hit by sanctions after its invasion of Ukraine, has proved sturdier than expected, too: The IMF's forecast foresees Russia registering 0.3% growth this year. That would mark an improvement from a contraction of 2.2% in 2022. And it's well above the 2.3% contraction for 2023 that the IMF had forecast for Russia in October.
The United Kingdom is a striking exception to the IMF's brighter outlook for 2023. It has forecast its economy will shrink 0.6% in 2023; in October, the IMF had expected growth of 0.3%. Higher interest rates and tighter government budgets are squeezing the British economy.
"These figures confirm we are not immune to the pressures hitting nearly all advanced economies,'' Chancellor of the Exchequer Jeremy Hunt said in response to the IMF forecast. "Short-term challenges should not obscure our long-term prospects — the U.K. outperformed many forecasts last year, and if we stick to our plan to halve inflation, the U.K. is still predicted to grow faster than Germany and Japan over the coming years."
The IMF noted that the world economy still faces serous risks. They include the possibility that Russia's war against Ukraine war will escalate, that China will suffer a sharp increase in COVID cases and that high interest rates will cause a financial crisis in debt-laden countries.
Asked about the impact of U.S. efforts to limit Chinese access to advanced processor chip technology due to security concerns, Gourinchas cautioned that curbs on semiconductor trade and government pressure to pull back industries to within their own borders and limit reliance on foreign partners "potentially could be harmful to the global economy."
"Diversification of supply chains is much more important in trying to improve resilience, improve growth, improve standards of living, rather than moving toward re-shoring or 'friend shoring,'" Gourinchas said.
The global outlook has been shrouded in uncertainty since the coronavirus pandemic struck in early 2020. Forecasters have been repeatedly confounded by events: A severe if brief recession in early 2020; an expectedly strong recovery triggered by vast government stimulus aid; then a surge in inflation, worsened when Russia's invasion of Ukraine nearly a year ago disrupted world trade in energy and food.
Three weeks ago, the IMF's sister agency, the World Bank, issued a more downbeat outlook for the global economy. The World Bank slashed its forecast for international growth this year by nearly half — to 1.7% — and warned that the global economy would come "perilously close'' to recession.
___
AP Business Writer Joe McDonald in Beijing and AP Writer Danica Kirka in London contributed to this report.
Paul Wiseman, The Associated Press