Latest News in Black Art: Michaela Yearwood-Dan Joins Marianne Boesky Gallery, Colin Powell Portrait on Display at Smithsonian, Plus Chef Bryant Terry's New Book on Art, Stories, and Recipes & More – Culture Type
Latest News in Black Art features news updates and developments in the world of art and related culture

MICHAELA YEARWOOD-DAN, "A conduit for joy," 2021 (oil, acrylic, ink, gold leaf and swarovski crystals on canvas; Overall: 87 x 141 3/4 inches / 221 x 360 cm; Each Panel: 87 x 70 7/8 inches / 221 x 180 cm
Representation
MARIANNE BOESKY GALLERY announced its representation of Michaela Yearwood-Dan, in partnership with Tiwani Contemporary in London. Born in London, where she is currently based, Yearwood-Dan expresses herself through painting and sculpture. "Through swirling strokes, vibrant palettes, and thick layers of paint, [the artist] cultivates lush scenes that borrow freely from pop culture, Blackness, feminism, botanical motifs, and personal visual narratives," the gallery said. Marianne Boesky shared the representation news Oct. 29, the day before "Michaela Yearwood-Dan: Be Gentle With Me," the artist's first solo show with the gallery closed in New York City. Marianne Boesky also operates a space in Aspen, Colo. The gallery will present new paintings by Yearwood-Dan in a pop-up exhibition opening Nov. 10 in Geneva and at Art Basel Miami Beach in December.
Appointments
The Prince Claus Fund in Amsterdam, The Netherlands, announced Marcus Tebogo Desando will serve as its new director beginning in 2022. Desando has been serving as CEO of The Arts and Culture Trust in Johannesburg, South Africa, since 2017. The Prince Claus fund was established "to support and connect artists and cultural practitioners in Africa, Asia, Latin America, the Caribbean and Eastern Europe, especially where they are under pressure." In 2021, the fund adopted a new strategy, focusing on supporting individual creatives at various stages of their professional development.
IMAGE: Above left, Marcus Desando. | Photo © Thando Mpushe
Awards & Honors
The International Photography Hall of Fame and Museum in Saint Louis, Mo., announced 2021 inductees, including Chicago photographer Dawoud Bey. Only three Black photographers have been recognized previously by the institution: James Van Der Zee, Gordon Parks, and Carrie Mae Weems.
Southeastern Museums Conference announced winners of its annual awards for museum professionals, including Ahmad Ward, who won the 2021 Museum Leadership Award. Ward is executive director of Historic Mitchelville Freedom Park on Hilton Head Island, S.C., which is recognized as the first self-governed town of formerly enslaved people in the United States.
Lives
The Smithsonian's National Portrait Gallery (NPGF) in Washington, D.C., announced a photographic portrait of Retired Gen. Colin Powell (1937-2021) by Timothy Greenfield-Sanders would go on display on its first floor beginning Oct. 20, and remain on view until further notice. Powell, who served as the nation's first Black national security advisor, first Black chairman of the Joint Chiefs of Staff, and first Black secretary of state, died Oct. 18, at age 84. The cause was complications from COVID-19. After four decades in public service, Powell said his endorsement of the war in Iraq would be a permanent "blot" on his record. NPG's collection features many portraits of Powell, including paintings, drawings, and photographs.
IMAGE: Installation view of TIMOTHY GREENFIELD SANDERS, "Colin Powell," December 11, 2007 (Epson inkjet photograph, 147.3 x 111.8 cm / 58 x 44 inches), National Portrait Gallery, Washington, D.C., October 2021. | Photo by Brendan Kelly, NPG
Auctions
Heritage Auctions in Dallas, Texas, is delaying its Nov. 5 sale titled "Soul of a Nation: Black Art From a Distinguished Collector." The auction featuring art by African American artists was derailed by provenance issues with several lots. A spokesperson for Heritage declined to provide details about particular works at issue or plans for rescheduling the auction.
On Nov. 12, Christie's New York is hosting an auction to benefit Laxart, the Los Angeles-based nonprofit contemporary visual arts space led by Hamza Walker. The sale of works by six artists—Glenn Ligon, Arthur Jafa, Christina Quarles, Jonas Wood, Barbara Kruger, and Jacqueline Humphries—will help secure Laxart's first permanent home.
Christie's is presenting the Nile Rodgers Collection during a live auction on Dec. 16 in New York. A legendary composer, producer, arranger and guitarist, Nile Rodgers has won multiple Grammys and co-founded the band chic. The 160-lot sale will feature an array of storied treasures, from vintage guitars and unique sound and production equipment to iconic fashions and rare cars. The proceeds will benefit the We Are Family Foundation, which was co-founded by Rodgers.
More News
The Studio Museum in Harlem has raised $210 million for its new building designed by architect David Adjaye, exceeding its $175 million goal. Opening in 2023, the new museum will feature a site-specific commission by Theaster Gates composed with materials from the previous building.
The University of Massachusetts at Amherst is celebrating two Black men who have made transformative contributions to the institution. The campus fine arts center is being named the Randolph W. Bromery Center for the Arts, paying tribute to the university's first Black chancellor, who served from 1971-79. According to UMAss Amherst, Randolph W. Bromery (1926-2013) was the second African American to lead a predominantly white university and the first to lead UMass Amherst. Designed architect Kevin Roche, the arts center was built under the leadership of Bromery, a geophysicist who joined the campus as a professor of geology. Inside the arts center, the building's main stage and concert hall is now called the Frederick C. Tillis Performance Hall, honoring the great composer and poet, who was a music educator and arts administrator at UMass Amherst. Frederick C. Tillis died in 2020.
The city of Fort Worth, Texas, announced plans to build a National Juneteenth Museum thanks to the dedication and tenacity of Opal Lee, 95, who successfully advocated to make Juneteenth a national holiday and continued her campaign to establish a museum.
Opportunities
The College Art Association (CAA) is offering grants supporting international members, students, emerging scholars, practitioners, and artists for the annual 2022 CAA Conference in Chicago (Feb. 16-19, 2022). Applicants must be CAA members. | More Info
The Dallas Museum of Art (DMA) in Dallas, Texas, has several career opportunities. Open positions include Chief Curatorial and Research Officer, Curator of Works on Paper, and Chief Marketing and Communications Officer. | More Info
CT
Chef Bryant Terry, chef-in-residence at the Museum of the African Diaspora in San Francisco, discussed his new book, "Black Food: Stories, Art, and Recipes" on CBS Mornings. "People can enter this in whatever way the want. Some people will cook. Some people are going to look at it as an art book. Others will have it at their nightstand and read the riveting essays every night. It's a little bit of something for everyone in here," Terry said. | Video by CBS News
SUPPORT CULTURE TYPE
Do you enjoy and value Culture Type? Please consider supporting its ongoing production by making a donation. Culture Type is an independent art history project that requires countless hours and expense to research, report, write, and produce. To help sustain it, make a one-time donation or sign up for a recurring monthly contribution. It only takes a minute. Many Thanks for Your Support.
Paintings turned trees into central characters in Canadian art: expert – OrilliaMatters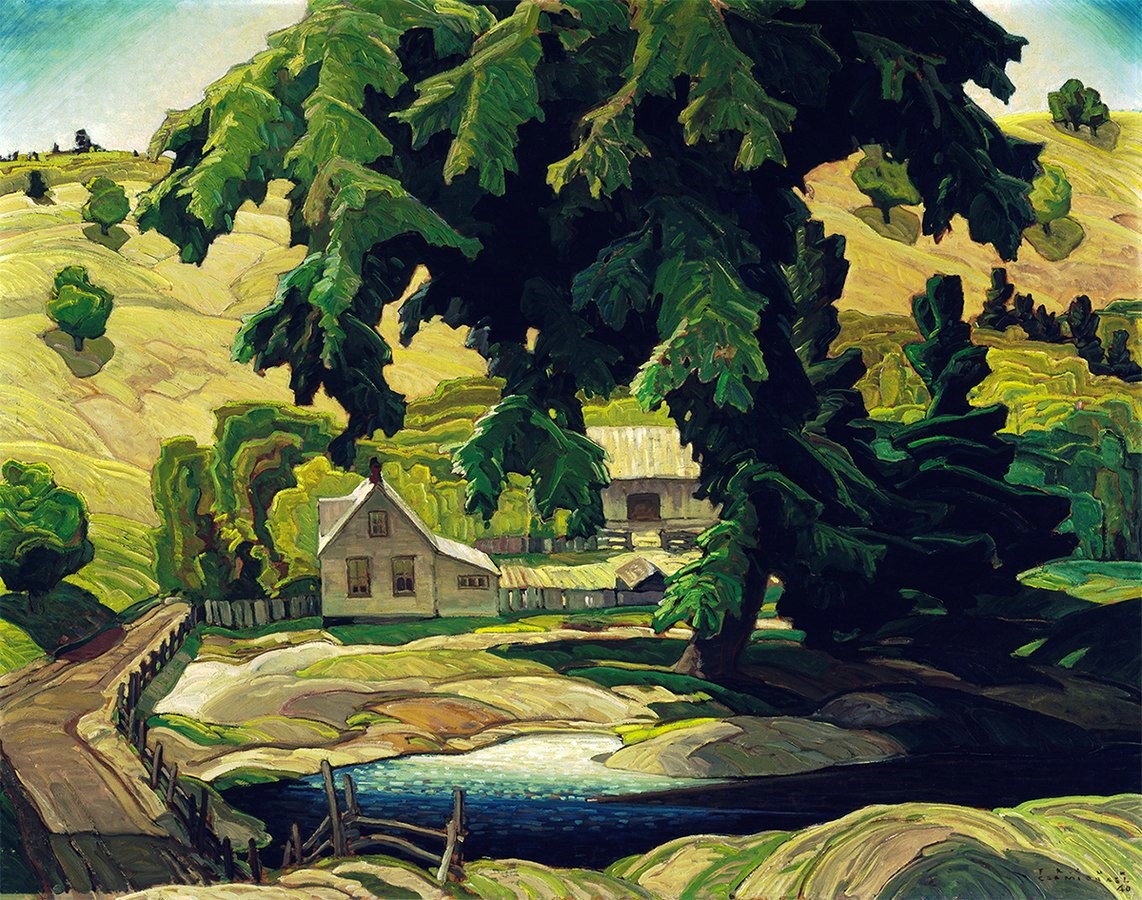 NEWS RELEASE
ORILLIA MUSEUM OF ART & HISTORY
********************
In her introduction to this year's Carmichael Art History Lecture fundraiser, Executive Director of the Orillia Museum of Art & History (OMAH), Ninette Gyorody paid tribute to Qennefer Browne. It was a remembrance of gratitude.
Browne founded our annual Art History Lecture and named it in honour of Franklin Carmichael, a member of the Group of Seven, who was born in Orillia. Browne organized speakers for many years, until her death.
This year, we were incredibly fortunate to have Dr. Anna Hudson, who teaches Art History and Visual Culture in the Arts Music Performance Dance (AMPD) Department of York University, as our distinguished lecturer.
Her compelling presentation was a focus of her doctoral dissertation, "Art and Social Consciousness: The Toronto community of Painters, 1933-1950" was 'What Came after the Group of Seven.'
From 1933 to 1950, a group of socially-conscious painters imagined a society transformed by art, and came together to develop a shared language of visual representation, building on the legacy of the Group of Seven.
Dr. Hudson spoke of the way artists play off each other's work, investing form with meaning over time. Her talk was supported by images of Canadian paintings and photos of the period, which illustrated ideas within the lecture and enabled us to connect with the art.
Visual themes of the lecture were 'TREE, BODY, INDUSTRY, LAND, HOME'.
First up for discussion were paintings by Franklin Carmichael: Autumn in Orillia (1924), Farm, Haliburton (1940) and Autumn Hillside (1920). In the 1940 painting, a tree is the dominant figure in the landscape. Dr. Hudson explored what this might mean, referencing the historical context of 1940.
Next, images of Jack Pine and West Wind, by Tom Thomson, were shared. These paintings lifted trees into the role of central characters in Canadian art, rather than being part of a pretty European style landscape painting.
Continuing her discussion of paintings, sculpture, photographs and commercial art by Canadian artists of the period 1933 to 1950, Dr. Hudson shared her interpretation of this phase of our national art.
One of the most fascinating paintings referenced was 'Tree', painted in 1944, by Isabel McLaughlin. This writer viewed this painting at The McMichael Gallery last month. Dr. Hudson's assessment of 'Tree' as "disturbing, powerful, visceral, tactile" fits this painting.
We thank Dr. Hudson for sharing her vast knowledge and passion for this important time in Canadian art history. Her presentation was a great complement to the Carmichael Canadian Landscape Exhibition: Tradition Transformed, now in its 20th year. Don't miss this incredible juried show.
For 2022:
The History Speaker Series will be on hiatus for December and will resume on Jan. 19, 2022, via Zoom.
Popular Orillia historian, Dave Town, will be our guest speaker with his talk 'Yellowhead's Revolt'. Local Indigenous leader, Rama's Chief Yellowhead, stood defiant against not just the white man, but his fellow Chiefs in 1846 at the Great Meeting held in Orillia.
At issue were life-changing policies, the most significant of which was the creation of the first residential schools in Canada. Chief Yellowhead stood up for what he felt was right for his people. Don't miss Dave's fascinating talk about this important event in our local history.
Click here to register for the talk or call Monica at 705-326-2159 or email visitors@orilliamuseum.org
Admission to the History Speaker Series is free, but donations to OMAH are appreciated.
The OMAH History Committee thanks you for your loyal support in 2021. Stay tuned for a full list of dynamic speakers in 2022. Wishing you a safe and festive holiday season.
********************
Art Fx #44: "Around the Bend" by Pam MacKenzie – Huntsville Doppler – Huntsville Doppler
Art Fx is a year-long series on Huntsville Doppler featuring Huntsville-area visual artists.
"Around the Bend" by Pam MacKenzie is a 24" x 36″ acrylic on birch
"This painting depicts a canoe trip up a stream to explore what lies beyond," says Pam. "My husband and I were avid canoeists and spent countless hours exploring small rivers and creeks. Travelling in these small bodies of winding waters always left you wondering what was around the corner. Did it continue on or was this bend going to end up in a bay or a larger body of water than we were comfortable travelling on in our canoe? Were we going to be able to continue in the canoe or going to have to portage over a rough spot, leaving the colour of our canoe on buried river rock? Or were we going to find a quiet spot to pull ashore on and explore the land along the banks?"
"Around the Bend" is available for $400.
About the artist
Artistic endeavours have always been part of Pam's life, from making her own school clothing to designing and creating wedding gowns and apparel to art quilts, weaving and stained glass.
Pam began exploring the drawing and painting art world in 2013 with Laura Landers, Iris Shields, and now Carol Rudderham.
Pam has taken long workshops with a number of well-known Canadian artists and is currently working on an online course in bold-colour painting through the Bold School based in B.C.. While her first love is portraiture in black and white, she felt the need to colour her portraits first in pastels and now in acrylic and is taking this course to do just that.
Currently Pam is exploring the world of pouring art as she has splints on both arms following a tumble this fall. When life throws you lemons, make lemonade.
Pam is co-chair of the Huntsville Art Society and takesadvantage of the many opportunities through HAS to show her work. She also paints with a group at Carol Rudderham's and shows her work bi-annually in the gallery at Partners Hall in the Algonquin Theatre.
Find Pam online at the HAS website or contact her at pammack123@icloud.com or 705-788-9875.
See more local art in Doppler's Art Fx series here.
Don't miss out on Doppler!
Sign up here to receive our email digest with links to our most recent stories.
Local news in your inbox three times per week!
Click here to support local news
Year end art exhibition features 40+ local art makers – North Bay News – BayToday.ca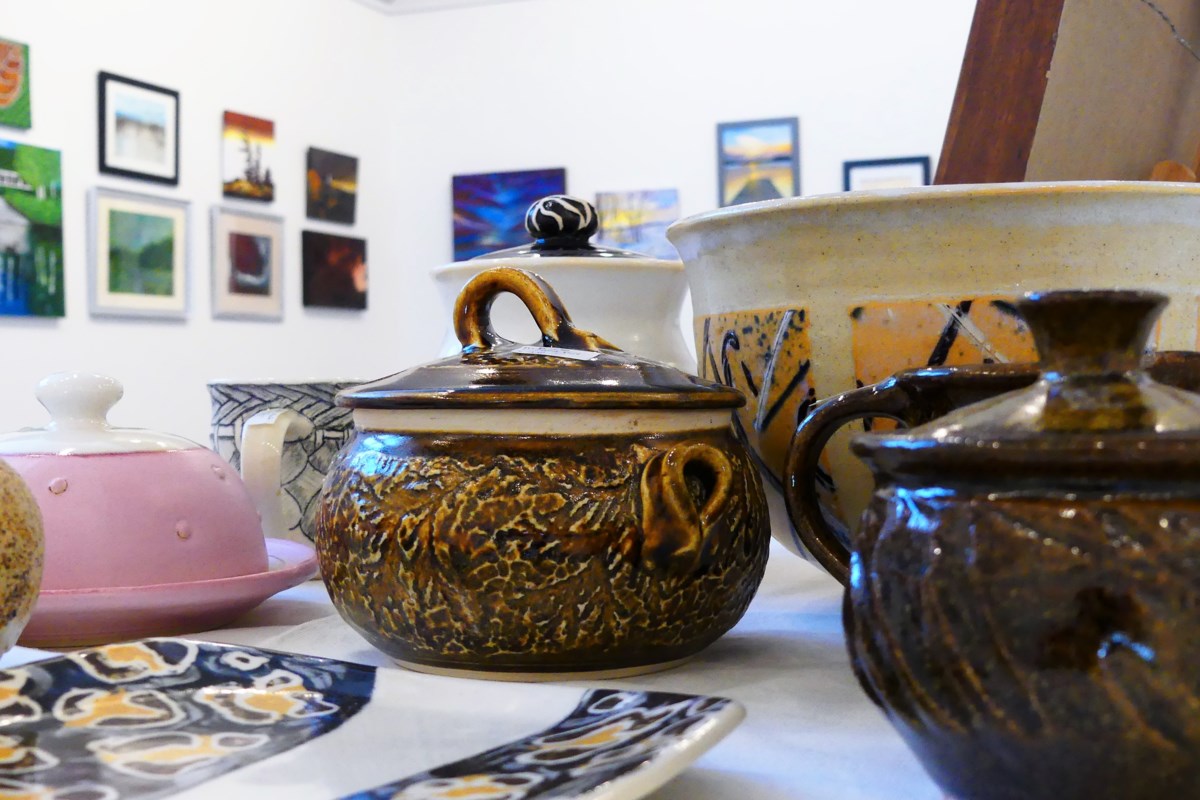 The Alex Dufresne Gallery is presenting its annual year-end show "Petit Noel: Exhibit & Sale."
"This art exhibition has brought together over 40 different painters, photographers, potters, and artisans of all mediums, styles, and levels of experience to curate a show that reflects the passion of the northeastern Ontario art community.," says Natasha Wiatr, Curator.
All pieces are no larger than 20" by 20" in size and almost all pieces are for sale.
The show is currently on display and will stay up until Saturday, December 30.
The gallery is open Wednesday – Saturday from 10 – 5 excluding Christmas Day and New Years Day.
"If you would prefer to book the gallery for a private viewing on a Tuesday, please contact us to arrange for a time," adds Wiatr. "The gallery is free, with donations welcome. Due to Covid-19 guidelines, we ask that visitors wear masks and maintain six feet of social distancing, and we have hand sanitizer available on site. Please do not visit if you are not feeling well."
Location: Alex Dufresne Gallery (107 Lansdowne St. E. in Callander, in the same building as the Callander Bay Heritage Museum)