Lawyers say barring unvaccinated from events, restaurants is not necessarily illegal – BC News – Castanet.net
Photo: CTV file
Limiting the rights of unvaccinated British Columbians won't necessarily make the province's new COVID-19 vaccine passport program illegal or unconstitutional, lawyers say, but the issue will no doubt end up in court.
Premier John Horgan, flanked by provincial health officer Dr. Bonnie Henry and Health Minister Adrian Dix, announced Monday a program beginning next month that will see proof of vaccination required to access certain businesses and events — live sports, restaurants, night clubs, cinemas, casinos, concerts and more.
The measures are unprecedented in B.C. and bound to wind up in court, according to Thompson Rivers University law professor Craig Jones, one of the province's top legal experts.
"It's very clearly an infringement on people's liberty under the Charter, and there's possibly infringement of human rights legislation depending on the reasons why people do or don't get vaccinated and so forth," Jones told Castanet.
"But just showing an infringement isn't enough. The court or the tribunal is going to want to balance the legitimate objectives of the measures against the degree of intrusion in people's life. At the end of the day, I think it is all going to come down to whether there is a legitimate belief that these measures will help."
There will be no exceptions, Henry said Monday in making the announcement, except for children under 12 — too young for a vaccine. That means those who refuse to vaccinate, as well as those unable to for medical or religious reasons, will not be allowed into any business or event where proof of vaccine is required.
The program is slated to take effect on Sept. 13. Some business owners are applauding the news — the measures came about following lobbying by the BC Chamber of Commerce — while others are vowing to refuse to abide by the conditions.
Kamloops lawyer Marshall Putnam, who teaches a course on Charter rights at TRU's law school, said going out for dinner is not specifically protected by Canada's Charter of Rights and Freedoms.
"There is no specific Charter right that entitles someone to eating in a restaurant or going to a casino, both of which are activities limited by this mandate," he said.
"These are privileges that people were previously allowed to enjoy provided they met the criteria for doing so, which before now has generally been a question of finances. A limitation on doing these types of activities that's based on proof of vaccination is certainly new, but does not change the fact the limitation remains on leisure activities — the types of activities you are not constitutionally entitled to doing."
Putnam said he thinks litigants challenging the new requirements in court could be in for a tough fight, because the mandate is not directly infringing their Charter rights in a way previously seen. He said he thinks a challenge on religious or medical grounds would have the best shot at success.
Henry stressed the measures will be temporary. When asked, she said the earliest the passport requirements could be lifted is January, depending on how effective they are in driving up vaccination rates and lowering case counts.
Jones said the potentially short window for the program won't change anything when it comes to litigation.
"Let's say someone files a challenge and then the law is rescinded," he said.
"The court still has the discretion to carry on with the hearing, notwithstanding that it's technically moot, if they think that there's some worthwhile purpose in having the matter decided. And, in a case like this, they may well make that decision that they want to go forward."
COVID booster use may be expanded, US health officials say – Al Jazeera English
FDA advisory body this week recommended coronavirus booster shots for people more than age 65 and those at high risk.
Top health officials in the United States have said broader approval of COVID-19 booster shots could be weeks away, after a Food and Drug Administration (FDA) expert advisory panel this week recommended a third jab for a limited segment of the population.
The director of the National Institutes of Health said the FDA panel's decision on Friday to limit Pfizer COVID-19 booster shots to Americans age 65 and older as well as those at high risk of severe disease was a preliminary step.
In an interview on Fox News Sunday, Dr Francis Collins predicted more wide-ranging approval for most Americans "in the next few weeks".
Collins said the panel's recommendation was correct based on a "snapshot" of available data on the effectiveness of Pfizer's two-jab regimen over time. But he said real-time data from the US and Israel continue to come in showing waning efficacy among more groups of people that will need to be addressed soon.
"I think there will be a decision in the coming weeks to extend boosters beyond the list that they approved on Friday," said Collins, who also appeared CBS' Face the Nation programme on Sunday.
Some rich nations, including the US and UK, are considering coronavirus booster shots amid a recent surge in cases linked to the highly contagious Delta variant.
But the World Health Organization (WHO) this month called for a moratorium on booster shots amid concerns about vaccine supplies to poorer nations, where millions have yet to receive their first jab.
A group of international scientists also said last week that even with the threat from the Delta strain, "booster doses for the general population are not appropriate at this stage in the pandemic".
"Any decisions about the need for boosting or timing of boosting should be based on careful analyses of adequately controlled clinical or epidemiological data, or both, indicating a persistent and meaningful reduction in severe disease," the scientists wrote in The Lancet medical journal.
Dr Anthony Fauci, who is US President Joe Biden's chief medical adviser, on Sunday praised the FDA advisory board's plan for covering a "good chunk" of Americans. But he stressed that "this is not the end of the story" based on data that was emerging and said the guidance would likely be expanded in the coming weeks to months.
People in the US who have received the two-dose Moderna vaccine or one-dose Johnson & Johnson vaccine are still awaiting guidance on possible booster shots.
"The actual data that we'll get [on] that third shot for the Moderna and second shot for the J&J is literally a couple to a few weeks away," Fauci told NBC's Meet the Press programme.
"We're working on that right now to get the data to the FDA so they can examine it and make a determination about the boosters for those people."
The FDA will consider the advisory group's advice and make its own decision, probably within days. The US Centers for Disease Control and Prevention (CDC) also is set to weigh in this week.
US stocks tumble amid fears of market correction – BBC News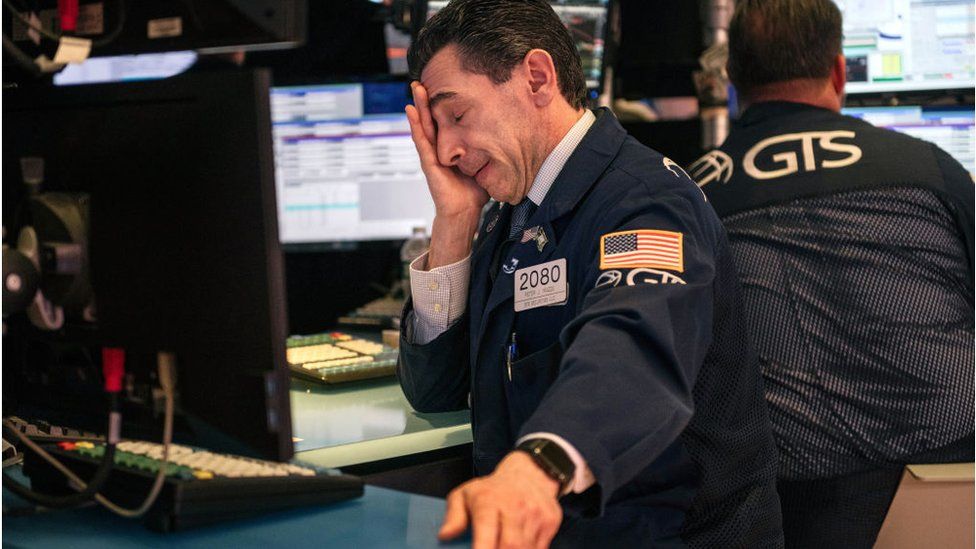 US markets have tumbled amid growing concerns about China's financial system and the impact of coronavirus on the global economy.
On Wednesday, the Dow Jones index lost almost 800 points to 33,816.92 before regaining ground.
There were similar falls in Europe, with the Germany's Dax index losing 2.3%, and France's Cac 40 down 1.7%.
One analyst called it "a classic flight to safety", with Wall Street seeing its worst day since May.
But US stocks are still up more than 12% this year and some analysts played down fears of a correction ahead.
Monday's sell-off was primarily driven by concerns that Evergrande – one of China's biggest property developers – is struggling to repay around $300bn of debts.
Regulators in China warned it could spark broader risks to the country's financial system. And investors fear this could hit big banks exposed to Evergrande and companies like it, causing contagion in global markets.
'Overspill'
"The fear of an Evergrande bankruptcy appears to be leading to concern about China's very own Lehman [Brothers] moment, and a big overspill across the region," said Michael Hewson of CMC Markets.
Investors are also nervous that the US Federal Reserve, which meets on Tuesday and Wednesday, will confirm plans to pare back its support for the US economy this year.
Global stocks have rallied as economies have reopened and central banks have provided trillions of dollars in support to boost growth.
But there are concerns there could be a pull-back, if support is taken away at a time when the Delta variant is starting to drag on the recovery.
Strategists at Morgan Stanley said they expected a 10% correction in America's S&P 500 index as the Fed starts to unwind its support. They added that signs of a stalling recovery could deepen that fall to 20%.
'Signal from the noise'
However, other analysts played down fears of a rout, noting that September is typically a bad months for stocks.
"Overall, September continues to live up to its bad reputation as historically the weakest month of the year. But that doesn't mean it can't rebound," said JJ Kinahan, chief market strategist at TD Ameritrade.
And Lindsey Bell of Ally Invest said any pullback may be short-lived.
"Much of investing is about sorting through what's signal and what's noise," she said. "While there is concern about the Evergrande situation infecting global markets, for the long-term investor, this situation may just be noise."
Pfizer Canada eyeing urgent COVID-19 vaccine approval for children aged 5 to 11 – Global News
Pfizer Canada says it plans to provide Health Canada with data showing its COVID-19 vaccine works for children in a bid to seek authorization "as early as possible."
Pfizer said Monday its research shows its product works for children aged five to 11 and that it will also seek U.S. authorization for this age group soon _ a key step toward protecting schoolchildren from the novel coronavirus.
Christina Antoniou, the company's director of corporate affairs in Canada, says they "share the urgency" to provide data that could lead to a shot for young kids.
She could not say when that information would be submitted, but notes Pfizer has been sending new vaccine data to Health Canada as it becomes available.
Pfizer's latest findings have not been peer-reviewed, nor published.
Health Canada says several studies on children are underway by various COVID-19 vaccine makers, and that it "anticipates vaccine manufacturers to provide data in children in the coming months."

3:47


Pfizer says their vaccine works for children 5-11



Health Canada adds that no submission has been received yet for the approval of any COVID-19 vaccine in children younger than 12 years old.
The vaccine made by Pfizer and its German partner BioNTech is already available for anyone aged 12 and older.
Pfizer studied a lower dose of its two-dose vaccine in more than 2,200 kindergartners and elementary school-aged kids, mostly in the United States and Europe. It says the kids developed coronavirus-fighting antibody levels just as strong as those detected in teenagers and young adults.
Moderna is also testing its shots in elementary school-aged children, and both Pfizer and Moderna are studying COVID-19 vaccines for those as young as six months old. Results are expected later in the year.
Medical officials called the results of Pfizer's trial with kids "encouraging" but cautioned against anticipating too much too soon.
The medical lead with Manitoba's COVID-19 vaccine implementation team said it was too early to know what the findings could mean for kids under the age of 12 in the province.
"At this time, we don't even know the extent of how well it protects, what number of side effects they saw. We're very early in the planning," said Dr. Joss Reimer.
However, Reimer said the team has started planning in the event Health Canada approves the Pfizer vaccine for children.
She said this may include providing doses in schools or having alternative clinics in place for youth.

2:28


Parents react to COVID-19 cases in Ontario schools



A spokeswoman for Ontario's health ministry said the province is "monitoring the evidence."
"Working with our public health and health system partners we will be ready to administer doses to children aged five to 11 as soon as they are approved by Health Canada," said Alexandra Hilkene.
Alberta also said it would await Health Canada approval before vaccinating children.
"Until vaccines are approved for this age group, younger children rely on older Albertans who are immunized to strengthen our defences to protect everyone in our province," said provincial government spokeswoman Lisa Glover.
This report by The Canadian Press was first published Monday, Sept. 20, 2021.
— With files from Laura Osman in Ottawa, Brittany Hobson in Winnipeg, John Chidley-Hill in Toronto, and the Associated Press
© 2021 The Canadian Press