Lebanon's caretaker PM threatens to quit as economy plunges – DW (English)
Demonstrators blocked roads after the Lebanese pound fell lower. As poverty and hunger spreads, pressure is mounting on politicians to form a new government.
Demonstrators blocked roadways nationwide for the fifth day in a row on Saturday and armed forces rushed to occupy parts of the capital Beirut as anger builds over the country's economic downturn.
The Lebanese currency tumbled to a new low on Tuesday, enraging a population already suffering from the country's financial meltdown.
With the crisis worsening, caretaker Prime Minister Hassan Diab threatened to stop performing his duties in a bid to pressure politicians to forge a new Cabinet.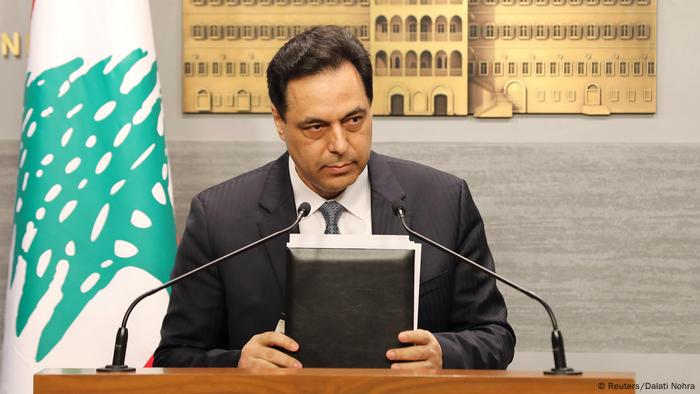 Caretaker Prime Minister Hassan Diab warned of "chaos" if a new government isn't formed soon
What did Diab say?
In his nationally televised speech on Saturday, Diab said he was prepared to suspend his caretaker duties "if it helps to form a government."
"The country is confronted with enormous challenges that a normal government cannot face without political consensus," said Diab. "So how can a caretaker government face these challenges?"
Diab warned Saturday against inaction and appealed to politicians to put aside differences and quickly form a new government that can attract desperately needed foreign assistance.
"What are you waiting for, more collapse? More suffering? Chaos?" Diab said, chiding senior politicians without naming them for continuing to debate over the future shape and size of the government.
"What will having one minister more or less [in the Cabinet] do if the entire country collapses," he asked.
"Lebanon is in grave danger and the Lebanese are paying the price."
What is happening to Lebanon's economy?
Lebanon's two year-long financial crisis shows no signs of ending as joblessness spreads along with hunger.
The collapse of the Lebanese pound, to 11,000 to the US dollar on Tuesday, was the last straw for citizens already suffering from steeply rising prices on consumer goods such as diapers and cereals.
The financial crash has also resulted in delays in the arrival of fuel shipments, leading to more extended power cuts around the country, which in some areas now are stretching more than 12 hours a day.
The crisis has driven nearly half the population of the small country of six million into poverty.
"Doesn't the scramble for milk constitute a sufficient incentive to transcend formalities and roughen out the edges in order to form a government?" Diab said, referring to a recent Beirut supermarket incident in which shoppers fought over powdered milk.
The now viral video seemingly underscores the desperate state of the economy.
"Social conditions are aggravating, financial conditions are putting a severe strain on the country, political conditions are increasingly complex," Diab added in his speech.
What can a new government do?
The nation has been drifting since August when Diab's cabinet resigned following the massive Beirut port explosion that devastated much of the city.
Prime Minister-designate Saad al-Hariri was nominated in October but has failed to form a new Cabinet due to the political deadlock between him and President Michel Aoun.
Despite Lebanon's need for foreign currency, international donors have said they will only help the country financially if major reforms are implemented to fight widespread corruption, which has brought the nation to the brink of bankruptcy.
A new Cabinet would be in a position to institute the necessary financial reforms.
mb/rs (AP, Reuters)
Britain is 'bouncing back' into the same old economy – The Guardian
CANADA STOCKS – TSX ends flat at 19,228.03
* The Toronto Stock Exchange's TSX falls 0.00 percent to 19,228.03
* Leading the index were Corus Entertainment Inc <CJRb.TO​>, up 7.0%, Methanex Corp​, up 6.4%, and Canaccord Genuity Group Inc​, higher by 5.5%.
* Lagging shares were Denison Mines Corp​​, down 7.0%, Trillium Therapeutics Inc​, down 7.0%, and Nexgen Energy Ltd​, lower by 5.7%.
* On the TSX 93 issues rose and 128 fell as a 0.7-to-1 ratio favored decliners. There were 26 new highs and no new lows, with total volume of 183.7 million shares.
* The most heavily traded shares by volume were Toronto-dominion Bank, Nutrien Ltd and Organigram Holdings Inc.
* The TSX's energy group fell 1.61 points, or 1.4%, while the financials sector climbed 0.67 points, or 0.2%.
* West Texas Intermediate crude futures fell 0.44%, or $0.26, to $59.34 a barrel. Brent crude  fell 0.24%, or $0.15, to $63.05 [O/R]
* The TSX is up 10.3% for the year.
Canadian dollar outshines G10 peers, boosted by jobs surge
By Fergal Smith
TORONTO (Reuters) – The Canadian dollar advanced against its broadly stronger U.S. counterpart on Friday as data showing the economy added far more jobs than expected in March offset lower oil prices, with the loonie also gaining for the week.
Canada added 303,100 jobs in March, triple analyst expectations, driven by the recovery across sectors hit by shutdowns in December and January to curb the new coronavirus.
"The Canadian economy keeps beating expectations," said Michael Goshko, corporate risk manager at Western Union Business Solutions. "It seems like the economy is adapting to these closures and restrictions."
Stronger-than-expected economic growth could pull forward the timing of the first interest rate hike by the Bank of Canada, Goshko said.
The central bank has signaled that its benchmark rate will stay at a record low of 0.25% until 2023. It is due to update its economic forecasts on April 21, when some analysts expect it to cut bond purchases.
The Canadian dollar was trading 0.3% higher at 1.2530 to the greenback, or 79.81 U.S. cents, the biggest gain among G10 currencies. For the week, it was also up 0.3%.
Still, speculators have cut their bullish bets on the Canadian dollar to the lowest since December, data from the U.S. Commodity Futures Trading Commission showed. As of April 6, net long positions had fallen to 2,690 contracts from 6,518 in the prior week.
The price of oil, one of Canada's major exports, was pressured by rising supplies from major producers. U.S. crude prices settled 0.5% lower at $59.32 a barrel, while the U.S. dollar gained ground against a basket of major currencies, supported by higher U.S. Treasury yields.
Canadian government bond yields also climbed and the curve steepened, with the 10-year up 4.1 basis points at 1.502%.
(Reporting by Fergal Smith; Editing by Andrea Ricci)