Leonard Abrams, 68, Chronicler of 1980s East Village Art Boom, Dies
His newspaper, the East Village Eye, was as scrappy and iconoclastic as the young maverick stars its pages brought to life.
Leonard Abrams, the founder of the East Village Eye, a community newspaper dripping with attitude that captured in newsprint the do-it-yourself post-punk ethos that ignited the explosion of groundbreaking art, music and fashion in downtown Manhattan in the 1980s, died on April 1 in New Jersey. He was 68.
The cause was a heart attack at a rest stop on the New Jersey Turnpike on his way home from a business trip, said Arthur Fournier, a close friend and longtime colleague.
The Eye, a monthly publication that Mr. Abrams published and edited from 1979 to 1987, scarcely made a dent above 14th Street in Manhattan — to many the traditional dividing line of "downtown." But to those who lived a short stroll from Tompkins Square Park, it functioned as a house organ for the graffiti artists, New Wave (and No Wave) bands and maverick fashion designers who came together in the 1980s to create one of New York's storied cultural flowerings.
"There were performances, there was art, there was rock 'n' roll, and people were just showing up and meeting each other," Mr. Abrams recalled in a 2005 interview with the website Gothamist. "These people who would work together, party together, have sex or maybe be at each other's throats were all just getting together and forming the East Village scene."
In an era of affordable railroad apartments and storefront gallery spaces, the Eye chronicled the doings and musings of era-defining stars like Keith Haring and Barbara Kruger, musicians like Iggy Pop and the Beastie Boys, and fashion designers like Patricia Field and Betsey Johnson. The punk savant Richard Hell cataloged his thoughts on music and bohemian culture in a column called "Slum Journal." Glenn O'Brien, a former editor of Interview magazine, opined on the New York sports landscape.
Despite its downtown focus, the Eye also cast a glance uptown and beyond to chronicle the world of hip-hop as it hurtled toward the mainstream. It ran early feature articles about Afrika Bambaataa, Run-DMC and the graffiti artist Fab 5 Freddy.
Indeed, Mr. Abrams and others associated with the Eye long claimed that it was the first publication to print a comprehensive definition of hip-hop, with a parenthetical in a January 1982 interview with Mr. Bambaataa by the writer Michael Holman that summarized the term as "the all-inclusive tag for the rapping, breaking, graffiti-writing, crew-fashion-wearing street subculture."
In 1987, Mr. Abrams emerged from his editor's desk to oversee an influential regular hip-hop party on the Lower East Side called Hotel Amazon, featuring performances by up-and-coming acts like De La Soul, Queen Latifah and A Tribe Called Quest, as well as more established acts like Public Enemy.
"Dude did a lot to make NYC move and think," Chuck D, the frontman of Public Enemy, wrote on Twitter on Sunday. In 2008, Chuck D narrated "Quilimbo Country," a documentary written and directed by Mr. Abrams about the continuing struggles of villages in Brazil that had been founded by fugitive slaves.
The Eye, which lured a national and even international readership, functioned to both feed and deflate the swelling mythology surrounding the scene. "If all the hype and nonsense theories I've heard about the East Village were one big throat," the celebrated artist (and occasional Eye contributor) David Wojnarowicz said in a 1984 interview with the newspaper, "I'd volunteer to strangle it."
Mr. Abrams was born on Dec. 19, 1954, in Brooklyn, the youngest of four children of Nathan Abrams, a furrier who later became a securities trader, and Adele (Fleischman) Abrams, a bank executive.
In 1976, after studying literature at Fordham University, Mr. Abrams got a job as a bicycle messenger and moved to the East Village, a gritty neighborhood still filled with bargain apartments. "It took me two days a month — as a bicycle messenger — to pay my share of the rent on my apartment," he said in a recent interview on the podcast "FAQ NYC."
He moved to Colorado for a while, but he returned to New York on New Year's Day 1979 and discovered a creative outpouring that seemed to beg for its own publication. Before long, the Eye was chronicling the misfits and geniuses — often one and the same — who were making the neighborhood a creative cauldron.
"In the Eye, you could read about iconoclastic performers like Diamanda Galás or Kembra Pfahler, funky boutiques like Manic Panic and Patricia Field, or quirky clubs and spaces like King Tut's Wah Wah Hut and 8 BC," Michael Musto, the longtime Village Voice columnist and downtown fixture, recalled in an email.
But Mr. Abrams was no cheerleader. Under his watch, the Eye chronicled the ravages of crack cocaine, the devastation of AIDS and the rising tide of gentrification, all of which would ultimately help splinter the scene.
The Eye peaked in influence in the early 1980s, Mr. Musto said, filling a relative gap between the '70s heyday of the Soho Weekly News, which shuttered in 1982, and the rise of the original Details magazine, which started that same year and covered the same general turf, but with a glossier approach.
Within five years, however, Mr. Abrams had folded the paper, wearied by the grind, the soaring real estate values that were pushing out the hungry young artists, and the lack of revenue for the paper, which even in good times only had enough money to pay a few staff members, Mr. Fournier said.
Mr. Abrams is survived by his brother, Lawrence; his sisters, Debbie King and Bethany Haye; and his partner, Angela Sloan.
Following the demise of the Eye, Mr. Abrams poured his energies into his club, his documentary and, in later years, a business importing religious products from Mexico. For decades, the legacy of the Eye was largely kept alive in the yellowing copies that Mr. Abrams kept in a storage locker in Queens. That changed in November, when the New York Public Library added those 72 issues to its archive, the culmination of a long campaign by Mr. Abrams and Mr. Fournier.
In an article in The New Yorker in February about the library's acquisition, Mr. Abrams, unassuming in most circumstances, allowed himself a rare moment of self-approbation.
"I had a nose for news," he said, "and the news I had a nose for was 10 years ahead."
Artists slam Duke Nukem 1+2 Remaster art & claim it's "AI generated" – Dexerto
Fans of the long-dormant Duke Nukem series were elated to see a remaster of the first 2 games getting announced, but that excitement has been dampened by people calling out the game's key art for being "AI generated".
AI has been rapidly developing as of late, getting implemented in an increasing number of ways for people to generate images and text by feeding certain AI programs a prompt to work from.
AI art has become just as controversial as it has been prominent, and people are increasingly wary of AI-generated images replacing the work of real artists.
Article continues after ad
When the promotional art for the Duke Nukem 1 + 2 Remasters released, the joy of many fans was traded out for disdain, with many claiming that the art wasn't created by an actual artist. To prove their point, several artists put together a detailed analysis of the image to try and explain why they think the artist that was hired didn't do all his work by hand.
Duke Nukem 1+2 Remaster under fire for "AI generated" art
When AI art first started taking the internet by storm, it was pretty easy to discern what was and wasn't real. Though some images were more convincing than others, things like hands, facial expressions, and other small details didn't quite line up with what a human artist would produce.
Article continues after ad
However, as the technology rapidly advances, it's getting harder and harder to tell the difference. For instance, the cover art for a book by the name of Bob the Wizard was exposed as being AI generated after it won a cover art contest, with the author of the book now working with a different artist to replace it.
Subscribe to our newsletter for the latest updates on Esports, Gaming and more.
Now, Duke Nukem fans and artists are calling out Oskar Manuel, claiming that he used AI to generate the cover for the Duke Nukem 1+2 Remaster under the nose of Evercade, the company promoting the remaster.
Article continues after ad
It hasn't been confirmed by the artist or Evercade whether or not Manuel used AI in the production of art for the title, but several artists and gamers have swarmed the account, claiming that art from Manuel's portfolio seems to be AI-generated.
One artist went out of their way to mark the places in which they think the art most clearly shows its faults and other examples of art from Manuel's portfolio that includes things like clocks with no hands and characters with 6 fingers.
Article continues after ad
Neither Evercade nor Manuel have commented further on the matter at the time of writing, and the story is still developing.
Global BC sponsors Vancouver Art Gallery: Fashion Fictions – GlobalNews Events – Global News
On now until October 9
Vancouver Art Gallery
Head to the Vancouver Art Gallery for Fashion Fictions,
This exhibition explores the increasing influence of research-based, materially driven practices on the global fashion scene, and surveys experimental design practices pushing the boundaries of the art form.
Proudly sponsored by Global BC.
Details at VanArtGallery.bc.ca
Poland's quest to retrieve priceless Nazi-looted art – BBC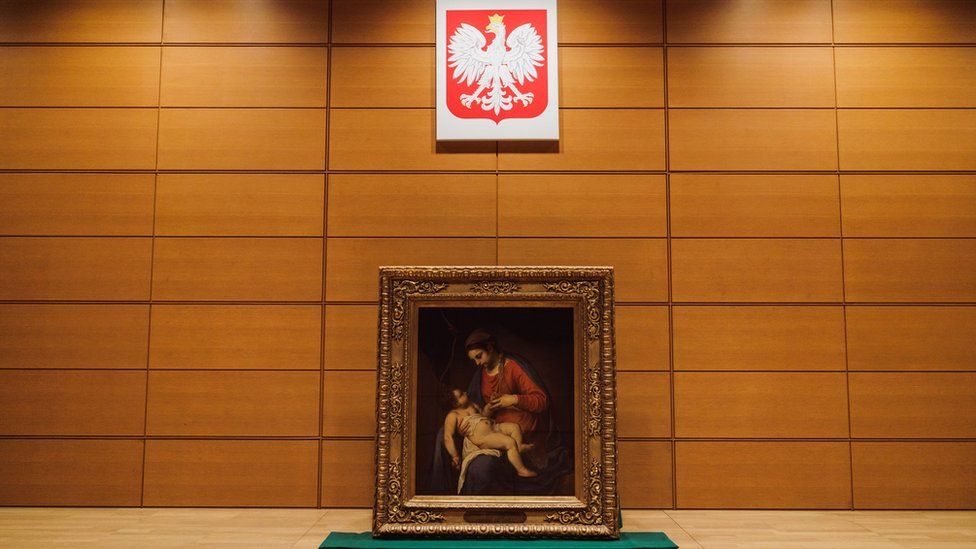 When the Nazis occupied Poland in World War Two, many of the country's priceless pieces of art were stolen.
One of those was Madonna with Child, a 16th Century painting attributed to Italian Alessandro Turchi. A Nazi official who oversaw the looting of art included the painting on a list of hundreds taken from occupied Poland.
It is one of 600 looted artworks that Poland has managed to successfully bring home, but more than 66,000 so-called war losses are yet to be recovered.
Poland recently launched a campaign seeking the return of hundreds of thousands artworks and other cultural items still missing after German and Soviet occupations in World War Two. It is also seeking $1.3 trillion in reparations from Germany for damage incurred by occupying Nazis.
Experts believe more art will be discovered with the passage of time as heirs to looted artwork attempt to sell pieces without being aware of their history.
Madonna with Child is thought to have been transferred to Germany in 1940 during the Nazi occupation of Poland. The Nazis often looted art belonging to Jewish families before killing them.
The painting was included on a list of 521 artworks in occupied Poland compiled by Kajetan Mühlmann, a Nazi official who oversaw the looting of art.
The painting reappeared in the 1990s, when it was sold at a New York auction.
It was due to be auctioned in January last year, but the sale was halted after Polish authorities spotted the piece. Once it was proven to be the looted painting, the auction house and the painting's owner agreed to return it to Poland. An official handing-over ceremony took place in Tokyo on Wednesday.
Polish art historian Natalia Cetera said the return of masterpieces like Madonna with Child help restore pride in the country's art heritage.
Poland had Rembrandt and Raphael pieces stolen, as well as internationally recognised Polish masterpieces, she said.
"So whenever there is this situation where the artworks come back to Polish collections, you feel proud because it shows the importance of Polish collections that is sometimes forgotten," Ms Cetera told the BBC.
"It means we have some strong focus on remembering our heritage, our collections and the strength we used to have in art, because this is something we tried to rebuild after the war and this is a long process to be recognised again."
Ms Cetera says she believes there has been a shift in recent years in cultural heritage "being seen as a common good".
Christopher Marinello, founder of Art Recovery International, has spent more than 30 years finding missing masterpieces. He believes that more pieces could start showing up as looted artwork gets handed down to the next generation, with the new heirs unaware of their history.
"We're talking about a generation ago now and these looted objects are being left to their heirs when the possessors pass away and the children don't necessarily know the history and they decide to sell it," Mr Marinello said.
Polish authorities have recorded stolen pieces of artwork on Interpol and other private and government databases.
"There's also a great number of art historians out there who are doing research of looted artworks from Poland and they're spotting them too," Mr Marinello said.
"The more that tech improves and auction houses start to post everything online, there's more eyes looking for the objects that have been looted."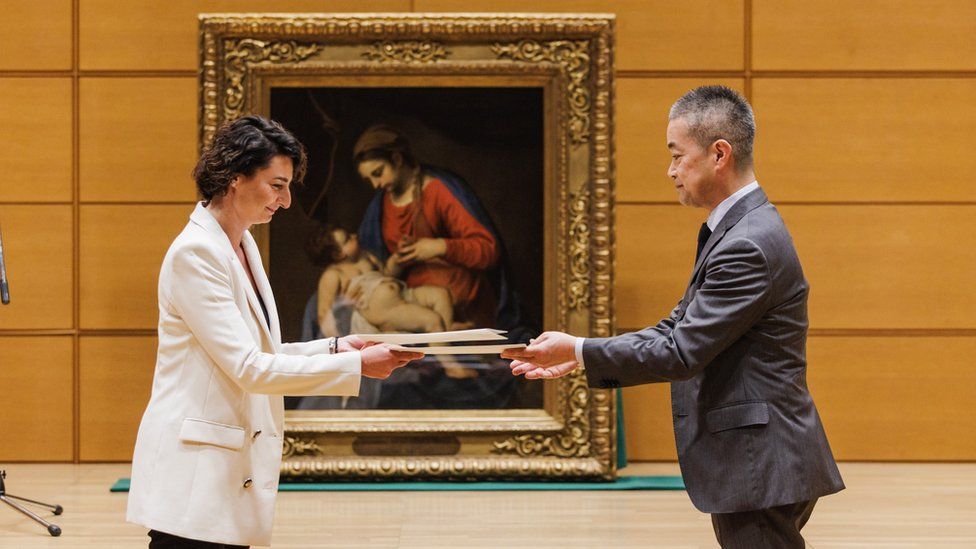 Mr Marinello believes there is also a "generational shift" in attitudes to stolen masterpieces. He's currently working on a case where a man in Chicago contacted him about a piece he believed his grandfather stole from a German museum in World War Two.
"They'd had it for an entire generation and now they realise that they can't sell it and that they would rather give it back than have any more trouble over the issue."
But the law varies from country to country, and sometimes a stolen piece can only be returned with the goodwill of the current owner.
Japan, where Madonna with Child was found, "is not a great country to recover stolen art from", Mr Marinello says.
"It's really up to the possessor in many cases to do the right thing… to understand that something was looted or stolen and that it should be returned, because you can't rely on a lawsuit under Japanese law," he said.
Ms Cetera said that the successful retrieval of Madonna with Child was a source of pride, but is unsure whether the passion for bringing stolen artwork back to Poland will continue with future generations.
"The question is whether it is important to the next generation – Gen Z and younger generations, do they really care? From what I observe, this might not be the case," she said.
Digitised art collections might mean people losing interest in the physical form, she said.
"At some point maybe we won't have to retrieve artworks… because we will have it in the Cloud and we will be able to reach it any time anywhere, no matter who has it.
"This digitisation and tech that is coming might at some point suppress the need of retrieving physical artworks."
You may also be interested in: