Let's dump Trump's accomplices: social media and cable news – Maclean's
Andrew MacDougall: They aren't gateways to serious news consumption; they're pathways to polarization and misinformation. We can choose to stop watching.
Andrew MacDougall is a director at Trafalgar Strategy, and a former Head of Communications to Prime Minister Stephen Harper
Now that Donald Trump has been fired by (enough of) the American people, it's time to think about how to bin his accomplices: cable news and social media.
The Trump Era has been exhausting and the lion's share of that exhaustion stems from our grossly expanded information economy. What used to come to us in dollops of papers and broadcasts is now streamed non-stop across all hours of the day on too many platforms to count. But there can be too much of a good thing. A glass of water quenches your thirst; a firehose knocks you over and leaves you drenched. It's time to turn off the tap.
Whatever the intention at their points of creation, cable news and social media have flown a long way off course. Watching CNN or Fox News during (and after) the Presidential election was to subject yourself to a marathon of preachy monologues/inquisitions interspersed with furious nine-person panels, in which various partisans were invited to bark at each other, not listen to an argument or concede a point. It was a stark reminder of how far our public sphere has degraded.
But it's actually worse than that. Cable news has also sought to make stars out of journalists but journalism isn't meant to be celebrity entertainment. It's supposed to serve a nobler purpose. It's the work that's meant to be important, not the author. What's more, inviting reporters on to discuss or opine on the news of the day is to make them active participants, not impartial observers. What news value is there, for example, in having CNN's Anderson Cooper calling the President of the United States of America an "obese turtle"? Is it any wonder that trust in the news is at record lows?
And if that wasn't bad enough, social media then picks up the baton to make everything worse. Instead of bringing hidden expertise to bear on conversations, social media makes everyone 'experts' on everything, no matter what they don't know about the subject. Even worse, the loudest and most extreme takes get the most attention. As study after study has shown, social media encourages people to indulge their emotions, not to apply logic or reason. These channels encourage us to huddle amongst like-minded people and then helps us radicalize. It makes enemies of citizens instead of encouraging a common understanding.
That's why the sooner we get our politics and news off 24/7 platforms, the better. If the past four years of Trumpism have taught us anything, it's that our brains simply cannot handle the volume of information they've been receiving. Seeing so much means we retain little of actual value. And it's not just politics that suffers from this consumption pattern. Our recall with music, for example, was much stronger when we had to buy physical albums than it is now when we can stream literally anything for a few bucks a month. Everything now goes in one ear (or eyeball) and out the other.
It turns out quality content isn't a gas; it doesn't expand to fill the available space. If anything, whatever quality exists in our news environment now gets choked by the amateur fumes polluting our screens and feeds. Using quality to compete for attention in the 24/7 information economy is to lose the battle before it starts. Everybody is more interested in the outrage. A better approach would be to evacuate the pitch and find a new place to play, somewhere it has a chance of being noticed.
Pulling news content off social media would be a risk, yes, but it's less of a risk than hoping the current information environment will improve. The news can either die on its terms or someone else's, and right now social media companies and cable news programmers are incentivized to virality and outrage, not analysis or introspection. More importantly, their current output is cheap, unlike quality journalism. They do not, as presently constructed, serve a civic good. We wouldn't miss them when they're gone.
Of course, we can't actually bin cable news and social media. For one, the purveyors of cable news and social media make too much money doing it. They won't stop. But we can make the choice to stop watching and clicking.
It would help if the media outlets took the first step of not seeding the outrage machine with the lifeblood of their content. It would also help if they forbid their reporters from appearing on cable shows. We have enough data now to know that social media and cable news aren't gateways to serious news consumption; they're pathways to polarization and misinformation. They are platforms for the already convinced. More pertinently, they're not serious money makers for news organizations. Media organizations need to make their content scarce, not ubiquitous. It's time to put up paywalls and demand money for quality.
And now that we're all properly exhausted, people might be open to a return to the subscription model. I know my mood has improved significantly since I prioritized one paper in the morning to the exclusion of all others. And while I might miss some stories because of it, I trust in the quality of my morning read to know that I won't be out of too many important loops.
As strange as it seems after years of the firehose, we'll have to consume less to understand more.
Kyrie skips media availability, releases statement – theScore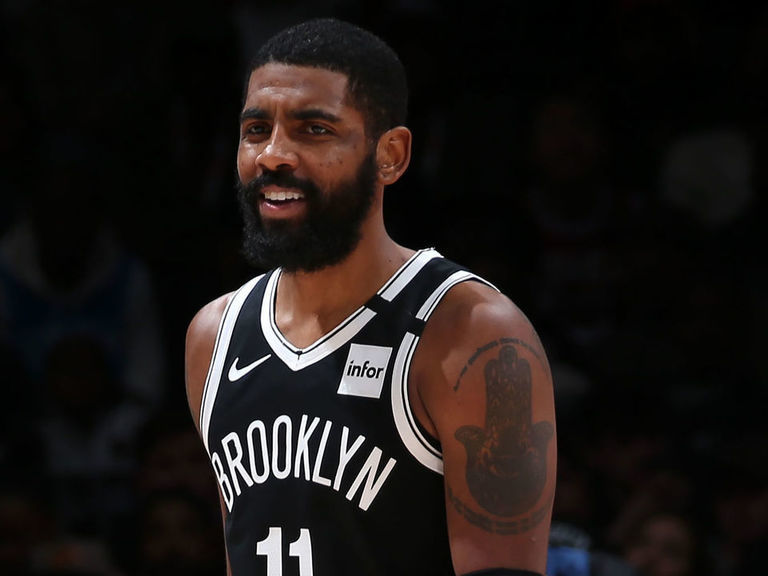 As the NBA prepares for its 2020-21 season to begin on Dec. 22, the enigmatic Kyrie Irving did not provide access to reporters on Friday as part of the Brooklyn Nets' media week.
Instead, the 28-year-old guard released a written statement "to ensure that (his) message is conveyed properly," per ESPN's Malika Andrews.
Here's Irving's statement in full:
COVID-19 has impacted us all in many ways, so I pray for the safety and health of our communities domestically and abroad. I am truly excited for the season to start and I am also praying that everyone remains safe and healthy throughout this journey.

Instead of speaking to the media today, I am issuing this statement to ensure that my message is conveyed properly.

I am committed to show up to work everyday, ready to have fun, compete, perform, and win championships alongside my teammates and colleagues in the Nets organization. My goal this season is to let my work on and off the court speak for itself.

Life hit differently this year and it requires us, it requires me, to move differently. So, this is the beginning of that change.
The league's collective bargaining agreement requires veteran players to "participate in photograph and media sessions" as early as the 22nd day prior to the first game of the regular season.
Additionally, under a section pertaining to promotional activities, the CBA states: "Upon request, the player shall consent to and make himself available for interviews by representatives of the media conducted at reasonable times."
It's unclear whether Irving's statement constitutes participation in the Nets' training camp media session or whether certain allowances have been made in regard to media availability within the amended agreement due to COVID-19.
In an injury-shortened debut season with the Nets in 2019-20, Irving averaged 27.4 points, 6.4 assists, 5.2 rebounds, and 1.4 steals per game across 20 appearances.
Conversations That Matter: The state of the media – Vancouver Sun
Article content
Jack Webster was known as the king of the airways in B.C> for close to 40 years. Since his retirement the foundation in his name has been recognizing and celebrating excellence in journalism.
This year, on Dec. 8, the awards dinner is being netcast, opening it up, for the first time, to the public.
If it was on the public agenda, Webster was there. When prisoners at the B.C. Penitentiary rioted and took hostages in 1963, they asked Webster to resolve the standoff. They asked for him because he was trusted at a time when mainstream media was believed to be fulfilling the responsibilities for the fourth estate – to step in, stand up, advocate, call out, and record the people and events of our lives.
Since Webster's retirement in 1988, the media landscape has changed dramatically. In Vancouver, for example, the major powerhouses in print, radio and TV have all seen their constituencies dwindle. Shrinking audiences meant less ad revenue, which, in turn, led to cuts in newsrooms and that leads to further reductions in audiences.
Kyrie Irving Imposes 'Media Blackout,' Won't Speak To Reporters This Season – Forbes
Kyrie Irving was tentatively scheduled to do a Zoom interview with reporters on Friday, just as Kevin Durant and his other Nets teammates have been doing in recent days.
Now it appears Irving won't speak to the media at all this season. ESPN's Brian Windhorst reported on "The Jump" that Irving will conduct a "media blackout" this season, and Irving issued this statement.
Irving, the former St. Patrick (N.J.) High School and Duke star, has had some missteps with the media in the past.
In 2017, when he was with the Cleveland Cavaliers, he claimed that the Earth was flat.
It became a major story and even NBA Commissioner Adam Silver — who, like Irving, went to Duke — was asked to offer his opinion.
"Kyrie and I went to the same college," Silver said then. "He may have taken some different courses."
Irving later ended up apologizing for his comments.
"To all the science teachers, everybody coming up to me like, `You know I've got to reteach my whole curriculum?' I'm sorry," Irving said. "I apologize. I apologize."
In October, Irving made some controversial comments about new Nets coach Steve Nash.
"I don't really see us having a head coach," Irving said on the podcast, "The ETCs With Kevin Durant." Referring to Durant, he said, "K.D. could be a head coach. I could be a head coach."
Speaking this week on a Zoom with reporters, Nash tried to diffuse the situation.
"I read what he said, and I think it was one phrase at the end of a bunch of things he said about being excited — about having me in this position and coaching — and then maybe taken to another level that seemed incredible in headlines, which is fine," Nash said. "I'm in a fortunate position where I get to coach Kevin Durant and Kyrie Irving. What we've dealt here in a short period of time with how we're going to prep and play is exciting. I'm thrilled to get to coach those guys.
"One statement that I don't think necessarily was completely — wasn't meant the way it was taken by the press, that doesn't bother me at all."
Without using the words "load management," Nash also said he would be surprised if Durant or Irving played all 72 games this season. Durant is coming off Achilles surgery, and Irving off shoulder surgery.
Through it all, Irving has continued to financially support his alma mater, now called The Patrick School. In 2018, he funded the renovation of the gym, locker room, weight room and lounge at the school.
He has also mentored younger players, like Seton Hall guard Bryce Aiken and Jonathan Kuminga, the former Patrick School star now with the G League Ignite team, and pledged $1.5 million to WNBA players forgoing last season due to coronavirus or social justice concerns.
Irving, Durant and the Nets open the preseason Dec. 13 against the Wizards and the regular season Dec. 22 at home against the Warriors.