Letter to the editor: Endless coverage of tragedies is media overkill – Ottawa Sun
Here are today's Ottawa Sun letters to the editor.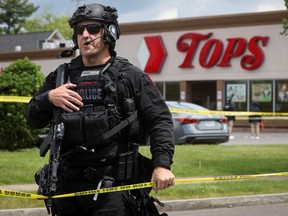 Article content
MEDIA OVERKILL
Article content
As this is written, it has been a few days since a demented gunman opened fire at a Tops grocery in Buffalo and we still have unrelenting news coverage.
We cannot just quickly move on and forget the horrors of this tragedy. It affects not just the direct victims, but survivors, their families, bystanders and communities far beyond Buffalo. Nevertheless, when is enough media too much? I refer not to the need to report, to express and address issues associated with and investigate this crime, or search for ways to prevent repetition (good luck with that unless politicians enact really draconian measures to deal with firearms). I refer to reporting overkill in repeating the same old info.
For more than 30 minutes, CTV News Channel broadcast speaker after speaker in Buffalo. They droned on, repeating the same sentiments — thanking police, first responders, expressing condolences, announcing actions or donations local groups have undertaken, etc., but not adding any information on new developments. It's a self-congratulatory PR exercise with all the wonderful announcements and reactions that still won't prevent the next mass shooting.
Article content
Adding insult to injury, Power Play takes over at 5 p.m. and immediately continues 20 minutes of the same regurgitated info and interviews. Most of them simply parrot the same platitudes we hear every time out, what we (authorities/politicians) must do to end these attacks, but never follow through.
Once more, some media go way out of proportion with excessive repetitive coverage of an event to the point of obsession, like a dog with a bone. This continuing repetition of the same news clips only gives the acts of twisted perpetrators unwarranted media coverage.
MIKE ALAIN
OTTAWA
(You could always change the channel.)
GRANDSTANDING PM
I'm another one who thinks Justin Trudeau's "surprise" visit to Ukraine was a bit of grandstanding. I believe he has deservedly lost a lot of respect and credibility on the international stage. I agree we should do everything we can to help the Ukrainians, but, on the other hand, Trudeau didn't have the decency to acknowledge or even listen to his own Canadian trucker citizens. They had a legitimate reason to at least be heard. What a hypocrite.
Article content
GISELE LAVICTOIRE
ORLÉANS
(Perhaps if they had found a different way to deliver their message, people would have been more inclined to listen.)
SHOULD HAVE BEEN BLOCKED
The commentators for Monday's Ontario election debate were terrible. Steven Del Duca and Andrea Horwath continually interrupted Doug Ford when he was talking. They should have been blocked several times. Very unprofessional.
ROGER POWER
OTTAWA
(Isn't it better to let their true colours shine through?)
LILLEY LOST HIS WAY
Re: LILLEY: Poilievre ran in favour of carbon taxes multiple times in his career, online, May 16
At one time I thought Brian Lilley was an excellent reporter, especially when he was on Sun TV. Of late, it is difficult to understand exactly what he stands for as he comes across as being very pro-Liberal policies. He has even been singing the praises of Justin Trudeau on occasion. What Lilley fails to point out in his hit job on Pierre Poilievre is his stating he will do away with Trudeau's carbon tax if he becomes prime minister. This is in stark contrast with Jean Charest and Patrick Brown, who Lilley seems to be in awe of and who have no such plan. Most Liberals, who view Poilievre as being the greatest threat to ending Trudeau's rein of bad governance, view Charest and Brown as weaker opponents, so they are singing their praises.
LARRY COMEAU
OTTAWA
(Opinions can ebb and flow over time and sometimes even change tack.)
Can't comment on NewsClick's China link, respect media freedom: US
The US government has seen reports of NewsClick's alleged links to China and is aware of concerns around it though it can't independently comment on the veracity of those claims. But, as a general principle, the US continues to urge Indian government as well other governments across the world to respect the human rights of journalists, including freedom of expression online and offline.
At a regular State Department briefing on Tuesday, when asked about the raids on the proprietors, staffers and contributors of NewsClick and a New York Times report that the news website was a part of a Chinese influence operation funded through an American businessman, State department's principal deputy spokesperson Vedant Patel said, "So we are aware of those concerns and have seen that reporting about this outlet's ties to the PRC (People's Republic of China), but we can't comment yet on the veracity of those claims."
Patel added that, separately, the US strongly supported "the robust role of the media globally, including social media, in a vibrant and free democracy".
"We raise concerns on these matters with the Indian Government, with countries around the world, through our diplomatic engagements that are, of course, at the core of our bilateral relationship. And we have urged the Indian Government, and have done so not just with India but other countries as well, about the importance of respecting the human rights of journalists, including freedom of expression both online and offline."
Patel, however, said that he did not have any additional information about "this particular circumstance or any of the underlying issues that may or may not be related to this outlet".
India's Latest Media Arrests Put Washington in an Awkward Spot
(Bloomberg) — India's latest media crackdown puts the US in an awkward position as it seeks to balance promotion of human rights with courting New Delhi to counter the influence of China.
Police in the South Asian country's capital arrested the editor-in-chief and another employee of online newspaper NewsClick Tuesday under sweeping anti-terrorism laws. Authorities also raided the offices of the publication, without giving a reason.
Prime Minister Narendra Modi's government has been targeting critical independent media since he took office in 2014. NewsClick came to prominence in 2021 for its extensive coverage of farmer protests against government plans to liberalize agriculture. India has previously accused the media organization of having funding ties to China, which it denies.
For Arati Jerath, a New Delhi-based political analyst, the arrests create a challenge for Washington.
"The US does not want to get too involved in India's domestic affairs," she said. "They are looking at India through a geopolitical prism and with China in the picture, India is a strategic partner."
US Department of State spokesman Vedant Patel said he couldn't comment yet on claims NewsClick has ties to China.
Patel also stressed the importance of press freedom globally. "We raise concerns on these matters with the Indian government, with countries around the world," he told reporters in Washington.
India has often argued its democracy and vibrant press are a counterpoint to China with its one-party state and heavily controlled media. The US frequently finds itself torn between its efforts to defend human rights around the world and the pragmatic need to partner with governments accused of rights abuses.
India's government has often used its anti-terrorism law to intimidate and punish journalists. The law, which doesn't allow for bail, empowers the police to detain suspects for years without leveling official charges.
India has also scrutinized many mobile app and technology companies for alleged links to China after a Himalayan border clash between New Delhi and Beijing in 2020.
In 2021, authorities raided NewsClick's office and the homes of seven staff members for what they described as improper foreign investments. Several of them were questioned and NewsClick called the allegations "misleading, unfounded and without basis in fact or law."
In August, the New York Times cited NewsClick as an organization allegedly being used for Chinese propaganda overseas. India's Information and Broadcasting Minister Anurag Thakur said at the time the media outlet was being funded by Beijing.
Speaking to reporters on Tuesday, Thakur said he didn't need to justify the raids. "If someone has done something wrong, the investigative agencies will work on it," he said.
Free Democracy
NewClick's human resources head Amit Chakravarty was also arrested. Several employees' laptops and mobile phones were seized. Local media reported at least 30 premises were raided, including the homes of six NewsClick reporters.
India fell to 161st of 180 countries and territories in a press freedom ranking by Reporters Without Borders, a press advocacy group, this year. In February, authorities raided the BBC's offices in New Delhi, weeks after the British broadcaster aired a documentary about Modi's role in 2002 riots in his home state of Gujarat.
Last year, Mohammad Zubair, a journalist running a fact-checking website, Alt News, was arrested after highlighting anti-Islamic comments made by former BJP officials.
The Press Club of India expressed concern about the arrests and raid, saying it wants the government to explain its actions. The group plans to protest the detentions at a march Wednesday.
Jerath, the analyst, questioned India's move to arrest the people under the terrorism law without providing details or evidence.
"You have already labeled them as terrorists," she said.
(Updates with details on the crackdown. An earlier story corrected paragraph 11 to show authorities raided the homes of seven NewsClick staff members in 2021.)
What is NewsClick? A look at India's media crackdown – Al Jazeera English
We use cookies and data to
Deliver and maintain Google services
Track outages and protect against spam, fraud, and abuse
Measure audience engagement and site statistics to understand how our services are used and enhance the quality of those services
If you choose to "Accept all," we will also use cookies and data to
Develop and improve new services
Deliver and measure the effectiveness of ads
Show personalized content, depending on your settings
Show personalized ads, depending on your settings
Non-personalized content is influenced by things like the content you're currently viewing, activity in your active Search session, and your location. Non-personalized ads are influenced by the content you're currently viewing and your general location. Personalized content and ads can also include more relevant results, recommendations, and tailored ads based on past activity from this browser, like previous Google searches. We also use cookies and data to tailor the experience to be age-appropriate, if relevant.
Select "More options" to see additional information, including details about managing your privacy settings. You can also visit g.co/privacytools at any time.