LGBTQ art shows are lighting up galleries from Boston to Berlin – NBC News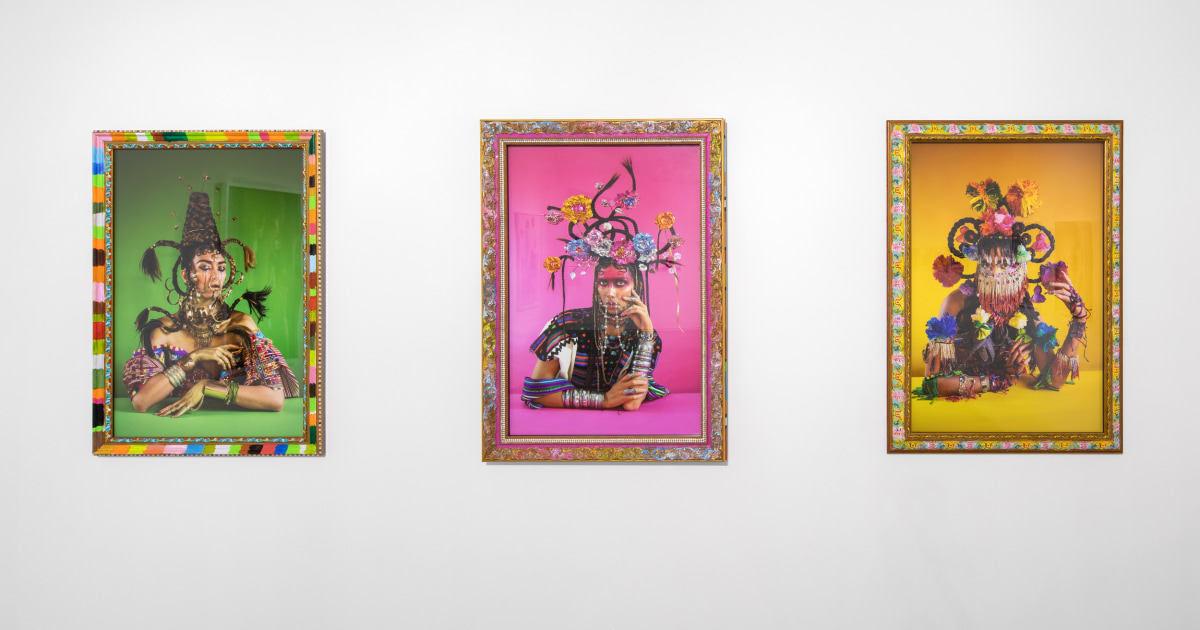 As a cautious world continues to reopen and a sense of normalcy begins to return to its art museums, a lively summer lineup of no-holds-barred exhibitions by and about queer artists is helping ensure that the imbalances exposed by the pandemic remain center stage, and that the urgency surrounding them isn't lost. Highlighting themes such as activism, racism, ageism, ableism, innovation and intimacy, these shows help envision a future informed by past progress, but still mindful of present challenges and unafraid to keep evolving.
---
Fotografiska / New York
Organized last year to honor the 100th birthday of Touko Laaksonen (better known to the world as Tom of Finland) by Fotografiska Stockholm and the Tom of Finland Foundation, this studly show reveals his work process through the photographic portraits that served as source material for many of his famed homoerotic drawings. Through Aug. 20
---
Schwules Museum / Berlin
Intimacy is one of queer art's enduring central themes, and here it's granted an entire exhibition dedicated to showcasing some of the many ways — in both theme and format — that queer intimacy is portrayed in contemporary art. The show includes more than 30 pieces from iconic global queer artists such as AA Bronson, Annie Liebovitz, Slava Mogutin and Zanele Muholi. Through Aug. 30
---
Institute of Contemporary Art / Los Angeles
Groundbreaking queer performance artist Ron Athey finally gets his due in this survey of his work and career, in which his highly visceral performances and transformative use of his own body as a site of trauma, resistance, sexuality and religious ecstasy earned him a spot center stage in the 1990s culture wars — and has strongly influenced a generation of both artists and viewers ever since. Through Sept. 5
---
Royal Academy of Arts / London
In his vivid, dreamlike paintings that have been likened to the works of Titian, Gauguin and Manet, Kenyan-born Michael Armitage challenges cultural assumptions and explores themes such as sexuality and civil unrest, bringing unsettling beauty to otherwise ugly situations. A Royal Academy graduate, Armitage returns to his alma mater here with 15 large-scale paintings from the past six years. Through Sept. 19
---
Phoenix Art Museum
The career and broad impact of innovative Austrian-born fashion pioneer Rudi Gernreich — who created legendary body-positive pieces such as the monokini and the thong, and who was also the 1950s partner of seminal gay rights activist Harry Hay — are explored in this collection of more than 80 ensembles, alongside original sketches, personal papers, photographs and newly filmed oral histories, as assembled by L.A.'s Skirball Cultural Center. Through Sept. 26
---
The Morgan Library & Museum / New York
The formative first 15 years in the creative journey of renowned multimedia artist Shahzia Sikander are celebrated in this beautiful show, which follows her path from pioneering deconstructor of traditional manuscript painting in her native Pakistan, to art student in Providence, Rhode Island, and Houston, to young artist in New York, a period during which she delved into the themes — including gender, sexuality, race, class and culture — that still shape her work today. Through Sept. 26
---
New-York Historical Society
The magical queer community that flourished on Fire Island's Cherry Grove in the 1950s is showcased in this free (but timed-entry ticketed) outdoor exhibition in the New-York Historical Society's rear courtyard, comprising some 70 enlarged photographs and additional ephemera from the Cherry Grove Archives Collection. The museum, New York's oldest, announced last week that it would expand to include the American LGBTQ+ Museum by its 200th birthday in 2024. Through Oct. 11
---
MoMA PS1 / New York
Brooklyn-born video artist Gregg Bordowitz began merging his work and his AIDS activism in the mid-1980s, documenting the many protests he took part in as a member of the AIDS Coalition to Unleash Power, or ACT UP, and creating video portraits of himself and others living with HIV and AIDS. This first comprehensive overview of his influential career also includes his more recent work, which explores the nexus of his religious, sexual, political and cultural identities. Through Oct. 11
---
Bronx Museum / New York
In the first section of this powerful two-part exhibition, Tennessee-born and Harlem-based artist Wardell Milan uses new works on paper to explore the subtle normalization of white supremacy and racial violence in America. The show's second portion uses a site-specific structure — along with performances choreographed by Zachary Tye Richardson and sculptures designed by Billy Ray Morgan — to explore the concept of "safe space" for marginalized communities. Through Oct. 24
---
Blaffer Art Museum / Houston
This microsurvey of the work of chameleonesque visual and performance artist Martine Gutierrez showcases her cheeky deconstructivism of glitzy conventions such as fashion and advertising to explore themes around gender, race and identity, as often inspired by ancient Aztec and Mayan cultures and their deities embodying duality and gender fluidity. Through Oct. 24
---
Museum of Fine Arts / Boston
In this queerified and age-embracing homage to classic 1950s and '60s Scopitone film reels — a precursor to music videos that played inside special jukeboxes in cocktail lounges nationwide, and glorified young cisgender white male-dominated culture — Samantha Nye recreates the old film shorts shot-for-shot with queer elder actors, discarding ageist and ableist definitions of sexuality and eroticism, and expanding our vision of love, sex, agency and belonging. Through Oct. 31
---
George Eastman Museum / Rochester, New York
Photographer Jess T. Dugan and social worker Vanessa Fabbre spent five years traveling across America to document the life stories of transgender and gender-nonconforming older adults for this broad and captivating collection of portraits and accompanying interviews (also fully accessible in a virtual 360 tour on the exhibition's web page) that span the human spectrum of gender identity, age, race, ethnicity, sexuality, socioeconomic class and location. Through Jan. 2, 2022
---
Museum of Contemporary Art / Los Angeles
The hauntingly gorgeous works of New York-based artist Jennifer Packer, appearing here in a first West Coast museum showcase, include intimate portraits of her family and friends that play with the viewer's sense of dimension and perception. Packer's works, which also include politically charged still lifes, recast classic conventions in contemporary light to imbue them with new meaning. Through Feb. 21, 2022
---
RISD Museum / Providence, Rhode Island
Not unlike the Schwules Museum's "Intimacy" exhibition, this group show explores the power and significance of intimate relationships in queer art, and features more than 30 pieces (including several new acquisitions for the museum's permanent collection) from artists such a Salman Toor, Nicole Eisenman, Wolfgang Tillmans, Catherine Opie and Paul Cadmus. July 17 — March 13, 2022
---
Patricia and Phillip Frost Art Museum / Miami
Michigan-bred and now Miami-based Robert Andy Coombs' photographs document his own experiences at the rarely highlighted intersection of sexuality and disability, challenging ableist preconceptions and inviting the viewer along for a narrative that's at turns tender, playful, sensual and revealing. Aug. 14 — Nov. 6
Follow NBC Out on Twitter, Facebook & Instagram
Sustainability and world class art to meet in new Vancouver Art Gallery building – Nelson Star
A new Vancouver Art Gallery building set to connect sustainable energy and world-class visual art as the heart of the city's arts community is scheduled to open in 2027.
Canadian heritage minister Pablo Rodriguez and Vancouver Centre MP Hedy Fry announced yesterday $29 million in funding through the federal government and Infrastructure Canada to help build what is being billed as the first passive house art gallery in North America.
"Passive house" signifies an ultra-low energy performance building standard recognized around the world. It will further the gallery's vision of creating safe and inclusive spaces, while meeting Canada's efficiency standards in the goal of net-zero.
The building itself — to be known as the Chan Centre for the Visual Arts — will be built in downtown Vancouver and showcase a variety of artists local to Canada and from around the world. It will also have a multi-purpose Indigenous community house, public art spaces, a theatre, and initiatives for marginalized groups.
For Fry, this new building will play an important role in supporting the groups that need it most.
"Cultural spaces and institutions like the Vancouver Art Gallery play an important role in supporting vibrant and inclusive communities. They connect the past with the present through exhibits that inform and inspire, they safeguard priceless artefacts and works of art, and they promote the talent of our Canadian artists and creators."
CEO and president of the Vancouver art gallery Anthony Kiendl is excited to have a space that can be beneficial to people from all walks of life, calling it a "library with an artistic and cultural twist."
Arts and cultureFederal Politics
Art, Darling – The New York Times
Antwaun Sargent sat nursing a Negroni at Frankies Spuntino, his haunt in Brooklyn, as he described the perks of his multilayered career.
"I had dinner with Madonna," he said on a recent Friday. "Coming of age as a gay man in Chicago in the '90s, you can imagine, I was excited. I was obsessed with her."
But within moments of their encounter last year, Mr. Sargent hit earth. Pulling out her iPhone, his erstwhile idol proceeded to show him artworks by Rocco Ritchie, her 21-year-old son with the filmmaker Guy Ritchie, regaling him for nearly an hour about her hopes for the boy.
"That made things real," Mr. Sargent said. "Here was Madonna — a legend, an icon — asking for guidance, just being mom."
It seems the pop diva had known where to turn.
Mr. Sargent, 33, a former kindergarten teacher turned artist and curator and vociferous champion of Black artists, had been appointed in January 2021 as a director at Gagosian, the blue-chip mega-gallery, with a mandate to make waves.
His first show, "Social Works," in 2021, highlighted a multidisciplinary roster including Theaster Gates, the architect David Adjaye and the filmmaker Linda Goode Bryant, who installed a small, working farm in the gallery space. The show also highlighted Mr. Sargent's mission: to give Black artists, who had been only haphazardly represented in leading art-world institutions, a highly visible seat at the table.
It was a mission Mr. Sargent happened to share with the cultural polymath Virgil Abloh, each bent on conveying a commitment and sense of community to artists of every stripe — painters, architects, sculptors, musicians and fashion designers.
So it was all but inevitable that Mr. Abloh, whose work encompassed fashion, music, architecture and art, would invite Mr. Sargent to curate his retrospective at the Brooklyn Museum. The show was to be a crowning event in his career — Mr. Abloh died last year after a long illness — and certainly a feather in Mr. Sargent's cap.
The exhibition, "Figures of Speech," opens on July 1, with works arranged along tables, not walls, displaying artifacts and artworks from Mr. Abloh's archive. The show departs significantly from its first incarnation, which was on display at the Museum of Contemporary Art Chicago in 2019 and was curated by Michael Darling.
The Brooklyn installation opens modestly with a 1981 high school architectural project by Mr. Abloh and includes his early fashion drawings, artworks and clothing. It goes on to showcase items from influential collaborations with Takashi Murakami, Kanye West and Rem Koolhaas, as well as pieces from the designer's fashion labels: Pyrex Vision, Off-White and Louis Vuitton men's wear.
The show's imposing centerpiece, a rustic looking schoolhouse clad in pine, is built to function as a real-life classroom offering visitors "cheat sheets" lessons, in disciplines that include industrial design, music, architecture and fashion design. "Everything in short that Virgil touched," Mr. Sargent said. The structure will occupies 1,400 square feet of the museum's Great Hall.
Yes, it takes up space and that is the point. "Space is the thread that connects all the work I do," Mr. Sargent said. Space can connote power, he said. "The question is: 'What are you going to do with that space?'"
If an artist is hoping simply to advance himself, "I've no interest in that," Mr. Sargent said. "But if you are taking up space to create more space for other people, for other Black artists, I have a profound interest in that."
Taking Up Space
Mr. Sargent himself means to take up wide swaths of people's consciousness. He writes prolifically and has published critical essays in The New York Times and The New Yorker, among other places. Last year he served as a guest editor of Art in America, turning the magazine's new talent issue in May into a platform for Black critics, painters and photographers. He has published a series of house catalogs — zines, he calls them — at Gagosian.
"He has a great kind of work ethic and is a team player," Larry Gagosian said. "He deserves the attention he's been getting, but it's not like he is wanting a lot of attention for himself. You're not working with somebody who is on a constant ego trip."
Mr. Gagosian added: "A lot of galleries have been paying attention to underrepresented artists of color. But Antwaun really pushed it much more effectively."
Part art nerd, part crusader, Mr. Sargent has gathered the works of Black artists in two books, "Young, Gifted and Black: A New Generation of Artists" and "The New Black Vanguard: Photography Between Art and Fashion." He continues to oversee exhibitions and publish critical commentary on, among others, Kehinde Wiley, Alexandria Smith, Nick Cave and Amanda Williams.
Ms. Williams's show of vibrantly colorful canvases is on view through July 8 at Park & 75, a Gagosian space, one of 10 projects that Mr. Sargent will juggle this summer.
Ms. Williams's faith in the curator is longstanding. "Antwaun will see works I've done and sense why I've arranged things the way I have, without us having to talk about its," she said. "I trust that he knows my eye." She is but the latest in a string of artists and designers Mr. Sargent sedulously promotes on @sirsargent, his Instagram, with close to 100,000 followers.
But it isn't all grind. Well connected in social and fashion circles, he has popped up in the front rows of Thom Brown and Gucci shows, and dropped in at the Bottega Veneta store opening in SoHo last fall. Art is his métier, but he takes an inclusive position. He is partial to designers like Grace Wales Bonner, Raf Simons at Prada and Kerby Jean-Raymond of Pyer Moss.
He has modeled for GQ and was recently spotted on the trading floor of the New York Stock Exchange, his lean 5-foot-11 frame and signature cuffed Russian karakul hat rendering him visible in a crowd that included Kanye West, Megan Thee Stallion and the photographer Tyler Mitchell (a friend), all craning for a view of the Balenciaga spring 2023 show.
In the relative calm of Frankies, Mr. Sargent talked fast, fingers tracing arabesques in the air as he reminisced about the highlights of his spring social season.
Earlier this year while in Positano on the Amalfi Coast in Italy, he was invited to a party in Capri at the fabled Casa Malaparte, a Modernist villa on a high cliff and strictly off limits to the general public.
"I had no idea how I was going to get there," Mr. Sargent said, noting that he also looked like a "broke" writer. He rented a boat and headed uncertainly for a dock marked on Google Maps with nothing but an arrow. "I had to keep telling myself, 'It's OK, I'm going to this crazy house that no one gets to go to.'"
He rattled on, reveling like a child in his good fortune. The evening was eye-opening. "We had dinner on the roof, and there was opera singing," he said. "It was also the night that I realized, 'Wow, this world — it's not the world I come from.'"
There were other indelible moments. Arriving in March at an Oscars after-party given by Madonna and her agent, the entertainment mogul Guy Oseary, Mr. Sargent was star-struck. Sean Combs, Jessica Chastain, Robert De Niro, Kim Kardashian and "just about every name you could drop, they were there," he said. Even the waiters were tarted up, he said, "wearing blond wigs like Madonna."
He rocked with the crowd, moving on to a party given by Beyoncé and Jay-Z but exiting promptly at dawn to board a flight to New York. He was not about to miss his meeting that day with the artist Rick Lowe.
Beguiled by Art
Mr. Sargent cultivated his fierce sense of commitment early on. A Chicago native, he grew up in the notoriously blighted Cabrini-Green Homes, which have since been razed. "You know what that scenario was," he said coolly. "You know frankly that a lot of people never made it out of there."
That he did he owes in part to his mother, he said, who sent him to a Catholic school and managed, while working at a Walgreens, to subsidize his youthful ambitions.
"We were under-resourced," as he put it. But his mother did not balk when he asked to join a student exchange program in Germany, reassuring him simply, "we'll figure it out."
Bent on a career in foreign service, he entered Georgetown University in 2007, volunteered for the Obama campaign and served as an intern with Hillary Clinton before accepting a post with Teach for America, assigned to teach reading and writing to a classroom of 30 rambunctious 4- and 5-year-olds in Brooklyn.
"I was getting up at 5:45 every day to take the C train to East New York, teaching by day and writing, partying, doing all those things that a 21-year-old does by night," he said. He was beguiled by the art world, making gallery rounds with his friend and housemate JiaJia Fei, a digital strategist for the arts.
"We went to every possible show, to every party, to whatever was happening," Mr. Sargent said. "When I'm fascinated, I need to meet everyone. I need to read everything."
He determined to contribute in some way. "Writing became that way," he said.
He was shaken at first. "Nobody likes to face a blank screen," he said. But neither was teaching a stroll in the park.
"This was not some tony Upper East Side scenario," he said. "You had to really believe in those kids, to support them." Children, like artists, he came to learn, "can sniff out a bad idea. They are the toughest critics. But if you are there for them, they know it."
He is well aware that the art world may not prove as steadfast. "We've had moments where Black artists are ascendant in the culture, and then several years later, they're gone," he said. "Without any structural changes from institutions, what you have is fashion, a trend."
He raced to keep up with his thoughts, words darting in a fusillade. "I want to make sure, yeah, yeah, yeah, that this current enthusiasm for artists of color is not just a moment," he said.
"For me, it's about not being the director at a gallery or the curator at a museum but about figuring out ways to have companies invest in creative communities. It's about writing, making exhibitions — all these different ways of keeping the door open for people of color, pushing people through."
Earnest but not solemn, Mr. Sargent paused midstream to field a text from his friend, Mr. Mitchell, who wanted his opinion on some silver eyeglass frames he planned to buy. Mr. Sargent signaled his approval, then looked up and broke into a grin. "Yeah, I'm spinning a lot of plates in the air," he said.
Does all that energy, sustained in part by vegan protein-and-berry smoothies and a regimen of cycling, leave room for a private life? Not much, it seems. He shares an apartment in the Carroll Gardens neighborhood of Brooklyn with Ms. Fei, who is often photographed with him at art world gatherings.
"We used to say that we are each others' selfies," Mr. Sargent said.
They go back a dozen years. The apartment is large enough that one of the rooms doubles as a walk-in closet because, Mr. Sargent said, without a trace of embarrassment, "we have so many clothes."
He remembers those years as a string of sketchily improvised celebrations. "In our 20s, we would throw these crazy parties in our backyard," he said. There were impromptu mini film festivals. "We would have our friends bring blankets and project movies onto the wall."
His schedule these days leaves little time for entertaining, much less romance. He recently ended a three-year relationship with a performance artist. "It's hard in a relationship to find balance, especially when you're in a hyper-productive moment in your career." he said. "Right now I'm thinking it might be nice to have that moment to focus on work."
Still, he was due for a rest. About to depart for a long weekend at GoldenEye, a luxury resort on the northern coast of Jamaica, he betrayed a touch of anxiety.
Disconnecting? Well, that was going to be an experiment. "I've never taken vacation, not even for four days," he said. "I'm afraid to stay much longer.
"Already, I'm thinking, 'Oh my God, what if I get bored?'"
receives $25 million gift for waterfront art trail | CTV News – CTV News Toronto
A new waterfront public art trail is coming to Toronto thanks to a $25 million donation – the largest arts-related gift the city has ever received.
The Pierre Lassonde Family Foundation offered the donation for the trail, which will be located in parks at Villiers Island in Toronto's Port Lands.
"This addition is something that is just going to make an extraordinary additional contribution to that accessibility, to the appeal of the waterfront, to people who live, work and play here, and a lot of people who just visit here," Mayor John Tory said at a news conference at Sugar Beach Tuesday morning.
Waterfront Toronto is building the parks where the public art trail will run, as part of the Port Lands Flood Protection Project.
The Lassonde family's donation includes $10 million to commission two landmark permanent art works and up to $15 million to create a new non-profit organization that will manage the art trail.
"Having lived in Toronto for a good portion of his life my father wanted to give something back to the city that would complement the many outstanding arts organizations already here," Julie Lassonde, daughter of Pierre Lassonde, said.
"As an avid traveller and a visitor of many famous public art parks during those travels, an idea germinated within him about creating an outdoor art trail that was free and accessible to the public."
The trail will be a free, open-air route and will feature two permanent pieces – one by a leading Canadian artist and another by an international artist.
A rotating cycle of contemporary installations from local, national and international artists will also be featured at the trail.
"The thousands (of people) that will be there will come around the corner and find some magic, the magic that is public art. And to be able to sit in a beautiful setting outdoors with the birds, with the geese going by, and bring in and drink in what will be, I believe, exceptional, exceptional public art permanent pieces," Ward 14 Councillor Paula Fletcher said.
Tory said the trail will not only enhance the Waterfront, but it will also signify the city's commitment to supporting local artists.
"This extraordinary donation of $25 million to create this art trail is going to be something that will, again, put us on the map in terms of that commitment to creativity, to artists, to artistry, and to the public realm," he said.