Liberals revamp rent-relief for businesses as second wave threatens job gains – CTV News
OTTAWA —
The Trudeau Liberals sought Friday to get ahead of growing economic concerns linked to rising COVID-19 case counts, vowing new and revamped business supports to keep workers on payrolls and maintain job gains threatened by the pandemic's second wave.
The government plans to provide direct rent support to commercial tenants at a projected cost of $2.2 billion through the end of the year, rather than flowing the money through landlords who were not keen on a previous version of the program.
A wage subsidy program will cover up to 65 per cent of eligible costs through December, costing the treasury $6 billion over that time, and $11 billion more to a well-used loan program by providing an added $20,000, half of which would be forgivable..
Even though many businesses have reopened, a number are not at full capacity while others worry about surviving a second wave. Prime Minister Justin Trudeau said the government wants to help companies hang on, and keep their workers employed.
Job growth in Canada accelerated rather than slowed down last month, as the economy added 378,000 jobs in September, bringing overall employment to within 720,000 of pre-pandemic levels, and dropping the unemployment rate to nine per cent.
Still, there were 1.8 million Canadians unemployed in September, with about 1.5 million of them looking for work. Statistics Canada said the unemployment rate would have been 11.9 per cent in September had it included people who wanted a job, but didn't look for work, in its calculation.
The growth in overall job numbers for workers hit hardest by losses earlier this year, such as those in the service sector and visible minorities, are now at risk as local lockdowns loom, said Trevin Stratton, chief economist with the Canadian Chamber of Commerce.
Losses for those groups could further strain a K-shaped recovery, where some sectors of the economy and workers fare well, and others do not.
"Now that we're entering this second wave, that's where we're seeing this split take place," Stratton said. "We can't use a one-sized-fits-all policy response to this."
The government opted for targeted relief in this second wave to help companies most in need, said Finance Minister Chrystia Freeland.
The rent-relief program, for example, will cover up to 65 per cent of eligible expenses for businesses, charities and non-profits on a sliding scale with income losses, with a top-up for those closed by public health orders that would cover up to 90 per cent of costs.
"This is not for everyone. Some businesses are able to work at full capacity despite COVID-19 and they are doing well and that's great," Freeland said Friday.
"This support is not designed for them. These measures are targeted for those who need it most."
While NDP small business critic Gord Johns was pleased with the new program, he urged the government to backdate funding so tenants in arrears or steeped in debt could get relief their landlords had refused.
Dan Kelly, president of the Canadian Federation of Independent Business, said it was critical for federal and provincial governments to immediately get the welcomed economic supports to affected firms with closures seemingly imminent.
Threatened by surging case counts are gains for restaurant workers, whose industry saw a 72,000 increase in September. That is still 188,000 jobs shy of where it was in February before widespread closures of non-essential businesses.
With winter on its way, outdoor dining may be impractical in some cities, leaving fewer patrons at local bars, pubs and restaurants, even as Canadians are already planning on cutting spending in the area, Statistics Canada said.
"One of the key questions isn't just what happens in areas like the restaurant industry, but whether the jitters that might show up there spread over to the broader economy," said Brendon Bernard, an economist with job-posting website Indeed.com.
There are also jitters over the state of the "she-covery," which in September seemed to catch up with the "he-covery" as mothers and fathers had employment levels that matched what was recorded pre-pandemic as their children went back to school.
Statistics Canada noted a greater share of mothers than fathers worked less than half their usual hours in September, and a higher percentage of mothers than fathers reported working from home in the month, suggesting childcare responsibilities were still falling on women.
Economist Armine Yalnizyan with the Atkinson Foundation said school and daycare closures since the labour force survey was taken suggest October's figures may reverse some gains, and noted a year-over-year drop in the number of women in the workforce likely linked to the pandemic.
"Gender equity in the labour force is poised to go backwards by decades," Yalnizyan said, adding that stopping that "really does depend on what our public policies are."
———————-
A quick look at Canada's September employment data (numbers from the previous month in brackets):
Unemployment rate: 9.0 per cent (10.2)
Employment rate: 59.1 per cent (58.0)
Participation rate: 65.0 per cent (64.6)
Number unemployed: 1,832,600 (2,046,900)
Number working: 18,469,900 (18,091,700)
Youth (15-24 years) unemployment rate: 18.9 per cent (23.1)
Men (25 plus) unemployment rate: 7.8 per cent (8.4)
Women (25 plus) unemployment rate: 7.0 per cent (7.7)
Here are the jobless rates last month by province (numbers from the previous month in brackets):
Newfoundland and Labrador 14.8 per cent (13.1)
Prince Edward Island 10.1 per cent (10.7)
Nova Scotia 7.9 per cent (10.3)
New Brunswick 10.4 per cent (9.4)
Quebec 7.4 per cent (8.7)
Ontario 9.5 per cent (10.6)
Manitoba 7.0 per cent (8.1)
Saskatchewan 6.8 per cent (7.9)
Alberta 11.7 per cent (11.8)
British Columbia 8.4 per cent (10.7)
Statistics Canada also released seasonally adjusted, three-month moving average unemployment rates for major cities. It cautions, however, that the figures may fluctuate widely because they are based on small statistical samples. Here are the jobless rates last month by city (numbers from the previous month in brackets):
St. John's, N.L. 9.8 per cent (10.5)
Halifax 8.4 per cent (10.1)
Moncton, N.B. 7.1 per cent (7.0)
Saint John, N.B. 10.1 per cent (9.7)
Saguenay, Que. 5.4 per cent (6.3)
Quebec City 5.0 per cent (6.3)
Sherbrooke, Que. 7.4 per cent (8.2)
Trois-Rivieres, Que. 6.3 per cent (7.6)
Montreal 10.7 per cent (11.8)
Gatineau, Que. 8.1 per cent (8.1)
Ottawa 8.7 per cent (9.5)
Kingston, Ont. 9.1 per cent (10.1)
Peterborough, Ont. 11.2 per cent (10.0)
Oshawa, Ont. 9.6 per cent (11.4)
Toronto 12.8 per cent (13.9)
Hamilton, Ont. 8.9 per cent (10.0)
St. Catharines-Niagara, Ont. 8.7 per cent (11.3)
Kitchener-Cambridge-Waterloo, Ont. 12.2 per cent (12.9)
Brantford, Ont. 8.1 per cent (9.8)
Guelph, Ont. 9.6 per cent (11.1)
London, Ont. 8.9 per cent (9.3)
Windsor, Ont. 9.8 per cent (10.1)
Barrie, Ont. 9.4 per cent (9.2)
Greater Sudbury, Ont. 8.5 per cent (8.6)
Thunder Bay, Ont. 8.3 per cent (9.2)
Winnipeg 9.4 per cent (10.4)
Regina 7.4 per cent (9.3)
Saskatoon 9.2 per cent (10.8)
Calgary 12.6 per cent (14.4)
Edmonton 12.6 per cent (13.6)
Kelowna, B.C. 8.0 per cent (9.0)
Abbotsford-Mission, B.C. 8.0 per cent (8.2)
Vancouver 11.1 per cent (12.8)
Victoria 9.1 per cent (10.3)
This report by The Canadian Press was first published Oct. 9, 2020
Ant Group raises $34 billion in world's largest IPO – CNN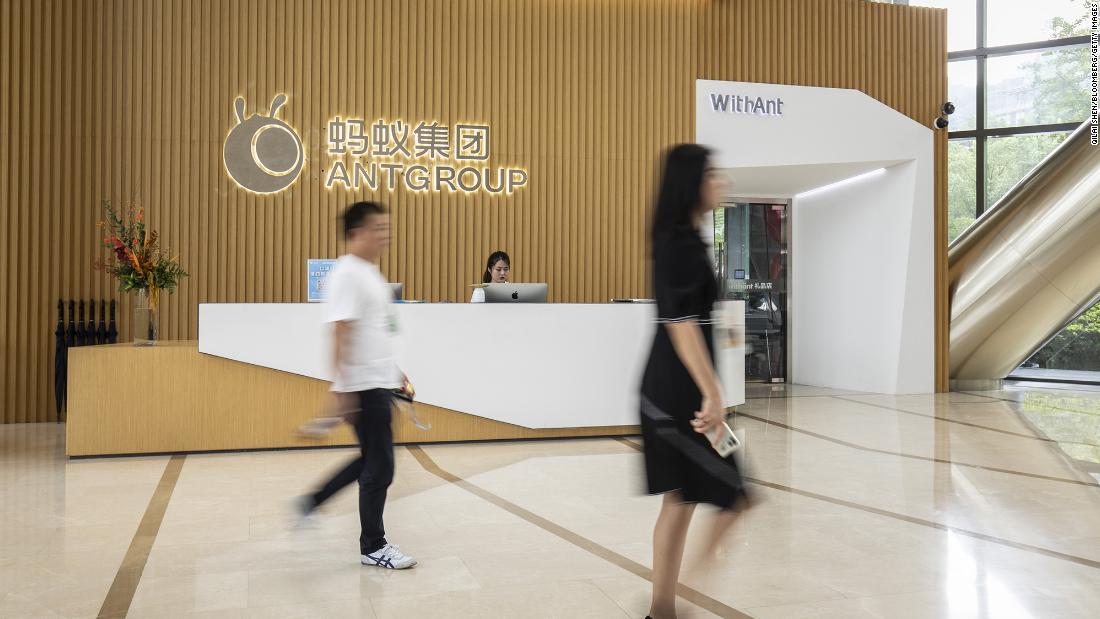 The tech company behind
China's largest online payments platform
priced its dual listing on the Hong Kong Stock Exchange and Shanghai's Star Market at 80 Hong Kong dollars ($10.32) and 68 yuan ($10.13) per share respectively, according to regulatory filings released Monday.
That means the IPO will raise over $34.1 billion and value the company at about $310 billion. The previous record for a stock-market listing was held by Saudi state oil company Aramco, which raised $29.4 billion in an offering on the Riyadh exchange last December.
The listing is a win for China which has been encouraging the country's top tech companies to list at home instead of on top exchanges in the United States.
Ant is splitting the IPO evenly between Hong Kong and Shanghai, selling 1.67 billion shares on each exchange. The shares to be issued are equivalent to about 11% of the company.
Ant is the financial technology company affiliated with Chinese e-commerce group
Alibaba
(BABA)
, which went public on the New York Stock Exchange in 2014 in what was also a world-record setting IPO. Billionaire Ma has ultimate control over Ant.
Ant is one of the biggest technology firms in the world and the biggest online payments platform in China. The app has established its presence in every aspect of financial life in China, from investment accounts and micro savings products to insurance, credit scores and even dating profiles.
The firm's payments app Alipay had 731 million monthly active users as of September, Ant said in regulatory filings. The platform handled 118 trillion yuan ($17.7 trillion) in payments in the 12 months through June.
The company said revenue for the nine months ended in September rose about 43% to 118.2 billion yuan ($17.7 billion) compared to the same period last year. Gross profit for the period rose 74% to 69.5 billion yuan ($10.4 billion).
Canada's transport regulator hasn't settled a single COVID-19 flight cancellation complaint – CBC.ca
The Canadian Transportation Agency has failed to settle a single complaint from Canadians demanding refunds for cancelled flights since the onset of the COVID-19 pandemic, CBC News has learned.
The independent tribunal said it has been inundated with close to 10,000 complaints from mid-March, when global air travel largely ground to a halt, until Oct. 16.
The agency confirmed it's still processing complaints it received before March 11; it has yet to deal with any cases filed during the public health crisis.
For months, Canada's Transport Minister has told Canadians if they are unsatisfied with refunds, the course of action is to file complaints with the tribunal.
Carly Aubertin and her husband Rob McLean are upset that they filed a complaint in April, which has been sitting in limbo ever since.
"It's just so disheartening," said Aubertin. "It's frustrating that the government's not there to support us."
The Ontario residents are considering selling their home as they wrestle with living off a single income because the pandemic has hurt McLean's business. Sunwing gave them a voucher for a cancelled trip to Antigua due to COVID, rather than a full refund that could help pay their mortgage until the spring.
"Right now, I mean, $5,000? There's five months of mortgage right there," she said.
Long backlog before pandemic started
The delay is partially due to a two-year backlog of complaints the CTA received before the pandemic struck. The backlog is tied to a significant influx of complaints received after new air passenger protection regulations came into effect in December 2019.
COVID-19 hampered further efforts to process complaints; the CTA temporarily paused its discussions with airlines regarding "dispute resolution activities" until June 30, 2020 to allow airlines to focus on more urgent matters. The agency also granted airlines an extension until Oct. 28 to respond to passengers seeking compensation.
But the CTA says it's making progress on tackling the caseload. The agency processed a record number of complaints in the past fiscal year. The administrative tribunal also received a funding boost to get through cases more quickly and says it's weeks away from starting on complaints filed during the pandemic.
WATCH | Thousands of Canadian travellers are waiting for flight refunds:
CBC News has learned that despite receiving thousands of complaints from travellers looking for refunds for flights cancelled due to COVID-19, the Canadian Transportation Agency has not settled a single one. 1:59
An ongoing battle for closure
The agency said it's now working through about 17,300 complaints.
Those includes complaints from Canadians like Aubertin and McLean, who spent about $5,000 for a spring vacation with a group of friends to celebrate some of their 40th and 50th birthdays.
McLean found himself without work during the pandemic, meaning the Port Robinson, Ont., couple has started to dip into their retirement savings. His last pay cheque was in February.
"It's frustrating because in these times we hear the leaders of our country saying to look out for everybody and do the right thing and respect your community, and then to allow these multimillion dollar companies to keep our money interest free for an extended period of time doesn't feel like the right thing to us," McLean said.
Aubertin said the obstacles have been particularly disappointing given that other countries have taken a firmer stance on helping passengers.
In April, the U.S. Department of Transportation issued a notice reminding U.S. and foreign airlines that they "remain obligated to provide a prompt refund to passengers" despite the pandemic and warned that it would take "enforcement action" as necessary.
In Canada, airlines have been asking the government for financial help to survive an unprecedented drop in business during the height of the pandemic. In many cases, airlines have been issuing travel vouchers redeemable for two years, rather than refunds.
The CTA said it issued a "non-binding statement" on issuing vouchers in the face of "unprecedented and extraordinary circumstances" during the pandemic.
The agency said the industry collapsed worldwide and there was an "absence of any general minimum obligation under the law for airlines to pay refunds for flights cancelled for reasons beyond their control."
After months of public outrage, WestJet announced last week it was changing its refund policy on Nov. 2 to give customers back money for flights cancelled due to COVID-19.
Air Canada took to Twitter shortly afterwards and said it's already repaid $1.2 billion to date for refundable tickets cancelled during the pandemic.
Let's clear the air. We're offering refunds for guests if we cancelled their flight. Even the lowest cost tickets will be refunded to original form of payment if WestJet caused the cancellation.

—@WestJet
John Gradek, a former Air Canada executive and lecturer at McGill University's aviation management program, said the timing is no coincidence.
Canada's major airlines — WestJet, Air Canada, Air Transat, Sunwing and Swoop — are facing a series of class action lawsuits over refunds during COVID and the federal court certification hearing is scheduled for Nov. 2.
Gradek also believes airlines realized there wasn't public support for a government bailout unless carriers refunded passengers first. The Globe and Mail reported Friday cabinet is currently deliberating a package for the aviation sector that includes scaling back airport fee increases and low interest loans.
CTA losing credibility, Bloc MP says
Passengers and consumers have a right to feel upset about the federal government's lack of action, said Bloc Québécois MP and transport critic Xavier Barsalou-Duval.
On Friday, he presented a bill seeking to amend the Canada Transportation Act in order to ensure passengers are fully refunded in the event that an air carrier cancels a flight.
He said Transport Minister Marc Garneau's failure to resolve the issue has put undue pressure on the CTA.
"By not acting, Mr. Garneau's transferring the weight of the situation on the shoulders of the CTA and that's a big problem," said Barsalou-Duval.
"[The CTA is] losing credibility. And that's the big problem because usually they're supposed to… apply the rules, apply the law."
In a statement to CBC News on Sunday, Garneau said he understood the frustration.
"This situation is far from ideal," he said. "We are encouraged to see that some airlines have refunded their customers, and expect air carriers will do their best to accommodate passengers under these extraordinary circumstances," the statement read.
"This is an important issue to Canadians. We also continue to work with the airlines to address the overall challenges they are facing due to the pandemic."
Owner of all-electric Nissan Leaf frustrated by difficulty of getting new battery – CBC.ca
You might think that Nissan, the first car-maker to achieve widespread success with a zero-emissions electric vehicle, cares deeply about the environment. But Clayton Brander isn't so sure.
Three years ago, the Powell River, B.C., resident chose to buy a used 2013 Nissan Leaf, motivated by a keen interest in sustainability.
"I love the car," he said. "Honestly, in three years and 40,000 kilometres, I've replaced a set of tires and windshield wiper fluid. Nothing breaks down. It's a fantastic little vehicle. I think electric vehicles are the way to go."
But nowadays, instead of being able to drive the 120 km that 2013 Leafs could initially go on a full charge, Brander can't get much more than 80 km. He has even become hesitant about turning on the heat or window defroster, since using those features require battery power and will reduce his driving range even further.
Brander always knew that batteries lose capacity over time, and he figured it wouldn't be a problem getting a new one.
"The dealership where I bought the car said that in a few years, you can replace the battery for about $5,000," said Brander.
But now, he can't find one. He's tried two nearby Nissan dealerships, three local repair shops and contacted Nissan Canada.
"Nissan hasn't been helpful. I've sent probably six emails to them," said Brander. "They keep telling me to go to the dealership. I called my local dealership and they sent emails to Nissan Canada. Six weeks later, neither of us has gotten a response."
Both dealerships told him that a new battery — if he can find one — could cost him at least $15,000, which would be more than he paid for the vehicle in the first place.
WATCH | Brander's struggle to replace his car's battery:
Clayton Brander of Powell River, B.C., assumed that buying a reliable electric vehicle was an environmentally sustainable decision. Three years later, he's faced with the choice of buying an expensive replacement battery, if he can find one, or a new car. 2:10
His local dealership has encouraged him to solve the issue by simply purchasing a brand-new Nissan Leaf. The basic 2020 model costs $42,000 and can travel about 240 km on a full charge. That suggestion doesn't seem very sustainable to Brander.
"It seems like these things are going to end up in the landfill," he said. "It makes more sense for them financially, I imagine, to sell new cars than to service the old cars."
U.S. class-action lawsuit
The Nissan Leaf has long been the world's best-selling electric vehicle, surpassed for the first time in 2020 by Tesla's Model S, according to Nissan and Tesla's own figures.
Olivier Trescases, a professor at the University of Toronto's Electric Vehicle Research Centre, said Nissan deserves credit for being a pioneer.
"They were one of the first to release a compelling electric vehicle with a reasonable range and most importantly, a low price point," he said.
But he added that one of the design "compromises" Nissan initially made in order to keep production costs down was to not install an advanced cooling system for its batteries. "They were using a chemistry that was particularly temperature-sensitive, and they did not use expensive liquid cooling."
That means the battery's capacity is reduced more quickly. In 2012, Leaf owners in California and Arizona launched a class-action lawsuit claiming the car's driving range was lower than advertised.
The company settled the suit and extended the battery capacity warranty to five years on models made from 2013 onward. Later, Nissan extended the warranty to eight years on models made after 2016.
As well, a battery replacement program for first-generation Leafs was launched in the U.S. A new one cost $5,499 US, plus labour, but the program was discontinued in early 2018.
Where's the loyalty?
After an inquiry about Clayton Brander's situation from CBC's Go Public team, Nissan declined an interview but released a statement via email. It said Nissan Canada will conduct an inspection of Brander's vehicle and is "hopeful to find a resolution."
Contacted by phone, the head of corporate communications for Nissan Canada wouldn't clarify if that means that they would find him a new battery, or at what price.
The statement also pointed out the environmental impact of the Leaf, saying owners around the world have driven 4.8 billion kilometres and helped to prevent "more than 2.4 billion kilograms of CO2 emissions."
Trescases believes Nissan should show more loyalty to its first customers. "Some of these early adopters helped them to get the car out on the market, get some acceptance and go from there."
Nissan Canada says more than 3,300 Canadians have purchased Leafs built prior to 2015.
Trescases said the challenge of replacing batteries in older electric cars shouldn't discourage buyers of newer models, explaining the latest EV batteries are incredibly efficient.
"Today, companies are talking about million-mile batteries," he said. "That's a big buzzword, but let's say they even get close to that — that means that the battery will actually outlive the car by a long stretch."
Last year, Nissan began powering streetlights in Japan and a stadium in the Netherlands with batteries from cars no longer in use.
Keeping car on the road
At just seven years old, Brander's Leaf is newer than most cars on the road in Canada, where the average vehicle is 10 years old. (In B.C., the average is 11.)
He remains determined to hang on to the vehicle, ideally with a new battery. He's happy that Nissan Canada finally got in touch with him after the inquiry from CBC News, but he's puzzled why the company says the vehicle needs to be tested. He said he already paid $130 for a battery test at a local dealership.
"The fact that I don't get enough driving range out of this one is all that's needed to determine that I need a new battery," he said.
He'd like to see Nissan show some loyalty to its most faithful fans, by helping keep the cars on the road for as long as possible.
"They got all the kudos for introducing the electric vehicles to the masses, so that looks really good," he said.
"But they're losing them now by not supporting these older models and just pushing new vehicle sales, instead of saying, 'Look, we can still keep these out of the landfill.'"