Links, News and Notes: HHOF Decisions, Growing the Game on Social Media, and Free Agency – Silver Seven
It's the Monday edition of Links, News and Notes!
If you buy something from an SB Nation link, Vox Media may earn a commission. See our ethics statement.
Share this story
Media Release – August 16, 2022 – Guelph Police – Guelph Police Service
Male arrested in theft of watches
A Guelph male has been charged in connection with the theft of more than a dozen watches during a break and enter last month.
Police were called July 6 to a business in the area of Silvercreek Parkway North and Woodlawn Road West. An employee had arrived to work to find a rear window smashed. Approximately 12 to 15 watches each valued at $150 were stolen.
A suspect was identified through surveillance video and arrested Sunday morning. A 66-year-old Guelph male is charged with break and enter. He will appear in a Guelph court September 23, 2022.
Arrest made following assault
A Guelph male faces assault and weapons charges after another male was attacked in the parking lot of a south-end business.
On July 9 two males known to each other were involved in a verbal altercation in a parking lot on Stone Road West. During the altercation one of the males was struck twice in the head with an object believed to be a flashlight. This caused a laceration which required stitches.
A suspect was identified and on Monday turned himself in to the Guelph Police Service. A 26-year-old Guelph male is charged with assault with a weapon, possessing a weapon for a dangerous purpose and failing to comply with probation. He will appear in bail court Wednesday.
Gassing up stolen car leads to charges
A Cambridge male who pumped gas into a stolen car in Guelph has been arrested.
On June 2, a male attended a gas station on Speedvale Avenue West driving a stolen Kia SUV. He pumped more than $49 in gas and attempted to pay using several prepaid credit cards, but was only able to cover $7.28 of the cost. The male said he would get another credit card from the vehicle but instead sped away without paying the remaining amount.
The male was identified via surveillance video and arrested Monday.
A 37-year-old Cambridge male is charged with possessing stolen property over $5,000, theft under $5,000, occupying a stolen motor vehicle and driving while suspended. He will appear in bail court Tuesday.
Total calls for service in the last 24 hours – 206
Media are invited to attend the Mentor-Apprentice Program workshop in Yellowknife on August 17 – Government of Northwest Territories
The Government of the Northwest Territories (GNWT) is hosting a training workshop for Mentor-Apprentice Program (MAP) participants in Yellowknife. Media are invited to attend the last workshop taking place in the Yellowknife area, where they can experience the language program firsthand and talk to MAP participants and organizers with the Indigenous Languages and Education Secretariat.
The session will take place:
Yellowknife – Dene Kedǝ, Dëne Sųłıné, Dene Zhatıé and Tłı̨chǫ languages
Location: Aurora Tours.net /Aurora Teepee Lodge (Ingraham Trail – KM 12.4)
Date: August 17, 2022
Time: 10:15 -11:45 am
To attend one of the sessions, please RSVP to ecepublicaffairs@gov.nt.ca. High-resolution photos will be provided upon request for media use.
MAP is a way of learning a language where a fluent speaker of the language (a Mentor) teaches a language learner (an Apprentice) through immersion. The goal of the program is to have Apprentices improve their ability to understand and speak their language and help with the revitalization of Indigenous languages in the Northwest Territories.
For media requests, please contact:
Public Affairs and Communications
Department of Education, Culture and Employment
Government of the Northwest Territories
TAIT: Lisa LaFlamme's unfortunate ouster a reminder of Canada's changing media landscape – Edmonton Sun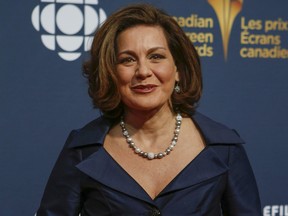 Article content
Now, I'm nervous.
Article content
This Thursday will mark my 43rd anniversary in the news business. I wonder if the phone might ring with some news.
How about that for a segue?
Monday afternoon: a quiet news day, most of the 2,236 weeks I've been a keyboard captain.
Then, late Monday afternoon — a minute before I was set to email my buddy Coffee Chad to say I didn't have a column — the tweet zoomed across my screen.
It is from Lisa LaFlamme. It said: "I have some news."
Big deal, I thought.
Maybe Donald Trump said something that we could, honestly, believe … maybe, there was a peace treaty finally signed between Russia and Ukraine … maybe that illusive test tube, thankfully, emerged that will end all cancers.
No problem, I told myself. Stay up late. Watch LaFlamme on CTV News.
Article content
But then it kicked in: that news sense that loudly rings in my ear, screaming to check everything — no matter how insignificant it might sound — make a phone call, or in today's world, click.
So click I did.
And forget, for a few words, I am a reporter.
As a Canadian I am sad.
I'm sad I had to watch a video, on Twitter no less, of LaFlamme telling her story.
I am sad about that image of her sitting in what seems to be a cosy rustic cottage, perhaps.
I am sad she shared news that Bell-Media informed her June 29 her contract as CTV chief correspondent would not be renewed.
LaFlamme is 58 and has decades of news experience.
Knowing what is news — and more importantly what is not — isn't something you gloriously discover at the bottom of a crackerjack box.
Article content
It's a feeling.
A sense.
A skill, frankly, not everyone has.
LaFlamme had it, absolutely.
She reported some of the biggest stories we will ever hear, with — and I'd bet the farm on this — COVID-19 is near the top.
In my mind, her seniority, calm voice and sincere compassion touched us all no matter how rough the nightly news line-up was, with reassurance, as we drifted off to sleep, that everything would be OK.
The media landscape has changed so significantly in the past 10 years.
We knew that.
What we did not realize is that many great people, with even greater skills, would leave our favourite radio stations, TV stations and, alas, newspapers without producing or writing their last piece.
Business decisions happen all the time. We must respect that.
But we need to remind everyone being a news personality is a noble profession.
When our time comes — on our own call or from ivory tower corporate offices — saying thank you to viewers, listeners and readers closes a chapter gracefully.
Rather than — forgive the aforementioned news voice — wondering why.