Long Covid: Could mono virus or fat cells be playing roles?
Nearly three years into the pandemic, scientists are still trying to figure out why some people get long COVID and why a small portion have lasting symptoms.
AP | | Posted by Parmita Uniyal
A British historian, an Italian archaeologist and an American preschool teacher have never met in person, but they share a prominent pandemic bond. Plagued by eerily similar symptoms, the three women are credited with describing, naming and helping bring long COVID into the public's consciousness in early 2020. (Also read: Brain fog from long Covid: Know the symptoms, effective tips to deal with it)
Rachel Pope, of Liverpool, took to Twitter in late March 2020 to describe her bedeviling symptoms, then unnamed, after a coronavirus infection. Elisa Perego in Italy first used the term "long COVID," in a May tweet that year. Amy Watson in Portland, Oregon, got inspiration in naming her Facebook support group from the trucker cap she'd been wearing, and "long hauler" soon became part of the pandemic lexicon.
Nearly three years into the pandemic, scientists are still trying to figure out why some people get long COVID and why a small portion — including the three women — have lasting symptoms.
Millions of people worldwide have had long COVID, reporting various symptoms including fatigue, lung problems, and brain fog and other neurological symptoms. Evidence suggests most recover substantially within a year, but recent data show that it has contributed to more than 3,500 U.S. deaths.
Here's some of the latest evidence:
WOMEN MORE AT RISK?
Many studies and anecdotal evidence suggest that women are more likely than men to develop long COVID.
There could be biological reasons.
Women's immune systems generally mount stronger reactions to viruses, bacteria, parasites and other germs, noted Sabra Klein, a Johns Hopkins professor who studies immunity.
Women are also much more likely than men to have autoimmune diseases, where the body mistakenly attacks its own healthy cells. Some scientists believe long COVID could result from an autoimmune response triggered by the virus.
Women's bodies also tend to have more fat tissue and emerging research suggests the coronavirus may hide in fat after infection. Scientists also are studying whether women's fluctuating hormone levels may increase the risks.
Another possible factor: Women are more likely than men to seek health care and often more attuned to changes in their bodies, Klein noted.
"I don't think we should ignore that," she said. Biology and behavior are probably both at play, Klein said.
It may thus be no coincidence that it was three women who helped shine the first light on long COVID.
Pope, 46, started chronicling what she was experiencing in March 2020: flu-like symptoms, then her lungs, heart and joints were affected. After a month she started having some "OK" days, but symptoms persisted.
She and some similarly ill colleagues connected with Perego on Twitter. "We started sort of coming together because it was literally the only place where we could do that," Pope said. "In 2020, we would joke that we'd get together for Christmas and have a party," Pope said. "Then obviously it went on, and I think we stopped joking."
Watson started her virtual long haulers group that April. The others soon learned of that nickname and embraced it.
MONO VIRUS
Several studies suggest the ubiquitous Epstein-Barr virus could play a role in some cases of long COVID.
Inflammation caused by coronavirus infection can activate herpes viruses, which remain in the body after causing an acute infection, said Dr. Timothy Henrich, a virus expert at the University of California, San Francisco.
Epstein-Barr virus is among the most common of these herpes viruses: An estimated 90% of the U.S. population has been infected with it. The virus can cause mononucleosis or symptoms that may be dismissed as a cold.
Henrich is among researchers who have found immune markers signaling Epstein-Barr reactivation in the blood of long COVID patients, particularly those with fatigue.
Not all long COVID patients have these markers. But it's possible that Epstein-Barr is causing symptoms in those who do, although scientists say more study is needed.
Some scientists also believe that Epstein-Barr triggers chronic fatigue syndrome, a condition that bears many similarities to long COVID, but that also is unproven.
OBESITY
Obesity is a risk factor for severe COVID-19 infections and scientists are trying to understand why.
Stanford University researchers are among those who have found evidence that the coronavirus can infect fat cells. In a recent study, they found the virus and signs of inflammation in fat tissue taken from people who had died from COVID.
Lab tests showed that the virus can reproduce in fat tissue. That raises the possibility that fat tissue could serve as a "reservoir," potentially fueling long COVID.
Could removing fat tissue treat or prevent some cases of long COVID? It's a tantalizing question, but the research is preliminary, said Dr. Catherine Blish, a Stanford infectious diseases professor and a senior author of the study.
Scientists at the University of Texas Southwestern Medical Center are studying leptin, a hormone produced by fat cells that can influence the body's immune response and promote inflammation.
They plan to study whether injections of a manufactured antibody could reduce leptin levels — and in turn inflammation from coronavirus infections or long COVID.
"We have a good scientific basis together with some preliminary data to argue that we might be on the right track," said Dr. Philipp Scherer.
DURATION
It has been estimated that about 30% of people infected with the coronavirus will develop long COVID, based on data from earlier in the pandemic.
Most people who have lingering, recurrent or new symptoms after infection will recover after about three months. Among those with symptoms at three months, about 15% will continue to have symptoms for at least nine more months, according to a recent study in the Journal of the American Medical Association.
Figuring out who's at risk for years-long symptoms "is such a complicated question," said Dr. Lawrence Purpura, an infectious disease expert at Columbia University.
Those with severe infections seem to be more at risk for long COVID, although it can also affect people with mild infections. Those whose infections cause severe lung damage including scarring may experience breathlessness, coughing or fatigue for more than a year. And a smaller group of patients with mild initial COVID-19 infections may develop neurologic symptoms for more than a year, including chronic fatigue and brain fog, Purpura said.
"The majority of patients will eventually recover," he said. "It's important for people to know that."
It's small consolation for the three women who helped the world recognize long COVID.
Perego, 44, developed heart, lung and neurologic problems and remains seriously ill.
She knows that scientists have learned a lot in a short time, but she says "there is a gap" between long COVID research and medical care.
"We need to translate scientific knowledge into better treatment and policy," she said.
Watson, approaching 50, says she has "never had any kind of recovery." She has had severe migraines, plus digestive, nerve and foot problems. Recently she developed severe anemia.
She wishes the medical community had a more organized approach to treating long COVID. Doctors say not knowing the underlying cause or causes makes that difficult.
"I just want my life back," Watson said, "and it's not looking like that's all that possible."
Northumberland Hills Hospital declares COVID-19 outbreak – 93.3 myFM
Northumberland Hills Hospital has declared an outbreak in COVID-19 cases.
The hospital is experiencing its first surge in COVID-19 cases since October 2022.
They've temporarily paused visiting to NHH's Inpatient Rehabilitation Unit due to four active COVID-19 cases among admitted inpatients.
Visiting continues as usual outside the unit unless patients are in isolation for COVID-19 infection or exposure.
Written by Lee McConnell
Top doctor says Ontario 'must remain vigilant' past flu peak, COVID variant advances – TimminsToday
TORONTO — Ontario's top doctor says even though COVID-19 and flu activity is declining, the province "must remain vigilant" as a more transmissible variant gains ground.
In a statement, Dr. Kieran Moore says parts of Ontario are reporting a rise in the number of cases of the more easily spreadable XBB 1.5 variant of COVID-19.
He says while the new strain has not been associated with more severe illness, infections could climb as it becomes the "main variant in Ontario."
Moore says Ontario is seeing a decline in COVID, respiratory syncytial virus and flu activity throughout the province, offering some relief to hard-hit hospitals.
In recent weeks, Ontario pediatric hospitals have ramped up surgeries after a three-month surge of flu and RSV cases pushed them to redeploy staff to intensive care units and emergency departments.
Moore says flu cases peaked at the end of November and continue to decline.
This report by The Canadian Press was first published Jan. 26, 2023.
The Canadian Press
UBC biotech spin-off raises $75M to bring cancer treatments to patients – UBC Faculty of Medicine – UBC Faculty of Medicine
With roots in UBC research, Alpha-9 Theranostics is developing cancer radiotherapies that target tumours while avoiding healthy tissues.
Alpha-9 Theranostics, a UBC spin-off company founded by three university researchers, has raised $75 million to develop next-generation radiopharmaceuticals that promise to meaningfully improve treatment for people with cancer.
Based on more than a decade of ground-breaking research at UBC and BC Cancer, the cancer drugs act like a homing device — seeking out tumours to deliver targeted radiation treatment, while having minimal impact on nearby healthy tissues. This precision targeting results in drugs that can be more effective and have fewer side effects for patients than traditional radiation treatments.
"We founded this company to turn the research we were doing at UBC and BC Cancer into treatments that will help patients thrive and, ultimately, save lives," says Dr. François Bénard, one of the company's co-founders, and a radiology professor at UBC's faculty of medicine and senior executive director of the BC Cancer Research Institute. "Seeing these treatments move into clinical testing following more than a decade of basic and translational research is inspiring and the result of a tremendous collaborative effort. This new financing will further accelerate development, bringing new cancer treatments to patients faster."
Alpha-9's radiopharmaceuticals are designed to treat a range of solid and hematologic cancers such as prostate cancer, breast cancer, leukemia and lymphoma. According to Dr. David Hirsch, chief executive officer of Alpha-9, the $75 million in Series B financing will enable the company to bring its first five treatments into clinical trials with patients over the next two years.
"Thanks to the cutting-edge research at UBC, these radiotherapies have tremendous potential to address a wide range of cancers," says Dr. Hirsch. "In the coming years, we plan to progress multiple treatments into first-in-human clinical trials, harnessing the potential of radiopharmaceuticals to realize more effective treatments for people living with cancer."
From UBC labs to successful start-up
Alpha-9 was founded in 2019 by Dr. Bénard alongside UBC professors Drs. Kuo-Shyan Lin and David Perrin. But it was a decade earlier that the trio first started working together.
Dr. Perrin, a UBC professor of chemistry, had invented a new method to easily tag molecules with fluorine-18, a radioisotope widely used for cancer imaging. He and Dr. Bénard started exploring how to use this method to label peptides — small molecules that seek out and attach to unique proteins that exist on the surface of tumours — to improve cancer diagnosis.
At the same time, Dr. Lin, a UBC radiology professor and senior scientist at BC Cancer, was developing new cancer-targeting peptides and working with Dr. Bénard to label them with therapeutic radioisotopes. Instead of emitting gamma rays used for imaging, these radioisotopes emit particles, called alpha and beta particles, that destroy cancer cells.
According to Dr. Lin, they each brought unique expertise from their respective disciplines that helped bridge the worlds of cancer diagnostics and therapy.
"Our work was very complimentary and we realized there was tremendous potential to apply it across both the diagnostics and therapeutics spaces. We knew we would need both components, because if we want to do therapy, we also need a diagnostic companion to identify patients who will benefit from therapy," says Dr. Lin.
Leveraging a team science approach, the researchers began developing peptides that home in on cancer cells, and combining them with diagnostic radioisotopes for cancer localization and treatment planning, and with therapeutic radioisotopes to seek and eliminate cancer cells.
"We founded this company to turn the research we were doing at UBC and BC Cancer into treatments that will help patients thrive and, ultimately, save lives."
— Dr. François Bénard
Professor of Radiology
The researchers filed a number of patents for the technologies they developed and worked with UBC's University-Industry Liaison Office and the Technology Development Office at BC Cancer to license the technology and eventually form Alpha-9. Dr. Bénard is quick to credit the success to their multi-disciplinary teams, saying that many of the research trainees continue to play a central role in the company today.
"UBC trainees and students were instrumental in the initial research and several have now taken up leadership roles within the company to lead the science," says Dr. Bénard. "It's one of the many benefits of doing business in B.C. There are many highly-skilled science trainees that come out of UBC, creating a rich environment for companies to thrive in Vancouver."
Dr. Julie Rousseau was one of those trainees, working as a postdoctoral fellow in Dr. Bénard's lab from 2015 to 2019. Now, she's Alpha-9's associate director of translational biology.
"During my UBC postdoctoral training with Dr. Bénard, I was trained in preclinical drug screening, target selection, as well as radiopharmaceutical development strategies. I also had the opportunity to hone my mentorship and leadership skills by training undergraduate and graduate trainees within the lab. This exceptional training period has allowed me to assume a leadership role at Alpha-9."
B.C. a leader in cancer research
Three years after being founded, Alpha-9 has grown to over 15 employees. The company has a research and development facility located in Vancouver as well as offices in Boston.
Alpha-9 plans to leverage the new round of investor financing to continue expanding over the coming year, growing its workforce to as many as 45 employees by the end of 2023. Construction is also underway on a new research facility in the Mount Pleasant area of Vancouver that will house the company's chemistry, biology, translational research and radiochemistry teams, as well as support product formulation.
According to Dr. Bénard, it's a testament to B.C.'s established leadership in cancer research.
"Vancouver is home to tremendous experience in radiopharmaceutical development and nuclear medicine that makes it an ideal location for these research labs," says Dr. Bénard. "There's a critical mass of expertise that is driving biomedical innovation, in part because of the rich talent and research coming out of UBC, and the broader ecosystem that includes world-leading organizations like BC Cancer and TRIUMF, as well as a range of established and emerging biotech companies."
For Dr. Dermot Kelleher, dean of UBC's faculty of medicine and vice-president, health, Alpha-9 is another example of how UBC researchers are driving innovation to tackle today's most pressing health challenges.
"UBC researchers are accelerating the discovery and development of new treatments for a range of diseases such as cancer, Alzheimer's and diabetes," says Dr. Kelleher. "Investors and companies are taking notice of the talent and expertise that exists here and its proximity to the university. They're increasingly choosing B.C. as a place to invest and grow their business, which is in turn, creating jobs and bringing new treatments to British Columbians sooner."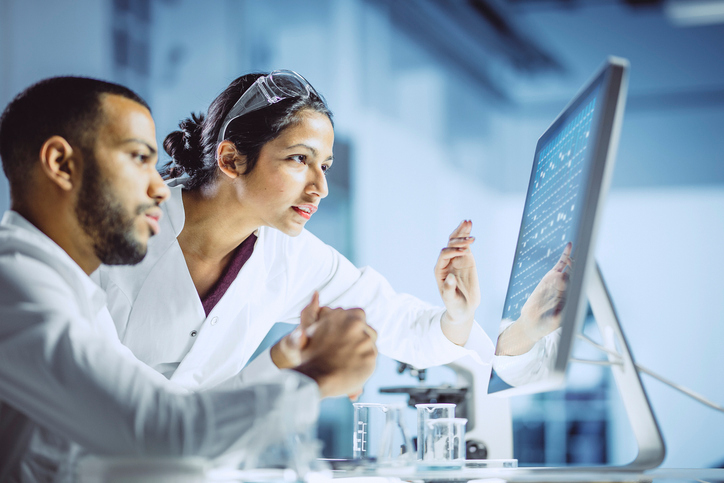 Improving patient outcomes
For Dr. Bénard, what's most exciting about Alpha-9's rapid growth is the potential to impact patients.
"We're not talking about 10 or 20 years down the road. There are real short-term objectives to open up multiple clinical trials with patients in the coming years."
"Thanks to the cutting-edge research at UBC, these radiotherapies have tremendous potential to address a wide range of cancers."
— Dr. David Hirsch
Chief Executive Officer, Alpha-9
Dr. Bénard says that Alpha-9's new radiopharmaceuticals will add an additional treatment option that is different, yet complementary, to existing approaches. And because the treatments are highly-targeted and designed to avoid healthy tissues, patients undergoing treatment could see fewer side effects and enjoy a greater quality of life.
"Patients are what this is all about. While there have been leaps and bounds in terms of cancer treatment options in recent decades, it remains the leading cause of mortality in Canada. We have a real opportunity to change that and improve outcomes for people living with cancer."
---
Share this Story
Published: January 26, 2023