Losses mount for oil companies as pandemic grips economy – OrilliaMatters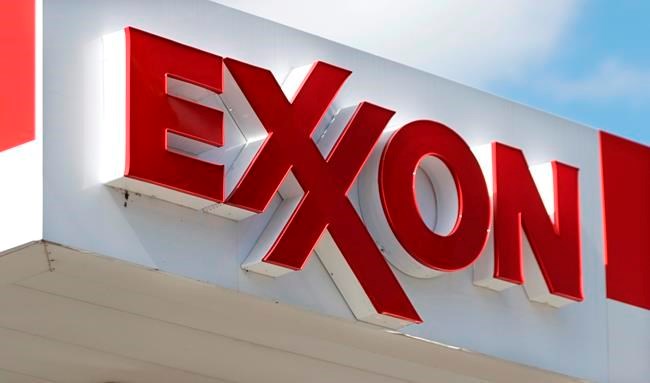 NEW YORK — Exxon Mobil reported its third consecutive quarter of losses as the global pandemic curtailed travel and crippled global economic activity.
The energy giant on Friday posted a $680 million third-quarter loss and revenue tumbled to $46.2 billion, down from $65.05 billion during the same quarter last year.
The string of losses and what by almost all counts will be a money-losing year is new territory for Exxon Mobil, which has not posted an annual loss since Exxon and Mobil merged in 1999.
"This is a business that's made a billion dollars a quarter on average from 2011 to 2018 and it's had a rough go," said Peter McNally, global sector lead for industrials, materials and energy at Third Bridge, a research firm.
Already struggling with weak prices from oversupply, the pandemic has intensified the pain for oil and gas companies. The price of U.S. benchmark crude has fallen 40% since the start of the year. The cost for a barrel of oil tumbled 10% just this week as coronavirus infections surged in the U.S. and abroad.
Commuting to work has largely ended for millions of people. Air travel this year fell to levels not seen in the jet age and the economy suffered its worst contraction in decades as factories and other big energy consumers shut down. All indications point to a Thanksgiving celebrated close to home, and in smaller numbers this year.
Exxon has begun slashing costs to offset falling energy demand, and that means jobs.
A day after announcing 1,900 job cuts, Exxon said on Friday that it plans to cut 15% of its global workforce by the end of next year, about 11,250 jobs. The company employed 75,000 people at the end of 2019.
Chevron also announced job cuts Thursday after closing on its acquisition of Noble Energy earlier this month, saying it would trim the headcount at that company by about a quarter.
"We remain confident in our long-term strategy and the fundamentals of our business, and are taking the necessary actions to preserve value while protecting the balance sheet and dividend," said Exxon Mobil CEO Darren Woods in a prepared statement.
Exxon said Friday that it may divest $25 billion to $30 billion in North American dry gas assets, and that it would cut capital expenditures to between $16 billion and $19 billion next year.
That would follow a year in which Exxon reduced capital spending by 30%, to $23 billion.
"We are on pace to achieve our 2020 cost-reduction targets and are progressing additional savings next year as we manage through this unprecedented down cycle," Woods said.
Those planned reductions might not be enough to appease some investors. Exxon was the only one of the super-majors to post a loss this quarter, and is behind its peers in cost-cutting, said Jennifer Rowland, senior analyst at Edward Jones. "Everyone else either stayed in the black or got back into the black from the abyss of the second quarter. I think it's telling that they're the only ones still running in the red."
The Irving, Texas, company produced 3.7 million barrels of oil per day in the third quarter, up 1% from the second quarter. But production is down slightly from the same period last year.
"We are not cancelling any projects that are in execution or in the funding process," said Andrew Swiger, chief financial officer, in a conference call Friday.
Several analysts on the call questioned why Exxon will continue paying a dividend given the losses it's suffering.
"Our objective is to maintain the dividend, advance the highest value investments, and maintain the debt at a cost- competitive level," Swiger said.
"It's not going well," McNally said about Exxon. "You have to squint at some of the things to find things that are good."
And the third quarter was an improvement compared with the last, when oil futures crashed below zero. Exxon and Chevron lost a combined $9 billion.
Chevron on Friday swung to a loss of $207 million after a quarterly profit of $2.9 billion last year. Revenue fell by $11 billion, to $24 billion.
Oil prices appeared to stabilize during the third quarter, however, and better conditions enabled Exxon to recover some of the production it had curtailed, the company said.
Demand for refined products also improved, and chemical sales volumes rose as demand for packaging increased and automotive and construction markets recovered, Exxon said.
Oil demand is expected to fall 8% globally this year, according to the International Energy Agency. While some demand has recovered since oil futures fell below $0 a barrel in April, countries are again locking down as the coronavirus surges anew across Europe and the U.S.
Exxon's stock fell almost 3% Friday, and it's down more than 50% this year. Chevron was relatively unchanged, but its shares are down about 40% in 2020.
The energy sector is the only one in the S&P 500 to fall since President Donald Trump took office. Energy stocks in the index have lost nearly 57%, and the five worst-performing stocks since Trump's presidency began were energy companies.
Cathy Bussewitz, The Associated Press
Families 'facing hardest period in five decades' as Britain's economy stalls – The Guardian
How this ocean-to-table operation is helping the N.L. economy by keeping it local – CBC.ca
Through late summer and early fall, Tim Ball spent as much time as possible underwater in his dive gear, scouring the seabed off the Burin Peninsula for scallops.
It's an ocean-to-table operation that sees his hand-harvested scallops quickly making their way to dinner plates in the downtown of St. John's.
"I try to keep it all local," said Ball about his business philosophy.
With a provincial economy that's in dire straits and in need of reversing its course, Ball thinks every little bit can help— especially if the focus is keeping as many of those little bits as possible in the province.
For Ball, that means, among other things, using locally made bags and boxes for packing his scallops and using a Burin Peninsula cab company for sending his catch into St. John's.
"Because this is a primary industry … we are in, and we are getting the actual resources from the bottom, this is creating new money for the economy," Ball said. "If the money is staying in Newfoundland, then great."
Terre Restaurant in St. John's is one of the destinations for Ball's scallops. Before the season ended last month they could be found listed on the menu as "Seared Diver Scallops."
"They're amazing," said head chef Matthew Swift.
"Anywhere else in the world … the idea of marketing day boat scallops is sort of a pipe dream. If I were to tell friends in other places that Tim gets out of the water, and I get the scallops in as long as it takes to drive in from Burin? It's insane," he said.
On top of the quality, it's Ball's business recipe that also interests Swift.
"Just in terms of having a diverse and smaller economy, where we can support people on a more individual level," he said.
This way of thinking is something that also strikes a chord with John Schouten — Memorial University's Canada Research Chair in Social Enterprise.
Schouten says Ball's operation means more than just local spending on his supply chain. There's also a spillover effect which would also see Ball spend money at local businesses in and around Garnish, where he fishes from.
"So every hundred dollars that passes from me, to you, to somebody else here locally, that $100 is working the whole time in our favour here in the province," said Schouten in an interview last month.
Patch the bucket
It may be a small example, but there's a bigger lesson in it for the provincial government, said Schouten. He thinks the government should treat the economy like a leaky bucket, where money comes in and goes out.
"If the government could, using that metaphor, start patching the bucket to keep the money in the province longer, working harder for local businesses, local people, people who are making a living wage — that would do wonders for the stability of the economy here," he said.
Speaking of helping the economy, Ball thinks what he's doing is scalable. In addition to scallops, Ball also hand harvests sea urchin, but he thinks there's more that can be harvested as well — including kelp, sea cucumbers and periwinkles.
For that to happen, there would have to be consistent licensing periods from the federal government and more divers with commercial dive training.
Eventually Ball would like to see a special school that trains up to a dozen divers a year for this type of work.
If a community had a handful of divers, Ball said, the economic spin-off is easy to see — you need people shucking scallops and spotting the divers, gear needs repairing, supplies need to be bought.
"I think it's just a win-win situation for small communities," he said. "It could be a good economic boon."
Read more articles from CBC Newfoundland and Labrador
Worse Than Covid? Risks to UK Economy as Brexit Deadline Nears – BNN
(Bloomberg) — With the U.K. economy suffering more from the coronavirus than most advanced nations, the stakes couldn't be higher as Brexit trade negotiations enter their endgame.
Gross domestic product will likely be smaller than what it would have been had the U.K. stayed in the European Union regardless of the outcome. But reaching an accord would help avoid major trade disruptions come Jan. 1.
Leaving without a deal, meanwhile, means that Brexit could end up inflicting more lasting damage than the pandemic, according to economists. Both sides say the onus is on the other to make a decisive move before the transition ends in just over a month.
The following charts illustrate what's at stake for the U.K. economy.
The pandemic has put Britain on course for its deepest economic slump since the Great Frost of 1709. By the first quarter of 2025, GDP will be 3.1% lower than anticipated in March, according to estimates by the Office for Budget Responsibility released on Wednesday. The fiscal watchdog deems the loss of output to be permanent.
In a separate analysis, the OBR said transitioning into a free-trade agreement with the EU would shave 4% off GDP in the long run. A no-deal scenario — meaning a shift to World Trade Organization rules — would mean losing another 1.5%. Dan Hanson of Bloomberg Economics puts the combined cost higher still, at 7% of GDP.
Jobs are also on the line. Unemployment is set to peak at 7.5%, or 2.6 million people, next year under the OBR's central scenario that a trade deal be reached. A no-deal exit pushes the rate up to 8.3%.
Financial services and export-reliant manufacturing sectors such as the car industry, food and textile producers stand to be among the hardest hit if trade talks fail.
There are concerns that the time and money spent dealing with the pandemic has left many firms ill equipped to cope with the potential costs and disruptions ahead. A Bank of England survey of chief financial officers last month found less than 4% of them were fully prepared for the end of the transition period.
Before the pandemic, businesses were already holding back on spending as they awaited greater clarity over Britain's post-divorce relationship with Europe. Now Covid-19 has added to the difficulties, decimating investment this year and risking their ability to do so in future.
No matter what the outcome of the talks, a period of adjustment is likely to make it hard for companies to know how best to invest for the future, but a move to WTO terms risks keeping spending depressed for longer, hitting already weakened productivity.
The bigger the economic shortfall, the bigger the persistent budget deficit that Chancellor of the Exchequer Rishi Sunak needs to fill.
Even if a trade deal is struck, balancing day-to-day spending and revenue by the middle of the decade will require 27 billion pounds ($36 billion) of tax increases or spending cuts, according to the OBR. That figure could rise to 34 billion pounds if firms are hit by new tariffs and curbs on trade with the EU.
©2020 Bloomberg L.P.