Lukashenko braces for economic winter of discontent – DW (English)
Economic weakening only does so much to hurt authoritarian rulers like Aleksander Lukashenko, who retains Moscow's backing. But time is not on his side as state coffers run low, investment freezes and the currency tanks.
The Belarusian economy is set to fall by 2% this year, a relatively strong figure given the effects of the COVID-19 pandemic and the country's dependence on a low price of oil. But experts expect the start of 2021 to see the real economic impact of the ongoing anti-government protests witnessed in frozen investments, a slumping exchange rate, a possible debt default and empty state coffers.
"The authoritarian system has already been only a few steps away from its collapse," says Pavel Slunkin from the European Council on Foreign Relations (ECFR). "However, the authorities managed to cope with the first wave of public discontent and survived through a combination of violence, threats and layoffs," he told DW.
Workers have been intimidated with criminal cases for illegal strikes, he adds, which would pose "a huge threat to the system's solidity, as the proletariat has always been considered the social base for the authorities."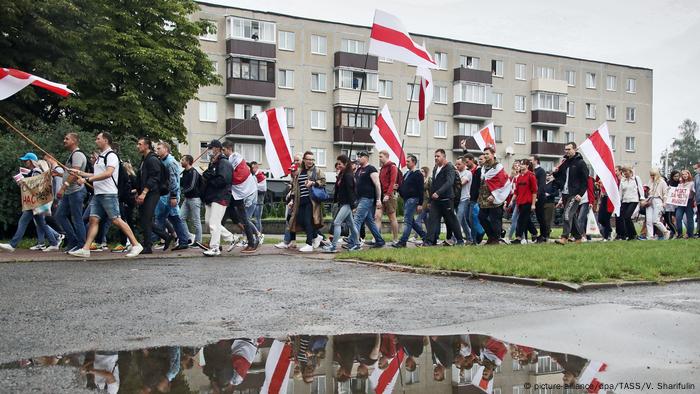 Workers at the Minsk Wheel Tractor Plant staged a walkout in August to show that they are no longer backing Lukashenko
Factories and IT the key
Opposition co-leader Sviatlana Tsikhanouskaya called for a general strike on October 26. But the picture on the ground is mixed, as Lukashenko plays a divide-and-conquer game, effectively buying off selected workers and factories. Authorities have also focused on thwarting opposition efforts to engineer strikes at state-owned factories by arresting strike organizers and threatening workers with dismissal.
Via state media, the government downplayed the impact of strike calls, with Industry Minister Piotr Parkhomchik claiming on state television in October that they "have not resulted in economic damage."
The country's largest factories generated $10 billion (€9 billion) in revenues last year as well as $7 billion in export proceeds and 12% of total budget revenues in 2019.
But the situation could be changing. Strikes have been reported at a number of the large state-owned industrial plants that are the backbone of the economy.
ECFR's Pavel Slunkin points to the fact that recently strikes were also announced by the employees of industrial giants such as MTZ and BelAZ, who had previously been considered the undisputed electoral base of the government. Alexander Yaroshuk, president of the Belarusian Congress of Democratic Trade Unions (BKDP), told DW that strikes are now also taking place at OJSC Belaruskali, a producer of potash fertilizer and OJSC Grodno Azot, a nitrogen producer.
"It should be borne in mind that for more than a quarter of a century Belarusian workers have been held in the grip of a dictatorial regime and political strikes are prohibited," Yaroshuk said. "But even in these circumstances, the number of those who responded to Tikhanovskaya's call and gone on strike, is very significant."
Another crucial part of the Belarusian economy is high-tech. In August, 500 representatives of the sector signed an open letter casting doubt on official election results, demanding the release of political prisoners and an end to violence and detentions of protesters. Some threatened to relocate to neighboring Poland, Ukraine, Latvia and Lithuania.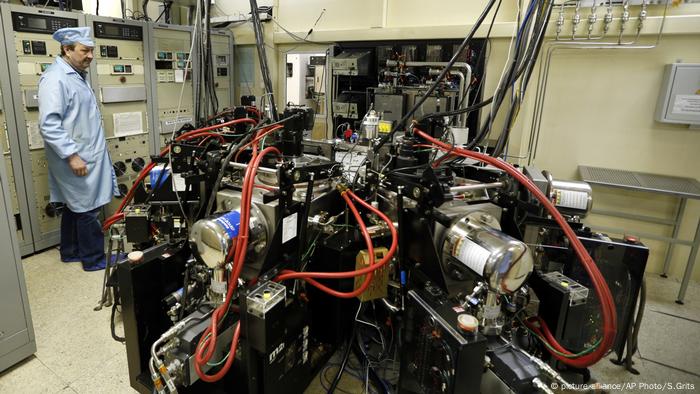 High-tech companies like Semiconductor Devices Factory in Minsk contribute around 5% to the Belarusian GDP
Heavy costs
The protests have already cost an estimated $500 million for the Belarusian economy worth a total of about $60 billion. The country only has $9 billion of reserves, equivalent to 2.5 months of imports.
International credit ratings agency Fitch Ratings last week downgraded its outlook on the country's Long-Term Foreign-Currency Issuer Default Rating (IDR) to negative from stable, following a similar move by agency Standard & Poor's.
To survive, devaluation of the Belarusian rubel might be needed. The currency has already fallen 30% against the euro since the beginning of the year due to an energy row with Russia. The government spent $1.5 billion in hard currency reserves to shore up the Belarusian ruble in August and September.
Most people measure the impact of the political instability in terms of the national currency, but this is not the only way, said economists during an online conference organised by the Press Club Belarus. Lev Lvovsky, a researcher at the BEROC economic research center in Minsk, told the participants that "if you want to catch a duck, you need to think like a duck."
"That means we need to think like business people and many of them are running out of confidence in the authorities," he said, adding that in the key state sector of manufacturing companies were already "sending output into warehouses," meaning a large part of GDP, about 2.5%, was "not creating value."
Russia holds the cards
Belarus' governmentwill have to find $3 billion to finance its international obligations this year. According to the Finance Ministry, the public sector is due to repay between $2.5 billion and $3 billion of external debt every year for the next five years, while the outstanding debt to Russia alone stands at $8 billion.
But the ongoing protests have further isolated Minsk from international capital markets, so the Russia-led Eurasian Fund for Stabilization and Development (EFSD) is the main source of foreign credit. Russia holds about 38% of its neighbor's national debt and last year took in 40% of its exports totaling $32 billion.
Fitch Ratings expects though the domestic political crisis won't impact the country's relations with Russia and China; its main external creditors accounting for 72% of the government's external debt.
Read more: Opinion: Belarus protests pose a real threat to Lukashenko
Some economists expressed the fear that Russia might buy up struggling state-owned firms in Belarus and turn their senior-level executives into de facto political lobbyists for Moscow.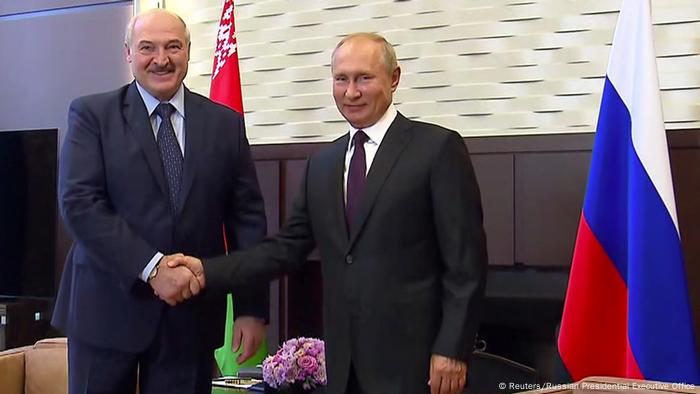 Without the backing of Russian President Vladimir Putin (left), Lukashenko wouldn't be able to cling to power
The end of an era
Katsiaryna Shmatsina from the Minsk-based Belarusian Institute for Strategic Studies (BISS) is convinced the authoritarian system of president Lukashenko system is "exhausting its resources."
"According to insiders, the siloviki [people of power] are physically tired of those weekly demonstrations; there is a seed of distrust among the vertical power structure regarding loyalty to Lukashenko," she told DW.
Shmatsina thinks the Belarusian strongman is unlikely to stay in power for the whole presidential term, given the scale of protests. His balancing act between the West on the one hand, and Russia and China on the other made sense in previous years and under different circumstances, she argues. "But now the question is about making him leave and holding those complicit of torture accountable."
U.K. Boosts Debt Sale Plan to $648 Billion to Help Economy – Yahoo Canada Finance
The Canadian Press
MADRID — At least eight people died after a migrant boat carrying more than 30 people hit rocks close to a small port on Lanzarote in the Canary Islands, Spanish rescue services said Wednesday.The boat was one of 17 intercepted in the islands' waters in the past 24 hours. About 450 people were rescued in the other boats, but one died later.The Canary Islands emergency service said the Lanzarote boat crashed into pier rocks and overturned in the Orzola area on the north of the island late Tuesday.Video images showed rescue workers and residents pulling young men in T-shirts from the water in the dark and other migrants sitting on the rocks.The emergency services said eight bodies from the boat were found and 28 people rescued. They said search operations were continuing for one person believed missing.In the other incidents, the national rescue service and Civil Guard rescued some 450 people, including women and children, arriving in 16 boats near Gran Canaria island. One person died.Anselmo Pestana, the central government's representative on the islands, said the arrivals "generated difficulties but obviously none more painful than to see bodies, people arriving on our coasts dead."He said that many possibly didn't know how to swim, and thanked residents for helping in the rescue.Officials said the migrants were from northwest African and sub-Saharan countries. Many had set sail from Morocco several days ago.Many of the rescued were taken to the Arguineguín dock on the southwestern coast of Gran Canaria, where nearly 600 people of different origins are being kept, some in tents. Numbers on the dock rose to more than 2,000 recently.Spain has promised to set up more tents to accommodate the people arriving.More than 19,000 people fleeing poverty, violence or other circumstances have arrived in Spain's Canary Islands this year, a 1,000% increase from the same period in 2019. More than 500 have died in the attempt. Around half of the arrivals — and most of the deaths — have been in the past 30 days, a spike that has strained resources on the archipelago.CiaráN Giles, The Associated Press
'It's as if a bomb has gone off in our economy' – Wealth Professional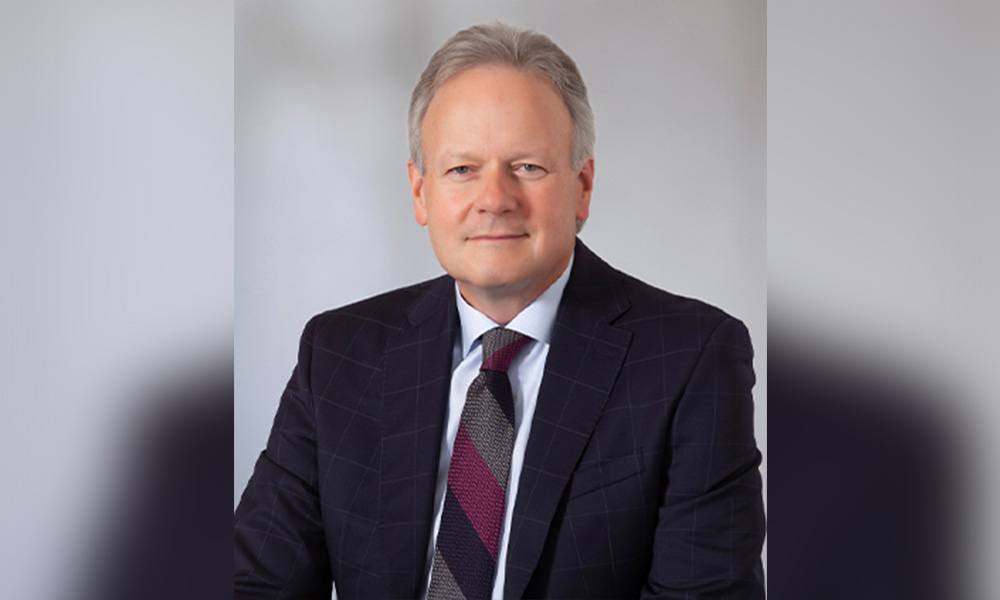 Low interest rates mean government revenues will grow faster than interest payments and help the debt burden. However, Poloz said the way governments spend this money during the fiscal expansion will affect the sustainability of the debt, creating a balancing act between investing in infrastructure and increasing the labour force, and printing money to create inflation.
Poloz said: "We have what looks like an inflationary policy today. But that's only because it must counter a huge deflationary shock. It's as if a bomb has gone off in our economy and a gigantic crater has opened up in front of us. The question is, how do we move forward?
"One way would be to walk down into the crater, cross it and walk up the other side. That's a process that could take years and would amount to what we did during the Great Depression of the 1930s. Now, instead, central banks have filled the crater up with liquidity, meaning we can row our boats to the other side.
"At the moment, it takes an inflationary policy to counteract deflationary forces and the future depends on the balance between the two."
Unsurprisingly, Poloz believes central banks will get this transition right but he warned there are multiple scenarios where things could go wrong. The biggest risk is politics; Governments have an incentive to inflate and, in turn, highly indebted households have an incentive to vote for it. Populism, therefore, carries a risk, especially as it's often driven by widening imbalances in income distribution.
National child-care system would boost women's job numbers and economy, report says – CTV News
OTTAWA —
A new report estimates that hundreds of thousands of women could get back into the labour force if the Liberals follow through on a pledge to create a national child care system.
The paper to be released Wednesday makes the case that federal spending to create a national program would "pay for itself" in the form of extra income tax, extra spending and reduced social costs as more parents entered the workforce.
There is also the potential for tens of thousands of construction jobs as new centres and spaces are built, along with an employment boost in the child-care sector as it expands.
Report author and economist Jim Stanford says the lack of accessible and affordable daycare is a key reason why fewer women in their 30s and 40s are in the workforce than men the same age.
He estimates that between 363,000 and 726,000 women in the "prime parenting age cohort" between 25 and 50 could join the labour force over a 10-year period as a national child-care program is developed.
Among them would be up to 250,000 women moving into full-time jobs.
Stanford's paper builds on previous research into the economic spinoffs of Quebec's publicly funded daycare system, but develops estimates based on how a national system might look.
The Liberals have promised to make a long-term spending commitment to create a national child-care system, seeing it as a key avenue to help women harder hit during the pandemic in what has been dubbed a "she-cession."
"Economists have agreed for years that child care has huge economic benefits, but we just can't seem to get the ball over the line in Canada," says Stanford, director of the Centre for Future Work.
"I finally think the ducks are being lined up here and we can actually make this happen," he adds.
"This really is the moment when we can finally move forward, and it is a moment when Canada's economy needs every job that it can get."
A recent report by RBC economists Dawn Desjardins and Carrie Freestone calculated that 20,600 women fell out of the labour force between February and October even as 68,000 more men joined it.
The situation was most acute for women ages 20 to 24, and 35 to 39; one of the reasons the duo cited for the sharper drop was the pandemic-caused closure of child-care centres.
Child-care centres, which often run on tight margins and rely on steep parental fees, couldn't keep up with costs during spring shutdowns and shed about 35,000 jobs between February and July. Some centres have closed for good.
The worry Stanford notes is that many of the job losses will become permanent and more centres will close without financial assistance from governments.
Scotiabank economists Jean-Francois Perrault and Rebekah Young suggested in September that creating nationally what Quebec has provincially would cost $11.5 billion a year.
Their analysis also suggested federal coffers could reap billions in new tax revenue as women in particular would get into the workforce in greater numbers, offsetting some of the overall cost.
Stanford's estimate is for a boost to government revenues of between $18 billion and $30 billion per year, split between federal and provincial governments.
"This literally is a social program that pays for itself," Stanford says.
"The economic benefits of giving this first-class care to early-age children, and getting their mothers in the labour market working to their full potential, are enormous."
He argues that provinces, mired in a fiscal quagmire worse than the federal government's, shouldn't stand in the way of "reasonable demands" from the federal government to create a national system.
Provinces have responsibility for child-care delivery. Stanford says they cannot afford to look this gift horse of new revenues in the mouth given the federal government would foot most of the bill.
This report by The Canadian Press was first published Nov. 25, 2020.