Made in NC: Local History Depicted in Architecture Art – Chapelboro.com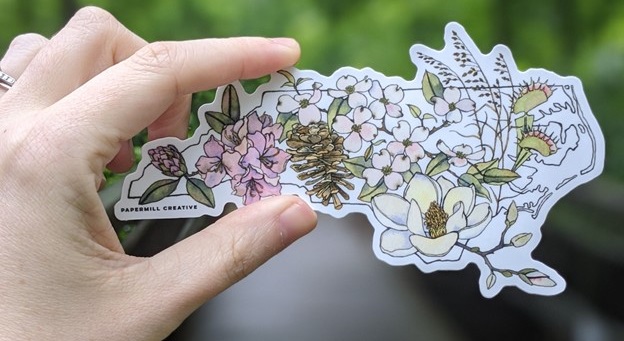 By: Catherine Morgan
---
For Durham artist and UNC alum Lori Melliere, art is a means to tell stories of history, of change and of people.
But this North Carolina transplant never imagined her art – which includes watercolor and pen-and-ink drawings of city landscapes, historical architecture and native flora throughout the state – would combine her work as a librarian and fascination with state history in a creative way.
Before venturing on her journey to becoming a full-time artist, Melliere worked at a local nonprofit, frequently researching and reading through local historical archives. Though her work as a librarian and historian was fulfilling, in 2018 Melliere and a friend launched Papermill Creative, a small, online art and print store.
In February 2021, Melliere stepped into her role as the full-time sole proprietor of Papermill Creative and is currently responsible for everything, from creating the art to managing the business.
In terms of Melliere's creative process, her drawings, especially her city prints, can take anywhere from 50 to 60 hours to complete, not including the foundational research.
"What I see is what inspires me," she said. "I see beautiful things and I just want to represent that. I love working in little details that make these places feel like a lived experience."
While Papermill Creative has its roots in the Triangle, it is not exclusive to the Piedmont region. In fact, Melliere's work is all-encompassing, with original prints depicting towns across North Carolina, from Asheville to Wilmington.
Focus points of her Bull City series include the Durham Performing Arts Center, the Lucky Strike Tower at the American Tobacco Campus and, of course, the iconic statue of Major the bull in downtown Durham.
Though her Durham-centric art is wildly popular, her current research about Wilmington's history seems to be promising and especially relevant considering today's current social justice movements. Her next focus concerns the 1898 Wilmington Massacre – a frequently forgotten historical event – and the implications that followed for the town and its Black residents specifically.
Her Wilmington prints will include the Wilmington Journal's building to serve as a reminder of the racial injustices that happened decades ago.
"In 1898, there was a coup where white supremacists overthrew the local government and killed a lot of Black residents," Melliere explained. "It's tragic. It's important to represent experiences beyond the most famous landmarks."
Looking long-term, Melliere hopes to fill her line with more original works outside of North Carolina, including pieces from Charleston and Savannah.
"But I think I'll always be coming back to North Carolina," she said. "I want to keep the audience here and I want to keep them engaged by introducing new North Carolina products, but I am wanting to expand as well."
Although cities and architecture are certain to change, one thing that will never change is the history of what makes the state or city special or unique – and that's what Melliere hopes to capture in her art.
"I just want my art to celebrate the places that people love by capturing how these cities and neighborhoods feel, bring back happy memories, and if they encourage people to learn a little bit about the architecture and history of places that are included, that's great too," Melliere said.
For those interested in purchasing from Papermill Creative, Melliere's works can be found on her Etsy store or at these locations:
Durham:
Bulldega
Outer Loop Arts
Blossom and Bone
Raleigh:
Local Squirrel
Triangle Pop-Up Shop
Saxapahaw:
Asheville:
Malaprop's Bookstore/Cafe
Greenpoint This Week: Art Fair, Staycations and More – greenpointers.com
Happy Weekend Greenpoint!
This weekend, The Other Art Fair is back in town, with affordable artworks ready for your post-quarantine redecorating plans.
If you're eager to get out, plan a staycation in the neighborhood, for a change of scenery, without a sink full of dirty dishes. If you prefer your own pillows, consider just spending a day at one of our local outdoor pools. The newly opened Le Doggie Cool also has open cafe hours this Saturday, for pups to play in their backyard pool.
This week, we reported that Brooklyn Bowl is reopening in early September! Get your tickets now for upcoming parties and shows. If you're looking for a free event, Friday night brings a screening of Frozen to Transmitter Park.
We also reported that a new community fridge has opened on Greenpoint Ave. near Transmitter Park. And shared some unfortunate news about a Greenpoint resident arrested for recording his female roommates without their consent.
Make sure to fit in your last visit to the Leonard Library before it closes for renovations on Monday, August 2. Worry not – Greenpoint Library is still up and running, with computer service and open seating also now available.
Don't forget to check out our summer 2021 fashion sundae roundup for this season's best local looks.
The art of the deal: empty storefronts become gallery space to lure shoppers back downtown – CTV News Montreal
MONTREAL —
With many Montreal storefront real estate lying empty, some landlords have turned to the arts in a bid to bring people back downtown.
Where some would see a crisis in the decimating effect that online shopping and the COVID-19 pandemic has had on brick-and-mortar stores, Frederic Loury, who runs the Art Sousterrain festival, saw an opportunity.
"During the pandemic, I noticed it was a necessity to build a bridge between real estate and emerging artists," he said.
Loury convinced several downtown landlords to lend available spaces to artists.
One of those artists, Dana Edmonds, now has storefront space in Alexis Nihon Plaza.
"I thought it was a really cool idea because I got to expose art, which doesn't get exposed a lot," she said. "It's hard to get into galleries in the first place, so at least we can show our work."
Edmonds is sharing her space with fellow artist Florence Gagnon, who said the initiative is giving people who don't normally go to art galleries a chance to see what local talent has to offer.
"I think it's a beautiful way to integrate art into places that don't usually have it," she said.
For the landlords, it's a smart marketing opportunity and a way to get people shopping again.
"They were kind of afraid of coming back to Montreal, so basically this will make them want to come back and shop and visit some emerging artists that we have with Art Sousterrain," said Alexis Nihon general manager Danny Thery.
Edmonds says that while her work might be in a store, she isn't giving a hard sell to curious window shoppers.
"My work is kind of political, It's commentary about over-consumption, mental health, climate change. I like the dialogue," she said. "If I sell something, that's great. If people just look at garbage a little differently, then I'm happy."
Thus far, there are 30 stores being lent to artists downtown. Loury said he believes mixing art and retail will become a trend.
"Others have to rethink the model if they want to survive."
Art Gallery of Ontario reopens with blockbuster Andy Warhol exhibition – Toronto Star
The Art Gallery of Ontario is betting on a blockbuster Andy Warhol retrospective to entice audiences back following a nine-month pandemic induced closure.
The aptly titled "Andy Warhol" exhibition, which opened to AGO members Wednesday, aims to bring biographic and cultural context to one of the most recognizable and divisive iconoclasts of the 20th century. Through 250 art works and ephemera, including a trio of Warhol's infamous wigs and the manifest from his mother's arrival at Ellis Island, "Andy Warhol" makes the argument that its subject is, as Kenneth Brummel, the AGO's Associate Curator of Modern Art puts it, "due for a reassessment."
Pointedly, "Andy Warhol" casts its subject as a product of circumstance. The first half of the exhibition is devoted to establishing Warhol's working-class bona-fides: his humble upbringing as a child of Eastern European immigrants in Pittsburgh, moving to New York to work on commercial and advertising art before establishing himself as a figurehead of the counterculture. In contrast, the latter half moves beyond the biographical into Warhol's obsession with mortality and religion, a perspective made all the more visceral when he was shot in 1968 by the feminist author Valerie Solanas (Solanas also shot art critic Mario Amaya, who happened to be at Warhol's studio at the time and would, the following year, become the chief curator at the AGO).
Presented across a massive section of the Gallery (twice the typical floor space to allow for physical distancing), the exhibition reframes the Pop Art Svengali by spotlighting some of Warhol's lesser-known works while postulating that, as the homosexual son of poor Catholic immigrants, he was uniquely positioned to become the eminent art world translator of American culture.
To achieve this vantage point, the exhibition fleshes out the artist's work as pointedly flawed and acerbic rather than the sleek, machine-like superficial mirror that has become the artist's modern caricature. As such, seminal pieces including 1962's "Marilyn Diptych" and 1964's "Jackie Triptych" are presented couched in Warhol's macabre obsessions and Catholic guilt, while the lesser seen "Ladies and Gentlemen" series, in which Warhol was commissioned to create portraits of New York's Latin and African-American drag queens and trans women, is given pride of place, bluntly asking the viewer to confront the necropolitics of the work, both of its time and of modern day.
"We want to take Warhol as we understand him and make him strange again," Brummel, who curated the AGO presentation following its debut last year at the Tate Modern in London, explains. "Our goal is to enrich understanding of Warhol as this bifurcated figure; more than a myth with a past."
In parallel, the AGO presentation subtly points out Warhol's ties to both the gallery and the city. This connection is brought to bear via a selection of works exclusive to the Toronto stop, including multiple commissioned portraits of the ballet superstar Karen Kain and, fetchingly, a neon Wayne Gretzky, whose placement in juxtaposition to "Oxidation Painting" (which Warhol created by coating a canvas with wet copper paint and getting his friends to urinate on it) serves as a commentary on the artist's own fraught relationship with celebrity, commerce and the art world.
Moreover, by purposely positioning the retrospective in divergence with the polished colourful imagery and pithy quotables that have come to define Warhol as a pop culture figure, Brummel says he hopes it will help salvage the artist's reputation as a precursor for the disposable nature and lavish absurdisms of modern art.
"The reality is every good painter has to reckon with the cult of admiration," he says, pointing to the late-era series, "Stitched Photographs," in which the artist toyed with his own authenticity by stitching a series of reprinted photographs together to form a repeated pattern. "And Warhol was a formidable precursor."
In the works since 2017, "Andy Warhol" had been intended to debut at the AGO in March of 2021 and joined exhibitions across the sector and around the world which had been delayed or cancelled due to the pandemic.
According to CEO Stephan Jost, while it undoubtedly caused a number of logistical and financial headaches, the pandemic also allowed for something all too rare in the field: a moment to reflect.
Speaking during a brief interview under a posthumous self-portrait of Warhol, Jost explains that over the past year he "learned to stop talking and listen."
"[The pandemic] allowed us to ask ourselves what are we actually doing and why are we actually doing this? That's framed as an existential question, but it actually reminded people why they do what they do," he says. "What I discovered was, on a basic level, we're doing fine and that's because everybody, from the night guards to our board, pulled their weight. That gives you a lot of confidence"
In addition, Jost says the break gave the heads of many of the city's cultural organizations a chance to retrench and consider how best to reinvigorate what has been one of the hardest hit sectors.
"We used to meet maybe quarterly and now it's every two weeks," he says of the group, which includes representatives from the National Ballet, Harbourfront Centre, Canadian Opera Company and Soulpepper Theatre. "We're all trying to figure it out and it's actually been great to find a common learning."
As for the near future, Jost says he's excited for the gallery to come "roaring back," beginning with the Warhol exhibition, which runs until Oct. 24, to be joined by, beginning Oct. 9, a blockbuster exhibition focusing on Picasso's Blue Period.
"It's the best exhibition schedule the AGO has ever had," Jost exclaims. "We want to be all in on culture."
JOIN THE CONVERSATION
Conversations are opinions of our readers and are subject to the
Code of Conduct
. The Star does not endorse these opinions.