Made in NC: Local History Depicted in Architecture Art – Chapelboro.com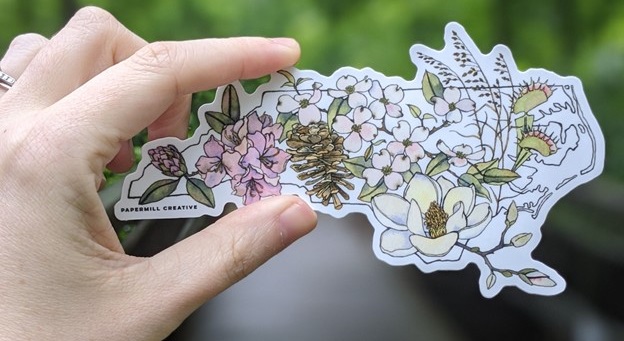 By: Catherine Morgan
---
For Durham artist and UNC alum Lori Melliere, art is a means to tell stories of history, of change and of people.
But this North Carolina transplant never imagined her art – which includes watercolor and pen-and-ink drawings of city landscapes, historical architecture and native flora throughout the state – would combine her work as a librarian and fascination with state history in a creative way.
Before venturing on her journey to becoming a full-time artist, Melliere worked at a local nonprofit, frequently researching and reading through local historical archives. Though her work as a librarian and historian was fulfilling, in 2018 Melliere and a friend launched Papermill Creative, a small, online art and print store.
In February 2021, Melliere stepped into her role as the full-time sole proprietor of Papermill Creative and is currently responsible for everything, from creating the art to managing the business.
In terms of Melliere's creative process, her drawings, especially her city prints, can take anywhere from 50 to 60 hours to complete, not including the foundational research.
"What I see is what inspires me," she said. "I see beautiful things and I just want to represent that. I love working in little details that make these places feel like a lived experience."
While Papermill Creative has its roots in the Triangle, it is not exclusive to the Piedmont region. In fact, Melliere's work is all-encompassing, with original prints depicting towns across North Carolina, from Asheville to Wilmington.
Focus points of her Bull City series include the Durham Performing Arts Center, the Lucky Strike Tower at the American Tobacco Campus and, of course, the iconic statue of Major the bull in downtown Durham.
Though her Durham-centric art is wildly popular, her current research about Wilmington's history seems to be promising and especially relevant considering today's current social justice movements. Her next focus concerns the 1898 Wilmington Massacre – a frequently forgotten historical event – and the implications that followed for the town and its Black residents specifically.
Her Wilmington prints will include the Wilmington Journal's building to serve as a reminder of the racial injustices that happened decades ago.
"In 1898, there was a coup where white supremacists overthrew the local government and killed a lot of Black residents," Melliere explained. "It's tragic. It's important to represent experiences beyond the most famous landmarks."
Looking long-term, Melliere hopes to fill her line with more original works outside of North Carolina, including pieces from Charleston and Savannah.
"But I think I'll always be coming back to North Carolina," she said. "I want to keep the audience here and I want to keep them engaged by introducing new North Carolina products, but I am wanting to expand as well."
Although cities and architecture are certain to change, one thing that will never change is the history of what makes the state or city special or unique – and that's what Melliere hopes to capture in her art.
"I just want my art to celebrate the places that people love by capturing how these cities and neighborhoods feel, bring back happy memories, and if they encourage people to learn a little bit about the architecture and history of places that are included, that's great too," Melliere said.
For those interested in purchasing from Papermill Creative, Melliere's works can be found on her Etsy store or at these locations:
Durham:
Bulldega
Outer Loop Arts
Blossom and Bone
Raleigh:
Local Squirrel
Triangle Pop-Up Shop
Saxapahaw:
Asheville:
Malaprop's Bookstore/Cafe
Windsor Public Library wants to show you local art while you ride your bike – CBC.ca
Windsor Public Library wants to showcase the city's downtown art. It plans to have two cycling tours to show it off.
Becky Mayer, a librarian at the Windsor Public Library organized the tours. She said the main reason she wanted to do this is because people think there's nothing to do or see in Windsor.
"I often ride my bike around and I see a lot of cool and weird stuff," said Mayer. "So, I just thought that maybe a few people would want to join me on a weird stuff tour."
Mayer said she'll be bringing Betty the Bookmobile along for the journey. She said the ride will be pretty casual and if someone has a story to tell she's happy to give them space to share.
"I'm fine with talking as well. If you want to have a silent tour, that's also cool. Like, it's very, very casual. Go with the flow. We'll see what happens," Mayer said.
The first tour starts at 6 p.m. August 16, the second tour is on August 20 starting at 10 a.m. The tours last about an hour and starts at the library's Central Branch at the corner of Ouellette Avenue and Pitt Street.
Youth get creative at summer art camp – Lakeland TODAY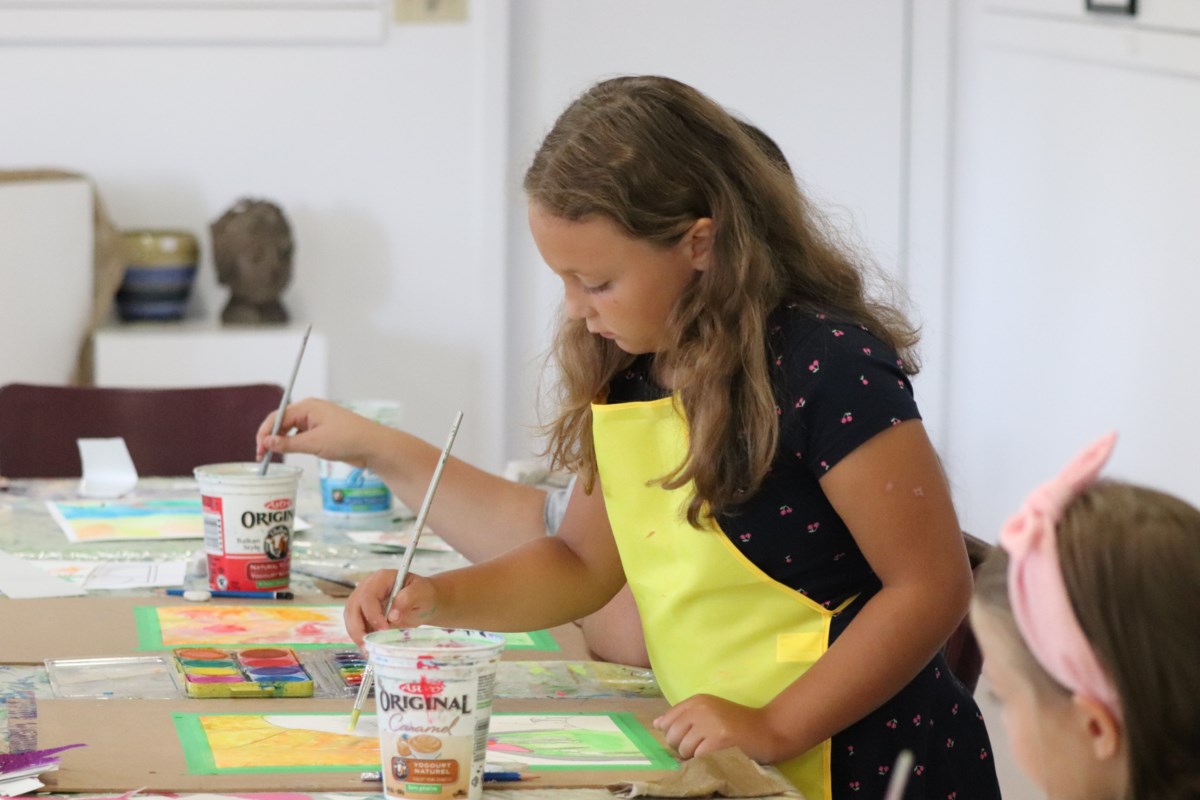 ST. PAUL – A variety of mediums were used to create unique works of art during a week-long Youth Art Camp held at the St. Paul Visual Arts Centre, last week.
Pam Bohn, the art instructor for the art camp, said the camp gives youth the chance to not only do art but form friendships.
"We also go outside to play and go to the park, and so it is also a day where they can make friends."
The art camp included acrylic painting, watercolour painting, mixed media projects, and much more.
"While I facilitate the classes, [the children] are free to create as they please," she said. "That allows those who like to do art that freedom to have different art mediums and try things that they may be unable to do at home."
Bohn said the participating youths have enjoyed the art camps, adding, "They all get excited when they come and take their [art] home to show their parents."
The Hive celebrates three new exhibitions at Art Gallery of Burlington | inHalton – insauga.com
Published August 15, 2022 at 2:41 pm
A special event celebrating three new exhibits is being hosted by the Art Gallery of Burlington.
The Hive is happening Saturday, Aug. 27, from 1 to 4 p.m. This free, all-ages event incorporates the organization, cooperation and energy of a beehive into an afternoon of art, activity, learning and fun.
The Hive will feature a special workshop led by Toronto's Clay and Paper Theatre, live arts and crafts demonstrations, a screen-printing presentation, live performance, food and drink.
The event is being held in celebration of the AGB's three new fall exhibitions:
The Future of Work, an exploration into how the pandemic has affected labour markets and our quality of life

ਨਜਰ ਨਾ ਲੱਗੇ

/Nazar na lage/Knock on wood, a vibrant and meaningful interpretation on the art of rangoli by artist Noni Kaur
Know your Place, an exhibit of cartoon-like clay sculpture that reveal the raw emotional experiences of the artist Sami Tsang
Known for work inspired by oral traditions, folk songs, poems and fables, Clay and Paper Theatre will charm participants and audiences with their original multi-disciplinary performance-based production. Guests who wish to participate with Clay and Paper Theatre should arrive early and be ready to create.
Visitors are invited to an interactive, screen-printing demonstration led by artist Jesse Purcell and are encouraged to bring any used clothing to be transformed into a bunting display to be hung in the gallery by the artist collective Works-in-Progress.
Arts Burlington will be opening its doors to guests with arts demonstrations and the Burlington Handweavers and Spinners Guild will guide guests through a natural plant-based dying demonstration, teaching attendees what they need to know to create from home.
The AGB parking lot will be free for the day. For more information, visit the AGB website.

insauga's Editorial Standards and Policies
Stay the know
Subscribe now to receive our daily email of today's top stories in your city!
advertising