Many Canadians gaining weight during COVID-19: poll – BarrieToday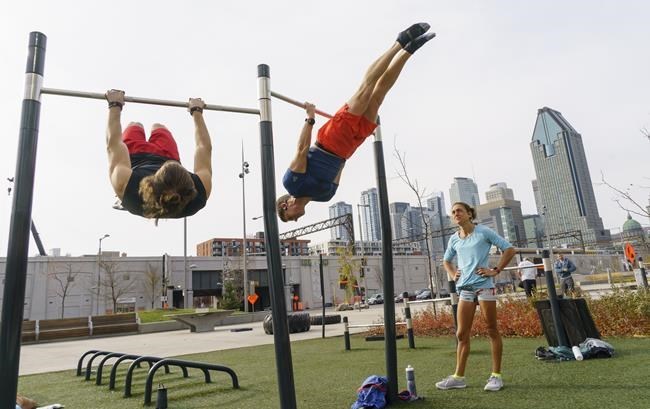 OTTAWA — A new poll suggests many Canadians are gaining weight because they're eating more and exercising less during COVID-19 pandemic.
Nearly one-third of respondents in the survey conducted by Leger and the Association for Canadian Studies said they have put on weight since March, compared to 15 per cent who said they lost weight over that time.
As well, about one-third of respondents said they're exercising less, while 16 per cent said they're working out more since the first wave of the pandemic landed in Canada in the spring.
Jack Jedwab, president of the Association for Canadian Studies, suggested that one reason may be a rush for comfort food to deal with pandemic-related anxieties.
Respondents in the survey who said they were "very afraid" of COVID-19 were more likely to report gaining weight, eating more and exercising less.
"The more anxiety you have, the more likely it is that you know you're eating more," Jedwab said.
"People who are least anxious about COVID (are) the ones that are not eating more than usual and are not gaining weight."
The online survey of 1,516 Canadians was conducted Oct. 29-31 and cannot be assigned a margin of error because internet-based polls are not considered random samples.
Dr. Yoni Freedhoff, an associate professor of family medicine at the University of Ottawa, said there are plausible reasons to connect weight gain or loss with the pandemic, but he hadn't seen any studies to convince him that's the case.
Some people are "not reliant on restaurants constantly" and "cooking more frequently in their homes," which Freedhoff said may be leading to weight loss or better dietary choices. Others are eating more, he said, relying on comfort food "because they're anxious as a consequence of the pandemic, or the tragedies that have gone on in their lives."
Jedwab said the country needs to also be mindful of mental health issues that can affect the physical health of Canadians.
"With the winter coming, it'll be even more challenging, in some parts of the country, to maintain a healthy lifestyle in terms of walking, in terms of doing basic things that will help us address our anxieties," he said, pointing to lack of access for some to gyms subject to local lockdowns.
Some of those exercise classes have gone online. Gabriel Shaw, a kinesiologist from Victoria, B.C. said he has offered virtual classes to give his clients an chance to be physically active.
Shaw said the classes don't provide people with a sense of community like in-person classes, which he said is important for some people to exercise consistently.
"The best bet for people is to find a way they can enjoy it. That might be going out for a social distance walk or hike or run or bike with a friend," Shaw said. "That might be finding a Zoom thing that you can get on like dancing or even other activities where you have friends."
Shaw said people should also try learn a new skill like dancing, yoga, rock climbing, or take up running to keep things fresh and enjoyable, which is key to exercising long and well.
This report by The Canadian Press was first published Nov. 24, 2020
——
This story was produced with the financial assistance of the Facebook and Canadian Press News Fellowship.
Maan Alhmidi, The Canadian Press
Canadian among crew paying $55M to visit International Space Station | News – Daily Hive
Montreal investor Mark Pathy is among humankind's first-ever private mission to the International Space Station, scheduled for flight next January.
As Canada continues to discourage non-essential travel, interstellar journeys seem to be fine, assuming you have over $55 million to travel.
The four-person crew (officially called Ax-1 Crew) includes former NASA astronaut Michael López-Alegría as commander, and the three customers: Pathy, American entrepreneur Larry Connor, and Israeli investor Eytan Stibbe.
The cost for all three passengers costs a smooth $55 million (US$70 million) and includes an eight-day stay at the ISS where customers will participate in "research and philanthropic projects," according to Axiom Space's press release.
If you can scratch up enough dough, the flight to space takes off in January 2022.
López-Alegría, who flew to space four times over a 20-year span, will become the first person to ever command both a civil and commercial human spaceflight mission.
Pathy, who is the CEO and Chairman of Montreal-based MAVRIK Corporation, would become the 11th Canadian astronaut to visit outer space. The Montrealer is collaborating with the Canadian Space Agency and the Montreal Children's Hospital, "who are helping identify health-related research projects that could be undertaken during the mission."
All of the private astronauts were required to pass a medical test and engaged in 15 weeks of training.
[embedded content]
"We sought to put together a crew for this historic mission that had demonstrated a lifelong commitment to improving the lives of the people on Earth, and I'm glad to say we've done that with this group," Axiom Space President & CEO Michael Suffredini said. "This is just the first of several Axiom Space crews whose private missions to the International Space Station will truly inaugurate an expansive future for humans in space ­– and make a meaningful difference in the world when they return home."
Axiom plans to launch its own live-in quarters on the ISS, beginning in 2024. The section would be detachable from the station and become its own private outpost.
First Private Crew Will Visit Space Station. The Price Tag: $55 Million Each – Prairie Public Broadcasting
A crew of private astronauts will pay around $55 million each to spend about eight days at the International Space Station next January in what would be a new step for joint private-public space missions. Axiom Space, a Houston company, says the trip will be led by former NASA astronaut and space station commander Michael López-Alegría.
The proposed Ax-1 mission will use a SpaceX rocket to put three paying customers — American Larry Connor, Canadian Mark Pathy and Israeli Eytan Stibbe – into low-Earth orbit on the space station. All of the trio are wealthy entrepreneurs and investors. The group will be under the command of López-Alegría, who is now an executive at Axiom.
It would be the first time an entirely private mission sends astronauts to the International Space Station. Russia sold the first ride to the station to a private citizen, American businessman Dennis Tito, in 2001.
All of the private astronauts for the upcoming mission are far older than the average NASA astronaut's age of 34. The space agency does not have age restrictions for astronaut candidates, who generally range from 26 to 46 years old. At 70, Connor is surpassed in age only by John Glenn, who flew on the space shuttle when he was 77.
Under NASA's rules for private astronaut missions, Axiom must ensure its astronauts meet the space agency's medical standards. They must also undergo training and certification procedures required for crew members of the International Space Station.
While the paying customers represent a new era of space tourism, they will also perform research as the space station whizzes over the Earth.
Connor will work with the Mayo Clinic and Cleveland Clinic on research projects, Axiom says, while Pathy will collaborate with the Canadian Space Agency and the Montreal Children's Hospital. Stibbe plans to do experiments for Israeli researchers, working with the Ramon Foundation and Israel's space agency.
"We sought to put together a crew for this historic mission that had demonstrated a lifelong commitment to improving the lives of the people on Earth, and I'm glad to say we've done that with this group," Axiom Space President and CEO Michael Suffredini said as the company announced the crew.
Similar missions are planned for the future, Suffredini said. Axiom hopes to arrange up to two trips per year — and the company also wants to build its own privately funded space station. Under that plan, its modules would be attached to the space station as soon as 2024. And when the space station is retired, the Axiom modules would break off to continue in orbit on their own.
NASA announced its plans to open the International Space Station to commercial activities in June 2019, saying it wants businesses to use innovation and ingenuity to speed up development of "a thriving commercial economy in low-Earth orbit."
The space agency has a plan to recoup the steep costs of a private citizen visiting the space station. Its pricing policy lists expenses such as a daily fee of $11,250 per person for "regenerative life support and toilet" and $22,500 per person for crew supplies such as food and air. The price sheet also includes a data plan, priced at $50 per gigabyte.
Copyright 2021 NPR. To see more, visit https://www.npr.org.
Canadian Space Agency using satellite data to track endangered right whales – CBC.ca
The Canadian Space Agency is harnessing satellite technology to monitor and protect endangered North Atlantic right whales in the country's waters.
The agency said Tuesday it will lead a $5.3-million project funded by the federal government called smartWhales, which will use satellites to detect the presence of right whales and to predict the animals' movements.
Canada is giving a total of $5.3 million over three years to five companies for a series of projects to help protect the endangered species.
One of the projects will involve a system that can rapidly provide location data and detect if the whales are approaching a fishing vessel.
Fisheries Minister Bernadette Jordan says collecting satellite data about the movement of the whales is key to preventing collisions between whales and vessels and to spot cases where the animals are caught in fishing gear — two of the leading causes of right whale deaths.
In late October last year, the North Atlantic Right Whale Consortium released its annual report card, estimating that only 356 right whales were alive at the end of 2019.