Many churchgoers in U.S. don't know the political leanings of their clergy – Pew Research Center
During election years, many Americans hear at least something about politics at their place of worship. But a recent Pew Research Center survey finds that churches and other houses of worship are not strongly political environments, at least according to the people in the pews.
Among U.S. adults who attend religious services a few times a year or more often, almost half (45%) say they're not sure whether the clergy at their congregation are Democrats or Republicans, and roughly a quarter (27%) say their clergy are a mix of both. When congregants think they know the political affiliation of their religious leaders, 16% say their clergy are mostly Republicans, while a slightly smaller share say they are mostly Democrats (11%).
Nevertheless, the majority of churchgoers share the opinions of their clergy when politics are discussed: 62% of Americans who attend religious services at least a few times a year generally agree with their clergy about politics. Evangelical Protestants are particularly likely to do so (76%), compared with fewer who say this in the historically black Protestant (65%), mainline Protestant (58%) and Catholic traditions (53%).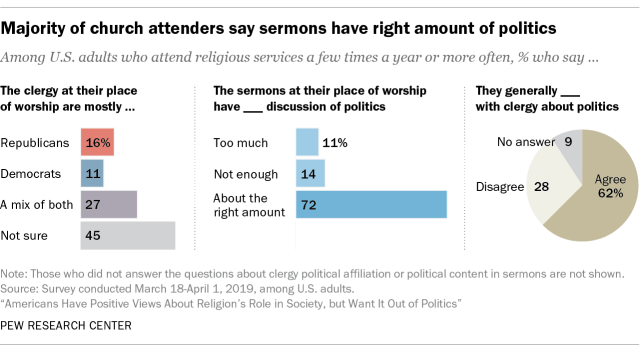 How we did this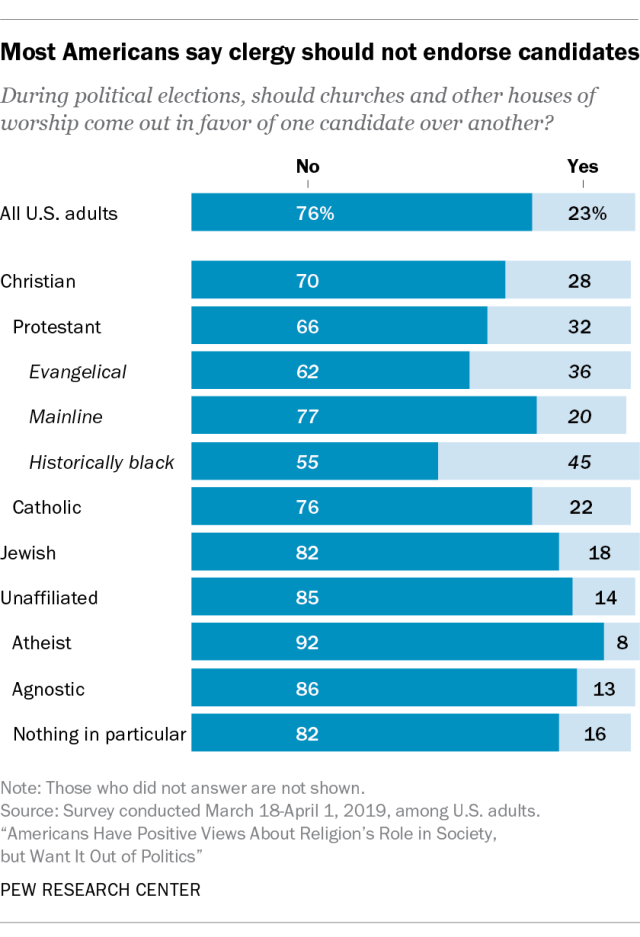 More broadly, respondents are satisfied with the amount of political talk they're hearing from the pulpit. Among Americans who attend worship services a few times a year or more often, 72% say there is about the right amount of political discussion in sermons, while fewer say there's too much (11%) or not enough (14%). (The survey didn't ask how often politics are discussed at places of worship – just whether respondents were satisfied with the amount they hear.)
Among American adults as a whole – including those who attend worship services and those who don't – majorities say that religious organizations should stay out of politics and that they shouldn't endorse political candidates.
Around three-quarters of U.S. adults (76%) say churches and other houses of worship should not come out in favor of candidates during elections. Protestants in the historically black tradition (a majority of whom are Democrats or lean toward the Democratic Party) and evangelical Protestants (a majority of whom are Republican or lean toward the Republican Party) are more inclined than other major U.S. religious groups to say church endorsements are OK.
Many Americans are uncomfortable not only with clergy endorsing candidates from the pulpit at election time, but also with churches and other houses of worship speaking out on day-to-day social and political questions. Overall, more than six-in-ten U.S. adults say places of worship should keep out of political matters (63%); only 36% think they should express their views on day-to-day social and political issues.
Protestants in the evangelical and historically black traditions are the only major U.S. religious groups in which more people say churches should express their social and political views. Only about a third or fewer in other religious groups share this view.
Note: Here is the list of questions asked for this report, along with responses and methodology.
Faith, politics mix on Martin Luther King Jr. Day
Monday's Martin Luther King Jr. holiday found leaders still wrestling over his contested legacy against the backdrop of a presidential election year.
Republicans told a sometimes cool crowd at Ebenezer Baptist Church in Atlanta that they were honouring King's civil rights legacy of service and political empowerment. But Democrats found more favour by highlighting the ways they said the current political and social order calls for more radical action in line with King's principles.
Monday's speeches at King's onetime church were just one slice of the political struggle in Georgia, where Democrats believe they can make further inroads in the Republican controlled state, aided by diverse in-migration and a suburban backlash against U.S. President Donald Trump.
Up for re-election this year, Trump sought to stamp his own mark on the commemoration. He and Vice-President Mike Pence made a brief visit to the Martin Luther King Jr. Memorial in Washington. Earlier in the day, Trump sent a tweet noting that it was the third anniversary of his inauguration: "So appropriate that today is also MLK jr DAY. African-American Unemployment is the LOWEST in the history of our Country, by far. Also, best Poverty, Youth, and Employment numbers, ever. Great!"
Black unemployment has reached a record low during the Trump administration, but many economists note economic growth since 2009 has driven hiring. The most dramatic drop in black unemployment came under former president Barack Obama. Despite economic success, polls find most African American voters regard Trump with distaste.
In Atlanta, Republican U.S. Sen. Kelly Loeffler, appointed earlier this month by Georgia Gov. Brian Kemp, said her upbringing on an Illinois farm was touched by King.
"Dr. King's call to service, to sacrifice, to put others first, it shaped our home and inspired us to ask what Dr. King asked the world. 'What are you doing for others?'" Loeffler said.
One of Loeffler's Democratic opponents in a November special election could be the Rev. Raphael Warnock, the current pastor at Ebenezer, which King and his father once led. Warnock, without mentioning Loeffler by name, said that honouring King means more than just voicing "lip service" on one weekend a year.
"Everyone wants to be seen standing where Dr. King stood. That's fine, you're welcome," said Warnock, who could soon announce a Senate run. "But if today you would stand in this holy place, where Dr. King stood, make sure, that come tomorrow, we'll find you standing where Dr. King stood."
Of King, Warnock said that "too many people like to remember him and dismember him at the same time" calling Georgia "ground zero for voter suppression" and citing the failure of the state's Republican leadership to fully expand the Medicaid health insurance program.
Others agreed with him, with keynote speaker Rev. Howard-John Wesley of Alexandria, Virginia, telling attendees that "we have lost the radicality" of King's vision, talking about how King attacked the Vietnam War and the unequal American economy at the end of his career.
Loeffler made no mention of Trump or the Senate impeachment trial, but Democratic U.S. Rep Hank Johnson did, drawing applause when he mentioned impeachment and saying American democracy is "in grave danger."
"Our communities are once again finding themselves on the front lines of fighting to protect our very republic," Johnson said. "And it can be easy, brothers and sisters, in moments like these to despair. But even in our darkest hours, the legacy of Dr. King is a hope that dawn will come."
Georgia's Republican Secretary of State, Brad Raffensperger gamely took the stage, seeking to build confidence that his office supports broad voter participation and that the state's new voting machines will guarantee a fair vote. Democrats led by former gubernatorial nominee Stacey Abrams have attacked his actions.
"Every voter gets one vote. We all have a voice. We all count," Raffensperger said.
King's daughter Bernice spoke about the King holiday becoming a day of service, "a day on, not a day off." She said the holiday needs a broader vision.
"A day on is not enough. What we need is a light on, committed to working vigilantly to build the beloved community," she said. "A light on encompasses a commitment not just to service but to systemic change as well."
The same kind of wrestling over what King means in the present moment was taking place elsewhere, with Pence speaking Sunday at a church service in Memphis, Tennessee.
Pence spoke at the Holy City Church of God in Christ about King's religion and how he "challenged the conscience of a nation to live up to our highest ideals by speaking to our common foundation of faith."
Acknowledging the nation's divisions, Pence said that if Americans rededicate themselves to the ideals that King advanced while striving to open opportunities for everyone, "we'll see our way through these divided times and we'll do our part in our time to form a more perfect union."
As a presidential election looms this fall, divisions rankle, according to recent opinion polls.
Among black Americans, more than 80 per cent said last year that President Donald Trump's actions in office have made things worse for people like them, while only 4 per cent said they thought Trump's actions have been good for African Americans in general. That's according to a poll conducted by The Associated Press-NORC Center for Public Affairs Research.
Colby Cosh: Here it is – your quadrennial 'American politics is weird' column – National Post
The actual, real, honest-to-God voting part of the U.S. presidential nominating process will begin with the Iowa state precinct caucuses on Feb. 3, two weeks from Monday. Every four years, at around this time, I rediscover the astonishing opacity of this process and marvel anew. The Iowa caucuses themselves, which have been the paramount preoccupation of American politics for months, serve as an excellent example.
You may have seen C-SPAN footage of the weird precinct caucus goings-on. These incorporate no balloting. Instead, you see small roomfuls of enthusiasts forming physical groupings, chatting about who they ought to support, and then merging smaller "non-viable" groups until the number of groups matches the number of delegates to be sent further on in the process.
"Further on to where?", you may ask. To the Iowa Democratic Party county conventions, silly; but those don't happen until March 21. These conventions send delegates to the party conventions for each congressional district (on the morning of April 25), and also to the state convention (June 13).
The actual makeup of the Iowa delegation to the national convention isn't fully decided until that last date — yet an estimate of the statewide "result" will be provided magically on the evening of the 3rd. Even if no candidate drops out before the district and state conventions, this guess isn't exactly set in stone. If there are dropouts, the final Iowa vote in the national roll call may look nothing at all like the estimates from the evening. Yet it's these semi-fictitious, inferential estimates that will actually influence the course of the race in the other 49 states (and in the non-state delegations).
From a Canadian standpoint it all seems like a hell of a way to run a country. We have come to regard party leadership-election procedures as not only a matter of public interest and inquiry, but as something for which political parties should be positively accountable. Fine details of leadership votes are widely discussed. Everybody interested in politics knows, for example, that the federal Liberals and Conservatives both give equal weights to all federal ridings (somewhat controversially for the latter), and that the New Democrats use direct one-man-one-vote, having abandoned the old system that gave separate weight to "affiliates," mostly labour unions. We all spent a week discussing the anomaly in the 2018 Ontario PC race (wherein electoral weighting allowed Doug Ford to prevail despite winning fewer votes overall and fewer ridings than Christine Elliott).
Would you know, as a news consumer, that American political parties are nothing like this? The idea of weighting delegations strictly according to Electoral College numbers was abandoned down south not far into the 20th century: both parties learned that it made some sense to down-weight states they had no hope of winning in the general election. (A key moment was the Republican national convention of 1912; a resurgent Teddy Roosevelt had cleaned up in scattered primaries, which were still a novelty, but Taft won on the strength of Southern support, and the party ripped apart.)
The Democratic Party now allocates delegates to states by a formula that is only half pure electoral weight. The other half of the coefficient (yes, there's a coefficient) is based on the Democratic vote for president in the past three elections, which leads to pretty big distortions. Further bonuses are available to states that vote later in the cycle (in order to discourage a pell-mell race among the states to the front of the nomination calendar) and to states that "cluster" primary dates with those of neighbours.
This means many states have a Democratic convention delegation out of whack with both their population and their heft in the Electoral College. The American press rarely if ever discusses this, and it takes digging to find the details. Texas, with its 29 million souls and 38 electoral votes, is scheduled to have 261 nominating votes on the floor in Milwaukee. New York, home to 19 million people and 29 Electoral College votes, receives extra credit for Democratic loyalty and for having its primary in late April: it will send 320 delegates.
This goes to show how the slowly evolved party rules can lead to puzzling outcomes, since Texas should have a closer statewide presidential race than New York and often figures prominently in Democratic psephological dreaming. Of course, in the normal course of events, it is all decided before the delegates assemble. No one ever has any reason to care about the sizes of New York's or Texas's delegations per se.
And no one ever will, unless we get another "brokered" major party convention — one that begin with the identity of the candidate for president not yet decided. This hasn't happened since 1952, and isn't probable now. But if it were to happen, it would probably be on the Democratic side — where almost all states now hold primaries and divide their delegations in proportion to the raw vote — in an election year with a crowded field, a Republican incumbent, and no clear Democratic frontrunner. I'm just sayin'.
• Twitter: colbycosh
College-Educated Voters Are Ruining American Politics – The Atlantic