Many events planned for Lethbridge Art Days – Lethbridge Herald
By Jensen, Randy on September 23, 2020.
Arts and events co-ordinator Courteny Hasper displays a work by local artist Diana Zasadny as part of the upcoming "UnMasked" exhibit at downtown gallery Mortar & Brick. Herald photo by Ian Martens @IMartensHerald
LETHBRIDGE HERALD
This year's Lethbridge Art Days Celebrations will take place Thursday through Sunday and will feature new events, traditional events and events that have been modified for physical distancing and safety due to COVID-19.
Lethbridge Art Days is an annual celebration of the arts held in conjunction with provincial and national Culture Days on the same dates. The Allied Arts Council works with AAC members, community artists and member organizations to support and celebrate a variety of events throughout Lethbridge.
Part of the celebrations will be the AAC popUP Gallery, a salon-style show in the old Lethbridge Family Services building behind Casa. This is a new initiative during Arts Days and artists were asked to reflect on the Culture Days theme of "unexpected intersections."
Events will kick off Thursday with the AAC Artist Cabaret which will be streamed on AAC's social media.
For those seeking an in-person experience, downtown will feature On the Street: Performers Friday through Sunday. While downtown, people can check out the 10 windows painted by local muralists during Downtown Lens: Window Painting Gallery.
On Saturday, people can take part in the Gallery Stroll featuring downtown galleries including Mortar & Brick which will feature artwork by Chrissy Nickerson.
Local artists will be taking over the old Family Service building (705 2 Ave. S.) with AAC popUP Gallery: Unexpected Intersections from Saturday to Oct. 4, complete with art, a bar, entertainment and the Artist at Work installations.
Two installation projects will be featured in the Artist Kiosks on Rotary Square during the Artists at Work: Kiosk Visual Arts Project from Thursday to Sunday. You can also enjoy them during the Family Affair on the Square on Sunday. The family friendly event will include chalk art by Eric Dyck.
People are invited to join in the fun with their chalk packets, Latin dancing and a Sharon, Lois and Bram cover band – Sharron, Lewis and Pam!
12
SMALL//works art show at KAC looking for submissions – The Omega
Once again, the Kamloops Arts Council will be hosting their small works art show, an annual event where artists can sell smaller works of art to buyers for a more affordable price.
Terri Hadwin, Executive Director at the Kamloops Arts Council, said, "We host around three to four hundred different pieces of artwork, and all of those pieces are within a certain size limit."
Hadwin added that "when people are looking to purchase something unique [or] something locally produced, they can come into the old courthouse and know that they're not going to break the bank and they will be able to meet those objectives and find that one of a kind awesome present to give to their loved one or hopefully keep for themselves even."
The SMALL/works art show is also more than an event to showcase smaller art and a fundraiser to help the KAC. Instead of the artists donating their art and the KAC keeping all the funds, the KAC splits the funds made from art sales between the artists and the KAC.
Hadwin said, "the reason why we do that is we found that other fundraisers typically ask artists to donate their artwork altogether, and we felt that this [we] really help our artists at the same time as helping our organization raise a few funds that go towards our ongoing programs."
The KAC is currently receiving submissions for the annual event and is accepting any work, including 2D or 3D art, and work under 200 inches. The work should also be priced under 300 dollars to help with the art show's affordability. Anyone submitting artwork must also be a Kamloops Arts Council member.
"Right now, we have 91 pieces, and that's quite a lot because we typically don't see any applications until the deadline day," Hadwin said. "Everybody waits until the very last moment, so this has been an uptake on early submissions, so that's really nice to see."
She also added that this art show is not juried, as they can host many pieces of artwork due to the smaller size. "It's pretty much a free for all because the pieces are so small we can fit a lot in here."
Due to the COVID-19 pandemic, this year is different from last, but the KAC can continue the annual event with a few changes to help keep attendees safe.
"COVID does adjust things quite a bit. We will encourage people to go online and book timeslots when they would like to come and view the artwork. It's not necessary, but if they go and do that, then they know for certain that they're not going to have to wait outside," Hadwin said.
"We are only going to be seeing 20 guests within the entire building during that time, so people know it's not going to be crowded," Hadwin said. "We are going to have volunteers walking throughout the building and sanitizing throughout the day so they know it's going to be a safe place to come."
The deadline for submissions to the SMALL//works art show is November 1, and anyone wishing to submit up to ten pieces can easily do so on the KAC website. The great big teeny-tiny art show will be available to view, and work will be able to be purchased from November 20 to December 19 at the Kamloops Arts Council
Culture Days celebration of all art forms was a virtual blockbuster – OrilliaMatters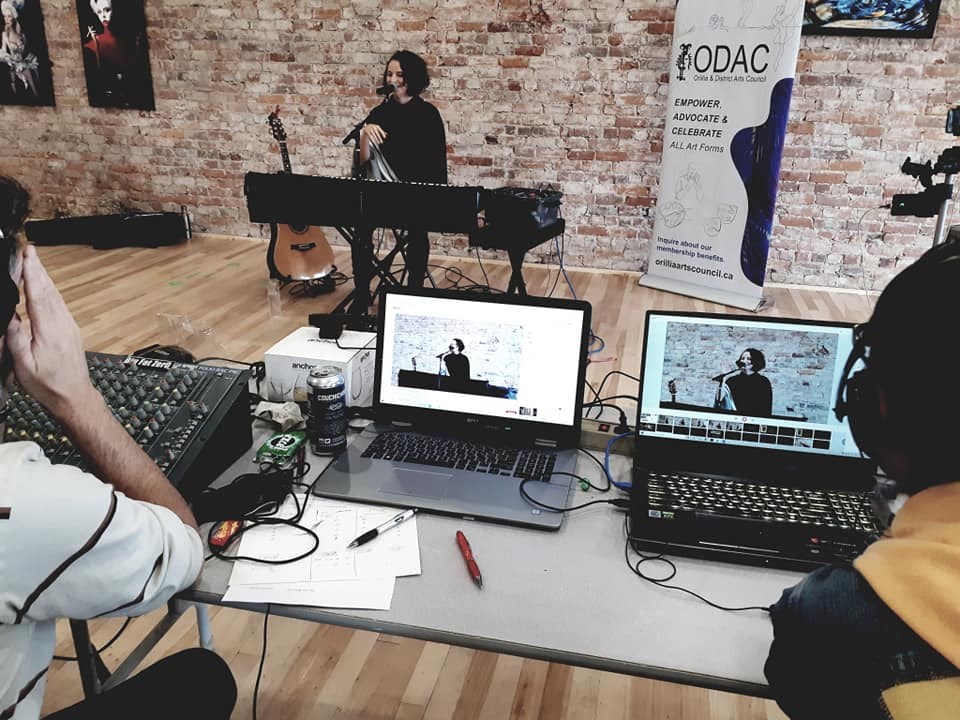 I want to start off this week by congratulating the Orillia District Arts Council, the City of Orillia Community Services Department (formerly the Parks Recreation and Culture Dept.), and Creative Nomad Studios on a very entertaining and successful virtual Culture Days event last Saturday.
My partner and I tuned in a few times during the day and it was hard to tear ourselves away.
The curation of all the different events, as well as the "fillers" in between, was topnotch, and the live streaming was excellent. It's not easy to pull off a full day of livestreaming with multiple people, places, and things, and it was pulled off impeccably. Kudos to Michael Martyn and Anitta Hamming for doing just that!
I really enjoyed the emphasis on all the different kinds of arts that there was in the programming. ODAC has, over the past several years, looked like more of a place for visual artists, but every arts form was embraced and supported in this event: performing arts, storytelling, special FX makeup, acting, videography, music, history, visual art and more.
It really went with ODAC's new tagline, displayed on the banner in many of the features: Educate, Advocate, Celebrate, All art forms. Congratulations ODAC and everyone else, you did exactly that on Saturday. The day's events will be available to be re-watched shortly, I will let you know the link when it's available.
Speaking of ODAC, it has partnered with Orillia Museum of Art and History and the City of Orillia Community Services Department for the annual Orillia Regional Arts and Heritage Awards again this year. All the nominees have been announced, and there are many, across five categories:
In Education: Stacey Schat and Doug Ironside; Otter Art Club.
In Emerging Artist: Chief Lady Bird; Marta Solek; MJ Pollak; Norman Robert Catchpole.
In Events: The Essential Concert Series; Kevin Jon Gangloff and Roots North Revisited and Orillia Youth Centre events; Dick Johnston and the Take a Vet to Dinner event.
In Heritage: Carolyn Leclair and Elite Printing: Sarah Pickard and the Sawbones Society; Marcel Rousseau; Ron and Ann Harrison; and David Town.
Qennefer Browne Award: Rusty Draper; Molly Farquharson; Roy Menagh; Phil Jackman; Gaia Orion; Will McGarvey.
Among such a wealth of talented people, who will the lucky recipients be? Find out at the virtual awards night on Nov. 25 at 7 p.m. on the Orillia Museum of Art and History's YouTube channel, here.
Congratulations to all the nominees, we really have an arts and heritage sector to be proud of, in this small town.
There are actually quite a few events coming up, both virtual and in-person, as we all learn to navigate these strange pandemic times in a safe and responsible manner.
Of course, Halloween is this weekend, and the good news is, trick or treating isn't cancelled, according to the Simcoe Muskoka District Health Unit. The unit does advise however, to include a face mask in your costume, stay six-feet apart, only trick or treat outside and with members of your own household, and perhaps use tongs to hand out candy. So, stay safe if you are going that route.
Alternatively, you may have pre-registered for the Trunk or Treat event at ODAS Park, or are thinking of going to the Quarentine-O-Ween event at It Happens Tech Repair. Trunk or Treat is full up, but the later event is going on Oct. 31 from 5 to 9 p.m. at 1-222 James St. W. where you can pop by for a safe Halloween treat.
Or maybe you are opting to have a safe event at home with members of your household. If you are staying home, you can have an amazing soundtrack to your night with the Dylan Lock Halloween Driveway Concert, Live on Facebook, starting Oct. 31 at 5:30 p.m. at Dylan Lock's Facebook page, here. So far this year, the driveway concert series has raised over $55,000 for local charities. Check out this event and have a rock 'n' roll Halloween.
Another option is to check out the drive-in movie at Orillia Square Mall on Oct. 30 at 7 p.m. The movie is the family-friendly Gnomeo and Juliet and cost is $20 a carload, with proceeds going to Building Hope. There are also giveaway goodie bags to the first 50 cars! To register your car, please contact the mall administration office at 705-325-2366.
And Jakob Pearce is playing at Fionn MacCool's in Orillia on Oct. 31 starting at 8 p.m. They have a heated patio! Enjoy!
Coming up, OMAH is hosting a plein air watercolour workshop with local artist Julianna Hawke. It's happening Nov. 3 from 11 a.m. to 3 p.m. at the beautiful Stephen Leacock Museum. For more details and to register, go here.
I don't usually mention activities outside of the Orillia area, but this new virtual world does change things up a bit, and there is a virtual event nearby that I want to tell you about. The Culture Alliance of Georgian Bay, which encompasses Beausoleil First Nation, Midland, Penetang, and Tiny and Tay townships, is putting on a huge virtual cultural conference, starting on Nov. 3 and running throughout the month.
Your $25 ticket gives you access to all eight sessions and the breakout discussions and the speakers are amazing, including keynote speaker Katherine Nicholls. Katherine is a New York-based business exec who is chair of the New York State Council on the Arts.
The theme of the conference is Obstacles and Opportunities, and there have been plenty of both and will continue to be, for the cultural sector. If you are involved in the cultural world and community in any way, I urge you to check this out, there is a lot of good information to be found here.
On Nov. 7, the annual Kiwanis Club of Orillia auction is going online, lots more details on that next week!
Just announced, Jerry Leger will be performing live in an online fundraiser for Dress for Success Orillia and Barrie, on Dec. 1 at 8 p.m. Admission will be by donation and the event celebrates Giving Tuesday, the antidote to Black Friday. Will be a fun evening of great music by this amazing Canadian musician.
Mariposa Folk Festival is having another online mini concert, this one featuring Buffy Sainte-Marie, at some point in November. We will let you know as soon as we know!
Also in November, Craig Mainprize is having a solo show, at the newly renovated Creative Nomad Studios. The opening reception will be November 12, with an artist's talk happening November 21. We will let you know more when we know!
Speaking of Creative Nomad, membership categories are now available for purchase and tours of the building can be booked! Check out lots more information on this hotly anticipated cultural centre, through the website here.
Have a safe and careful Halloween and see you next week! If you have arts news, send it to annaproctor111@gmail.com by Tuesday at noon.
Naming ceremony for Winnipeg Art Gallery's Inuit centre shines light on culture, history, reconciliation – CBC.ca
An Indigenous naming ceremony for a Winnipeg building designed to shed light on the history, languages and art of the Inuit people began, fittingly, with the lighting of a traditional Inuit soapstone seal-oil lamp, called a qulliq.
The ceremony, held virtually Wednesday morning by the Winnipeg Art Gallery, revealed two Indigenous names the gallery will now carry going forward.
The Inuit Art Centre, which has been under construction for several years, will now be called Qaumajuq (pronounced HOW-ma-yourq), which means "it is bright, it is lit" in Inuktitut.
"It's very honourable to have an institutional building that is named in Inuktitut, and it gives some kind of ownership," said Theresie Tungilik, a language keeper with the WAG's Indigenous Advisory Council, which chose the name.
"It's quite honouring. I think it's been a long time coming," she said from her office in Rankin Inlet Wednesday.
The name celebrates the light that flows into the new building at Memorial Boulevard and St. Mary Avenue, but also the light that comes with exposing something that has been hidden away for many years.
"I choose the name because it means 'it is bright, it is lit' and that's exactly how the building looks," she said.
"And it will give other people light to what our culture is like, what our past was like, all the ways we survived. Our hardships and resilience will be spoken through those artworks."
The new 40,000-square-foot space will connect to the WAG on all four levels. In addition to highlighting the gallery's Inuit art collection, it will provide Inuit-led programming and offer exhibition, learning and event spaces.
The "visible vault," a 500-shelf glass display that will hold approximately 5,000 Inuit carvings, will welcome guests as they enter the centre.
"At the WAG, through exhibitions, through programs and events, we strive to shed light on this history and bring Inuit voices to the forefront through art and storytelling," said Stephen Borys, the gallery's director and CEO.
When the new space opens in February 2021, admission to Qaumajuq will be free for all Indigenous visitors, Borys said.
"This is a site for reconciliation, learning, sharing and understanding what guides us here, bringing together communities through the universal language of art."
Biindigin Biwaasaeyaah
The Winnipeg Art Gallery itself now also bears an Indigenous name, which was also bestowed in Wednesday's ceremony. Biindigin Biwaasaeyaah (pronounced BEEN- deh-gen bi-WAH-say-yah) means "come on in, the dawn of light is here," in Anishinaabemowin (Ojibway).
"Indigenous language will have a real, a powerful and permanent presence throughout the WAG campus now and in the future," said Borys.
It's the art gallery's way of responding to the Truth and Reconciliation Commission of Canada's Calls to Action as well as the United Nations Declaration on the Rights of Indigenous Peoples.
The recommendations in the 2015 TRC report stated that Indigenous languages are a fundamental and valued element of Canadian culture and society, and there is an urgency to preserve them.
It also suggested that preservation of those languages would be best managed by Indigenous people.
The gallery will continue to be known as the Winnipeg Art Gallery, he said, but the move is meant to signify a change in how the gallery operates.
"We see these names as steps along our path to integrating and honouring Indigenous knowledge. The names also reflect the fundamental and critical journey the gallery has been on," Borys said.
The names were chosen by a circle of language keepers in the WAG's Indigenous advisory council, represent all four regions of Inuit Nunangat — or the Inuit regions of Canada — including the Inuvialuit Settlement Region, Nunavut, Nunavik, and Nunatsiavut.
Because the gallery sits on Treaty 1 territory, the WAG felt it was also important to bring Anishinaabemowin and Nêhiyawêwin speakers, as well as Dakota and Michif (Métis) speakers to the table.
It's the first time a major art institution in Canada will carry an Indigenous name, Borys said.
"As many Indigenous people know, naming and names is a very important aspect of our culture," said Julia Lafreniere, the WAG's manager of Indigenous initiatives.
"A name is something you will carry with you your whole life and often precedes you and explains who you are to the world. It carries honour and teachings."