McDonald's ex-CEO pays $105 million to settle lawsuit over relationships with employees
The former CEO of McDonald's Corp paid over $105 million and apologized to the company in a settlement over the burger chain's allegations that he lied to cover up sexual relationships with employees.
As part of the settlement, ex-CEO Steve Easterbrook returned equity awards and cash worth over $105 million that he received as a severance package in 2019, McDonald's said in a statement on Thursday.
McDonald's sued Easterbrook in August 2020, nine months after reaching a severance deal, claiming he never gave directors a complete picture of his relationships with employees.
The company said that when it fired Easterbrook, it only knew of one non-physical consensual relationship with an employee. But an anonymous tip after his ouster led to the discovery of dozens of sexually explicit photos of women, including three employees, that Easterbrook sent to his personal email from his company account.
In his response to the lawsuit at the time, Easterbrook had claimed that McDonald's had information about his relationships on its computer systems when it negotiated his severance package.
"Today's resolution avoids a protracted court process and moves us beyond a chapter that belongs in our past," McDonald's Chairman Enrique Hernandez Jr. said in a message to employees seen by Reuters.
McDonald's said it would dismiss its action against Easterbrook with prejudice.
"During my tenure as CEO, I failed at times to uphold McDonald's values and fulfill certain of my responsibilities as a leader of the company. I apologize to my former co-workers, the Board, and the company's franchisees and suppliers for doing so,"  Easterbrook said in the same news statement provided by McDonald's.
McDonald's said in April it would require new training at its restaurants to fight harassment and discrimination after facing lawsuits accusing it of subjecting female employees at corporate-owned outlets to widespread sexual harassment.
(Reporting by Hilary Russ in New York and Uday Sampath in Bengaluru; Editing by Anil D'Silva and Edward Tobin)
China cuts rates on policy loans for first time since April 2020 – CNBC
A woman walks past the headquarters of the People's Bank of China in Beijing, China.
Jason Lee | Reuters
China's central bank on Monday cut the borrowing costs of its medium-term loans for the first time since April 2020, defying market expectations, to cushion any economic slowdown.
The People's Bank of China (PBOC) said it was lowering the interest rate on 700 billion yuan ($110.19 billion) worth of one-year medium-term lending facility (MLF) loans to some financial institutions by 10 basis points to 2.85% from 2.95% in previous operations.
Thirty-four out of the 48 traders and analysts, or 70% of all participants, polled by Reuters last week predicted no change to the MLF rates, although a rising number of market participants start to forecast a rate cut.
With 500 billion yuan worth of MLF loans maturing on Monday, the operation resulted a net 200 billion yuan of fresh fund injections into the banking system.
The central bank also lowered the borrowing costs of seven-day reverse repurchase agreements, or repos, by the same margin to 2.10% from 2.20%, when it offered another 100 billion yuan worth of reverse repos into the banking system on the day, compared with 10 billion worth of such short-term liquidity tool due on Monday.
Credit Suisse chairman resigns after company probe – BBC News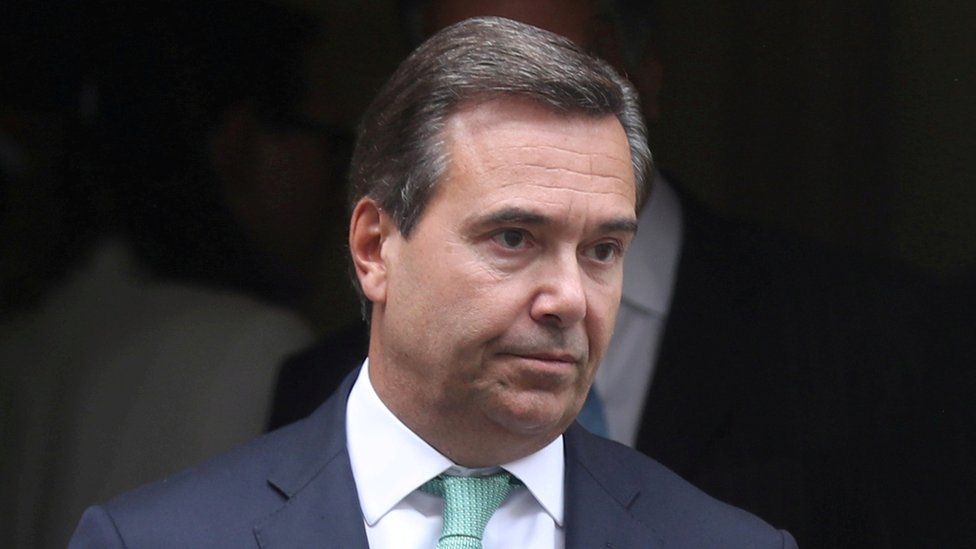 The chairman of global banking giant Credit Suisse, Antonio Horta-Osorio, has resigned with immediate effect after an internal company probe.
He was reportedly found to have broken the UK's Covid-19 quarantine rules.
The former boss of Lloyds Banking Group joined Credit Suisse after a series of scandals at the Swiss bank.
Now, Mr Horta-Osorio, who was the chairman of Credit Suisse for less than a year, has been replaced by board member Axel Lehmann.
"I regret that a number of my personal actions have led to difficulties for the bank and compromised my ability to represent the bank internally and externally," Horta-Osorio said in a statement issued by the bank.
"I therefore believe that my resignation is in the interest of the bank and its stakeholders at this crucial time," he added.
Last month, it was reported by the Reuters news agency that a preliminary investigation by Credit Suisse had found that Mr Horta-Osorio had breached Covid-19 rules.
He reportedly attended the Wimbledon tennis finals in July at a time when the UK's Covid-19 rules required him to be in quarantine.
Speaking to the BBC, a spokesperson for Credit Suisse said that the bank would give no further details on Mr Horta-Osorio's resignation other than those in its statement.
They also said that there were no plans to release the findings of the investigation.
Before joining Credit Suisse Mr Horta-Osorio was chief executive of British lender Lloyds Banking Group.
He was brought in to lead Switzerland's second-largest bank to help clean up a corporate culture marred by its involvement with collapsed investment company Archegos and insolvent supply chain finance firm Greensill Capital.
In February 2020, then-Credit Suisse chief executive Tidjane Thiam resigned after a scandal revealed the bank had spied on senior employees.

You may also be interested in:
UK government to cut funding for BBC – Mail on Sunday report
Britain's government will cut the BBC's funding by ordering a two-year freeze on the fee that people pay to watch the broadcaster, the Mail on Sunday reported.
The future of the licence-payer funded British Broadcasting Corporation is a perpetual topic of political debate, with Prime Minister Boris Johnson's government most recently suggesting its funding needs to be reformed.
Set against an inflation rate expected to reach a 30-year high of 6% or more in April, freezing the licence cost at its current 159 pounds ($217.40) would provide some relief to consumers battling sharply rising costs of living.
But it would also be a large blow to the BBC's finances as it tries to compete with privately funded news outlets and the likes of Netflix and other entertainment streaming services funded by consumer subscriptions.
In November, the government launched negotiations to agree how much the TV licence would cost, part of a five year funding settlement due to begin in April 2022.
The Digital, Media, Culture and Sport department declined to comment when asked about the Mail on Sunday report.
Culture secretary Nadine Dorries said that the licence fee settlement would be the last such agreement and tweeted a link to the Mail on Sunday article.
"Time now to discuss and debate new ways of funding, supporting and selling great British content," she said on Twitter.
The BBC declined to comment on Dorries' tweet or the Mail on Sunday report.
The opposition Labour Party said the funding cut was politically motivated.
"The Prime Minister and the Culture Secretary seem hell-bent on attacking this great British institution because they don't like its journalism," said Lucy Powell, Labour lawmaker and culture policy chief.
The BBC's news output is regularly criticised by UK political parties. Its coverage of Brexit issues – central to Johnson's government – has long been seen as overly critical by supporters of leaving the European Union.
Last week, one Conservative lawmaker said BBC coverage relating to parties in Johnson's Downing Street residence during coronavirus lockdowns amounted to a "coup attempt" against the prime minister.
($1 = 0.7314 pounds)
(Reporting by William James. Editing by Jane Merriman)