Media Beat: January 25, 2021 | FYIMusicNews – FYI Music News
Bell Media has made more layoffs in management just weeks after a sweeping executive shuffle at its head office. Among those caught up in this round of departures are Rob Farina, Head of Content, Strategy & iHeartRadio, who had been in the role since 2016; Tyson Parker, Director, Podcasting and Artist & Music Industry Relations; Lis Travers, General Manager of CTV News Channel, who had been with Bell for 17 years and was a former Executive Producer of Canada AM; Edwina Follows, General Manager of the six Discovery Networks in Canada (Discovery, Animal Planet, Velocity, Science Channel, Investigation Discovery and Discovery GO); Martin Spalding, Regional VP & GM, Local Radio and Television for Bell Media Quebec; and Grant Ellis, GM of BNN Bloomberg. On the West Coast, Les Staff, News Director for CTV News Vancouver, departs. He had been in the role since late 2012, first joining CTV Vancouver as an Executive Producer in 2007. Also in Vancouver, John Voiles is out after nearly eight years as VP, Bell Media Sales, Western Canada. Prior to joining Bell in 2013, Voiles was a VP and General Manager with Astral Radio in Vancouver. Stewart Meyers, Vice President and General Manager for Bell Media Alberta, is also no longer with the company. Read more here. – Connie Thiessen, Broadcast Dialogue
Google Looking for a Fight
In Australia, 95% of online searches are conducted through Google. This week, in a shit fight with government authorities, Google threatened to shut down its entire Aussie operation.
The parties are fighting over how and how much Google should pay news media for links and previews of stories that appear on Google.
Google says it helps news media by sending them readers, and that Google should retain the power to determine how much they chose to pay media. They also argue that unfettered linking is the backbone of the web and it shouldn't be constrained by government meddling.
The government argues that the power of Google, Facebook, and other tech giants is way out of control and that they have built a good deal of their wealth on monopolistic practices and the work of news media who they exploit without fair compensation. They argue that Google doesn't just provide links, they monetize these links by advertising in and around them and make money harvesting valuable data about the people who use them. They argue that the news media at the other end of the link should be stakeholders in how the spoils are divided.
The fight doesn't seem to be about the principle of news media getting compensated, Google has already agreed to that in France. The fight is over control of who gets to decide how much to compensate the news media and under what terms.
The ferocity of the Google response indicates to me that they view this as the beginning of a fight that is likely to spread globally. This is not just about money. The ad tech industry has shown itself to be above government control in some areas. They are not likely to go quietly. – Bob Hoffman, The Ad Contrarian
Apple is notoriously secretive about product launches, so we likely won't know any exact details until the service actually goes live. However, according to the sources who spoke to The Information, the service will have exclusive content, be ad-free, and will charge users a monthly fee. This business model has been tried a few times with podcasts in the past, the biggest example being start-up Luminary. The service launched in 2019 with the goal of becoming the "Netflix of podcasts," but only had an estimated 80,000 subscribers as of last May.
While ad-free podcast services have a weak track record, Apple has a few advantages that could finally make it work. First, it has tens of billions in cash on its balance sheet, so it will never have a problem paying creators, which is important to get the value proposition high enough so people actually want to subscribe. Second, its ad-supported Apple Podcasts service, which has hundreds of thousands of shows, has been the leader in podcast listenership for many years (although Spotify is quickly gaining ground). Apple could easily market a premium service to its existing users, whereas Luminary has had to rely on paid advertising.
Lastly, Apple will likely bundle this podcast service with Apple TV+, Apple Music, and some of its other subscriptions, making it cheaper for customers to sign up for the service if they are in the Apple ecosystem.
Should Spotify be worried?
Long story short, no. – Brett Shafer, The Motley Fool
Office Ladies is a podcast hosted by Jenna Fischer and Angela Kinsey which premiered on the Earwolf platform on October 2019. In each episode, Fischer and Kinsey, who co-starred on the American television sitcom The Office as Pam Beesly and Angela Martin, rewatch an episode of the show and offer behind-the-scenes commentary, insights and responses to fan questions. They are sometimes joined by guests that include former co-stars, producers and writers. The podcast aims to cover every episode of The Office's nine-season run. The managing producer is Codi Fischer (no relation to Jenna) and Sam Kieffer is the show's audio engineer. Below is the Jan. 20 edition of the show.
Here's Alan Cross's affectionate recollection of one memorable Larry King radio show
Back when I was doing a lot of club work, I spent a lot of time listening to Larry King on the drive home when he was on the Mutual Broadcasting System. With last call at 1am, I'd get to hear the last 45 minutes or so of his show, which always ended up with Larry saying he was on his way to Duke Zeibert's restaurant in DC for some matzoh ball soup.
As a fan of all things broadcast, I studied Larry's interviewing technique and how he worked the phones on the call-in portion of his program. This led to me one of his autobiographies which included one particular story that rings true with every single guy who has worked as a late-night/all-night DJ.
[embedded content]
Elon Musk became the world's richest person this month by upending the global auto industry and disrupting aerospace heavyweights with reusable rockets. Now he's setting his sights on another business dominated by entrenched incumbents: telecommunications.
Musk's Space Exploration Technologies Corp. has launched more than 1,000 satellites for its Starlink internet service and is signing up early customers in the U.S., U.K. and Canada. SpaceX has told investors that Starlink is angling for a piece of a $1 trillion market made up of in-flight internet, maritime services, demand in China and India — and rural customers such as Brian Rendel. – Dana Hull, Bloomberg
Cloud computing seems basic today, but it was a revolutionary concept, serving as the backbone for pretty much the entire modern digital startup ecosystem—eliminating the costly and time-consuming process of spinning up your own servers got rid of an immense hurtle for fledgling companies, making them better able to compete with—and in some cases topple—existing hegemons. But that convenience came at a cost: modern Internet services are increasingly built on Amazon Web Services (AWS) and its rivals, like Microsoft Azure and IBM Cloud. That has given those firms tremendous sway over what conduct is and is not acceptable on the Internet—in terms of free speech, they have become even more powerful than, say, Apple. It's one thing to stop offering an app, it's another to destabilize or block another company's entire online operation.
Whether AWS and rival services should wield such power is the central debate in Parler's subsequent lawsuit against Amazon, which underscores just how reliant Parler was upon AWS.
While many media companies feature clearly signposted branded content on their websites, it is less common for a major journalism brand to offer third parties, including PR professionals, the chance to pay to write pieces for publication.
A spokesperson for Penske Media Corporation, which owns the magazine, said that Rolling Stone does not allow paid content to run as editorial in any context, and that all such content was clearly labelled.
Pieces already published as part of the scheme include a set of positive predictions for the future of the cannabis industry by a PR executive who represents a cannabis producer, and a piece praising the social nature of sports betting by the founder of an online sports betting community. – Archie Bland, The Guardian
Washington lobbyists with close ties to outgoing President Donald Trump were paid lucrative sums by clients angling for last-minute pardons from the president.
Matthew Schlapp, chairman of the American Conservative Union and a close Trump ally, brought in the largest haul. According to a lobbying filing released Thursday night, Schlapp was paid a whopping $750,000 since mid-December to lobby Trump to pardon Parker Petit, a top Republican donor who served as Georgia finance chairman for Trump's 2016 campaign. Petit was convicted of securities fraud in November and faced up to 20 years in federal prison. – Karl Evers–Hillstrom, OpenSecrets.org
TAIT: Lisa LaFlamme's unfortunate ouster a reminder of Canada's changing media landscape – Edmonton Sun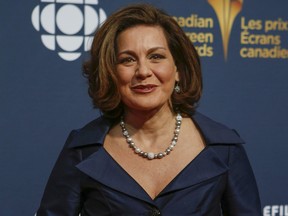 Article content
Now, I'm nervous.
Article content
This Thursday will mark my 43rd anniversary in the news business. I wonder if the phone might ring with some news.
How about that for a segue?
Monday afternoon: a quiet news day, most of the 2,236 weeks I've been a keyboard captain.
Then, late Monday afternoon — a minute before I was set to email my buddy Coffee Chad to say I didn't have a column — the tweet zoomed across my screen.
It is from Lisa LaFlamme. It said: "I have some news."
Big deal, I thought.
Maybe Donald Trump said something that we could, honestly, believe … maybe, there was a peace treaty finally signed between Russia and Ukraine … maybe that illusive test tube, thankfully, emerged that will end all cancers.
No problem, I told myself. Stay up late. Watch LaFlamme on CTV News.
Article content
But then it kicked in: that news sense that loudly rings in my ear, screaming to check everything — no matter how insignificant it might sound — make a phone call, or in today's world, click.
So click I did.
And forget, for a few words, I am a reporter.
As a Canadian I am sad.
I'm sad I had to watch a video, on Twitter no less, of LaFlamme telling her story.
I am sad about that image of her sitting in what seems to be a cosy rustic cottage, perhaps.
I am sad she shared news that Bell-Media informed her June 29 her contract as CTV chief correspondent would not be renewed.
LaFlamme is 58 and has decades of news experience.
Knowing what is news — and more importantly what is not — isn't something you gloriously discover at the bottom of a crackerjack box.
Article content
It's a feeling.
A sense.
A skill, frankly, not everyone has.
LaFlamme had it, absolutely.
She reported some of the biggest stories we will ever hear, with — and I'd bet the farm on this — COVID-19 is near the top.
In my mind, her seniority, calm voice and sincere compassion touched us all no matter how rough the nightly news line-up was, with reassurance, as we drifted off to sleep, that everything would be OK.
The media landscape has changed so significantly in the past 10 years.
We knew that.
What we did not realize is that many great people, with even greater skills, would leave our favourite radio stations, TV stations and, alas, newspapers without producing or writing their last piece.
Business decisions happen all the time. We must respect that.
But we need to remind everyone being a news personality is a noble profession.
When our time comes — on our own call or from ivory tower corporate offices — saying thank you to viewers, listeners and readers closes a chapter gracefully.
Rather than — forgive the aforementioned news voice — wondering why.
Longtime CTV anchor Lisa LaFlamme 'blindsided' as Bell Media ends contract – The Globe and Mail
Lisa LaFlamme was let go as anchor of CTV National News after 35 years at the network in a decision that the veteran journalist said blindsided her and one that prompted shock from colleagues and viewers.
CTV's parent company, Bell Media, said Ms. LaFlamme's removal was a business decision intended to meet changing viewer habits, though it did not elaborate.
Ms. LaFlamme, who has been the face of CTV's national broadcast since 2011, posted a two-minute video to Twitter on Monday in which she said she was told on June 29 that the network was ending her contract. She said she was told to stay quiet until departure details were finalized.
"I'm still shocked and saddened," she said. "At 58, I still thought I'd have a lot more time to tell more of the stories that impact our daily lives. Instead, I leave CTV humbled by the people who put their faith in me to tell their story."
The long-time anchor and foreign correspondent spent her career reporting on some of the biggest stories in Canada and the world, including the Iraq war and other conflicts, natural disasters such as Hurricane Katrina, and global spectacles such as the Olympic Games and the Queen's Diamond Jubilee. More recently, Ms. LaFlamme covered Russia's war against Ukraine and the Pope's historic apology for the role of the Catholic Church in Canada's residential school system.
Bell Media announced her departure in a news release on Monday and said Omar Sachedina will replace Ms. LaFlamme on Sept. 5. Mr. Sachedina is a national affairs correspondent for CTV News who joined the network in 2009.
"Recognizing changing viewer habits, CTV recently advised LaFlamme that it had made the business decision to move its acclaimed news show, CTV National News, and the role of its chief news anchor in a different direction," the company said.
Bell Media did not make anyone available for an interview to explain the decision and instead referred The Globe and Mail to company news releases.
Earlier this year, Ms. LaFlamme was named the Best National News Anchor at the Canadian Screen Awards, having also won the previous year. In 2019, she was named to the Order of Canada and has many other honours attached to her name.
She assumed the top news anchor role in 2011 when Lloyd Robertson retired at 77. He had spent more than four decades as a national news anchor and reminisced on a storied career before signing off for the final time during a newscast on Sept. 1 of that year.
In her Twitter video, Ms. LaFlamme thanked her colleagues, viewers and loved ones for their "unwavering support" and said the video was likely her official sign-off from CTV. "While it is crushing to be leaving CTV National News in a manner that is not my choice, please know reporting to you has truly been the greatest honour of my life," she said.
Her exit from the network ignited outrage on social media from industry colleagues and supporters, with some questioning whether gender discrimination played a role in her removal. Jeffrey Dvorkin, former director of the University of Toronto's journalism program, said it's a fair criticism and one that Bell Media will need to consider.
"I think they're looking for a younger, different demographic and Omar Sachedina fulfills that," said Mr. Dvorkin. "But I think Bell Media may not have appreciated, properly, the kind of loyalty that people have in radio and television audiences. There's a real intimacy in broadcast journalism."
Shari Graydon, the CEO and catalyst of Informed Opinions, an organization that advocates for women's voices in media, called the treatment of Ms. LaFlamme "deeply troubling."
"When you contrast Lloyd Robertson leaving at 77 and Lisa LaFlamme being essentially two decades younger than that, the optics are really bad," she said in an interview, noting that Mr. Robertson had the opportunity to say his goodbyes on the network – as opposed to on social media.
Ms. Graydon also emphasized the significance of Ms. LaFlamme's prior role within the public perception, both for women and girls considering the aspirations they can reach for, but also for boys and men, showing them that "women are as capable, as authoritative, as knowledgeable as their male colleagues."
Concerns of discrimination against on-air journalists are not new. Almost 40 years ago, American TV anchor Christine Craft won a prominent case against her Kansas City station, alleging it demoted her for being "too old, unattractive and not deferential enough to men." In 2019, five female anchorwomen sued the parent company of NY1, a well-known station in New York, alleging gender- and age-based discrimination. The anchors, who ranged in age from 40 to 61 at the time, settled their suit in 2020.
Robert Hurst, former president of CTV News, said in an interview on Monday that he was surprised at the announcement about Ms. LaFlamme but has no knowledge of what led to the decision. He declined to comment on the optics of her departure but spoke fondly of her career, having hired her at CTV many years ago.
"She was just a fabulous reporter travelling the country and the world for us and when it was time for Lloyd Robertson to step down, she was the obvious choice. I was obviously a big fan when we put Lisa into the anchor chair," said Mr. Hurst. "Journalism was in her blood."
Ian Hanomansing, who is one of the anchors of the competing CBC News national broadcast The National said on Twitter that Ms. LaFlamme's departure left him speechless. "Lisa is among the very best at what she does. I know surprisingly arbitrary decisions can be made in this business but Lisa, you deserve better than this. Way better," he wrote on Twitter.
Anchor Dawna Friesen of Global National similarity expressed shock. "Since we started working together years ago at CTV, I've watched you work your butt off and earn the respect of colleagues, competitors and viewers. None of us last in these gigs forever but seems to me you deserve better than this."
Current and former politicians also sounded off on social media about Ms. LaFlamme being shown the door. Alberta NDP Leader Rachel Notley called her "a massive voice in Canadian media." Former Liberal MP Catherine McKenna called the move to end her contract an "appallingly shoddy way to treat an incredible journalist."
Former NDP MP Peggy Nash on Twitter that Ms. LaFlamme deserved respect and appreciation for her many years of hard work and success. "Instead, you got disrespect and dismissal," Ms. Nash wrote.
Our Morning Update and Evening Update newsletters are written by Globe editors, giving you a concise summary of the day's most important headlines. Sign up today.
Being Thrown Off Social Media Was Supposed to End Alex Jones's Career. It Made Him Even Richer – Bloomberg