Media Beat: November 30, 2020 | FYIMusicNews – FYI Music News
"We expect that 90% of households across the country will have access to fixed broadband Internet services that meet our universal service objective by the end of next year. As a country, we are on the right path to achieve this target. The percentage of homes and businesses with such connectivity had risen to 87.4% by the end of 2019…" – CRTC Chair Ian Scott (full text of address to the Standing Committee on Industry, Science and Technology last week)
Billionaire Elon Musk's satellite internet service is now streaming to some homes in New Brunswick.
Starlink has enlisted some households in rural areas of Canada and the northern U.S. to test the service before a full launch, possibly in mid-2021. The cost of delivery is significant, however. – Connell Smith, CBC News
For the twelve months ended August 31, 2020 the Company generated revenues of $50.6M, operating expenses of $40.2M and Adjusted EBITDA of $10.4M from its continuing operations. Net income for the same period was $4.6M.
For the comparative twelve months ended August 31, 2019 the Company had revenues of $52.5M, operating expenses of $46.2M and Adjusted EBITDA of $6.3M from its continuing operations. Net income for the year was $2.9M. – Press release
The experimental series on monthly openings and closures now include monthly estimates of the number of business openings and closures, continuing businesses, and active businesses in the tourism industries at the national level from January 2015 to August 2020. These industries are based on Statistics Canada's Canadian Tourism Satellite Account industry aggregations and include air transportation; water transportation; rail, scenic and sightseeing transportation; bus transportation, taxi and limousine services, and vehicle rental; accommodation; food and beverage services; recreation and entertainment; and travel services.
The new series show that the tourism industries are among those most affected by the COVID-19 pandemic. While business closures doubled in the business sector from February to April 2020, the tourism sector as a whole had 11,020 closures in April, more than triple the number of closures in February. The most affected industries in the tourism sector were food and beverage services (+316.2%; +6,009), travel services (+314.6%; +310) and bus transportation, taxi and limousine services, and vehicle rental (+166.8%; +296). While business closures also increased in air transportation from February to April, the increase was smaller than in all other tourism industries. Since the peak in business closures in April, closures have declined across the tourism industries. As of August, business closures were below the pre-COVID level posted in February in all tourism industries.
The number of business openings in the tourism sector exceeded that of business closures in each of the last three months. Despite the openings, the number of active businesses in the tourism sector in August was 84.7% the level recorded in February. By comparison, the number of active businesses in the business sector in August was 91.0% the level reported in February.
Kelowna's 103.9 CKOO-FM could be back on the air by the spring.
The CRTC has approved the purchase of the radio station's broadcast license and assets by Paul Larsen for $500K.
His company, Radius Holdings, is purchasing the license from trustee Grant Thornton, which took possession of it when Soft 103.9 went bankrupt on March 31. – Colin Dacre, Kelowna News
Among the criteria set out in the proposed Consumer Privacy Protection Act and the Personal Information and Data Protection Tribunal Act, a firm must consider are the sensitivity of the personal information; whether the purposes represent legitimate business needs of the organization; the effectiveness of the collection, use or disclosure in meeting the organization's legitimate business needs; whether there are less intrusive means of achieving those purposes at a comparable cost and with comparable benefits; and whether the individual's loss of privacy is proportionate to the benefits in light of any measures, technical or otherwise, implemented by the organization to mitigate the impacts of the loss of privacy on the individual.
It also says firms must determine at or before the time of the collection of any personal information each of the purposes for which the information is to be collected, used or disclosed — and must record those purposes.
Section 13 says a firm can only collect the personal information that is necessary for those purposes. – IT World Canada
The Ongoing History of New Music hits 10M downloads
Having hit its 900th episode, the Alan Cross hosted podcast started in Jan. 2017 has now crossed the 10M download threshold–a phenomenal accomplishment by any standard. The podcasts originate from the radio show of the same name that first aired in 1993 on CFNY-FM in Toronto.
A few stats'n'facts provided by Cross:
When the program began, Kurt was still alive and Pearl Jam had just one album.

Except for hardcore computer nerds, no one knew about the internet or email.

The first hundred episodes were composed on a long-forgotten DOS word processor.

When Windows 3.1 came along, I switched to WordPerfect. The next 600 or so shows were written that way. I didn't make the switch to Word until 2014.

For nearly a decade, the show only ran on 102.1 The Edge/Toronto. CFOX/Vancouver picked it up near the end of the 90s.

The show is now syndicated across the country.In addition to the hour-long shows are the 60-second daily features.

I've written over 7,000 of those.Craig Venn was the original technical producer working with old-school reel-to-reel tape. Rob Johnston took over at show 110 and has been with me ever since.

We transition to all-digital production in 1996.

Shows were first archived on reel-to-reel tape, then DAT, then CD-Rs. Now everything is archived digitally.

I used to record everything in the studios of 102.1 the Edge. Now I have my home studio. I just record my bits and upload them to Dropbox. Rob takes it from there, producing the programs and then distributing them to affiliates. He also takes care of the podcasts.

The podcasts have been downloaded in almost every country in the world with Canada in the lead, followed by the US, the UK, Australia, and Germany.

Among the countries immune to the shows' charms are North Korea, Niger, Chad, and the Republic of the Congo. But we're working on that.

Of the 900 Ongoing History radio programs aired since the program debuted in February 1993, approximately 250 have been repurposed as podcasts. We'll eventually get more up there, but not all will make it because they're just too dated.

Canada leads the way in downloads (no surprise there) with 8.3 million downloads. The US is in second spot with 1.12 million. Then comes the UK, Australia, Germany, France, New Zealand, Mexico, Ireland, and The Netherlands rounding out the top 10.Within Canada,

Ontario is the number one market, followed by BC and Alberta.

Toronto is in first place for downloads, followed by Hamilton and Vancouver.

In the US, the podcast is most popular in Buffalo followed by New York, Chicago, and bizarrely, Hutchison, Kansas, a city of 40,000 northwest of Wichita. The good citizens of Hutchison have downloaded more episodes than Los Angeles. We can't explain that.

Moving to the UK, the leading city is London. Manchester comes second and Edinburgh is a close third.

The most-downloaded podcast of all time is "The Rise and Fall of Blink-182, Part 1," which was published on January 31, 2017. In second spot is "Rock and Roll Myths" (March 15, 2017), and "60 Mind-Blowing Facts in 60 Minutes: The Fifth Edition" (December 18, 2019).

Most people get their OH fix through Spotify (16.9%) followed by Apple Podcasts (13%).When it comes to platforms for listening, iOS leads the way with 56.3%. Android is second with 26%.87.2% of listening is done on a mobile device while 9.1% listen on a desktop and 2.4% use a tablet.
The head of News Media Canada told a parliamentary committee Friday afternoon that despite the highest demand ever for news amid the pandemic, there is still little revenue in part because Google and Facebook are sucking up 80 per cent of digital ad revenues at the expense of Canada's news outlets. – Jeremy Nuttall, The Star
Denham Jolly, Jackie Flanagan, Brian McFarlane, and Sarah Milroy are among the 114 names as new appointments by the Governor General.
After 25 years of writing Page Six, a must-read daily compendium for the Toronto Sun about the arts, media and politics, Dunford made his exit in July of 2005 after penning 7,127 columns for the paper. He was funny, sometimes abrasive, and always on top of what was going on in the city, the CBC and media in general. There's a great synopsis about his career at the tabloid here, and Dunf in space is a blog where he regularly posts today.
You'd think by now "sophisticated" advertisers would have learned that the programmatic ad ecosystem is nothing but trash and trouble. But in the ad world, nobody learns anything.
A website called Adalytics ran a piece last week on how a Russian state-controlled news agency's propaganda website called "Sputnik News" is being unwittingly supported by programmatic ad dollars from the likes of Harvard Business School, Adidas, American Express and, you can't make this shit up, the US government. Read about it here. – Bob Hoffman, The Ad Contrarian
Ben, Brett and Jordan Meiselas have big plans to expand their media reach to counter Fox News. Since the Spring, Since the Spring, they have raised more than US$3 million in donations; grown from web-only videos to national television ads; turned a limited series on SiriusXM's progressive politics station into a podcast deal with the digital giant, and are launching a student-run initiative called MeidasUniversity to encourage progressive advocacy on campuses across the country. – Ashley Cullins, The Hollywood Reporter
In a strongly-worded letter, the human rights NGO said that Google is "incentivised to merge and aggregate data across its different platforms" as a consequence of its surveillance-based business model. – ET Telecom
Australia's parliament will launch an inquiry into media ownership, a prominent senator said, after more than half a million people signed a petition demanding a probe into Rupert Murdoch's dominance of the news industry.
The online petition attracted a record number of signatories after being launched on October 12 by former Labor Prime Minister Kevin Rudd, a frequent target of newspapers controlled by Murdoch's News Corp.
Separately, Al Jazeera focusses on Murdoch media's climate-change disinformation advocacy.
Three remarkable actress – Academy Award-winners Meryl Streep and Dianne Wiest, and Emmy Award-winner Candice Bergen – share the screen in a new film by director Steven Soderbergh, "Let Them All Talk," an exercise in improvisation, in which its actors were required to create much of the dialogue themselves. Correspondent Rita Braver talks with the trio about the rarity of starring in a major Hollywood film about three women in their 70s.
How To Harness The Hot New Social Media App Clubhouse To Build Your Brand – Forbes
At age 27, Jessica Williamson already has established a six-figure business, Ete Swimwear. While running her company, she also coaches other female e-commerce entrepreneurs on how to scale and grow their businesses. Recently, Williamson received an invitation to join Clubhouse, one of the newest social media platforms.
After learning that Clubhouse can connect you with some of the world's most prominent business and industry leaders via live voice interaction, Williamson decided to give it a try. She quickly discovered that the app indeed enabled her to speak directly with numerous movers and shakers. So, she jumped in fully. In just two days, she already had gained hundreds of new followers – not just on Clubhouse, but on other social media platforms, as well.
Here is what Williamson has learned about Clubhouse so far.
1. Clubhouse is an authentic way to interact with famous people.
Everyone is on Clubhouse to give value. When I first joined, I entered a "room" dedicated to business growth. On the "stage" were Grant Cardone, Tiffany Haddish, Jim Kwik and several USA Shark Tank investors – people with millions of followers! Then, I asked and was granted access to the "stage" with them.
Because Clubhouse links directly to your Twitter and Instagram accounts, there are no DM functions or chat functions, comments or likes. The only way to interact with people through Clubhouse is via voice. That means you get to ask questions, seek advice, and tell people exactly what you have to offer.
Within minutes on the app, I got to speak directly to famous people, and it was all completely live. It was like a normal phone call. It was insane! I was speaking with the biggest business leaders in the world. I was blown away. Hearing people's real voices definitely helps to build connection.
2. Clubhouse helps potential followers understand the value you can offer.
In order to soak up the value you can get from the platform, put yourself out there as much as you can. Because of my experience in podcasting and doing Instagram live, I'm more than comfortable putting my hand up and hoping to be invited onto the "stage." And I have been. It has proven a great opportunity to share my business insights. Just being on stage got me 60 new followers. Even Tiffany Haddish followed me! (I doubled checked; it's not a fake account.)
Since the Clubhouse app links directly to Instagram, it quickly builds your follower count. In fact, I gained 200 new Instagram followers after just two days on Clubhouse. I also got about 50 new direct messages (DMs). In the past, I'd be lucky to get one or two DMs each month from people I don't follow. DMs are usually a more meaningful way to connect with followers, as they ask serious questions and genuinely want your expertise.
3. Getting in early means more opportunities.
There's so much opportunity on this app right now because you have to be invited by someone who is already on Clubhouse. Each person currently receives only a few invites, so it's still super exclusive. However, it is growing exponentially.
As a first mover, it feels very meaningful to me to be on Clubhouse, so I am making the most of it. I'm certain that as time goes on, we may not be able to access the featured speakers as easily as we can now, because the rooms will become crowded. This will mean fewer opportunities to get on to the stage and speak to the celebrities. I've therefore been spending a lot of time on the app to make sure I'm getting the most out of it.
4. You can learn how to use Clubhouse by listening in on different "rooms."
Honestly, I had absolutely no idea what I was doing or how the app worked when I joined. However, upon jumping into a few groups and putting myself out there, I got the hang of it very quickly. In several groups, people were chatting about all the functions of the app and how Clubhouse actually works, so that was really handy.
5. Quick tips on how to use Clubhouse.
· Round table discussions work best – not a hierarchy of someone speaking. When people can join in and speak, they stick around!
· Have as many moderators as possible to create a larger room.
· Raise your hand to ask moderators to let you speak. You can leave a room any time by "peacing out."
· Your bio shows up as SEO, so it is key to communicate what value can you offer in the first three lines.
· Showing up and actually participating in groups is vital. I asked one question and gained five to ten followers.
· Co-hosting groups is critical, as well. Partner with people to host rooms on a certain topic.
· You need to reset the room a few times for all the new people that have joined.
· A good length for a program is 60 to 90 minutes.
· Ask people to DM you a word. For example, "DM me for freebie" or whatever so you can send them the link to your resources.
Bernie Sanders' inauguration meme gets social media attention from sports world – Sporting News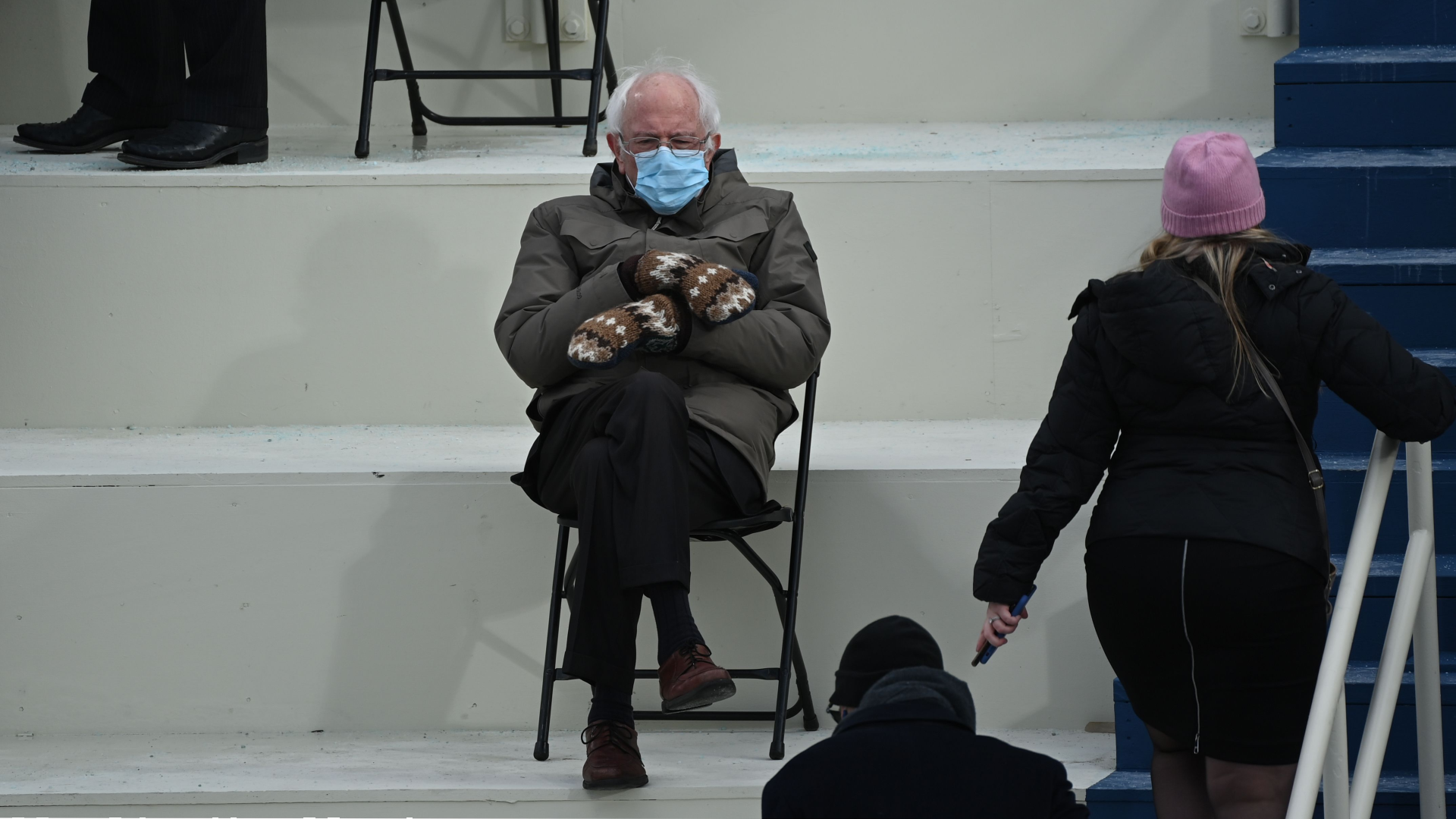 Bernie Sanders has a knack for online stardom.
The senator from Vermont is already the subject of one well-known meme — we'll get to that in a second — and on Wednesday, thanks to his inauguration outfit, socially-distanced spot and demeanor at the Capitol, he earned another one.
First off, props to Sanders who was sporting the same jacket from the original "I am once again asking" meme. If the jacket still fits and is in good shape from 2019, why not keep wearing it?
So aside from the coat, he's got a new meme thanks to a photo that popped up of the 79-year-old senator sitting in a folding chair socially distanced from everyone. He sat in said coat, with his arms crossed and warm mittens on his hands and his legs crossed — and, of course, he had on a mask.
Following COVID-19 protocols, Sanders became a social media sensation once again and the sports world was quick to follow suit as well.
Media Beat: January 21, 2021 – FYI Music News
TPX now representing AdLarge Media's cabana portfolio in Canada
The Podcast Exchange (TPX), Canadian's top podcast ad agency, expanded its brand dominance this week with an exclusive agreement to represent US-based AdLarge Media's cabana portfolio for exclusive Canadian ad sales representation.
"We are simply delighted to be cabana podcasts' strategic partner in Canada," said TPX's President and Chief Executive Officer Jean-Marie Heimrath. "cabana is our latest international signing and supports our business strategy to work with global publishers in partnership with advertisers to harness the full potential of the Canadian podcast audience."
TPX was co-founded by Jean-Marie Heimrath and Jeff Ulster to offer consulting and co-production to ad sales and IP licensing to media and in particular the fast-growing podcast industry here in Canada. The privately held company took a quantum leap in Q1 2020 when Montreal music and media tech firm Stingray acquired a 30% interest in the firm.
For the purposes of the 2021 Maclean's Power List (below), we canvassed the landscape for Canadians with qualities we think represent power in a time of transformative change. By dint of their actions, words or character, they force us to watch, listen and learn. They are moving the needle in their chosen fields, and in many cases the wider world. Importantly, they are good-faith actors. History may judge them wrong, but they act in the belief that doing so will result in a better world.
You may notice therefore a shortage of power brokers in the conventional mould—bank CEOs, cabinet ministers, scions, high-powered lobbyists. For this list, warming a seat in the establishment doesn't cut it. Nor does preserving the status quo. Nor, certainly, does exercising power for the mere sake of disruption. (Peddlers of conspiracy and disinformation could be thought of as influential; you will not find them in this ranking.)
Executive Director Daniel Bernhard, Chair of the Board Aritha van Herk, and Vice-Chair Raymonde Lavoie present at the CRTC Hearings regarding the CBC license renewal, January 18, 2021.
[embedded content]
Google and Facebook received a growing share of the federal government's advertising budget after the Trudeau Liberals took power, as Ottawa quadrupled how much it spent each year on ads from the American web giants between 2015 and 2019.
Responding to the figures, New Democrat MP Charlie Angus said that, "at the very least," Ottawa should ensure sales tax is charged on advertisements purchased from Google and Facebook. – Alex Balllingall, The Star
Canada is ushering in some new blood too with François-Philippe Champagne replacing Navdeep Bains as minister of Innovation, Science and Economic Development (ISED), thanks to a recent cabinet shuffle by Prime Minister Justin Trudeau. As the new minister responsible for the telecom file, Champagne may bring a difference in tone and possibly direction.
We canvassed some Canadian telecom industry watchers we like about these developments. Here's a summary of what they expect on both sides of the border over the next few years. – Peter Nowak, TekSavvy blog
Netflix reported that its paid streaming subscribers rose to 203.7 million at the end of the fourth quarter, up 23% from a year ago.
The streamer said the new season of The Crown drew more than 100 million households in its first 28 days, exceeding the total for its prior seasons.
The Midnight Sky, starring and directed by George Clooney was Netflix's biggest movie in the quarter with 72 million households watching in its first four weeks. The film Over the Moon attracted 43-million-member households and Netflix projected that We Can Be Heroes will reach 53 million households in its first four weeks. – Jon Lafayette, Broadcast + Cable