Media Beat, Sept. 20, 2021 | FYIMusicNews – FYI Music News
During the pandemic, because of measures such as mask-wearing and physical distancing, the flu virtually disappeared. But when we return to "normal" (or whatever the new normal becomes), the confluence of Covid-19 and influenza each fall and winter could become a major public-health challenge.
The question becomes, crassly: How much illness and death are we willing to accept as "normal"? – André Picard, The Globe and Mail
A Kelowna blogger who was unhappy with a breast augmentation surgery that offered uneven results learned that sounding off online can have costly consequences, according to a Supreme Court of B.C. decision posted Aug. 25.
"While internet postings in the nature of reviews of restaurants and services are the norm in today's world, defamatory comments dressed up as reviews that are not factual or do not qualify as fair comment are subject to the laws of defamation," Justice Gary Weatherill wrote. – Kathy Michaels, Global News
The Liberals are counting on voters not to notice that what distinguishes their own foreign policy is the thing that has caused the Chinese government and its network of diplomats and well-connected friends in Canada to be rather too obvious in their enthusiasm for a Liberal re-election. So enthusiastic, in fact, that they're already coming close to violating Canadian laws intended to safeguard federal elections from foreign interference.
It began on Aug. 25, when Chinese ambassador Cong Peiwu, without explicitly naming him, insinuated that Erin O'Toole was placing his party's "political interests" ahead of fruitful Canada-China relations. After an obligatory throat-clearing to the effect that it was not his intent to comment on or interfere in the election, Cong said China would oppose anyone "hyping up issues related to China or smearing China." – Terry Glavin, Ottawa Citizen
Inequality has been rising for decades, but during the stress test of the pandemic, the imbalance became grotesque. While grocery workers were battling to get within scraping distance of a living wage, Loblaws saw its 2021 first-quarter profits grow by 30 per cent over the previous year, to $313 million. Empire Co Ltd., which owns Sobeys, Safeway, Foodland, FreshCo and IGA, saw its net earnings swell 47 per cent in the first quarter, to $191.9 million. Amazon's first-quarter profits were more than triple its 2020 margins, at $8.1 billion, even as COVID-19 chewed through its warehouse workers and its delivery drivers urinated in bottles so they wouldn't miss their targets.
Last fall, the Brookings Institution produced a report contrasting the corporate and shareholder windfalls of the biggest U.S. companies with the crumbs they begrudgingly offered their frontline workers. The report noted that the two behemoths—Amazon and Walmart—took in an average of $10.7 billion in extra profit and their stock prices surged 65 per cent and 41 per cent, respectively, but their workers received an average of just $0.95 per hour and $0.63 per hour in extra pandemic pay. – Shannon Proudfoot, Maclean's
Employment rose by 90,000 in August, the third consecutive monthly increase. Gains in August were concentrated in full-time work and among women. Employment in accommodation and food services increased by 75,000. The national unemployment rate fell to 7.1%, the lowest rate since the onset of the pandemic.
Total employment has risen by 415,000 from May to August as third wave restrictions eased. All of the net gains during this three-month period were in service industries, led by cumulative gains of 211,000 in accommodation and food services. Sixty percent of net employment gains from May to August were among 15- to 24-year-olds, as the employment rate among youth by August had essentially returned to pre-pandemic levels.
With August's headline increase, total employment has rebounded to within 1% of its pre-pandemic level (cumulative losses since February 2020 stood at 156,000 or -0.8%). The employment rate in August was 60.5%, down 1.3 percentage points from the rate in February 2020. The number of employed people who worked less than half of their usual hours in August remained elevated compared to pre-pandemic levels (+29.9%), while total hours worked remained 2.6% below. Among workers who worked at least half their usual hours in August, 24% worked from home, the lowest share since the onset of the pandemic.
Some of Australia's biggest media companies have lost a bid in the high court to escape liability for defamatory third-party comments on their social media posts.
The majority found that merely facilitating and encouraging comments amounted to "participation" in the communication of defamatory material, even if the original poster was not aware of the content of later comments.
The decision is expected to have ramifications for Australian media companies, making them likely to ban comments on more posts or discouraging them from posting stories to social media. – Paul Karp, The Guardian
At first no one could explain why business was picking up at Betterment, a robo adviser aimed at newbie investors. There were about 10,000 signups in one day.
Then came the answer: A 25-year-old TikToker from Tennessee was posting videos describing how to retire a millionaire by using the platform.
His name is Austin Hankwitz, and he's managed to land one of the hottest new gigs: full-time "finfluencer." – Misyrlena Egkolfopoulou, Bloomberg
An internal report, written in October 2019, shows that in the run-up to the 2020 election, Facebook's most popular pages for Christian and Black American content were being run by Eastern European troll farms.
These pages were part of a larger network that collectively reached nearly half of all Americans, according to the report. They achieved that reach not through user choice but primarily as a result of Facebook's own platform design and engagement-hungry algorithm. – Karen Hao, MIT Technology Review
America's biggest three newspapers – the Wall Street Journal, the New York Times and USA Today – together lost more than 500,000 of print circulation between the first quarter of 2020 and the latest reported period, which covers the six months to March 2021. – William Turvill, Press Gazette
To serve a member of the Royal Family once meant to do one's duty for Queen and country.
But a month-long chase by US lawyers to find Prince Andrew and in the legalese, serve him with allegations of abuse, has brought a whole new meaning to the phrase. – Dominic Casciani, BBC News
Late last year, it quickly became evident that Hollywood's dealmaking machine of the past 30 years was broken. The pandemic had changed the way people watched feature films — with some debuting on streaming services and some in theatres — and a new approach to contracts for talent would be needed, particularly for A-listers accustomed to significant backend bonuses based on box office returns that may be diminished or eliminated altogether.
Fast-forward to September 2021: What does dealmaking actually look like? – Beatrice Verhoeven, The Wrap
The Absurdity of the Marketing Industry
For decades, the marketing industry has been notable for its addiction to bullshit and sophistry. We have now entered new territory — an era in which marketing can truly be described as dabbling in absurdism.
Welcome to "Generation Alpha", the newest idiotic generational hustle of marketing researchers.
Generation Alpha are people born between 2010 and 2024. I just checked my calendar and it seems 2024 hasn't happened yet. But that doesn't bother researchers. Understanding the values of people who can't speak yet and some who are not born yet is the disruptive innovation that makes the insights into Gen Alpha so powerful!
Listen to this horseshit about Generation Alpha from Ad Age… "they care about issues such as sustainability and social equality—but unlike previous generations, they have embraced activism from a very young age and expect brand change as a result." Are you fucking kidding me? Five-year-olds expect brand change? Fetuses care about sustainability?
There is no word to describe the idiocy of these experts. These kids are still crapping their pants and they have "embraced activism?"
Go ahead. Try to tell me you could make this shit up. Is it any wonder marketing is viewed as the clown show of the business world? – Bob Hoffman, The Ad Contrarian
It's not Kanye, it's Ye, after judge approves name change
Rapper Kanye West has won legal approval to officially shorten his name to Ye.
The 44-year-old musician, record producer and fashion entrepreneur has used Ye as his Twitter handle for years and had petitioned a court to make it his full name with no middle name or last name. Los Angeles Superior Court Judge Michelle Williams Court approved his request on Monday, according to court documents.
"Ye" also was the name of the singer's 2018 album. He told a radio host that year he believed ye is the most commonly used word in the Bible, where it means "you."
Representatives for the entertainer did not immediately respond to requests for comment.
The musician recently released his 10th studio album, "Donda," named after his late mother Donda West. He has been married to reality TV star Kim Kardashian West for about seven years. The pair are in the process of getting divorced, though they remain friendly and have been spotted together recently in public.
(Reporting by Lisa Richwine; Editing by Richard Chang)
German media group fires Bild editor after damning press reports – CNN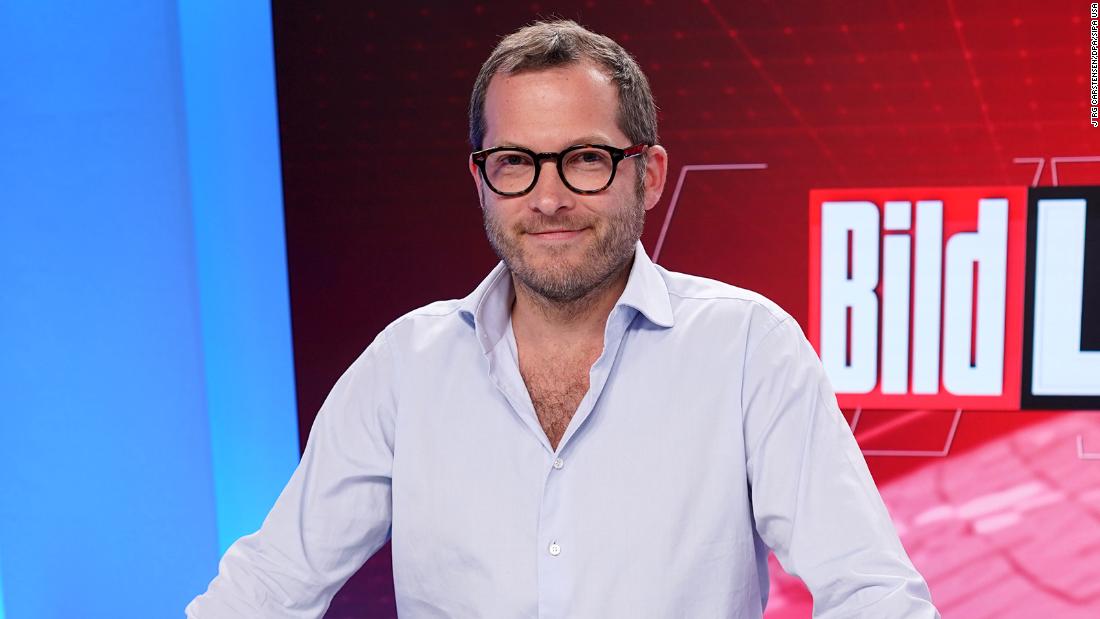 London (CNN Business)German media group Axel Springer said on Monday that it has fired the editor-in-chief of the Bild newspaper, Julian Reichelt, for failing "to maintain a clear boundary between private and professional matters" and being "untruthful to the executive board."
"Axel Springer SE has relieved Bild editor-in-chief Julian Reichelt of his duties with immediate effect," the company said in a statement. "As a result of press investigations, the company gained new knowledge in the last few days" about his "recent conduct."
The publisher employs more than 16,000 people around the world and is aggressively expanding into new markets, including the United States. It commissioned a law firm to conduct an investigation into Reichelt's conduct earlier this year, but reinstated him after determining that he had not committed fireable offenses.
Now, however, Axel Springer says that "new evidence of current misconduct by Julian Reichelt has come to the company's attention in the last few days." Eric F. Phillips, senior vice president at public relations firm Edelman, and a spokesperson for Axel Springer, declined to elaborate on this misconduct in response to a CNN inquiry.
"As the executive board has learned," the Axel Springer statement read, "Julian Reichelt still fails to maintain a clear boundary between private and professional matters and has also been untruthful to the executive board in this regard. The executive board therefore considers the termination of his office to be unavoidable."
Bild is Europe's largest daily newspaper and the publisher's crown jewel. But Axel Springer has sought to expand its digital presence in recent years, especially in the United States, through the acquisition of Business Insider — now called Insider — and newsletter producer Morning Brew. Its
$1 billion takeover of Politico
is expected to close in the fourth quarter of 2021.
Now the spotlight is on workplace culture at its flagship publication in Germany.
The New York Times on ​Sunday
published
a story on Reichelt's alleged abuse of power with female employees. Among the allegations are that Reichelt was in a relationship with a junior employee, whom he promoted beyond what she thought was appropriate, and "continued to summon her to hotel rooms​," ​the Times reported, citing a transcript of testimony the woman gave to the law firm conducting the investigation.
CNN cannot independently verify the Times' reporting and has reached out to Reichelt for comment.
Following that internal investigation earlier this year, Reichelt admitted mistakes, according to a statement reported by Reuters. "I know that I made mistakes in my behaviour towards colleagues and I cannot and will not gloss over it," Reichelt said in March, according to Reuters. "The main thing I blame myself for is that I hurt people for whom I am responsible. I am very sorry about that."
In the statement ​Monday, Axel Springer said that "the compliance investigation against Julian Reichelt never included any allegations of sexual harassment or sexual assault."
"There were, however, allegations of consensual intimate relationships with female Bild employees and indications of abuse of power in that connection. A past relationship with a female Bild employee has been proven and admitted. It remains disputed whether that employee benefited in her career as a result."
CNN does not know the identity of that employee.
The statement said that after the ​inquiry earlier this year, the Board determined that Reichelt "had made mistakes, ​[but] these were not mistakes of an unforgivable nature."
It decided at the time that "mistakes that would have justified an immediate parting of ways were not proven," and had decided to give him a "second chance."
The company ​says it is also taking legal action against "third parties" who leaked confidential transcripts, "business secrets and private communications." ​The company's statement did not specify who the legal actions were against.
They acted, the statement said, "to influence and instrumentalize the spring compliance investigation by unlawful means, evidently with the aim of removing Julian Reichelt from office as well as damaging Bild and Axel Springer."
— Inke Kappeler contributed reporting from Berlin.
'Eternals' movie, boasting a diverse cast and Marvel's first deaf role, premieres
Actors Angelina Jolie and Salma Hayek brought Hollywood glamor to the world premiere of Marvel Studios' latest comic book adapation, "Eternals", on Monday.
Directed by Chloe Zhao, who won best director and best picture for the film "Nomadland " at the Oscars earlier this year, "Eternals" boasts one of the most diverse casts of any Marvel movie.
"I hope it just starts to normalize what should have been there in the first place," Jolie told Reuters. "I hope people watch these films in years to come and we don't even think about it as being diverse, it just becomes what's normal and what's right, and what's appropriate representation of the world we live in."
Gemma Chan plays the lead role of Sersi, one of the Eternals, a group of aliens who have lived on Earth and secretly guided humanity for 7,000 years.
"It's got a different tone, visually it's going to be quite different," said Chan. "Obviously the cast is huge and it spans 7,000 years so it's really an epic story. One of the themes of the film is connection, connection to one another, connection to earth. I hope that resonates with people in some way."
"Eternals" also features the Marvel Cinematic Universe's first deaf character in Lauren Ridloff's Makkari.
"I might be the first but I won't be the only one for much longer," signed Ridloff in American Sign Language. "There's another deaf superhero coming into the MCU very soon so this is definitely a game-changer."
Delayed a year due to the pandemic, "Eternals" will finally hit cinemas on Nov. 5.
(Reporting by Rollo Ross; Editing by Karishma Singh)