Media firms, celebrities join #BlackOutTuesday protests – The Globe and Mail
Major broadcasters, celebrities and music streaming companies including Apple Music and Spotify turned off or made changes to their services on Tuesday to mark their solidarity with protests against the killing of George Floyd.
ViacomCBS Inc said it will be on "on pause" for #BlackOutTuesday to reflect on recent events and to shift focus from "building business to building community."
The company on Monday had its channels, including CBS News, MTV and Comedy Central, transmit 8 minutes and 46 seconds of breathing sounds with the words "I can't breathe," denouncing the incident last week that sparked protests across America.
A Minneapolis police officer was arrested last week on third-degree murder and manslaughter charges for his role in the death of the 46-year-old Floyd.
Celebrities including Rihanna, Katy Perry, Britney Spears and Kylie Jenner all went dark on social media to acknowledge Floyd's death.
NBA stars including LeBron James and Steph Curry posted an empty black photo on their Instagram pages. The league's official page posted the same photo with the hashtag "#NBATogether."
Streaming giant Spotify Technology said it would feature an 8 minute and 46 second long track of silence in select podcasts and playlists on Tuesday, while also halting social media publications.
Apple Music said it would use the day to reflect and plan actions to support black artists, creators and communities.
Dozens of artists and sports stars have spoken out against Floyd's death and the racism they say lay behind it as the protests spread through U.S. cities.
Leading record labels said they would mark Tuesday by suspending business and working with communities to fight racial inequality.
"Watching my people get murdered and lynched day after day pushed me to a heavy place in my heart!," Rihanna wrote on Instagram.
Be smart with your money. Get the latest investing insights delivered right to your inbox three times a week, with the Globe Investor newsletter. Sign up today.
China state media commentary urges investor respect for market – TheChronicleHerald.ca
SHANGHAI (Reuters) – Investors should respect the market, manage risks and pursue rational investments, Chinese state-run media warned in commentary on Thursday, after Chinese stocks accelerated a recent rally and hit multi-year highs.
Shares in mainland China extended their winning streak into a seventh session on Wednesday, supported by hopes of an economic recovery, a conducive regulatory environment and retail investor enthusiasm.
The commentary said experience suggested that economic fundamentals were always the basis for changes in valuation, and only a long-term bull market could yield sustained profits.
"The tragic lesson of abnormal stock market volatility in 2015 remains vivid, warning that we must promote a healthy and prosperous stock market in a correct posture," the paper said.
The recent stellar performance of China's share market has prompted comparisons to a boom and bust in 2015-2016, fuelled by illegal margin lending, that saw the benchmark Shanghai index fall more than 40% from its peak in just a few weeks.
China's securities regulator published a list of 258 illegal margin lending platforms and their operators on Wednesday to try to tame the bull run and avoid a similar crash.
On Monday, a commentary published by official media said China needs further share market gains to fund a rapidly developing digital economy and strengthen its hand in intensifying power rivalries.
(Reporting by Winni Zhou and Andrew Galbraith. Editing by Gerry Doyle)
Companies are increasingly turning to social media to screen potential employees – The Conversation CA
As businesses around the world slowly start to reopen after being forced to shut down operations due to the COVID-19 pandemic, the graduates of the class of 2020 are sharpening their presentation skills and updating their resumes to look for employment opportunities. But will their polished resumes make them more competitive relative to their peers?
The answer may surprise you. In today's digitally mediated world, well-prepared resumes may not be enough to make you stand out among hundreds of candidates.
Due to the increasing use of social media around the globe (especially now during #socialdistancing), many recruiters and hiring managers find social media attractive as a readily available source of real-time data to find and vet candidates.
Social media is used by potential employers to check job applicants' qualifications, assess their professionalism and trustworthiness, reveal negative attributes, determine whether they post any problematic content and even assess "fit."
Screening applicants
We examined social media users' attitudes towards employers using social media to screen job applicants, a process known as cybervetting. We conducted an online survey of 454 participants, primarily from the United States and India, with a followup study surveying 482 young adults in Canada.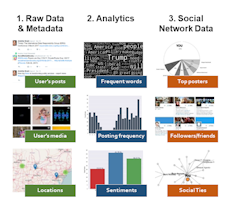 In these studies, we compared people's comfort level with cybervetting in relation to different types of information that could be gathered from publicly accessible social media platforms. These were readily available information in the form of raw data and metadata, meaning what they had posted, when and how; analytics information that would require processing, for example, results of sentiment analysis or topic modelling of an applicants' posts; and information related to users' online social network that is often used for social network analysis, for example who follows whom on social media.
Expectations of privacy
The results revealed the nuanced nature of social media users' privacy expectations in the context of hiring practices. Individuals have context-specific and data-specific privacy expectations. People who are already concerned about social media platforms collecting their personal information and possibly sharing it without their consent are less comfortable with third parties using social media data to screen job applicants — even if it's publicly available.
On the other hand, individuals who are more comfortable with this practice are also more concerned that social media platforms might be storing inaccurate information about them. This may be a sign of "digital resignation," a phenomenon in which people are worried about privacy but recognize that companies still engage in this practice. Social media users may want to ensure that information collected about them from online sources is accurate, since erroneous representations may negatively impact their success on the job market.
---


Read more:
How blockchain could prevent future data breaches


---
Comfort levels
We also found that being a job-seeker does not necessarily make one more or less comfortable with cybervetting. And there is no significant relationship between one's gender and the comfort level with this practice. Regardless of one's employment status or gender, our findings point to the presence of expectations and concerns with social media screening.
Our results highlight the need for employers and recruiters who rely on social media to screen job applicants to be aware of the types of information that may be perceived to be more sensitive by applicants, such as social network-related information (like friends' lists and connections among friends).
Our research stresses the importance of employers aligning their hiring practices with people's expectations. If job applicants are aware of and not comfortable with cybervetting, companies may lose the opportunity to recruit high-quality applicants.
Alternatively, employees may lose trust in the company if they later learn about the company's social media screening practices. Despite the lack of regulations about cybervetting in most countries, employers should proactively state if they engage in cybervetting, outline what social media will be examined and describe how the information will be used.
Ethical hiring practices matter, and this type of transparency is a first step towards giving the next generation of graduates and employees a fair chance of landing their dream job.
Media Advisory: AIAC Holds News Conference With Honourable Jean Charest – GlobeNewswire
MONTREAL, July 08, 2020 (GLOBE NEWSWIRE) — The Honourable Jean Charest, together with members of the aerospace and airline industries, will hold a virtual press conference to discuss how the Federal Government's lack of a sector strategy for this important industry is putting jobs at risk and threatening Canada's global standing.
Mr. Charest will be joined by:
Mike Mueller, Senior Vice President of the Aerospace Industries Association of Canada;
John McKenna, President & CEO, Air Transport Association of Canada
| | |
| --- | --- |
| DATE: | Thursday, July 9th, 2020 |
| TIME: | 11:00 AM (EDT) |
| WHERE: | *VIA videoconference* |
Please contact Marie-Pier Côté at mpcote@tactconseil.ca to obtain the videoconference link.
*Time subject to change if a governmental press conference related to COVID-19 conflicts. In that case, an updated advisory will be sent.
Information:
Marie-Pier Côté
418 999-4847