Media go for drama on Victorian election – and miss the story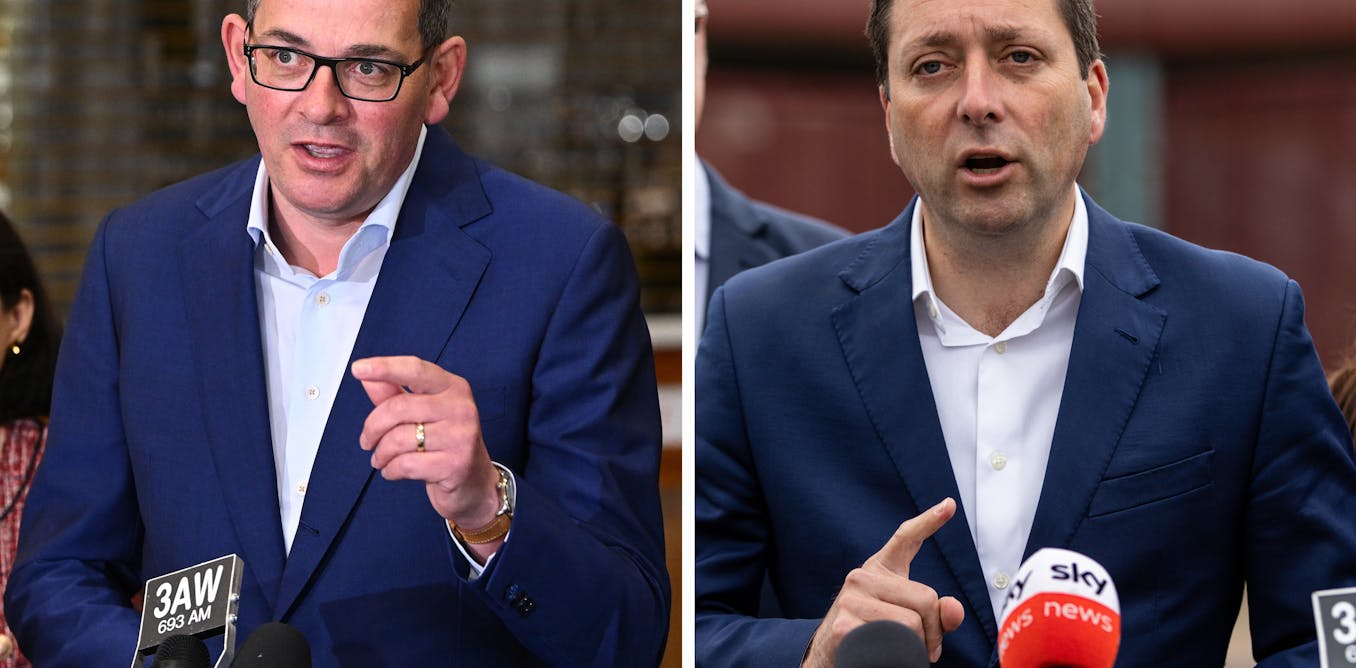 For the best part of two weeks, Victorian voters were told by the media that the election on November 26 might result in either a hung parliament or a minority Labor government.
In the event, the Labor government was returned with a reduced but clear majority, the size of which is not yet known, while the Coalition has suffered a crushing defeat.
How could the pre-election coverage have been at once so breathless and misleading?
The short answer is because of a combination of groupthink and wishful thinking. Unpacking this requires the disclosure of a few trade secrets.
Two days out from polling day, the Herald Sun published an analysis of some focus-group research by RedBridge Group, carried out over the past two years.
---
It stated the likeliest scenario on November 26 would see Labor with 43 seats and therefore forced to form a minority government, given it requires 45 seats for a majority. The best-case scenario for Labor was 48 seats and a return to government in its own right.
Earlier in the campaign there had been loose talk in the Herald Sun, based on no particular data, that there could be a hung parliament.
Then in the last week, a Resolve Strategic poll for The Age showed the primary vote for Labor and the Coalition tied at 36%.
It seemed the race was tightening and perhaps a hung parliament or a minority government were real possibilities.
For the media, this is exciting stuff. It suggests drama, suspense, uncertainty – all powerful news values.
So at rival newsdesks, one can imagine an element of consternation. A chief of staff (COS) can be imagined ringing a state political reporter:
COS: "See the Herald Sun has a survey suggesting a minority government?"
Reporter: "Yeah, but some of it's two years old."
COS: "Yeah but a minority government. That's big. I think we have to have something."
Reporter: "All right. Something."
COS: "I mean, we'll look like dills if we don't have something and it happens."
Hours later at news conference, where decisions are made on what stories go where, everyone around the table has seen the Herald Sun. At The Age they've also seen the ABC pick it up and at the ABC they've seen The Age pick it up. Each reinforces the other's assessment of the story's credibility.
The chief of staff assures conference that state rounds are on to it. Minority government becomes the story. Its origin in qualitative data, some of which is two years old, stoked up by the Herald Sun as part of its relentless campaign against the Andrews government, is forgotten or overlooked.
Evidence to support the minority-government hypothesis is assembled, especially the Resolve Strategic quantitative data showing the primary votes neck-and-neck.
News conference's resident Cassandra raises a voice. "What about the two-party-preferred?"
Editor: "What about it?"
Cass: "Every poll we've seen so far has Labor ahead by up to ten percentage points. And they're up to date, not weeks, months or years old."
Editor: "So you're saying we should just ignore the RedBridge stuff?"
Cass: "No, but you can't ignore the two-party-preferred either."
Editor: "All right. Put in a parachute about the two-party-preferred but lead on the minority government. I mean there could even be a hung parliament. We'll look like dills if we downplay this."
Yep. And that's how you look when wishful thinking and groupthink cloud hard-minded analysis of all the available data. Taken together, the data showed the likeliest (but journalistically least interesting) outcome was the return of the government with a reduced majority.
---
Not only did the two-party-preferred vote not tighten appreciably, but the primary vote turned out not to be neck-and-neck. This is not hindsight. The discrepancy between the two should have raised a red flag: how could the primary vote be neck-and-neck when the two-party-preferred gap was so large?
In fairness, it was reasonable to suppose this could just be a function of how the minor party and independent preferences would flow, which was unknowable at the time. But this seemed not to enter the discussion about the prospect of a minority government.
And a hard-headed look at the RedBridge focus-group data would have revealed to a dispassionate analyst that once the more far-fetched cases had been eliminated, Labor was likely to end up with somewhere between 47 and 50 seats.
The ABC's election analyst, Antony Green, is giving Labor 52 seats at this stage, with 68% of the vote counted.
Even more curiously, the hung parliament and minority government possibilities were initially generated by the Herald Sun, which acted throughout as a propaganda arm of the Liberal Party. Why on earth would respectable and usually reliable elements of the media such as The Age and the ABC buy into this nonsense?
The answer is that it is an abiding weakness in newsroom decision-making to prefer the most dramatic possibility, however remote, over the most mundane but strongest probability.
It is a further weakness to wish not to be scooped on the most dramatic possibility, even at the expense of misleading your audience, looking foolish in the aftermath and buying into scenarios created by your most politically partisan and least reliable media rival.
The result was a feverish outburst of speculation in the final week of the campaign that fed into questioning of Andrews about whether he would entertain doing deals with crossbenchers if Labor could not muster the 45 seats necessary to form government in its own right.
He batted it away with his customary dismissiveness, and who could blame him?
Vancouver woman wins identity fraud fight with Bell Mobility after posting on social media
It's been four blissfully quiet days since Erica Phillips last heard from the collection agencies ringing her two or three times daily for months, demanding payment of hundreds of dollars owed on a Bell Mobility account with her name on it that she never opened.
"It's a huge sense of relief," she said. "It's so nice knowing that this won't continue being a daily reminder of something that shouldn't have been my problem to begin with."
The Vancouver woman says she has been fighting the company for more than two years with little response, submitting documents supporting that the account was fraudulently opened using her name while at the same time filing reports with police, credit agencies and the Canadian Anti-Fraud Centre.
She says relief from the collection calls only came after she contacted news outlets and posted about her frustrations on social media.
"I took all of the correct avenues," she said. "I didn't want to make myself public but I felt like I was forced to," she said.
Phillips' ordeal started in 2020 when she received notices mailed to an old address from both Rogers and Bell Mobility that said she owed money. She says she had never been a client of either company, so she thought they were a phishing scam. Further investigation found that identity fraudsters had used her personal information to open the accounts in her name.
She says Rogers took quick action to cancel the account when she contacted them, but Bell Mobility did not.
"That's what seemed so insane to me at the beginning, that it was so easily taken care of with one of the companies and then not at all with the other," said Phillips.
In an emailed statement, Bell Mobility told CBC:
"We have conducted an investigation and have determined that this account was fraudulent. We are attempting to contact the client and have advised our affiliated credit agencies of the billing error."
The Consumer Protection B.C. website has information on how to prevent identity theft. It also has forms and advice for individuals who are being pursued by a company or collection agency for a debt that is not theirs.
Identity fraud and identity theft are criminal offences, but have become lucrative thanks to the growth of technology, according to the Office of the Privacy Commissioner of Canada.
In 2021, the Canadian Anti-Fraud Centre issued an alert after a spike in identity fraud reporting.
"Fraudsters are using personal information about Canadians to apply for government benefits, credit cards, bank accounts, cellphone accounts or even take over social media and email accounts," it said.
Phillips says in just one night her social media post received more than 100,000 views. She's been surprised by the number of people who have reached out to her to say they too have been victims of identity fraud.
"It's unbelievable the comments that I'm getting on all of the various stories now of people in similar situations," she said. "It's crazy."
She says Bell Mobility has not apologized.
Lawler pays tribute to Edmonton on social media, says goodbye to Elks ahead of CFL free agency – Global News
[unable to retrieve full-text content]
Lawler pays tribute to Edmonton on social media, says goodbye to Elks ahead of CFL free agency Global News




Source link
Media braces for the robot era
The rapid rise of generative AI tools like ChatGPT could displace dozens of media companies if they don't move quickly to adapt to a new internet reality.
Why it matters: Facebook's many pivots pushed media outlets to move their focus away from social media and toward search — but now experts predict another major disruption for publishers relying on search traffic.
"It's an undoing of the robotic behavior with which we were already committing journalism, because it's questionable whether writing about National Donut Day really served anybody," said S. Mitra Kalita, a former CNN executive who has co-founded two new local media companies, Epicenter NYC and URL Media.
"In some ways, the work we were doing towards optimizing for SEO and trending content was robotic. Arguably, we were using what was trending on Twitter and Google to create the news agenda. What happened was a sameness across the internet."
Driving the news: BuzzFeed last week said it is using OpenAI's publicly available software, which is similar to the popular generative text site ChatGPT, to automatically publish quizzes, beginning this month.
"To be clear, we see the breakthroughs in AI opening up a new era of creativity that will allow humans to harness creativity in new ways with endless opportunities and applications for good," the company's CEO, Jonah Peretti, said in a memo to staffers.
BuzzFeed doesn't plan to use AI to write journalistic articles, which seems to be a line that most publishers aren't eager to cross.
But figuring out the right balance when using AI won't be easy, as was made obvious by CNET's AI mea culpa last month.
The CEO of Dotdash Meredith, a rival to CNET's parent Red Ventures, told Axios last month that the firm "will never have an article written by a machine," but it has already begun to bake AI into many of its workflows, like sourcing images.
Be smart: The past few years gave rise to a slew of successful digital media companies that focused on monetizing search traffic, while social media-reliant publishers struggled to adapt.
But the content that has done well on search, such as evergreen articles that help people answer questions or provide recommendations, is poised to be challenged by artificial intelligence.
"The most immediate impact of AI is probably that it becomes an efficiency tool," said Brian Morrissey, former president and editor-in-chief of Digiday and author of a Substack newsletter on media called The Rebooting.
The big picture: Decades of constant pivots at the hands of Big Tech firms had media executives losing sight of which audiences they aimed to serve to begin with, Kalita noted.
ABC chief legal correspondent and media entrepreneur Dan Abrams said his media industry news site Mediaite began seeing record engagement once it started to push away from social media and search distribution.
The thinking has changed from "find the SEO angle" or "find the Facebook angle" to "find the Mediaite angle, and a large, loyal audience has followed," Abrams said.
Around 16% of the site's pageviews in 2022 came from homepage traffic, Abrams said.
What's next: As search-based content becomes more commoditized, media brands will need to pivot towards serving specific audiences, rather than the masses.
"You're going to have to get even more specialized as a publisher," Morrissey said.
Bottom line: "Trying to compete on efficiency with robots never works, they always win," Morrissey said.