Meeker, former Maple Leafs player, 'Hockey Night in Canada' analyst, dies – NHL.com
Howie Meeker, a four-time Stanley Cup champion with the Toronto Maple Leafs who was known by later generations of fans as an analyst on "Hockey Night in Canada," died Sunday. He was 97.
The forward from Kitchener, Ontario, was the last living member of Toronto's Cup-winning teams from 1947-49 and 1951. He played in the NHL All-Star Game in 1947, 1948 and 1949.
Meeker joined the Maple Leafs in 1946-47 and was voted winner of the Calder Trophy as NHL rookie of the year after scoring 45 points (27 goals, 18 assists) in 55 games. Five of his goals came in one game against the Chicago Black Hawks at Maple Leaf Gardens on Jan. 8, 1947, setting a single-game NHL record for rookies. He scored three goals and six points in 11 Stanley Cup Playoff games, helping the Maple Leafs win their first of three consecutive championships — the first team in NHL history to do so.
Receiving the Calder Memorial Trophy as the NHL's top rookie from W.A.H. MacBrien, Vice President of Maple Leaf Gardens on October 13, 1947 just prior to the first NHL All-Star Game at Maple Leaf Gardens, Toronto, Ontario, Canada.
Though Meeker never came close to producing offensively like he did as a rookie, he was a valuable member of Toronto's championship teams in 1948, 1949 (though he missed the playoffs with a broken collarbone) and 1951. He retired from the NHL after the 1953-54 season with 185 points (83 goals, 102 assists) in 346 regular-season games and 15 points (six goals, nine assists) in 42 playoff games, though he continued to play with senior teams in Canada until the late 1960s.
Meeker coached the Maple Leafs in 1956-57, when they finished 21-34 with 15 ties and did not qualify for the playoffs.
Beginning in the 1970s, a new generation of hockey fans came to know Meeker through his work on TV, most notably on "Hockey Night in Canada." He was one of the first analysts to use a telestrator, and his catchphrase, "Stop it right here," became a trademark. He was the Hockey Hall of Fame's Foster Hewitt Memorial Award winner in 1998 for excellence in hockey broadcasting and was named a Member of the Order of Canada in 2010.
Meeker was involved with Special Olympics for nearly 50 years, launching Special Olympics Canada after being invited to participate by former NHL referee Harry "Red" Foster. He also lent his name and support to the Howie Meeker Charity Golf Classic, hosting the fundraising event until 2018.
Photos courtesy of Hockey Hall of Fame Images archives
Connor McDavid lights up the lacklustre Canucks in Edmonton – Vancouver Is Awesome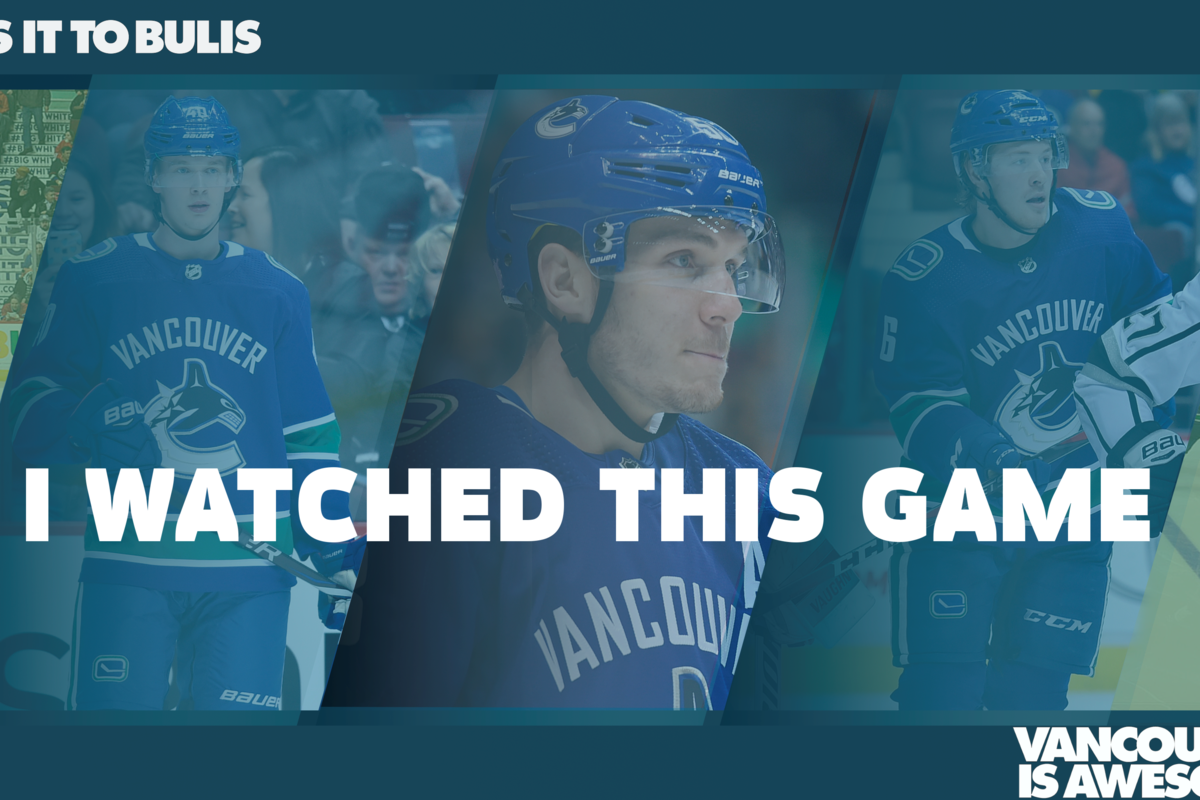 The second game of the Canucks season saw the long-awaited return of two much-beloved voices in Vancouver: John Shorthouse and John Garrett. It had been ten long months since John and John had called a Canucks game and it was wonderful to hear their dulcet tones once more.
There was just one problem: Shorthouse's play-by-play, normally right on top of the action, if not a step ahead with his excellent anticipation, was delayed by 2-3 seconds. His commentary was completely out of sync with what viewers saw on the screen.
Travel restrictions due to the COVID-19 pandemic meant Shorthouse and Garrett were calling the game from Vancouver rather than live in Edmonton, which meant a several second delay. Frequently, Shorthouse would excitedly describe a developing scoring chance that fans had already seen saved and turned up ice by the opposition. It was discombobulating.
Unfortunately, much like John and John's commentary, the Canucks seemed a few seconds behind the play all game.
The Edmonton Oilers bounced back from their opening night loss to the Canucks and evened up the season series. Or rather, Connor McDavid bounced back. He bounced back like he was made of Flubber.
McDavid looked unstoppable. He had a game-high 12 shot attempts, 9 shots on goal, and scored a hattrick while dominating puck possession. The Canucks simply had no response.
"He was exceptional," said Canucks head coach Travis Green. "He's one of the best players in the world, so he definitely played well tonight."
Defenceman Nate Schmidt pointed out that there's only so much you can do to prepare to play against star players.
"You can scrimmage, you can do those types of things, but real games aren't mimicked until you get out there and you have McDavid and [Leon] Draisaitl flying around and their D activating, making plays," said Schmidt. "Those things, you can't mimic in practice."
You can't mimic watching a game in practice either. My eyes weren't quite up to game speed when I watched this game.
[embedded content]
Thatcher Demko made his first start of the season and immediately faced 46 shots on goal. That means in four of his last five starts, he's faced more than 40 shots. Every time he's in the net he gets more shots than a Bachelorette party at the Roxy.

To the Canucks' credit, they also had 40 shots on goal. It seems like it might not be the best idea to get into a run-and-gun firefight against a team boasting McDavid and Draisaitl, but maybe that's just me.

While Demko gave up five goals, it's hard to put too much blame on him. Early on, he was sharper than a carefully-honed candy cane, making a stunning glove save early on Zack Kassian then recovering to kick aside a rebound chance from McDavid.
Demko couldn't stop them all and the Oilers opened the scoring on the power play. The penalty-killing unit of Brandon Sutter, Antoine Roussel, Travis Hamonic, and Alex Edler got stuck on the ice for a long shift while the Oilers' top unit ran them ragged. Eventually, Draisaitl found some space and beat Demko under the arm, only to hit the post. Ryan Nugent-Hopkins, however, was first to the puck and tucked it home like Porkchop.

I don't know why, but this little head fake from Nate Schmidt made me smile. So now I'm showing it to you.
There were a couple of moments that could be termed turning points. One came at the end of the first period when McDavid, with less than a second on the clock, swatted in a rebound to give the Oilers a 2-0 lead. It came off a faceoff with only 1.7 seconds remaining in the period, so perhaps the Canucks let their guard down for a moment, but as anyone who has played Wii Sports Resort Swordplay knows, you can never let your guard down, even for a moment.

"That's on me," said Schmidt. "At the end of the period, you've got to know the most dangerous player is out there. Shot comes, you freeze for a second to try and see if you can see where it goes. You can't freeze for a second when you know you've got a guy barreling down on the backside. That's really all it comes down to, I have to have that play."

Schmidt made up for his error with his first goal as a Canuck. It was a low screamer of a slap shot through multiple layers of screens, including Brandon Sutter parked in front of the net. "It feels a lot better when you win," said Schmidt about scoring. "It does feel good to get that goose egg off the scoresheet… We needed more of that tonight, our D didn't do a particularly great job of getting pucks through."

The Oilers struck again on the power play thanks to McDavid's speed. He burned rubber through the neutral zone and caught the entire Canucks' penalty kill standing still or, at least, they looked like they were standing still compared to McDavid. As soon as Alex Edler's skates turned to the outside to try to keep pace, McDavid immediately cut inside and unleashed a shot past Demko's blocker.

Special teams made a big difference on Thursday. All five Canucks goals on Wednesday night came at even-strength, which was seen as a positive — they didn't need the power play to score. On Thursday, the power play went 0-for-5 and they gave up two power play goals. Obviously, we must immediately panic, crack each other's heads open, and feast on the goo inside.

The Canucks got one back off the stick of Tyler Motte. Quinn Hughes made a great pinch down the boards to win a puck battle with Jesse Puljujarvi, then fed Travis Hamonic at the point. He spotted Motte heading to the slot and sent a low slap-pass that Motte neatly tipped over Mikko Koskinen's right pad.

That's the last goal the Canucks would get and Green hit the Line Blender 4000X™ to try to get things going again. Elias Pettersson, Brock Boeser, and Jake Virtanen was struggling against the McDavid line, so Green shuffled Virtanen off the line and tried some other wingers.

"The line just wasn't doing anything, they weren't playing very well," said Green bluntly. "We couldn't get away from the matchup that easy. McDavid's line spent a lot of time in our zone so we tried to change it up a little bit."

First, Green tried Motte with Pettersson and Boeser, then Nils Höglander got a shift in the third period, Tanner Pearson took a couple shifts, and even Adam Gaudette got bumped to the wing on the top line. In the offseason, I suggested Gaudette might fit on the wing in the top-six, but on Bo Horvat's line. It was unexpected to see him skate with the top line, but the Canucks had limited options.

"There's always potential to try Gauds on the wing," said Green. "I've thought about it. We haven't done it yet, but I thought tonight was a good time to try it a couple times. I also thought the Beagle, Motte, Sutter line has had two pretty good games. So it's a give and take. If you move Gaudette off the other line now you're breaking up pretty well three lines then."

When asked if one of those combinations on the top line might start next game, Green said, "I'll go back and watch the tape and take a look at it tomorrow and give our guys a day off and we'll see what we come up with."

If the last second goal in the first period wasn't the turning point, Hughes taking a penalty on a second-period power play was. He took exception to a high hit from Nugent-Hopkins on Boeser and broke his stick on him with a crosscheck. That took the Canucks off the power play and, when Hughes got out of the box, he missed his defensive assignment, which was McDavid. Which is bad, because McDavid is good.

So, instead of a chance to score on the power play and tied the game, McDavid scored the 4-2 goal. But some fans will like that Hughes stepped up to defend his teammate.
In the third period, Höglander looked like a rookie for the first time in his young career. He was the last man back and he tried to force a puck uup the middle of the ice, tuurning the puck over to Nugent-Hopkins. He got the puck back and immediately gave it away again with a bank pass that was picked off by Kailer Yamamoto. To top it off, Höglander couldn't tie up Nugent-Hopkins's stick in front and he deflected in Yamamoto's centring pass.

It was a terrible, horrible, no good, very bad shift for Höglander, but those happen. On the bench, Hamonic gave his helmet a tousle and Pettersson gave him a little, "Head up, kid," chin rub. It was adorable. Everything's going to be okay.
Karl-Anthony Towns tests positive for COVID-19 after losing mom, 6 other family members to the virus – Yahoo
CBC
More than 621,000 Canadians play in organized hockey leagues, but community hockey has been suspended in most provinces with high COVID-19 infection rates after a series of arena-related outbreaks. Air quality research and a growing understanding of how the virus spreads are helping to explain why facing-off indoors can be risky during the pandemic. In recent months, there have been COVID outbreaks traced to hockey arenas all over the U.S. and Canada. In Saskatchewan there were 20 separate outbreaks tied to arenas. One old-timers hockey team from the interior of British Columbia travelled to Alberta and brought the infection back with them to their families and co-workers. In Ottawa, a single hockey practice in December led to 89 infections as the players unknowingly brought the disease home to their families. Hugh Campbell has been a minor hockey league director in Barrie, Ont., for more than 40 years. In November, he had to deal with a COVID outbreak in a team of 15- and 16-year-olds after one player became ill the day after a practice. "We immediately isolated the whole team for a 14-day period," he said. "During that 14-day period, eight of the boys actually ended up testing positive. It was a good thing that we got on it right away and managed to curtail it just to the one team and one group." Last October, just two weeks after the Tampa Bay Lightning won the Stanley Cup, the Atlanta Centers for Disease Control issued a little-noticed Morbidity and Mortality Report about the dangers of contracting COVID-19 from playing hockey. The report was based on an amateur hockey game in Tampa Bay last June in which one infected player passed the disease on to 13 of the 22 other players who were on the ice with him, as well as to one rink attendant. All this comes as little surprise to experts who have been studying air quality in hockey arenas for many years. Most of those studies had to do with the exhaust from the Zamboni machines that clean and re-surface the ice before games or between periods. Older versions of those machines have internal combustion engines that pollute the air. Cold air does not rise, and the studies showed that polluted air tends to stay close to the ice level, even when there is building ventilation. That same phenomenon applies to air contaminated with the COVID-19 virus, according to Jeffrey Siegel, a professor of civil engineering at the University of Toronto. "We have a potentially infected player on the ice, and the pollutants get trapped near the ice surface," he said. "Even more respiratory aerosols are being produced because people are working hard, because they're doing this physical activity. Combine that with these higher concentrations near the ice surfaces, people breathing deeply because they're working hard too, and you can end up potentially with some quite high exposures." Professor Qingyan Chen of Indiana's Purdue University has studied the air in hockey arenas in Boston and Halifax. "Suppose you were sick, the particles exhaled by you will be just behind you in the wake of your moving body. We also conducted another study showing this moving wake could carry the particles to different places, and even another player chasing you on the surface could stay in the high concentration zone of the breathed air," Chen said. The risk of infection can be even higher in dressing rooms, and on the bench between shifts when players are often coughing or spitting. Wearing full-length plexiglass face visors that resemble the shields worn by medical personnel doesn't solve the problem, according to professor Siegel. "Plastic visors work great for very large respiratory droplets, but for anything that's small, the air just goes around the visor. And so do they help? Yes. Are they a perfect solution? Absolutely not." Many wonder why the National Hockey League was able to complete its last season and playoffs with relatively few COVID-19 cases. The answer lies at least in part in the strict precautions taken by players and staff off the ice. Infectious disease expert Dr. Issac Bogoch helped to design elaborate testing and strict bubble protocols for the NHL. Players were tested for days before being admitted to the NHL bubble, were quarantined in their rooms upon arrival, and tested daily thereafter. "What you saw at the end of the day were, I think, very tight protocols that took a lot of buy-in and were adhered to by everyone — not just the players, but all the other personnel in the bubble," Dr. Bogoch said. "But of course that takes a lot of resources and a huge commitment. Many of the minor hockey leagues just don't have the resources to do that." One of the few community games still being played in Canada last week was in St. John's, N.L., on Jan. 10. The players had to wear masks in public areas before and after the game. There was no spitting allowed, and plenty of bottles of hand sanitizer were around. Playing in the Newfoundland game was former figure skater Dwan Street, who converted to hockey five years ago. "Hockey's pretty big here. And just being a part of that and the whole hockey culture, you know, it's a huge part of who I am," she said. "It's a social thing as well. Most of my best friends are on the hockey team, and you definitely miss that. I think when it comes down to precautions, we're definitely willing to do what we have to do. Whether that's going back to showing up [for games] fully dressed, where the only thing you had left to put on was your skates, whatever it takes." Air-quality expert Siegel understands that many Canadians are devoted to community hockey. "I really get it," he said. "Physical activity is important, it's important for physical health, it's important for mental health. Playing hockey is really important to a lot of people. But there's kind of a balance here, because it is also a higher risk for infection." So how do you balance those two things? "I think it's going to come down to the individual choices," Siegel said. "If someone lives in a household with a vulnerable family member, maybe someone who's older or someone who's got a respiratory condition that makes them more sensitive to COVID, that might be a good time to say, 'maybe I shouldn't play hockey this season.'" Dr. Bogoch thinks one solution would be to move as many community games as possible to outdoor rinks. "I think you can get out on the outdoor ice and have a safe experience, as long as it's done well," he said. "So rather than saying no, no, no, I think we should say, well, is there a way that we can get around this and do this safely? And if careful and if done right, I think you probably can do it on the outdoor ice in a much safer environment."
Bills-Ravens: Drafting the best players in playoff matchup – The Athletic