Meet Comet Leonard: After keeping us waiting for months, the brightest comet of 2021 is now set to pass near Earth – Times Now
Comet C/2021 A1 Leonard photographed from Indiana on November 28, 2021. | Credits: Paul Macklin/ Spaceweathergallery.com&nbsp
It just might be that early Christmas present the skywatchers were waiting for. After months of eager anticipation, this year's most promising comet — Comet Leonard — is finally drawing closer to Earth and could potentially become visible to binocular and even naked eyes.
"There are chances to easily see this comet by the naked eye, even if under less than optimal conditions," says astronomer Gianluca Masi, who is with the Virtual Telescope Project based in Italy. And true enough, it was sighted in Italy on Monday night/ Tuesday early hours.
Even if not with a naked eye (yet!) you can see the luminous Lenny with a pair of binoculars. As of now, quite a few astrophotographers have managed to snap some pretty shots of Leonard sporting a smart green coma with an impressive extended tail.
What makes Leonard so special?
When it was discovered on January 3, 2021, by Greg Leonard, the senior research specialist at Mount Lemmon Observatory in Arizona Comet C/2021 A1 was heading in the direction of our planet from deep space with the potential to be the brightest comet of 2021. Now with no other comet to beat our superstar, Comet Leonard (as it is better known eponymously after its discoverer) is all set to claim the title of being the brightest comet of this year.
If it lives up to the predictions, then Leonard will pass near Earth in December when it is likely to be visible with binoculars or possibly even without them. It has a rather long journey after saying "hello" to us Earthlings. It is headed to make a close pass by the Sun and then back out to deep space in January.
But then, astronomers and most skygazers know by now to not set too many expectations on comets. The notoriously fickle celestial bodies can decide halfway through the transition to not make an appearance and just disintegrate. Disappointment in bold letters. We hope Leonard doesn't disappoint us — it has taken about 35,000 years of hurtling through space to come this close to us. A chance for us to witness a once-in-a-lifetime cosmic event.
Can you see it from India?
As of now, Comet Leonard is below the horizon from India. Given its current magnitude, it will be visible with the help of a binocular with a 40-50mm aperture or a small telescope. You can spot it in the early hours of the day. TheSkyLive website and the comet's Twitter handle can tell you the exact timings as per your zone. The Sky Live tells us that it is set to rise at 1:48 a.m, will be in transit at around 8:58 a.m. and will set at about 4:12 p.m IST — give or take a few minutes to factor in atmospheric conditions.
For clarity sake, the rise and set times are defined as the time at which the upper limb of the comet touches the horizon, considering the effect of the atmospheric refraction.
So set your alarm clocks and look into the skies. Smoggy haze notwithstanding, you just might be able to this huge snowball from space hurtling through the skies above you.
Star search: Canadian scientist to travel way back in time using world's largest space telescope – CBC.ca
A team of astrophysicists may soon be getting a key to unlocking the mystery on the origins of life.
The James Webb Space Telescope was launched into space from French Guiana in South America on Dec. 25.
With a price tag of $10 billion US, Webb is the largest and most powerful space telescope ever constructed by NASA, the National Aeronautics and Space Administration.
Canadian astrophysicist Tyrone Woods hopes to use it and find the first stars ever created by travelling through time — in a sense.
"We're going to be able to look back into this earliest epoch of the universe," Woods said.
Originally from Edmonton, Woods is currently a Plaskett Fellow at the National Research Council of Canada's Herzberg Astronomy and Astrophysics Research Centre in Victoria, B.C.
NASA touts Webb as the successor to the Hubble Space Telescope, which was launched in 1990. The new telescope is a collaboration between NASA, the European Space Agency and the Canadian Space Agency. The project has been decades in the making.
Since Webb has a much larger mirror than the Hubble, it can collect more light and peer farther back into time.
"Light has a fixed speed. It doesn't travel infinitely fast. It takes time," Woods said on CBC Edmonton's Radio Active.
While light travels at 300,000 kilometres per second, many stars are millions — if not billions — of light years away from Earth. It's possible that some of the stars we see in the night sky no longer exist.
Stars are born in areas of dust and gas known as stellar nurseries. To help find the first stars, Woods's team has built a cosmic roadmap by using computer simulations.
"So conventionally, we had always thought of the first stars as being so very compact and very blue," he said.
"We've seen that in some of them [nurseries of the very first stars], they would be the perfect conditions for making really massive, really bloated, really red stars."
Currently, the oldest known star is HD 140283, also known as the Methuselah Star. It is estimated to be 14 billion years old, similar in age to the universe.
Webb is primarily an infrared telescope, which means it sees light that our eyes cannot. It's possible that by focusing on infrared light, the telescope could find a planet similar to Earth, because infrared is a wavelength our own planet emits.
"We're going to be looking in the environment around some very big clusters of galaxies in order to find a magnified light from behind them and get a really, really deep exposure of the early universe," said Woods.
Other than the origin of the stars, Woods hopes the new telescope will also help scientists find the first black hole, how gases assemble in the universe, and more about how our own solar system was formed.
6:48How were the first stars formed?
We talk with an astrophysicist about his research on the origins of the universe. 6:48
Webb will spend the next several months getting ready to look into the farthest reaches of the universe by unfolding its mirrors and massive sunshield and cooling down after travelling 1.5 million kilometres from Earth to its intended orbit around the sun.
"Over the subsequent year, we're going to start to see the first really exciting results," said Woods.
Ancient DNA suggests woolly mammoths roamed Canada more recently than previously thought – The Conversation CA
In 2010, small cores of permafrost sediments were collected by a team at the University of Alberta from gold mines in the Klondike region of central Yukon. They had remained in cold storage until paleogeneticists at the McMaster Ancient DNA Centre applied new genomics techniques to better understand the global extinction of megafauna that had culminated in North America some 12,700 years ago.
These tiny sediment samples contain an immense wealth of ancient environmental DNA from innumerable plants and animals that lived in those environments over millennia. These genetic microfossils originate from all components of an ecosystem — including bacteria, fungi, plants and animals — and serve as a time capsule of long-lost ecosystems, such as the mammoth-steppe, which disappeared around 13,000 years ago.
How exactly these ecosystems restructured so significantly, and why large animals seem to have been the most impacted by this shift has been an active area of scientific debate since the 18th century.
We can now use environmental DNA to help fill the gaps that have driven this debate.
Ancient DNA, cutting-edge technologies
Bacterial, fungal and unidentifiable DNA make up over 99.99 per cent of an environmental sample. In our case, we wanted a way to selectively recover the much smaller fraction of ancient plant and animal DNA that would help us better understand the collapse of the mammoth-steppe ecosystem.
For my doctoral research, I was part of a team that developed a a new technique to extract, isolate, sequence and identify tiny fragments of ancient DNA from sediment.
We analyzed these DNA fragments to track the shifting cast of plants and animals that lived in central Yukon over the past 30,000 years. We found evidence for the late survival of woolly mammoths and horses in the Klondike region, some 3,000 years later than expected.
We then expanded our analysis to include 21 previously collected permafrost cores from four sites in the Klondike region that date between 4,000 to 30,000 years ago.
With current technologies, we not only could identify which organisms a set of genetic microfossils came from. But we were also able to reassemble those fragments into genomes to study their evolutionary histories — solely from sediment.
Tremendous environmental change
The Pleistocene-Holocene transition, which occurred about 11,700 years ago, was a period of tremendous change across the globe. In eastern Beringia (the former Eurasian land bridge and unglaciated regions of Yukon and Alaska), this period saw the collapse of the mammoth-steppe biome and its gradual replacement with the boreal forest as we know it today.
This brought about the loss of iconic ice age megaherbivores like the woolly mammoth, Yukon horse, and steppe bison, along with predators such as the American scimitar cat and Beringian lion, among many others.
We found ancient environmental DNA from a diverse spectrum of ancient fauna, including woolly mammoths, horses, steppe bison, caribou, rodents, birds and many other animals.
We were also able to observe how ecosystems shifted with the rise of woody shrubs around 13,500 years ago, and how that correlated with a decline of DNA from woolly mammoths, horses and steppe bison. With this remarkably rich dataset, we observed four main findings.
There was a surprising consistency in the signal between sites, suggesting our data was representative of ecological trends in the region.

Woolly mammoth DNA declines prior to the Bølling–Allerød warming, a warm period at the end of the last ice age, suggesting that megafaunal losses may have been staggered.

Forbs (herbaceous flowering plants) make up a substantial component of the mammoth-steppe ecosystem alongside grasses.

There is a consistent signal of woolly mammoth and Yukon horse persistence into the Holocene, as much as 7,000 years after their disappearance from fossil records.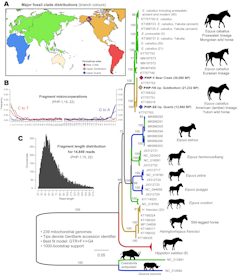 When paired with other records, our genetic reconstructions suggest that the transition out of the last glacial period may have been more drawn out than dated bones alone would suggest.
Mammoths, for example, may have declined in local population abundance thousands of years earlier than other megafauna, which is potentially correlated with the first controversial evidence of humans in the area. Further, grassland grazing animals may have persisted for thousands of years in refugia (habitats that support the existence of an isolated population), despite the environmental shift.
Woolly mammoths alongside humans
Our data suggest that horses and woolly mammoths may have persisted in the Klondike until approximately 9,000 years ago and perhaps as recently as 5,700 years ago, outliving their supposed disappearance from local fossil records by 7,000 years. However, it is possible for ancient environmental DNA to survive erosion and re-deposition, which could mix the genetic signals of different time periods, necessitating a degree of caution in our interpretations.
Until recently, there was no evidence of mammoth survival into the mid-Holocene. But studies have now shown that mammoths survived until 5,500 and 4,000 years ago on Arctic islands.
Researchers at the Centre for GeoGenetics in Copenhagen found evidence for the late survival of horses and mammoths in Alaska until as recently as as 7,900 years ago. They also found evidence of mammoths surviving as recently as 3,900 years ago in Siberia, alongside woolly rhinoceros to at least 9,800 years ago.
Steppe bison, which were thought to have disappeared and been replaced by the American bison during the Pleistocene, have likewise been found to have survived even as recently as perhaps just 400 years ago. We were able to observe the presence of distinct genetic lineages of both woolly mammoths and steppe bison in the same sediment samples, which suggests that there were likely distinct populations of these animals living in the same area.
There is a growing body of evidence that many ice age megafauna probably survived well into recorded human history, roaming the north during the Bronze Age and while builders worked on the pyramids of Egypt.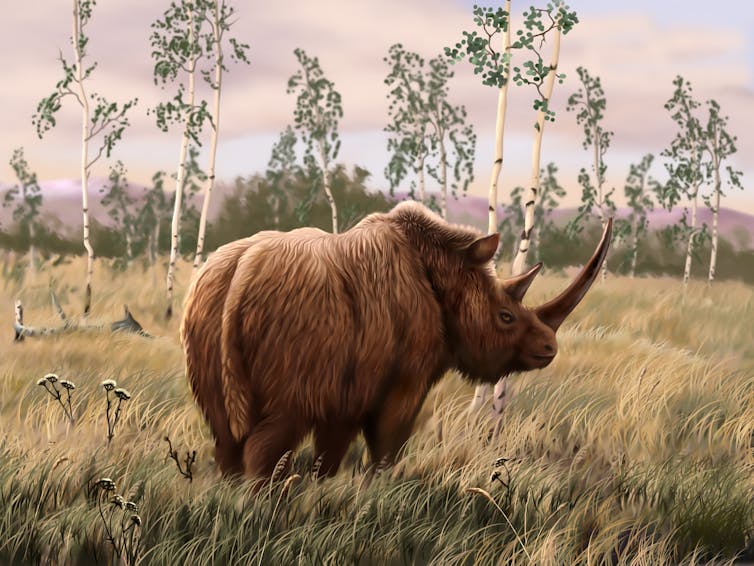 Genetic archives of our ecological past
The growing sophistication of environmental DNA methods to study ancient genetic microfossils highlights just how much information is buried in sediments.
Permafrost is ideal for preserving ancient DNA, but as this perennially frozen ground thaws and degrades with a warming Arctic, so too will the genetic material preserved within, and the evolutionary mysteries they once held.
Advances in paleogenetics continues to push the boundaries of what was once relegated to science fiction. Who knows what undiscovered evolutionary information remains frozen in ordinary sediments, hidden in microfossils of ancient DNA?
Canadian scientist examines melting Antarctic glacier, potential sea level rise – Globalnews.ca
As icebergs drifted by his Antarctica-bound ship, David Holland spoke this week of how the melting glacier he's cruising towards may contain warning signals for the coasts of far-off Canada.
The atmospheric and ocean scientist from Newfoundland is part of an expedition to one of the world's most frigid and remote spots – the Thwaites glacier in the western portion of the continent – where he'll measure water temperatures in an undersea channel the size of Manhattan.
"The question of whether sea level will change can only be answered by looking at the planet where it matters, and that is at Thwaites," said Holland, director of the environmental fluid dynamics laboratory at New York University, during a satellite phone interview from aboard the South Korean icebreaker Araon.
It's over 16,000 kilometres from Holland's hometown in Brigus, N.L., on Conception Bay, to the site about 100 kilometres inland from the "grounding zone" where the Thwaites' glacier leaves the continent and extends over the Pacific.
The team's 20,000 tonnes of drilling gear will be assembled to measure the temperatures, salinity and turbulence of the Pacific waters that have crept underneath and are lapping away at the guts of the glacier.
"If it (the water) is above freezing, and in salt water this means above -2 centigrade, that's not sustainable. A glacier can't survive that," said Holland.
Since 2018, more than 60 scientists from the International Thwaites Glacier Collaboration group have been exploring the ocean and marine sediments, measuring warming currents flowing toward the deep ice, and examining the stretching, bending, and grinding of the glacier over the landscape below.
The Florida-sized Thwaites glacier faces the Amundsen Sea, and researchers have suggested in journal articles over the past decade it may eventually lose large amounts of ice because of deep, warm water driven into the area as the planet warms. Some media have dubbed Thwaites the "doomsday glacier" due to estimates that it could add about 65 centimetres to global sea level rise.
Holland notes current research models mainly suggest this would happen over several centuries, however there are also lower probability theories of "catastrophic collapse" occurring, where the massive ice shelf melts in the space of decades. "We want to pay attention to things that are plausible, and rapid collapse of that glacier is a possibility," he said.
While Holland looks at the undersea melting, other scientists are examining how the land-based portions of Antarctic glaciers are losing their grip on points of attachment to the seabed, potentially causing parts to detach. Still other researchers point to the risk of initial fractures causing the ice shelf to break, much like a damaged car windshield.
All of the mechanisms must be carefully observed to prove or disprove models on the rates of melting, said Holland.
"If the (water-filled) cave beneath the glacier we're studying gets bigger, then Antarctica is losing ice and retreating, and if the cave collapses on itself, then (the cave) will disappear. This is how Antarctica can retreat, these kinds of specific events," he said.
The implications of the glacier work reach back to Atlantic Canada – which along with communities along the Beaufort Sea and in southwestern British Columbia is the region most vulnerable to sea level rise in the country, according to federal scientists.
Everything from how to calculate the future height of dikes at the low-lying Chignecto Isthmus – the narrow band of land that connects Nova Scotia to the rest of the country – to whether the Fraser River lowlands may face flooding is potentially affected by glacial melting in Antarctica, he said.
Scenarios where Antarctica ice melts more quickly than expected are briefly discussed in the 2019 federal report Canada's Changing Climate. Based largely on Intergovernmental Panel on Climate Change reports that refer to them as low-probability "tipping point" theories, the 2019 report invoked the possibility of one metre of sea level rise by 2100.
However, Blair Greenan, a federal oceanographer who oversaw the relevant chapter of the report, said in a recent interview that a rise in global sea levels approaching two metres by 2100 and five metres by 2150 "cannot be ruled out" due to uncertainty over ice sheet processes like Thwaites.
"We don't know, nobody knows," Holland said. "But it's plausible these things can change, and several feet of sea level change would have a major impact on Atlantic Canada. What's needed is glacier forecasting that resembles the kinds of accuracy that weather forecasting currently provides."

1:44


Why some people are 'migrating' because of climate change



However, collecting glacier forecast data is a daunting undertaking in the short period – from late January until mid-February – when scientists can safely take readings. Helicopters will be ferrying a hot water drill, 30 barrels of fuel and water to Holland's site beginning near the end of January. The drill will have to penetrate over a kilometre of ice to reach the 300 metres of undersea channel to take measurements.
As the data is collected, some scientists question whether there's really much for Canadian coastal residents to worry about at this stage.
One study by Ian Joughin, a University of Washington glaciologist, has suggested Thwaites will only lose ice at a rate that creates sea level rise of one millimetre per year – and not until next century. At that rate it would take 100 years for sea levels to rise 10 centimetres.
In a telephone interview last week, Joughin said planning coastal protection and other measures for the more extreme scenarios may not be cost effective at this point, as it may take up to a century before the major risks starts to unfold.
However, Joanna Eyquem, a Montreal-based geoscientist who is studying ways to prepare infrastructure for rising sea levels, said in a recent email that glacier research shows sea level forecasts "are constantly evolving," and adaptation efforts need to be quicker.
"The question is: How desperate does the situation need to be before we take action?" she asked.
This report by The Canadian Press was first published Jan. 23, 2022.
© 2022 The Canadian Press