Meet Qikiqtania, a fossil fish who stayed in the water while others ventured onto land – Big Think
Approximately 365 million years ago, one group of fishes left the water to live on land. These animals were early tetrapods, a lineage that would radiate to include many thousands of species including amphibians, birds, lizards and mammals. Human beings are descendants of those early tetrapods, and we share the legacy of their water-to-land transition.
But what if, instead of venturing onto the shores, they had turned back? What if these animals, just at the cusp of leaving the water, had receded to live again in more open waters?
A new fossil suggests that one fish, in fact, did just that. In contrast to other closely related animals, which were using their fins to prop their bodies up on the bottom of the water and perhaps occasionally venturing out onto land, this newly discovered creature had fins that were built for swimming.
In March 2020, I was at The University of Chicago and a member of biologist Neil Shubin's lab. I was working with Justin Lemberg, another researcher in our group, to process a fossil that was collected back in 2004 during an expedition to the Canadian Arctic.
From the surface of the rock it was embedded in, we could see fragments of the jaws, about 2 inches long (5 cm) and with pointed teeth. There were also patches of white scales with bumpy texture. The anatomy gave us subtle hints that the fossil was an early tetrapod. But we wanted to see inside the rock.
Subscribe for counterintuitive, surprising, and impactful stories delivered to your inbox every Thursday
Notice: JavaScript is required for this content.
So we used a technology called CT scanning, which shoots X-rays through the specimen, to look for anything that might be hidden within, out of view. On March 13, we scanned an unassuming piece of rock that had a few scales on top and discovered it contained a complete fin buried inside. Our jaws dropped. A few days later, the lab and campus shut down, and COVID-19 sent us into lockdown.
The fin revealed
A fin like this is extremely precious. It can give scientists clues into how early tetrapods were evolving and how they were living hundreds of millions of years ago. For example, based on the shape of certain bones in the skeleton, we can make predictions about whether an animal was swimming or walking.
Although that first scan of the fin was promising, we needed to see the skeleton in high resolution. As soon as we were allowed back on campus, a professor in the university's department of the geophysical sciences helped us to trim down the block using a rock saw. This made the block more fin, less rock, allowing for a better scan and a closer view of the fin.
When the dust had cleared and we'd finished analyzing data on the jaws, scales and fin, we realized that this animal was a new species. Not only that, it turns out that this is one of the closest known relatives to limbed vertebrates – those creatures with fingers and toes.
We named it Qikiqtania wakei. Its genus name, pronounced "kick-kiq-tani-ahh," refers to the Inuktitut words Qikiqtaaluk or Qikiqtani, the traditional name for the region where the fossil was found. When this fish was alive, many hundreds of millions of years ago, this was a warm environment with rivers and streams. Its species name honors the late David Wake, a scientist and mentor who inspired so many of us in the field of evolutionary and developmental biology.
Skeletons tell how an animal lived
Qikiqtania reveals a lot about a critical period in our lineage's history. Its scales tell researchers unambiguously that it was living underwater. They show sensory canals that would have allowed the animal to detect the flow of water around its body. Its jaws tell us that it was foraging as a predator, biting and holding onto prey with a series of fangs and drawing food into its mouth by suction.
But it is Qikiqtania's pectoral fin that is most surprising. It has a humerus bone, just as our upper arm does. But Qikiqtania's has a very peculiar shape.
Early tetrapods, like Tiktaalik, have humeri that possess a prominent ridge on the underside and a characteristic set of bumps, where muscles attach. These bony bumps tell us that early tetrapods were living on the bottom of lakes and streams, using their fins or arms to prop themselves up, first on the ground underwater and later on land.
Qikiqtania's humerus is different. It lacks those trademark ridges and processes. Instead, its humerus is thin and boomerang-shaped, and the rest of the fin is large and paddle-like. This fin was built for swimming.
Whereas other early tetrapods were playing at the water's edge, learning what land had to offer, Qikiqtania was doing something different. Its humerus is truly unlike any others known. My colleagues and I think it shows that Qikiqtania had turned back from the water's edge and evolved to live, once again, off the ground and in open water.
Evolution isn't a march in one direction
Evolution isn't a simple, linear process. Although it might seem like early tetrapods were trending inevitably toward life on land, Qikiqtania shows exactly the limitations of such a directional perspective. Evolution didn't build a ladder towards humans. It's a complex set of processes that together grow the tangled tree of life. New species form and they diversify. Branches can head off in any number of directions.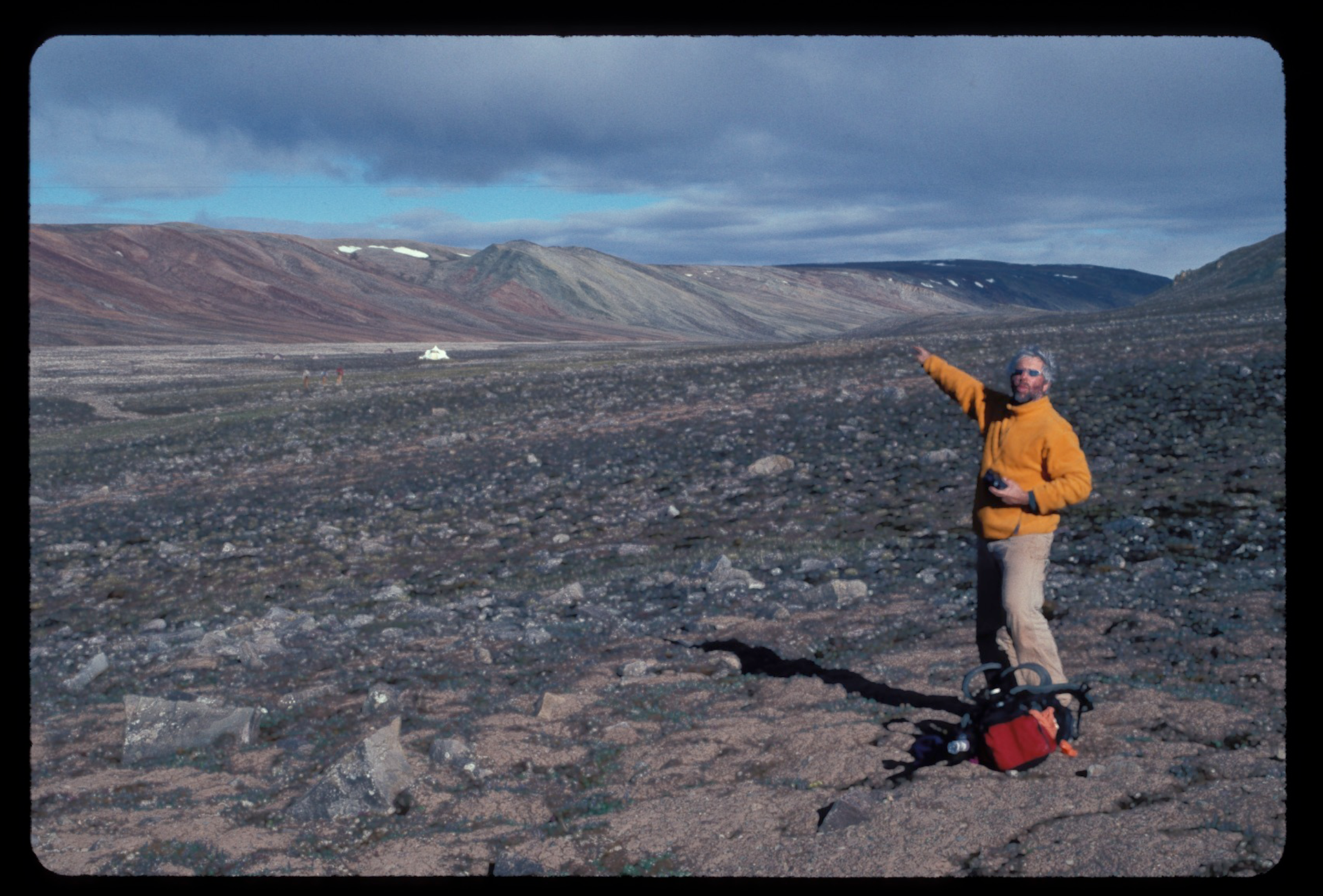 This fossil is special for so many reasons. It's not just miraculous that this fish was preserved in rock for hundreds of millions of years before being discovered by scientists in the Arctic, on Ellesmere Island. It's not just that it's remarkably complete, with its full anatomy revealed by serendipity at the cusp of a global pandemic. It also provides, for the first time, a glimpse of the broader diversity and range of lifestyles of fishes at the water-to-land transition. It helps researchers see more than a ladder and understand that fascinating, tangled tree.
Discoveries depend on community
Qikiqtania was found on Inuit land, and it belongs to that community. My colleagues and I were only able to conduct this research because of the generosity and support of individuals in the hamlets of Resolute Bay and Grise Fiord, the Iviq Hunters and Trappers of Grise Fiord, and the Department of Heritage and Culture, Nunavut. To them, on behalf of our entire research team, "nakurmiik." Thank you. Paleontological expeditions onto their land have truly changed how we understand the history of life on Earth.
COVID-19 kept many paleontologists from traveling and visiting field sites across the world these last few years. We're eager to return, to visit with old friends and to search again. Who knows what other animals lie hidden, waiting to be discovered inside blocks of unassuming stone.
This article is republished from The Conversation under a Creative Commons license. Read the original article.
Media Advisory – Minister Champagne to announce the Canadian Space Agency astronaut who will fly around the Moon – Canada NewsWire
LONGUEUIL, QC, March 29, 2023 /CNW/ –— On Monday, April 3, at 10:00 a.m. CT (11:00 a.m. ET), the Honourable François-Philippe Champagne, Minister of Innovation, Science and Industry, will join NASA and Canadian Space Agency (CSA) leadership in Houston to announce the names of the astronauts assigned to the Artemis II Moon mission.
The event will be broadcast on NASA TV and streamed on the CSA's YouTube channel and Facebook page (with simultaneous interpretation).
Media are also invited to join CSA President Lisa Campbell and the Honourable Marc Garneau, first Canadian to fly to space, at CSA headquarters for this historic event. CSA experts will be on site and available for interviews.
All interview requests for the CSA astronaut assigned to Artemis II and/or CSA leadership and experts, in Canada or in Houston, must be coordinated with the CSA Media Relations Office (information below). Interview requests for Minister Champagne must be coordinated directly with his office.
Canada will make history when a CSA astronaut flies around the Moon as part of Artemis II, the first crewed mission to the Moon since the Apollo missions.
Event at NASA Johnson Space Center – Ellington Field
Monday, April 3, 2023

Time

What

Who

Where

10:00 a.m. CT

11:00 a.m. ET

Artemis II crew announcement event in Houston

The Honourable François-Philippe Champagne, Minister of Innovation, Science and Industry

CSA astronaut assigned to Artemis II

Ellington Field – Johnson Space Center

Hwy. 3 and Brantly; 12400 South Brantly Houston, TX 00000

The event will be broadcasted on NASA TV and streamed on the CSA's YouTube channel and Facebook page

2:10 p.m.

CT

3:10 p.m. ET

Media callback

The Honourable François-Philippe Champagne, Minister of Innovation, Science and Industry

Members of the media are asked to contact ISED Media Relations at [email protected] to receive the dial-in information.

Event at CSA headquarters
Monday, April 3, 2023

Time

What

Who

Where

9:50 a.m. CT

10:50 a.m. ET

Artemis II crew announcement event, including NASA live broadcast, at the CSA

Lisa Campbell, CSA President

The Honorable Marc Garneau, retired CSA astronaut


Kumudu Jinadasa, Program Lead, Astronauts, Life Sciences and Space Medicine

John H. Chapman Space Centre

6767 Route de l'Aéroport

Borough of St-Hubert

Longueuil, Quebec

J3Y 8Y9

More information
Canada's role in Moon exploration
Follow us on social media
Stay connected
Find more services and information at Canada.ca/ISED.
Follow Innovation, Science and Economic Development Canada on social media.
Twitter: @ISED_CA, Facebook: Canadian Innovation, Instagram: @cdninnovation and LinkedIn
SOURCE Canadian Space Agency
For further information: Canadian Space Agency, Media Relations Office, Telephone: 450-926-4370, Website: https://asc-csa.gc.ca/, Email: [email protected]; Laurie Bouchard, Communications Director, Office of the Minister of Innovation, Science and Industry, [email protected], +1 343 574 8014; Media Relations, Innovation, Science and Economic Development Canada, [email protected]
Ice Age Squirrel Found in Canada! » Expat Guide Turkey – Expat Guide Turkey
The remains of an Ice Age squirrel that was mummified to death during hibernation some 30,000 years ago have been found in Canada.
The 30,000-year-old animal found in the Klondike goldfields in 2018 will soon be on display in Whitehorse, Northern Canada.
Yukon paleontologists this week unveiled another unusual find from the gold fields near Dawson City: an Arctic squirrel that curled up and mummified as if it died during hibernation during the Ice Age.
A Squirrel Mummy Found by Yukon Paleontologists at the Gold Field near Dawson City
The Ice Age squirrel was actually found a few years ago, but its announcement is now being made as the government is preparing the dead rodent for display at the Yukon in Whitehorse.
At first glance, this mummified animal looks like nothing more than a dried up pile of brown fur and skin.
Intact Bone Structure Detected Inside the Remains
Yukon government paleontologist Grant Zazula says, "It's hardly recognizable until you see the tiny hands and claws, a little tail, and then the ears." says.
"I'm always examining bones and these are very exciting. But when you see a perfectly preserved animal, especially if it's 30,000 years old and you can see its face, its skin, its fur, it's really special."
Apr 1: Tyrannosaur lips, bald eagles dine on beef, saving the orbital environment and more… – CBC.ca
Quirks and Quarks54:02Tyrannosaur lips, bald eagles dine on beef, saving the orbital environment, how your fingerprints are built and how humans run on electricity
---
On this week's episode of Quirks & Quarks with Bob McDonald:
Tyrannosaurus rex had lips covering its terrifying teeth
Quirks and Quarks8:33Tyrannosaurus rex had lips covering its terrifying teeth
Many depictions of the iconic Tyrannosaurus rex show the dinosaur's huge teeth as constantly exposed in a crocodilian smile. But a new study published in the journal Science concludes that theropod dinosaurs like the T. rex likely had scaly, lizard-like lips that covered their teeth completely when the dinosaur's mouth was closed. Canadian paleontologist Dr. Thomas Cullen, a professor at Auburn University, and his co-authors analyzed wear patterns on tooth enamel of the dinosaurs, as well as jaw sizes, and compared them to modern-day animals. He said the T. rex mouth would have likely been most similar to that of a Komodo dragon.
Eagles are eating cows instead of salmon – and farmers are happy
Quirks and Quarks7:59Eagles are eating cows instead of salmon – and farmers are happy
In the Pacific Northwest of the U.S., bald eagles, which have historically fed on the carcasses of spawning chum salmon, have run short of their traditional food due to climate change and other factors. But a new study in the journal Ecosphere by Ethan Duvall, a PhD student in ecology at Cornell University, indicates the eagles have moved inland and are now scavenging cattle who have died on dairy farms. Farmers, it turns out, are happy with this, as it solves a troubling disposal problem, and because the eagles also displace rodents and other birds that do harm to the farms.
Inspired by the High Seas treaty, scientists are calling for the protection of space
Quirks and Quarks7:47Inspired by the High Seas treaty, scientists are calling for the protection of space
In early March, nearly 200 United Nations member countries agreed to the first-ever treaty to protect the world's oceans. Imogen Napper, a marine biologist at the University of Plymouth in England, and a group of colleagues are calling for a similar legally binding treaty to protect the Earth's orbit from exploitation by the ever-growing global space industry. Their concerns were put forward in a letter in the journal Science.
Arches, loops and whorls — how your unique fingerprints are made
Quirks and Quarks7:40Arches, loops and whorls — how your unique fingerprints are made
There are eight billion people in the world, each with a unique pattern of ridges on our fingertips. Now, scientists have discovered that the process by which these intricate and complex patterns arise is similar to how animals get their spots or stripes. Duelling genetic and chemical signals during fetal development give rise to changes in the ridges and spaces between them that cover our fingertips. Denis Headon, a geneticist from the University of Edinburgh, traced how this interplay results in the complex whorls, loops and arches that make up our fingerprints. His research was published in the journal Cell.
Humans are fueled by food — but we run on electricity
Quirks and Quarks19:31Humans are fueled by food — but we run on electricity
Every living cell works as a battery, with the ability to respond to and send out electrical signals. Science and technology journalist, Sally Adee, became fascinated with this realization after participating in an experiment in which a gentle electrical current, delivered to her brain, gave her the abilities of an expert sharpshooter. Bob McDonald speaks with her about her new book, We Are Electric: Inside the 200-Year Hunt for Our Body's Bioelectric Code, and What the Future Holds. In it, she explores how much our biology — from our bodies' ability to heal to the higher order processes of human thought — works through electricity.