Melding his music with his art | Arts | thesuburban.com – The Suburban Newspaper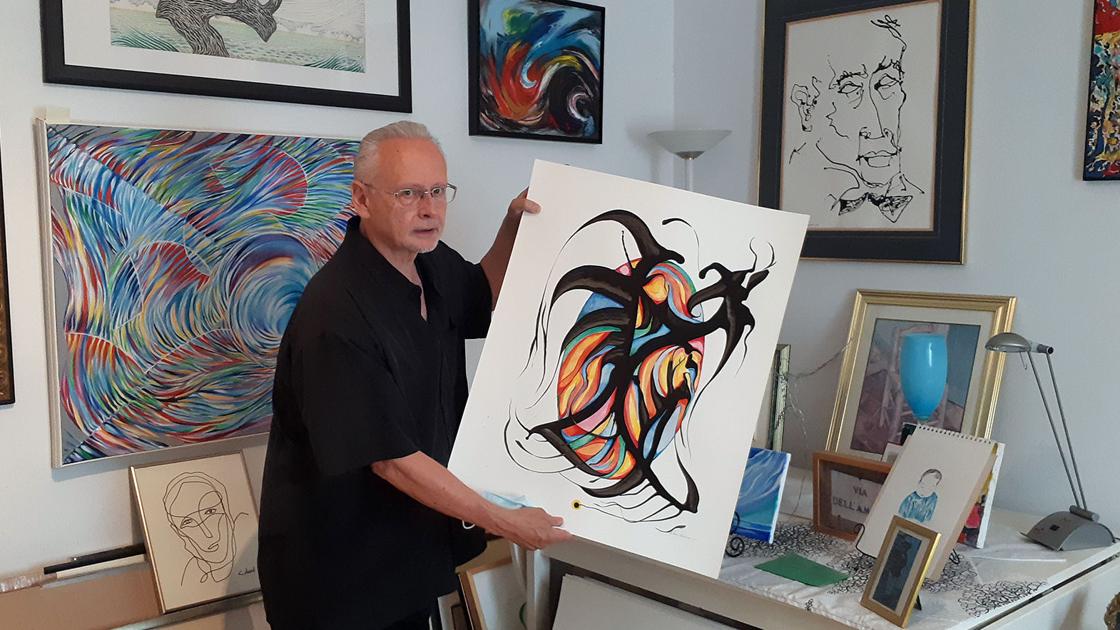 Walking through Richard Chénier's Snowdon neighbourhood home is like walking through a lush art gallery, with pieces in every room and paintings — his own — on every wall. One room is used solely as a gallery where he greets potential clients while another is a typical artist's work studio.
A few weeks removed from his last exhibition at Galerie Espace on St. Laurent Blvd., Chénier, better known as Chard, presently has some of his work — a mixture of contemporary, mostly abstract art, organic forms, celestial images, and some figurative work — on display until the beginning of October at Café 92 on Sherbrooke St. W.
Born 74 years ago in Saint Boniface, Manitoba, Chénier was not only exposed at an early age to the art of Canada's Indigenous peoples, but to the natural connection between the land, the wind, the sky, and the stars. And you can see it in his work.
"I had a telescope as a kid and the Northern Lights and the stars in the sky are really big influences," said Chénier. "So if you look at my overall body of work, and I have been painting for 50 years, you will always see movement. You will always see the presence of the wind and the stars and cosmological elements."
Although the Montreal artist never formally studied art, he said had the good fortune as a teenager to have taken three or four years of watercolour classes from someone who had studied in Paris. "I wanted to study art but my parents were poor. They were working class French Canadians and not very well educated so the idea of sending me to an art school when I was 15 or 16 years old was out of the question and beyond their finances. So I basically ended up being a self-taught artist."
A big fan of the great Sonny Terry, Chénier also started teaching himself blues harmonica around age 13 and began getting a lot of positive feedback on his music. Positive enough that in the mid 1960s he embarked on a budding musical career. But by decade's end, chronic health problems forced him to drop out of show business — at the tender age of 22. Some 20 years later, he was finally diagnosed to have been suffering from a rare genetic blood disorder that is now under control.
"I was constantly collapsing from exhaustion and then building myself up. It was like a rollercoaster," he explained. "I suppose I could have had a music career but my health was getting worse and worse so I just gave up on that and focused on the art because at least I could stay home and paint."
During the 1970s, Chénier spent several years living in Vancouver and shared a studio with a Haida artist, which also added to his set of influences. These days he fluctuates between a variety of styles and subjects. A jazz, blues, and folk lover at heart, Chénier's painting styles often match his musical moods.
"Music is a big part of who I am and what I do," he said. "On Monday I might listen to [John] Coltrane and then the painting will be a jazzy abstract. Another time it will be some Buddy Guy and I'll do a bluesy portrait of somebody."
In addition to the styles and techniques of his favourite artists, Chénier's self teaching also included the backgrounds and lifestyles of masters like Rembrandt, Van Gogh, Francisco Goya, Diego Velázquez, and Leonardo da Vinci.
"I read their biographies and continue to read about them. As a matter of fact, one of the things that keeps me going is knowing what they went through to get to where they are," he said. "That gave me some kind of courage because I saw what they went through and what they did so I persevered. A lot of self taught artists have done that."
While the shutdowns caused by the COVID pandemic took its toll on art galleries, large and small, and the artist who displayed and sold their work through them, Chénier used his perseverance to find other ways to sell his art, either renting the occasional space, hanging his work in popular establishments around NDG, and welcoming potential buyers to appointment-only, COVID-sensitive, socially distanced viewing in his home gallery. He also uses his website, social media like Facebook and LinkedIn, as well as a monthly newsletter, to let people see, and hear, what he is up to.
"The website is nice because it also gives you a taste of my music and my live performances at various blues festivals," said Chénier, adding, "And you can get links to my latest releases. So the website is very useful to get people in touch with me."
Café 92 is located at 6703 Sherbrooke St W, Montreal. For more information on Chard Chénier, visit https://chardart.com/
Art show in Minto – Wellington Advertiser
HARRISTON – The Minto Arts Council is hosting its first show of the year at the Minto Art Gallery. Showcasing the Saugeen Artist Guild, the show is entitled Reflections from the Saugeen Artists Guild.
This show features multiple works from over 20 artists and includes a variety of styles and mediums, including oil paintings, watercolours, stained glass, mixed media, encaustic, jewelry, photography and works with polymer clay.
"This is truly a very diverse show and we are so proud to be able to bring this to our community," gallery officials state.
The show officially opened Sept. 9 and runs until Oct. 2.
The gallery, located at 88 Mill Street on the third floor of the Harriston branch of the Wellington County Library, is open:
– Tuesdays and Thursdays from 6 to 8pm;
– Wednesdays and Fridays from 2 to 4pm; and
– Saturdays, 11am to 1pm.
Library helps kids make art – Sault Star
Article content
A free four-week art program for children is being offered by Sault Ste. Marie Public Library.
A PDF lesson will be emailed each week. Youngsters have one week to send a photo of their artwork.
A collage will be created featuring student work.
Register by emailing lib.childdk@cityssm.on.ca. Mention online art program in the subject line. Mention the child's name, age and parent email contact.
Lessons start Sept. 28.
'A very fundamental question': Is this the world's oldest example of art? – CTV News
TORONTO —
Famous cave art in France, Indonesia and Spain has long been thought to be the oldest of its kind, but a new study sheds light on Tibetan parietal art that is four times older and may have been created by children.
An international team of researchers came together to determine if the hand and footprints discovered on the Tibetan Plateau were indeed art.
To decide if the sequence of hand and footprints were art, the researchers had to first figure out how these prints got there. The series of five handprints and five footprints, the researchers reported, came from two different people, according to a press release.
Given the slope and that it would have been slippery, the research team ruled out that people would have walked or run across the plateau, which in turn ruled out that these sets of prints may have been a result of people falling.
"It would have been a slippery, sloped surface. You wouldn't really run across it. Somebody didn't fall like that. So why create this arrangement of prints?" Thomas Urban, research scientist in the College of Arts and Sciences and with the Cornell Tree Ring Laboratory, said in a press release.
Urban assisted the research team led by David Zhang of Guangzhou University and co-authored the study.
The team of researchers used uranium-series dating to date the artwork. They believe that the footprints were created by a seven-year-old, while the handprints were by a 12-year-old. They also suspect that these kids were ancient relatives of Neanderthals known as Denisovans.
But what really determines if these handprints and footprints are art?
"These young kids saw this medium and intentionally altered it. We can only speculate beyond that," Urban said. "This could be a kind of performance, a live show, like, somebody says, 'hey, look at me, I've made my handprints over these footprints.'"
For this reason, Urban calls for a broader definition of what is considered art in this context, even if it does rub some the wrong way.
"I think we can make a solid case that this is not utilitarian behaviour. There's something playful, creative, possibly symbolic about this," said Urban. "This gets at a very fundamental question of what it actually means to be human."