Members fighting sale of MEC say planned COO hire clashes with Canadian company's values – CBC.ca
Members of Mountain Equipment Co-op (MEC) fighting its takeover by an American investment firm say the hiring of an executive from a U.S. company that makes footwear for the military and police clashes with the company's values.
Jay Taylor, who is currently listed as the CEO of LALO Tactical on its web page, is in line to be MEC's president and chief operating officer if the sale goes through to Kingswood Capital Management, the Los Angeles-based firm confirmed to CBC News in an email.
So far, 2,400 MEC supporters have raised more than $100,000 for a legal fund to fight the takeover, but the deal could be approved as soon as Monday at a court hearing in Vancouver.
Word of the potential hire was buzzing on social media over the weekend, infuriating members of Save MEC, a group trying to stop the sale of the Vancouver-based retailer and organize a counter-offer.
"It's shocking to me," said Jackie Pierre, an MEC customer from Vancouver for 10 years and a Save MEC member. "This is so far from what [MEC] is known for originally."
MEC's values include democratic collaboration, social and environmental accountability, stewardship and more recently, diversity and inclusion. Those who want to stop the sale of MEC — the largest co-operative in Canada — are concerned that bringing in a leader with military roots is a bad match for the brand and could endanger the company's culture.
LALO Tactical, based in San Diego, was set up in 2009 "to serve the needs of Special Operations Forces." It makes specialized boots with names like "Intruder," sold in colours like Black Ops and Ranger Green.
Though it also makes athletic shoes, LALO's Instagram marketing leans heavily toward the military and police.
In an open letter last week, Kingswood assured MEC customers that the brand's values would be protected.
But Pierre and other Save MEC members, including Kevin Harding, say the potential hiring of Taylor sends a different message.
"If this is how Kingswood plans to honour MEC's values, I'm deeply disappointed," Harding, of Vancouver, said.
An old social media post by Taylor is also being cited as proof of the mismatch.
Save MEC members aren't the only ones concerned that the company's values are in jeopardy. An advertising expert is warning Kingswood that it could be doing damage to the iconic company it wants to buy.
A culture clash seen through the lens of social media
Kingswood confirmed to CBC on Saturday that Taylor attended meetings in Vancouver last week as part of "introductory discussions" with "key suppliers and incoming MEC leadership."
Taylor's history with LALO is alarming to some MEC members.
The company, which counts a former U.S. soldier among its founders, says LALO is an acronym for "Light Assault Lo-Vis Operator, a nimble, quick, tactical Special Forces Operator."
Many company Instagram posts show its boots being worn by heavily armed men in combat-like settings, or by men in police uniforms with guns drawn.
Captions in some posts include: "I have a very strict gun control policy; if there's a gun around, I want to be in control of it," and "Locked, cocked, and ready to rock."
Another featuring police officers says "Blessed are the peacemakers for they shall be called the children of God."
Reactions on Save MEC's Facebook page were strong.
One member described LALO's instagram feed as "particularly jarring for those familiar with MEC's ethos."
Another, who claimed to be part of the hunting and gun community, called Taylor a name and said the executive and LALO were "totally the wrong fit."
There's also a strong reaction to a post coming from Taylor's own little-used Instagram account in 2016.
In it, Taylor responds to the killing of a group of police officers known as the "Dallas 5." The shooter was an army veteran who said he wanted to kill white officers to demonstrate his anger over police shootings of Black men.
Taylor's message suggests people should buy a T-shirt to support the families of the officers who died.
The post includes the hashtags #livesmatter, #policelivesmatter and #bluelivesmatter.
While it mentions a more inclusive hashtag, #oneteamonefight, it does not mention #blacklivesmatter.
At the time, the Black Lives Matter movement was already three years old, and police shootings of Black people were a growing part of public discourse.
For Jackie Pierre, it's an upsetting picture.
"You know, this guy to me resonates guns, All Lives Matter, Blue Lives Matter," she said. "Whoever's making these decisions is obviously not in solidarity with people of colour."
MEC supporters pressuring creditors
Pierre said if the Kingswood offer goes through and Taylor is hired, not only will she stop shopping at MEC, but she'll quit banking with RBC, which is one of MEC's leading creditors.
MEC lost $11 million in its last fiscal year of operation. COVID-19 has further weakened the company this year, and its management agreed to the sale.
The Save MEC movement is pressuring the company's creditors, especially RBC, to extend loans to MEC long enough for the group to present a counter-offer.
WATCH | Why MEC might perish, regardless of sale to U.S. investment firm:
The group's hope is that drawing attention to the legacy values of the brand and the direction the company would be taken under new owners will encourage RBC to include public perception as part of its evaluation.
Almost 50 years old, MEC has 5.4 million members and 22 stores in Canada. More than 135,000 people have signed an online petition to stop its privatization.
An accomplished executive
In response to the concerns of Pierre and other Save MEC members, Kingswood said in an email to CBC that it has a "deep appreciation for what MEC stands for" and will operate within MEC values.
It also said that Taylor is a "longtime Vancouver resident and MEC member" and an "accomplished executive in the outdoor industry."
In addition to expertise in "product innovation, development and manufacturing, as well as sales and marketing," the statement noted his past experience as an owner of ski shops in British Columbia.
Taylor's LinkedIn profile also describes his leadership role at the running shoe company Hoka One One over nearly three years.
It says he was responsible for launching Hoka in North America and the Asia Pacific region before negotiating the sale of the brand to another company.
Taylor did not respond to a request from CBC for comment or an interview.
Risking the brand
Toronto-based advertising executive Denise Cole has worked with iconic Canadian companies like Roots and Lululemon, as well as the international mega brand Coca-Cola.
Co-founder of the ad agency Juliet Creative, she said she believes Kingswood should be worried about the reaction to its bid for MEC.
"A brand is certainly only as valuable as people's belief in it, in what it stands for," Cole said.
MEC is built on a "foundation of community," she said, and upsetting that community could do major damage to sales and what the company is worth in the future.
Cole said she thinks MEC's most loyal customers would accept an American owner so long as they felt the owner was listening to them.
"And I think that the outcry that we're seeing from the most active consumers and the most active members of their base, it does put them in jeopardy."
Premier Eschews Media Questions in House – VOCM
Premier Andrew Furey refused to take questions from the media today regarding two key issues facing the government.
The media was seeking clarification on the status of government's talks surrounding the merger of Husky Energy with rival Cenovus, as well as the status of embattled MHA Perry Trimper.
The premier did take questions in the House but when the time came to face the media afterward, his office said he would not be available.
The Premier spoke with Innu Nation Grand Chief Etienne Rich earlier today after Rich called for Trimper to be removed from the Liberal caucus over controversial comments he made regarding Indigenous people in Labrador.
---
The premier's office issued this written statement late this afternoon:
"I spoke with Innu Nation Grand Chief Etienne Rich this morning, and we agreed that we have a good dialogue we plan to maintain. We continued a conversation about moving forward with cultural sensitivity training throughout government."
---
No reason was immediately given for the premier's no-show, which Tory Leader Ches Crosbie called disgraceful, given the importance of the Husky merger and the highly-charged and sensitive issue of Innu relations with government.
It was left to Energy Minister Andrew Parsons to field questions regarding the Husky-Cenovus merger, noting a call with executives of the newly formed company is still planned for this week.
Trimper, meanwhile, says he has no further comment, adding he's looking forward to continuing to assist his constituents until 'the writ is dropped' on the next election.
Microsoft beats quarterly revenue estimates, shares rise – Investing.com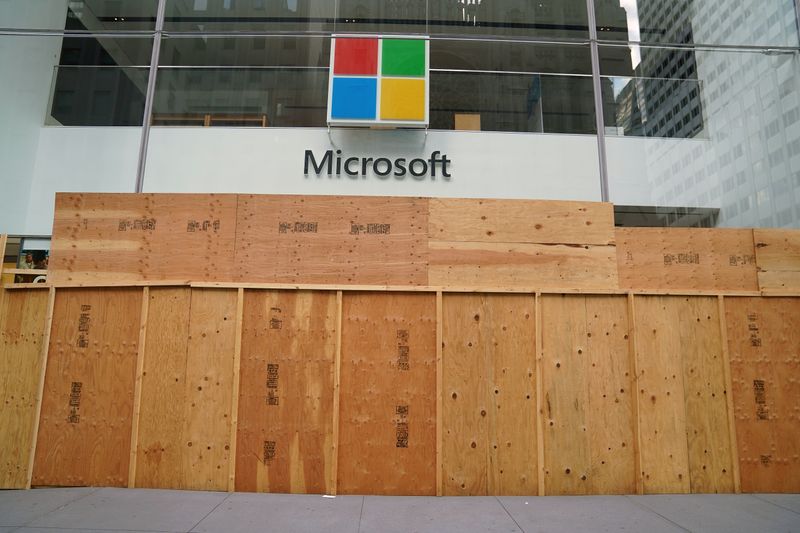 © Reuters. The Microsoft store is pictured in the Manhattan borough of New York City
By Stephen Nellis and Akanksha Rana
(Reuters) – Microsoft Corp (O:) beat Wall Street estimates for quarterly revenue and profit on Tuesday, powered by a slight uptick in growth in its flagship cloud computing business as the software maker continued to benefit from a global shift to working from home and online learning.
The pandemic has accelerated a move already under way toward cloud-based computing, helping companies such as Microsoft, Amazon.com Inc's (O:) cloud unit and Alphabet Inc's (O:) Google Cloud. For Microsoft, it has also boosted demand for its Windows operating systems for laptops and its Xbox gaming services as families work, learn and play from home, leading to profit that was about 30% above expectations.
"It was another healthy quarter, with continued demand for remote offerings continuing to power results," Microsoft Chief Financial Officer Amy Hood told Reuters in an interview.
Revenue growth for Azure, the company's flagship cloud computing business, was 48%, up from 47% in the previous quarter and ahead of Wall Street estimates of 43.45%, according to consensus data from Visible Alpha. Hood said the rise was driven by "an increase in larger, long-term Azure contracts."
GRAPHIC: Microsoft Azure revenue growth – https://graphics.reuters.com/MICROSOFT-RESULTS/xegvblbbnvq/chart.png
Microsoft has shifted to selling many of its products via recurring subscriptions, which investors like because it generates stable revenue flows. The value of Microsoft's future recurring revenue contracts with big business customers was flat from the previous quarter and its proportion of one-time deals rose slightly after two quarters of growth.
Microsoft bundles together several sets of software and services such as Office and Azure into a "commercial cloud" metric that investors watch closely to gauge the company's progress in selling to large businesses. Microsoft's commercial cloud gross margins – a measure of the profitability of its sales to large businesses – was 71%, compared with 66% a year earlier.
Hood said some of the rise was explained by a change in accounting rules for Microsoft's servers, but the better margins were also driven by sales of lucrative software such as Dynamics 365, which competes with Salesforce.com (N:).
"That Dynamics 365 revenue growth of 38% was better than we thought and quite good," Hood told Reuters.
Microsoft said 93% of commercial cloud products were sold as subscriptions, compared with 94% the quarter before. The company's remaining performance obligations – a measure of how much revenue has been booked for the future in sales contracts but not yet formally recognized as revenue – stayed flat at $107 billion in the fiscal first quarter but was up from $86 billion a year prior.
Microsoft said revenue in its "Intelligent Cloud" segment rose 20% to $13 billion in the first quarter, with 48% growth in Azure. Analysts had expected revenue of $12.7 billion, according to IBES data from Refinitiv.
Revenue from its personal computing division, which includes Windows software and Xbox gaming consoles, rose 6% to $11.8 billion.
The company's revenue rose 12% to $37.2 billion in the quarter ended Sept. 30, beating analysts' estimates of $35.72 billion.
"Microsoft's strong earnings beat shows its market share in cloud computing is expanding while its legacy software products such as Windows and Office are in great demand during the pandemic," said Haris Anwar, senior analyst at Investing.com.
Net income rose to $13.89 billion, or $1.82 per share, from $10.68 billion, or $1.38 per share, a year earlier. Analysts had expected a profit of $1.54 per share.
Microsoft shares were down 0.2% at $212.77 in after-hours trading after the results, although trading is often relatively muted until after Microsoft executives give financial guidance. The company will hold a conference call later on Tuesday.
New COVID-19 case reported in Nova Scotia – CBC.ca
Nova Scotia reported one new case of COVID-19 Tuesday, giving the province six active cases.
The province said the new case is in the Central Zone and the person had travelled outside of Atlantic Canada. The person has been self-isolating, the province said.
Nova Scotia Health Authority labs completed 610 Nova Scotia tests on Monday. So far, the province has recorded 109,462 negative test results, 1,102 positive cases and 65 deaths. No one is currently in hospital related to the virus.
The latest numbers from around the Atlantic bubble are:
P.E.I. reported no new cases and one active case Tuesday.
Newfoundland and Labrador reported no new cases and 4 active cases Tuesday.
New Brunswick reported 3 new cases and 60 active cases on Monday.
Anyone with one of the following symptoms should visit the COVID-19 self-assessment website or call 811:
Fever.
Cough or worsening of a previous cough.
Anyone with two or more of the following symptoms is also asked to visit the website or call 811:
Sore throat.
Headache.
Shortness of breath.
Runny nose.
MORE TOP STORIES