Micro galleries highlighting MMIWG stories aim to reconcile through knowledge and art
When Sheila Joris stumbled upon a colourful display of books at her local Ikea store, the artwork on the fabric book covers immediately caught her eye.
What peaked her curiosity was the names of several missing and murdered Indigenous women and girls (MMIWG) from across Canada were printed in bright gold letters on the books.
Upon further research, the Strathroy, Ont., business owner was "astounded" to learn the number and stories of women and children whose families never heard from them again. It inspired Joris to showcase the display at the front window of her downtown store, KYIS Embroidery, to create more awareness.
"It's just a way of me showing that I care," she said. "Some of these families didn't get any help to find their loved ones and I think it's really sad. Their stories deserve to be heard."
Joris's shop is one of many spaces throughout the country taking part in the Canadian Library (TCL) project. A micro gallery art installation that aims to raise awareness around the MMIWG crisis.
WATCH | Business owner Sheila Joris expresses why she cares about the stories of MMIWG:
Sheila Joris of Strathroy, Ont., shares her reaction when she found out the number of missing and murdered Indigenous women and girls and the stories of families who were impacted.
"The only way we're ever going to achieve any sort of reconciliation and break down barriers is once there's education for everyone and it starts by having these important conversations," said Shanta Sundarason, a Toronto-based activist leading the grassroots project.
Since they started their efforts in October 2021, participants have collected book donations of any genre. They order fabric covers designed by Indigenous artists, each one with the name of a missing or murdered Indigenous woman or girl.
More than 8,000 books have been collected so far. Ultimately, they'll be pooled together and displayed at a national museum or gallery by the end of this year, Sundarason said, adding that she wants them to be an educational tool to memorialize the lives lost.
It's going to take a lot to build up trust between settlers and Indigenous people.– Shanta Sundarason, founder of TCL
Sundarason, who came to Canada from Singapore 12 years ago, felt a responsibility as an immigrant to educate herself and others on the stories of residential school survivors and the systemic discrimination that many Indigenous people still face, she said.
"To find out that there's so many people in a country like Canada who still don't have clean drinking water was very horrifying and there's been so much that's happened to these communities," she said.
"It's going to take a lot to build up trust between settlers and Indigenous people who have been trying for decades to tell us the stories of what they've been through."
TCL is displayed at every Ikea store in Canada, as well as at cafés and hospitals, and more recently at the York Region District School Board, Sundarason said.
A collective step toward reconciliation, says elder
TCL has received overwhelming support from Indigenous elders. At first, many of them were skeptical of the project but eventually provided their guidance to its team, Sundarason said.
In Calgary, TCL is spearheaded by linda manyguns, a Blackfoot woman from Siksika Nation in southern Alberta who uses only lower-case letters for her name to acknowledge the Indigenous struggle for recognition.
Also Mount Royal University's associate vice-president of Indigenization and decolonization, manyguns said she was fascinated by TCL's inclusiveness and its ability to bring the MMIWG crisis to the forefront in a way that centres on their family members' voices.
"There's a huge chasm of emptiness between the Canadian society in general and the Indigenous experience," she said.
"People need to understand that these are not bad women — they're just encased in a social context that's been created due to the colonial perspectives and placements of Aboriginal people and as a result, it puts them in situations which make them vulnerable."
TCL creates a place for the MMIWG's memories to live, while also giving Indigenous artists a platform to shine since the artwork attracts all kinds of people, manyguns said.
"It's a collective step toward reconciliation because it's an an ethical third space where people can come together to work together and create new frontiers. The only way that we can make change is through knowledge."
She hopes TCL can motivate enough people to come together and create change so more names aren't added to the list of missing Indigenous women and girls.
Arts in the Garden brings a visual feast to the North Shore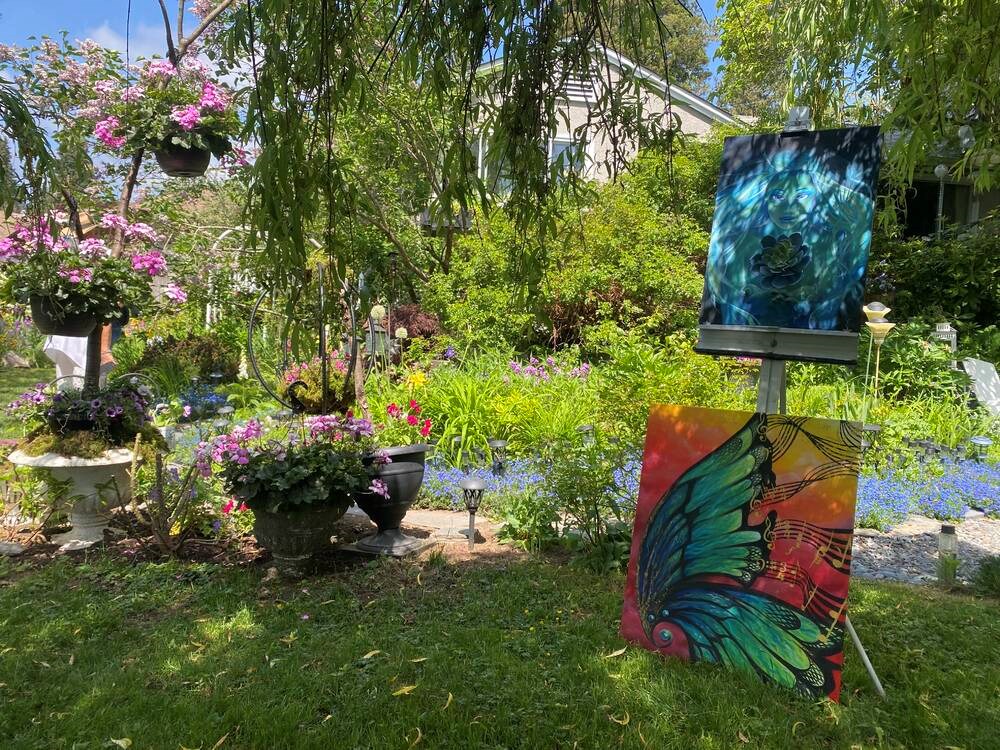 Ask any creative what qualifies as art and they will tell you that art is multifaceted, spanning everything from music and performance to paintings, sculpture, sketch and – to some especially green-thumbed creatives – a meticulously curated garden.
This weekend gardens across the North Shore celebrated all things aesthetically pleasing for Arts in the Garden, a community event that fuses all facets of artistic creation by putting together visual artists, musicians and live performers in the same space.
The annual event, presented by North Van Arts, comprised 13 blooming gardens that traversed themes from 'engaging' – a garden with thought-provoking artwork and an active garden with bubbling ponds – to 'connected' – another filled with interconnected, meandering trails and musicians who sang on the on the healing power of trees.
"This natural environment lends itself so well to art. Galleries are very restrictive, you're in a very sterile environment, but this inspires creativity, more authentic conversation," said Garrett Andrew Chong, a photographer whose images had poked out from flourishing flower beds in a garden on West Vancouver's Marine Drive.
For the artists participating, the event gave them the opportunity to get out of the stuffy confines of gallery and workspace, and allowed their wares to be viewed and appreciated by a wider audience.
"This is a really, really nice opportunity, this is a very different demographic to where I live, a much different crowd, and it means I can showcase all the different things that I work on," said artist Emily Picard, an artist from the Sunshine Coast.
Like many of the artists participating, Picard's creations complemented the space it inhabited. The eclectic nature of her work – Picard's mediums span acrylic paint, spray paint, watercolour and marker pens – slotted in seamlessly to a garden that was anything but minimalistic.
Aptly categorised under "Ethereal" the North Vancouver garden, number 7 on the tour, had been like a scene from Alice's Wonderland, complete with chandeliers hanging from the trees – 75 in total – birdcages protruding from flower beds and crystal dinnerware scattered large silvered tables.
Gardener Susan Bath, who has spent 27 years putting the outdoor scene together, said she hopes her mystical greenspace will inspire creativity within all who enter, and will encourage them to embrace whimsy in all its forms.
"I hope this shows that you don't necessarily have to hire a professional, or be a professional, to create in this way. You don't need a landscape artist, you don't need money or a large garden, you just need time and a sense of playfulness," she said, adding how most pieces had been gifted, bought from charity stores, or picked up from the side of the road.
While some gardens transported guests to Lewis Carroll lands, others set the scene for education. At Garden number 9, dubbed 'Energized', the LifeSpace Gardens hosted fellow green thumbs and offered tips and information on urban farming and vegetable growing.
At "Harmony", garden number 4 on West Vancouver's Whonoak Road, a fourteen year old food forest on Sḵwx̱wú7mesh Úxwumixw (Squamish Nation) land invited guests to learn about Indigenous plants and healing.
"This is an educational space, where people can come and pick different things that they need from our community, anytime of the year," said Senaqwila Wyss, the garden's host, adding how the garden is open to all who want to learn.
Wyss said the event provided the opportunity for guests to learn the names of herbs and plants in the Sḵwx̱wú7mesh Sníchim (Squamish language), to learn of Indigenous foods themselves – like the Indigenous wild potato wapato that has been making a comeback in local soil – and to immerse themselves in Squamish culture. Within the garden, musician Rennie Nahanee had delivered song and Squamish storytelling, talking of Elders and canoe experiences.
Whether hosting Indigenous storytelling or abstract art, each garden, said Tary Majidi, artist and host of Marine Drive's offering, should provoke some sort of response from guests. It should inspire them to create or to engage, to connect with other people more or to just appreciate the smaller, more natural, everyday things in life.
"We could all do with getting off the internet, off social media, and going back to art and going back to the natural world, enjoying nature or clay or paint," she said.
"If there is one thing that people should take away from this event, it's that art can heal and that should not be overlooked," she said.
Mina Kerr-Lazenby is the North Shore News' Indigenous and civic affairs reporter. This reporting beat is made possible by the Local Journalism Initiative.
Bigger Art in the Park returns this weekend
'Art in the Park Rain or Shine' part of the new marketing campaign for the 38th annual festival, April 28, 2016. (Photo by Maureen Revait)
Last year's event in Windsor's Willistead Park broke attendance records. About 40,000 people came through the gate, and sales surpassed years in the past. Event Chair Allan Kidd said one vendor had to drive home for more inventory when they sold out.
More than 250 vendors from Ontario and Quebec registered for this year's festival. Another 20 food vendors signed up, including local beer, wine, and spirits makers.
A complimentary bike valet is new this year. Those who go will find it at the Chilver Road entrance.
Kids Zone is back with four giant inflatables, face painting, and the chance to meet some of their favourite characters.
A free shuttle service will carry festival-goers to Willistead Park from 1591 Kildare Road and the Hiram Walker parking lot on Riverside Drive at Montreuil Avenue.
Admission is $8 at the gate, but guests can buy a ticket online for $7. There is no charge for children aged 12 and under.
Art in the Park has raised $1.3-million for the Rotary Club of Windsor 1918's restoration efforts at Willistead Manor and $2-million for local and global projects.
"Much of our community doesn't know that Art in the Park is a fundraising event. The people who attend help us raise the funds to build schools, drill wells, and deliver books, medicine and wheelchairs at home and around the world," said Kidd.
Art in the Park on Saturday is from 10 a.m. to 7 p.m. and Sunday from 10 a.m. to 5 p.m.
Masha Titova's "The Music of Art"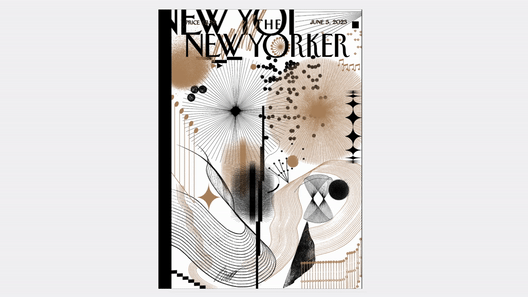 It's not often that the cover of The New Yorker, traditionally a storytelling image signed by the artist, reflects what goes on behind the scenes at the magazine—but that is what the black and copper shapes designed by Masha Titova for the cover of the June 5, 2023, Music Issue, available to read in its entirety here, manage to do.
The first step was connecting with Titova, a Russian artist who relocated to Montenegro last year, after the Russian invasion of Ukraine. I asked Titova to use her sense of design to orchestrate a portrayal of a variety of sounds. Titova says, "I don't play an instrument, but I love music, especially its rhythms, which often inspire me. And when I design, I try to harmonize the various visual shapes as if they were part of a musical composition."
Once we settled upon the image, we recorded the aural elements that make up the cover's malleable melody. Some of our more musically adept staffers—including Nick Trautwein, a senior editor who moonlights as a saxophonist, and David Remnick, the editor, on guitar—gathered to interpret Titova's shapes, selecting the ones they wished to play. Julia Rothchild, a managing editor, who contributed piano, viola, and voice, described the process as "an exercise in synesthesia. What sound would that square make, or those triangles? A thud, or a flutter?"
Impromptu chamber groups formed: a viola-cello duo, a vocal quintet. The musical respite in the middle of the day presented the opportunity to exercise a different kind of focus from that of closing pieces, or making fact-checking calls. The associate research director Hélène Werner, who has played the cello since she was eight years old, said, "Music set me on my way. It was the organizing principle of my childhood. . . . It demands, of those who play it and listen to it, intellectual commitment and emotional honesty. It is generous in return. There is no better teacher." Rina Kushnir, the art director, also appreciates music for its emotive qualities, for its ability to communicate what is "not possible to express otherwise." Liz Maynes-Aminzade, the puzzles-and-games editor, says that "drumming and writing (puzzles or otherwise) light up some of the same parts of my brain." A unifying factor in everyone's performance was how seriously each performer took their music. One after the other, when their turn came, they paused their casual banter, took a deep breath, played their bit, and only then rejoined the playful green-room atmosphere. It was an unplanned but perfect demonstration of all our colleagues' marvellous dedication to all they do.
The making of a weekly magazine (or of a Web site, a radio show, a festival, any of our many undertakings) is always a concerted endeavor, but that collaboration happens behind the scenes. This multimedia project, programmed by David Kofahl, the head of the interactives department, with the help of the features editor Sam Wolson, gives a glimpse of the way the efforts of many talented individuals and departments combine to insure that The New Yorker appears on your doorstep (or in your in-box), week after week, as good as we can make it.