Minor League baseball season cancelled – TSN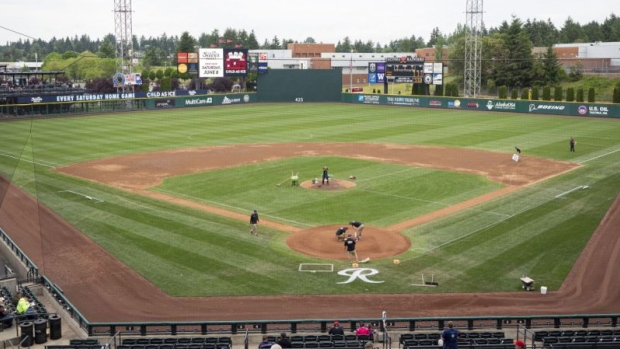 NEW YORK — Baseball's minor leagues cancelled their seasons Tuesday because of the coronavirus pandemic, and the head of their governing body said more than half of the 160 teams were in danger of failing without government assistance or private equity injections.
The National Association of Professional Baseball Leagues, the minor league governing body, made the long-expected announcement.
"We are a fans-in-the-stands business. We don't have national TV revenues," National Association president Pat O'Conner said during a digital news conference. "There was a conversation at one point: Well, can we play without fans? And that was one of the shortest conversations in the last six months. It just doesn't make any sense."
O'Conner estimated 85-90% of revenue was related to ticket money, concessions, parking and ballpark advertising. The minors drew 41.5 million fans last year for 176 teams in 15 leagues, averaging 4,044 fans per game.
MLB teams are planning for a 60-game regular season and most of their revenue will derive from broadcast money.
"I had a conversation with the commissioner, and we weren't unable to find a path that allowed us to play games," O'Conner said. "It wasn't an acrimonious decision on our part."
O'Conner said many minor league teams had received money through the federal Paycheck Protection Program Flexibility Act.
"That was a Band-Aid on a hemorrhaging industry," he said. "Many of our clubs have gone through one, two, maybe three rounds of furloughs. In our office here, we've had varying levels of pay cuts between senior management, staff, and we've furloughed some individuals, as well, and are just about to enter in a second round of furloughs."
He hopes for passage of H.R. 7023, which would provide $1 billion in 15-year federal loans from the Federal Reserve to businesses that had 2019 revenue of $35 million or less and "have contractual obligations for making lease, rent, or bond payments for publicly owned sports facilities, museums, and community theatres."
In addition, the Professional Baseball Agreement between the majors and minors expires Sept.. 30, and MLB has proposed reducing the minimum affiliates from 160 to 120.
"There's no question that what the pandemic has done is made us somewhat weaker economically," O'Conner said. "I don't think it's challenged our resolve. I don't think it's impacted our desire to stick together and get a good deal."
There have not been substantive talks for about six weeks.
"There are very many teams that are not liquid, not solvent, not able to proceed under normal circumstances, and these are anything but normal circumstances given the PBA and the uncertainty of the future for some of these ballclubs," O'Conner said. "So I think the coronavirus has really cut into many clubs' ability to make it. And I think that we're looking at without some government intervention, without doing something to take on equity partners, you might be looking at half of the 160 who are going to have serious problems."
MLB already has told clubs to retain expanded 60-player pools, of which 30 players can be active during the first two weeks of the season starting in late July.
Conner said the financial impact of the pathogen might extend until 2023.
"As serious as the threat from Major League Baseball was," O'Conner said, "this threat from the coronavirus, it transcends any list that anybody wants to make with respect to the possibility of teams not being around in the future."
Blue Jays agree to deal with first-round pick Austin Martin – Sportsnet.ca
The Toronto Blue Jays and 2020 first-round draft pick Austin Martin have agreed to a contract, Sportsnet's Hazel Mae has learned. The deal is pending a physical.
Financial terms of the contract have not been disclosed, but the fifth-overall pick carries an assigned slot value of $6,180,700.
Martin was viewed as the best "pure hitter" in the draft and posted an eye-popping .377/.507/.660 batting line in 16 games with Vanderbilt before the 2020 NCAA season was shut down. He was expected to be drafted within the first three selections, but ended up falling to Toronto at No. 5.
The Blue Jays announced Martin as a shortstop on draft day, but it's unclear where he'll line up defensively. His versatility is another one of his strongest assets and he could end up at third base, second base or centre field if Toronto elects to move him off shortstop. It's also possible he'll be used as a super utiity-style player without a true, defined position.
Baseball America ranked the 21-year-old 16th on their latest Top 100 prospect list. First-overall pick Spencer Torkelson of the Detroit Tigers — coming in at No. 11 — was the only member of the 2020 class above Martin.
Fourth-round selection Nick Frasso is now the only Blue Jays draftee unsigned.
Washington Redskins undergoing 'thorough review' of team name – CBC.ca
The Washington Redskins are undergoing a "thorough review" of their name.
The National Football League team said Friday it has been talking to the league for weeks about the subject. In a statement, the team said recent events around the U.S. and feedback from the community prompted the formal review.
"This process allows the team to take into account not only the proud tradition and history of the franchise but also input from our alumni, the organization, sponsors, the National Football League and the local community it is proud to represent on and off the field," owner Dan Snyder said.
NFL Commissioner Roger Goodell said, "In the last few weeks, we have had ongoing discussions with Dan, and we are supportive of this important step."
The recent national debate over racism renewed calls for the franchise to change the name, and sponsors this week started mounting their own pressure. Investors this week wrote to FedEx, PepsiCo and other sponsors asking them to request a change.
FedEx, the title sponsor of the team's stadium in Landover, Md., said Thursday, "We have communicated to the team in Washington our request that they change the team name."
On Thursday night, Nike appeared to remove all of the team's gear from its online store. Nike did not respond to multiple messages seeking comment.
Changing course
Coach Ron Rivera, who said in a recent radio interview that now is not the time to discuss the name, called it "an issue of personal importance." Rivera said he'd work closely with Snyder during the process.
Washington mayor Muriel Bowser said recently the name was an "obstacle" to the team building a stadium in the District.
The current lease at FedEx Field expires in 2027, and the old RFK Stadium site in Washington is one of several options for the team's new headquarters, along with locations in Maryland and Virginia.
Experts and advocates have called the name a "dictionary-defined racial slur."
Until this point, Snyder has shown no willingness to consider a change.
In late June, the team removed racist founder George Preston Marshall from its Ring of Fame. A monument to him was also removed from the RFK Stadium site.
Hamilton fastest, Stroll 7th in Friday practice – TSN
SPIELBERG, Austria — Formula One world champion Lewis Hamilton posted the fastest time in the first two practice sessions for the season-opening Austrian Grand Prix on Friday.
Lance Stroll was the top Canadian, driving his Racing Point to seventh in Free Practice 2, less than a second behind Hamilton. Nicholas Latifi, racing his first Grand Prix in F1 this weekend, finished the second practice session 20th, 2.8 seconds behind the leader.
The British driver twice finished ahead of his Mercedes teammate Valtteri Bottas on the 4.3-kilometre (2.7-mile) Red Bull Ring circuit in Spielberg nestled at the foot of the Styrian mountains in southern Austria.
Bottas was .356 seconds behind Hamilton in the damp and overcast morning run and improved to .197 back as the track dried and became warmer in the afternoon. Late in that session, however, he had to return to the pits because of a braking issue.
Red Bull driver Max Verstappen, who has won the past two races here, was third quickest in the first practice but slipped to eighth in the second session and encountered oversteering problems.
Ferrari struggled for speed in the morning with Charles Leclerc 10th quickest and Sebastian Vettel only 12th, but improved in the afternoon with Vettel pushing up to fourth behind Sergio Perez in third. Perez's Racing Point team uses Mercedes engines.
Although Vettel showed good cornering speed, he was still a somewhat distant .657 seconds adrift of Hamilton's time in the second session.
Ferrari is racing with the same car it used in preseason testing in February and has not made any upgrades, while Mercedes and other teams have.
After making a late strategy decision in terms of aerodynamic development this week, Ferrari is not upgrading its cars until the third race in Hungary, where practice starts on July 17.
Austria is hosting back-to-back races as part of an eight-race European swing, after the season was postponed for four months because of the coronavirus pandemic.
There are no fans allowed at races until further notice.
___
More AP auto racing: https://apnews.com/apf-AutoRacing and https://twitter.com/AP_Sports