'Mission impossible', 'huge relief' and a 'bittersweet victory': World media reacts to Biden win – CNBC
Locals read a newspaper as residents of Ballina, Co. Mayo, Ireland, begin celebrations in the ancestral home of US Presidential candidate Joe Biden in anticipation of the results of the US election as Biden edges closer to victory over Donald Trump.
Brian Lawless | PA Images | Getty Images
International media erupted with headlines over the weekend announcing former Vice President Joe Biden's win in the 2020 U.S. presidential race, many depicting the world breathing a sigh of relief after several tense days of a prolonged vote count.
The opinion sections of several countries' major newspapers lent a celebratory tone to the news, while others soberly described the stark challenges that confront the American president-elect facing a divided nation, ongoing partisan battling over results and a country engulfed by a pandemic.
The U.K.'s Sunday Times ran the headline: "Sleepy Joe wakes up America," a poke at incumbent President Donald Trump's derogatory nickname for the 77-year-old Biden.
Many British papers focused on the enduring legacy of the now lame-duck Trump, who is refusing to accept Biden's victory and is launching legal challenges in several states.
"Donald Trump may have become one of the few US presidents to have lost re-election, but Trumpism lives on," the U.K.'s BBC wrote.
Britain's The Times described "joyous scenes after days of deadlock" across the U.S. after Biden's win. But a featured opinion piece argued that for all of Trump's "erratic, divisive behaviour, he will shape the country for decades to come."
The U.K.'s left-leaning Guardian newspaper didn't hold back in its optimism; its donation appeal that appears at the end of its articles read: "Joe Biden has won… renewing hope for the US and the world," touting "fresh promise for democracy and progress" after "four years of turmoil misinformation, manipulation and division."
Its opinion writers described Trump's defeat as "catastrophe averted" and "wonderful for the world, but trouble for Boris Johnson," suggesting that the U.K. prime minister could be marginalized as Biden prioritizes reviving U.S. relations with the EU.
'Huge relief' or 'mission impossible'?
In France, major newspaper Le Monde wrote: "American Elections 2020: Joe Biden's victory sparks huge relief in Europe." Its homepage also highlighted the fallout in Trump camps: "Pro-Trump social networks between denial, discouragement and desire to do battle," the article at the top of the site read.
In this photo illustration German newspaper front pages show Sunday newspapers headlines following the projection by news outlets of Joe Biden as the winner of the recent U.S. presidential election on November 08, 2020 in Berlin, Germany.
Maja Hitij | Getty Images
Germany's Der Spiegel wasted no time in pointing to the stark challenges facing a Biden administration. "Joe Biden's Almost Impossible Task," the front page headline read, describing the Democratic victory as a "ripple, not a wave."
"Even if Joe Biden emerges victorious," the paper's writers wrote, "the peaceful transfer of power still isn't yet a foregone conclusion," adding that "Biden would face the almost impossible task of reuniting a deeply divided nation."
Sweden's largest daily, Dagens Nyheter, titled its featured editorial piece: "Bittersweet victory – Biden will struggle to heal the US," describing Biden's pledge to return the U.S. to normalcy as "mission impossible" given how divided the massive country of 330 million is.
Sweden's more conservative Svenska Dagbladet warned of the risks posed by Trump supporters who believe the Trump narrative of a stolen election. "Election is over – but conflict continues," its headline read.
Italian daily La Republicca ran an op-ed entitled: "Biden's challenge: to unify the country and give it back the respect of the world." Its headline cited Trump advisor and son-in-law Jared Kushner reportedly trying to convince Trump to accept the election verdict.
'War intensifies from here'
In Asia, India's Economic Times also highlighted a fraught political battle that wasn't yet over.
"Biden wins a battle for democracy, but war intensifies from here," the website's top article read. It also featured articles saying that Biden will likely improve the U.S. citizenship and visa situation for hundreds of thousands of Indians. Other Indian papers ran pieces celebrating Vice President-elect Kamala Harris' Indian heritage.
A man reads a morning newspaper showing a photograph of newly elected US President and Vice president Joe Bidenn at a tea stall in Chennai on November 8, 2020.
Arun Sankar | AFP | Getty Images
In China, state-owned China Daily ran the simple headline: "Biden declared president-elect as challenges loom." Beijing has been fairly quiet on the topic of the election, but state outlets like CCTV have focused on the chaos surrounding the protracted vote count and acrimony between Trump and Biden supporters.
Hong Kong's South China Morning Post wrote that "Asian leaders see renewed hope in Biden and return to multilateralism." Tensions with China hit multi-decade highs amid Trump's trade war; still, political experts don't expect Biden to take an easy line on China. "Biden likely to boost ties with Asian allies to keep Beijing in check, observers say," read another SCMP article, whose writers expected U.S.-China tensions to remain.
The Japan Times emphasized the lingering legacy of Trump's presidency, running the headline: "Message of the U.S. election: Trump lost, but Trumpism did not." It also highlighted the Japanese government's desire to bolster bilateral ties with the U.S.
Predictability at last?
In Russia, the Moscow Times suggested a departure from Trump's unpredictable behavior would be welcomed by the Kremlin, despite the oftentimes friendly relationship between Trump and Russian President Vladimir Putin.
"It's not that Biden would be much better in terms of Russian-U.S. relations, but at least he might bring a certain predictability to the dialogue," the paper wrote.
The most-read article on Sunday in Russia's business daily Kommersant wrote that "The only guaranteed outcome of the elections was the civil division, which, having hit the country four years ago, will continue to grow."
Brazilian newspaper Folha de S.Paulo wrote that "Trump's defeat punishes the attacks against civilisation, it is a lesson for Bolsonaro," referring to Brazil's own president Jair Bolsonaro, widely seen as a populist strongman with a brash and personality-led leadership style similar to Trump's.
Popular Mexican daily El Universal featured articles on the election titled: "Six reasons to celebrate Trump's defeat," and highlighted the controversy caused by Mexican President Andrés Manuel López Obrador refraining from congratulating Biden until the electoral process was "finally concluded" out of "prudence." Mexico was often used as a boogeyman in Trump's campaigns and speeches, and the country was hit hard by his immigration, trade and border policies.
Kyrie skips media availability, releases statement – theScore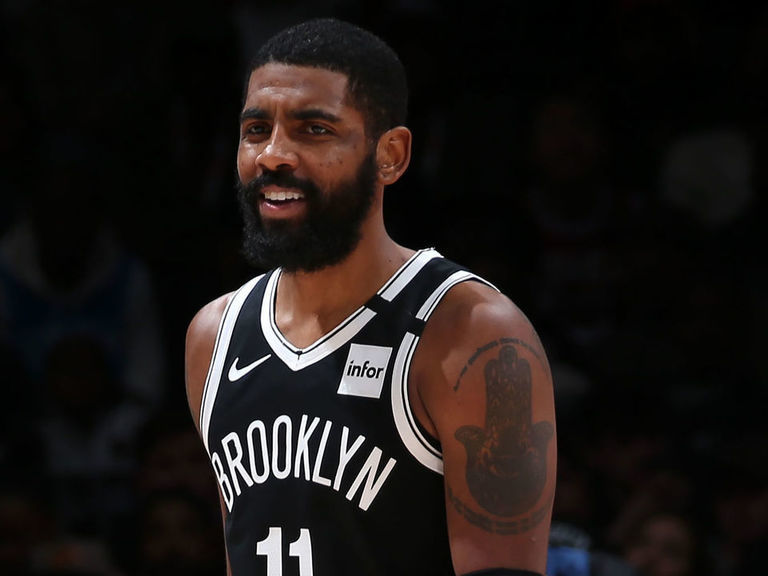 As the NBA prepares for its 2020-21 season to begin on Dec. 22, the enigmatic Kyrie Irving did not provide access to reporters on Friday as part of the Brooklyn Nets' media week.
Instead, the 28-year-old guard released a written statement "to ensure that (his) message is conveyed properly," per ESPN's Malika Andrews.
Here's Irving's statement in full:
COVID-19 has impacted us all in many ways, so I pray for the safety and health of our communities domestically and abroad. I am truly excited for the season to start and I am also praying that everyone remains safe and healthy throughout this journey.

Instead of speaking to the media today, I am issuing this statement to ensure that my message is conveyed properly.

I am committed to show up to work everyday, ready to have fun, compete, perform, and win championships alongside my teammates and colleagues in the Nets organization. My goal this season is to let my work on and off the court speak for itself.

Life hit differently this year and it requires us, it requires me, to move differently. So, this is the beginning of that change.
The league's collective bargaining agreement requires veteran players to "participate in photograph and media sessions" as early as the 22nd day prior to the first game of the regular season.
Additionally, under a section pertaining to promotional activities, the CBA states: "Upon request, the player shall consent to and make himself available for interviews by representatives of the media conducted at reasonable times."
It's unclear whether Irving's statement constitutes participation in the Nets' training camp media session or whether certain allowances have been made in regard to media availability within the amended agreement due to COVID-19.
In an injury-shortened debut season with the Nets in 2019-20, Irving averaged 27.4 points, 6.4 assists, 5.2 rebounds, and 1.4 steals per game across 20 appearances.
Conversations That Matter: The state of the media – Vancouver Sun
Article content
Jack Webster was known as the king of the airways in B.C> for close to 40 years. Since his retirement the foundation in his name has been recognizing and celebrating excellence in journalism.
This year, on Dec. 8, the awards dinner is being netcast, opening it up, for the first time, to the public.
If it was on the public agenda, Webster was there. When prisoners at the B.C. Penitentiary rioted and took hostages in 1963, they asked Webster to resolve the standoff. They asked for him because he was trusted at a time when mainstream media was believed to be fulfilling the responsibilities for the fourth estate – to step in, stand up, advocate, call out, and record the people and events of our lives.
Since Webster's retirement in 1988, the media landscape has changed dramatically. In Vancouver, for example, the major powerhouses in print, radio and TV have all seen their constituencies dwindle. Shrinking audiences meant less ad revenue, which, in turn, led to cuts in newsrooms and that leads to further reductions in audiences.
Kyrie Irving Imposes 'Media Blackout,' Won't Speak To Reporters This Season – Forbes
Kyrie Irving was tentatively scheduled to do a Zoom interview with reporters on Friday, just as Kevin Durant and his other Nets teammates have been doing in recent days.
Now it appears Irving won't speak to the media at all this season. ESPN's Brian Windhorst reported on "The Jump" that Irving will conduct a "media blackout" this season, and Irving issued this statement.
Irving, the former St. Patrick (N.J.) High School and Duke star, has had some missteps with the media in the past.
In 2017, when he was with the Cleveland Cavaliers, he claimed that the Earth was flat.
It became a major story and even NBA Commissioner Adam Silver — who, like Irving, went to Duke — was asked to offer his opinion.
"Kyrie and I went to the same college," Silver said then. "He may have taken some different courses."
Irving later ended up apologizing for his comments.
"To all the science teachers, everybody coming up to me like, `You know I've got to reteach my whole curriculum?' I'm sorry," Irving said. "I apologize. I apologize."
In October, Irving made some controversial comments about new Nets coach Steve Nash.
"I don't really see us having a head coach," Irving said on the podcast, "The ETCs With Kevin Durant." Referring to Durant, he said, "K.D. could be a head coach. I could be a head coach."
Speaking this week on a Zoom with reporters, Nash tried to diffuse the situation.
"I read what he said, and I think it was one phrase at the end of a bunch of things he said about being excited — about having me in this position and coaching — and then maybe taken to another level that seemed incredible in headlines, which is fine," Nash said. "I'm in a fortunate position where I get to coach Kevin Durant and Kyrie Irving. What we've dealt here in a short period of time with how we're going to prep and play is exciting. I'm thrilled to get to coach those guys.
"One statement that I don't think necessarily was completely — wasn't meant the way it was taken by the press, that doesn't bother me at all."
Without using the words "load management," Nash also said he would be surprised if Durant or Irving played all 72 games this season. Durant is coming off Achilles surgery, and Irving off shoulder surgery.
Through it all, Irving has continued to financially support his alma mater, now called The Patrick School. In 2018, he funded the renovation of the gym, locker room, weight room and lounge at the school.
He has also mentored younger players, like Seton Hall guard Bryce Aiken and Jonathan Kuminga, the former Patrick School star now with the G League Ignite team, and pledged $1.5 million to WNBA players forgoing last season due to coronavirus or social justice concerns.
Irving, Durant and the Nets open the preseason Dec. 13 against the Wizards and the regular season Dec. 22 at home against the Warriors.