MLBPA reaffirms pay stance, no deal close – TSN
NEW YORK — Baseball players reaffirmed their stance for full prorated pay, leaving a huge gap with teams that could scuttle plans to start the coronavirus-delayed season around the Fourth of July and may leave owners focusing on a schedule as short as 50 games.
More than 100 players, including the union's executive board, held a two-hour digital meeting with officials of the Major League Baseball Players Association on Thursday, a day after the union's offer was rejected by Major League Baseball.
"Earlier this week, Major League Baseball communicated its intention to schedule a dramatically shortened 2020 season unless players negotiate salary concessions," union head Tony Clark said in a statement. "The concessions being sought are in addition to billions in player salary reductions that have already been agreed upon. This threat came in response to an association proposal aimed at charting a path forward."
"Rather than engage, the league replied it will shorten the season unless players agree to further salary reductions," Clark added.
Players originally were set to earn about $4 billion in 2020 salaries, exclusive of guaranteed money such as signing bonuses, termination pay and option buyouts. The union's plan would cut that to around $2.8 billion and management to approximately $1.2 billion plus a $200 million bonus pool if the post-season is completed.
MLB last week proposed an 82-game season with an additional sliding scale of pay cuts that would leave a player at the $563,500 minimum with 47% of his original salary and top stars Mike Trout and Gerrit Cole at less than 22% of the $36 million they had been set to earn.
Players countered Sunday with a plan for a 114-game regular season with no pay cuts beyond the prorated salaries they agreed to on March 26. That would leave each player with about 70% of his original pay.
MLB rejected that Wednesday, when Deputy Commissioner Dan Halem wrote in a letter to union chief negotiator Bruce Meyer informing him "we do not have any reason to believe that a negotiated solution for an 82-game season is possible."
"Nonetheless, the commissioner is committed to playing baseball in 2020," Halem said in the letter, which was obtained by The Associated Press. "He has started discussions with ownership about staging a shorter season without fans."
Management officials have said they are considering a slate of perhaps 50 games or fewer. There has not been a schedule averaging fewer than 82 games per team since 1879.
"The overwhelming consensus of the board is that players are ready to report, ready to get back on the field, and they are willing to do so under unprecedented conditions that could affect the health and safety of not just themselves, but their families as well," Clark said in a statement. "The league's demand for additional concessions was resoundingly rejected."
Baseball's March 26 deal allows games if there are no government restrictions on playing in front of fans and no relevant travel limitations. The sides agreed to "discuss in good faith" the economic feasibility of playing in empty ballparks, which appears to be the likely option.
MLB says that without fans it would average a loss of $640,000 for each additional game played. The union disputes the teams' financial figures.
Teams also worry about a second wave of the new coronavirus this fall and don't want to play past October, fearing $787 million in broadcast revenue for the post-season could be lost. MLB proposed expanding the playoffs from 10 teams to 14, which would generate additional broadcast rights to sell, and players have offered to guarantee the larger playoffs for both 2020 and 2021.
While baseball has reverted to the economic bickering that led to eight work stoppages from 1972-95, the NBA announced plans Thursday to resume its regular season with 22 teams on July 31, the NHL is moving ahead with plans for an expanded Stanley Cup playoffs this summer and MLS is planning to have teams return with a tournament in July.
"In this time of unprecedented suffering at home and abroad, players want nothing more than to get back to work," Clark said. "But we cannot do this alone."
___
More AP MLB: https://apnews.com/MLB and https://twitter.com/AP_Sports
Brown works out with Seahawks QB Wilson – TSN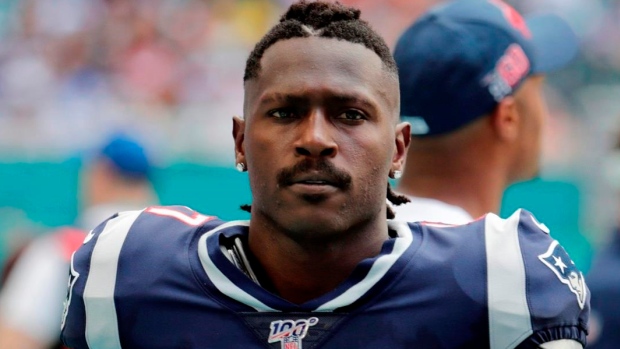 Free agent wide receiver Antonio Brown posted a video on Instagram of him working out with Seattle Seahawks quarterback Russell Wilson.
Brown captioned the video, which shows him catching a deep pass from Wilson, "Who wants to see this on Sundays? That was fun!"
The 31-year-old Brown could be suspended if he were to be signed by a team ahead of the 2020 season. The former star player has been involved in a number of legal issues stemming back from the 2019 season.
Brown played in just one game during the 2019 campaign after being released by the New England Patriots in September of 2019. The wide receiver signed with the Patriots that same month after he was cut by the Oakland Raiders, who acquired him in March of 2019 in a deal with the Pittsburgh Steelers.
Brown, who spent nine of his 10 career seasons with the Steelers, has amassed 11,263 receiving yards and 75 touchdowns with 841 receptions over his career and has seven Pro Bowl nominations.
MLS: 6 FC Dallas players have tested positive – TSN
Major League Soccer says six FC Dallas players have tested positive for COVID-19.
Two of the players tested positive upon arrival Saturday at the league's host hotel in Florida for the MLS is Back Tournament. The other four tested positive within the last two days.
All six were assessed and moved to the isolation area of the hotel where they continue to receive "remote care from a health-care provider," the league said,
The rest of the FC Dallas delegation, following MLS health and safety protocols, are quarantining in their hotel rooms pending results of additional COVID-19 testing.
Dallas is due to open its tournament against the Vancouver Whitecaps on July 9 at Disney's Wide World of Sports complex in the Orlando area.
The league says no other members of the MLS delegation at the host hotel have tested positive, and no other club has been in contact with the FC Dallas party since it arrived in Florida.
League protocols include regular screening, testing, social distancing, person protective equipment and a mandatory quarantine for all individuals upon arrival at the hotel until they have a negative test.
It says so far 392 people have been tested with six positives.
The Whitecaps, Montreal Impact and Toronto FC have yet to arrive in Florida for the tournament, which runs July 8 to Aug. 11.
This report by The Canadian Press was first published June 29, 2020.
—
Follow @NeilMDavidson on Twitter
Toronto, Edmonton to serve as NHL hubs – Winnipeg Free Press
Lucky us, eh?
On a day we celebrated all that we love about the true north strong and free, it was fitting the National Hockey League decided the only way to hold the Stanley Cup playoffs this summer was to do so entirely here in the land of poutine, Beaver Tails and maple syrup.
COVID-19 is out of control in many American locales, including Las Vegas, which had been the runaway favourite to be chosen as a so-called hub city until the surging number of cases over the past week became impossible to ignore.
I don't care how tight the so-called bubble for teams is going to be, choosing to bring people into a pandemic hot spot would have been reckless at best and, at worst, criminally negligent.
The NHL can be truly ridiculous at times — see last week's draft lottery debacle as Exhibit A — but they're definitely not that dense. And so we're down to Edmonton and Toronto, which make a lot more sense than anywhere south of the border (Sin City, Los Angeles and Chicago were also on the short list, with the NHL initially wanting one hub in each country).
Both cities have checked off all the requisite boxes for both the league and its players. That includes getting the federal government to waive the mandatory 14-day quarantine for those coming from outside the country in a glaring example of how money talks and sports often calls the shots when it comes to policy and procedures that wouldn't apply to the rest of us lowly citizens.
A note of caution: Vancouver was the hub city of choice until Dr. Bonnie Henry, the provincial health officer, wouldn't kowtow to the league's demands regarding contact tracing. Good on Henry for refusing to budge, and shame on the NHL for trying to change what made B.C. a prime location in the first place.
That fact alone should have everyone's Spidey senses tingling about this whole process, which really boils down to the almighty dollar and stopping the financial bleeding.
All of this is the result of many long days, and nights, of negotiations between the NHL and NHLPA that spilled into Canada Day, which is always a marquee date on the hockey calendar reflecting the start of free agent frenzy, but took on an entirely different look this time around.
An announcement about a tentative agreement on all return-to-play protocols including training camp and the unprecedented 24-team tournament is imminent.
Expect some spirited debate, as many players are said to be less than thrilled at all of this. But the alternative is likely worse, which is why it should ultimately get approved once they vote, likely this weekend, and things can quickly ramp up.
Details on how this will play out have begun to emerge. Barring an unexpected, last-minute development, all Western Conference teams including the Winnipeg Jets will participate in empty-arena, made-for-TV games in Edmonton. All Eastern Conference teams will do the same in Toronto. There will be extensive health and safety protocols. Players will be allowed to opt out. Training camps should begin in all home markets by mid-July, with the puck dropping on play by the end of the month and continuing into early October.
Perhaps the most surprising development in all of this isn't that they've found a way to play, which seemed inevitable from the start. No, it's that a lengthy extension of the collective bargaining agreement is being wrapped in, including a new financial framework for players and owners and apparent Olympic inclusion in both 2022 (Beijing) and 2026 (Italy).
That's a significant step given the ugly labour history this century, especially in the midst of such uncertain times. And great news for those pining to see a return of best against best on an international stage, which was sorely missing from the 2018 Winter Games in South Korea.
Kudos to the league and players for putting aside past differences and finding common ground and a path forward. The last thing a sports fan wants to stomach is yet another lockout where wealthy players and wealthier owners fight over money. Been there, done that, bought the T-shirt. Wouldn't recommend. Zero stars.
So, yes, hockey is back. Almost. Kind of, even if the NHL of the immediate future will look nothing like the NHL of the recent past. Winnipeg vs. the Calgary Flames playing in August inside an empty Rogers Place in Edmonton, just like we all saw coming.
It's still hard to fathom we're at this stage, considering the global health crisis is much bigger than at the time sports paused in mid-March. Remember when one single NBA player, Rudy Gobert, got COVID-19 and that was enough to bring games across North America to a screeching halt?
Now we have 25 NHL players already testing positive during informal skates in June and most barely bat an eye. The one big difference, of course, is the bubble environment that will be created, in consultation with health experts, which the league believes can mitigate potential spread, including within the hub cities, which should at least get a modest economic boost by being hockey hosts for a couple months.
They better be right. To which I'd say good luck to all involved, as Edmonton and Toronto will be opening their doors to a great unknown. The last thing we want to see is the kind of inept bungling that has made our U.S. neighbours the epicentre of the pandemic. As much as I can't wait to cover live hockey for you readers once again, it can't come at the expense of public safety.
Oh Canada? Or woe, Canada? It remains to be seen.
mike.mcintyre@freepress.mb.ca
Twitter: @mikemcintyrewpg
Mike McIntyre
Reporter
Mike McIntyre grew up wanting to be a professional wrestler. But when that dream fizzled, he put all his brawn into becoming a professional writer.