Modern Social Media for Armenia: A Tool, not a Solution – Armenian Weekly
Հայրենիքի փրկութիւնը հերաձայնով չի կատարուիր։
The Armenian homeland's salvation will not be realized with social media and mobile phones.
During the 2020 Artsakh War, there was a flood of social media posts from Armenians across the globe. Platforms like Instagram, Twitter and Facebook were inundated with news of Turkey and Azerbaijan's aggression and attacks on Armenia and Artsakh. The Diaspora found comfort, and some might say some sort of purpose on social media, believing that the posts and stories placed on our accounts made a difference in spreading news and awareness regarding our cause. Not surprisingly, the world and its political leaders responded to our online activism with near total silence.
In the aftermath of the loss of more than half of Artsakh – we learned a bitter lesson – especially my generation. Social media is a tool – strong in some ways – but also a paper tiger in other ways. The truth be told, in the days following the loss of so much of Artsakh and the loss of so many brave heroes, I learned an essential lesson: we Armenians must depend on ourselves to build, rejuvenate and strengthen the Armenian nation. We must never look elsewhere for comfort or external aid that, at the end of the day, may never arrive.
Let's look at one scenario: a non-Armenian is scrolling through Instagram during the afternoon in October 2020, looking through their friends' adventures and outings. This individual comes across your post and sees that there is a war in some place far, far away. Why would this individual care for something that is not personal to them? Why will this individual research something they will likely forget the very next day? If you are lucky, this person will search some facts, come across Azeri and Turkish propaganda and call it a day. There is a good chance that nothing will come out of that encounter because our cause, in many ways, is of unique concern to the Armenian people. Our cause is a part of us because we feel its force in our bones and understand it in our hearts. The reason you care is because this war was a threat to your people, your nation, your holy lands.
This much is clear: it is only the Armenian people who will push and ultimately forge a brighter future for our homeland. It is only the Armenian people who can create the homeland we strive to see. And that homeland will not be built through social media. I believe hands-on work is the key to creating a better and stronger Hairenik.
Making positive change in our homeland is a contact sport—a hands-on enterprise. Social media can help enable and spread news of this work, but it is not fundamental to the effort. That effort has to be through direct action on the ground in Armenia and Artsakh as well as across the Diaspora – not with memes and posts that provide clickbait.
Think of the direct actions you can take to make a change for Artsakh.
A fine example is the recent work of the Armenian Revolutionary Federation (ARF) Youth Office which inspired the entrepreneurial dreams of emerging leaders in Artsakh by sponsoring Verelk, "a Capacity + Capital + Capabilities hybrid entrepreneurship program for aspiring young entrepreneurs and change-makers in Artsakh. Verelk's mission is to accelerate the economic reconstruction at a local scale and ensure increased and sustainable living standards for the youth (18 – 35 year-olds) in the aftermath of the Artsakh War." Thus far, this ARF Youth Office initiative has been a huge success and a clear example of direct action on the ground in Artsakh.
Here are some ideas you could participate in, just to name a few.
Make a change by simply visiting Artsakh and speaking to the local youth, their parents and elderly to understand the challenges and realities they face. Understanding their circumstances and situation is important in order to mold your action to create a more secure and resilient Artsakh.
Make a change by reaching out to your local Armenian Youth Federation (AYF) chapter and becoming an activist for your nation in the Diaspora. Make a change by participating in AYF Youth Corps and Camp Javakhk, bringing ear-to-ear smiles on the faces of children whose childhoods, in many ways, have been stripped away as witnesses of war.
Make a change by participating in the AYF Internship Program and Birthright Armenia, by partaking in opportunities that hone in on your career interests and help you visualize your life should you choose to repatriate to your homeland.
Make a change by reading Karekin Njdeh and Raffi, understanding how our struggle in the past is very similar to the reality we face today. Make a change by revitalizing the Armenian language in the Diaspora by creating Armenian book clubs in schools and communities, normalizing its use through different avenues.
The possibilities for hands-on work are endless. Anything is possible.
To those who want to see and make change, take your shovel, your pen, and your sword – take whatever you have – and get to work.
Our homeland awaits.
Let us answer her call for help and build towards our bright future – not with social media posts alone – but with our hands, our hearts and our minds.
Chris Christie has a message for Donald Trump after latest social media attacks – CNN
We use cookies and data to
Deliver and maintain Google services
Track outages and protect against spam, fraud, and abuse
Measure audience engagement and site statistics to understand how our services are used and enhance the quality of those services
If you choose to "Accept all," we will also use cookies and data to
Develop and improve new services
Deliver and measure the effectiveness of ads
Show personalized content, depending on your settings
Show personalized ads, depending on your settings
If you choose to "Reject all," we will not use cookies for these additional purposes.
Non-personalized content is influenced by things like the content you're currently viewing, activity in your active Search session, and your location. Non-personalized ads are influenced by the content you're currently viewing and your general location. Personalized content and ads can also include more relevant results, recommendations, and tailored ads based on past activity from this browser, like previous Google searches. We also use cookies and data to tailor the experience to be age-appropriate, if relevant.
Select "More options" to see additional information, including details about managing your privacy settings. You can also visit g.co/privacytools at any time.
Who is Lachlan Murdoch, heir apparent of Rupert Murdoch's media empire?
For Lachlan Murdoch, this moment has been a long time coming. Assuming, of course, that his moment has actually arrived.
On Thursday, his father Rupert Murdoch announced that in November he'll step down as the head of his two media companies: News Corp. and Fox Corp. Lachlan will become the chair of News Corp. while remaining chief executive and chair at Fox Corp., the parent of Fox News Channel.
The changes make Rupert's eldest son the undisputed leader of the media empire his father built over decades. There's no real sign that his siblings and former rivals James and Elisabeth contested him for the top job; James in particular has distanced himself from the company and his father's politics for several years. But Rupert, now 92, has long had a penchant for building up his oldest children only to later undermine them — and sometimes to set them against one another — often flipping the table without notice.
Given Rupert Murdoch's advanced age, this might be his last power move. But there's a reason the HBO drama "Succession" was often interpreted as a thinly disguised and dark satire of his family business. In Murdoch World, as in the fictional world of the Roy family, seemingly sure things can go sideways in an instant, particularly when unexpected opportunities arise.
Lachlan Murdoch has lived that first hand. Born in London, he grew up in New York City and attended Princeton, where he focused not on business, but philosophy. His bachelor's thesis, titled "A Study of Freedom and Morality in Kant's Practical Philosophy," addressed those weighty topics alongside passages of Hindu scripture. The thesis closed on a line from the Bhagavad Gita referencing "the infinite spirit" and "the pure calm of infinity," according to a 2019 article in The Intercept.
Béatrice Longuenesse, Lachlan's thesis advisor at Princeton, confirmed the accuracy of that report via email.
After graduation, though, Lachlan plunged headlong into his father's business, moving to Australia to work for the Murdoch newspapers that were once the core of News Corp.'s business. Many assumed he was being groomed for higher things at News Corp., and they were not wrong. Within just a few years, Lachlan was deputy CEO of the News Corp. holding company for its Australian properties; shortly thereafter, he took an executive position at News Corp. itself and was soon running the company's television stations and print publishing operations.
Lachlan's ascent came to an abrupt halt in 2005, when he resigned from News Corp. with no public explanation. According to Paddy Manning, an Australian journalist who last year published a biography of Lachlan Murdoch, the core problem involved two relatively minor issues on which Lachlan disagreed with Roger Ailes, who then ran Fox News.
"The real point was that Lachlan felt Rupert had backed his executives over his son," Manning said in an interview. "So Lachlan felt, 'If I'm not going to be supported, then what's the point?'" Manning did not have direct access to Lachlan for his book "The Successor," but said he spoke in depth with the people closest to his subject.
Lachlan returned to Australia, where he has often described feeling most at home, and founded an investment group that purchased a string of local radio stations among other properties.
While he was away, News Corp. entered choppy waters. The U.K. phone-hacking scandal, in which tabloid journalists at the News of the World and other Murdoch-owned publications had found a way to listen to voicemails of the British royal family, journalistic competitors and even a missing schoolgirl, had seriously damaged the company. The fracas led to resignations of several News Corp. officials, criminal charges against some, and the closure of News of the World as its finances went south.
Manning said that the damage the scandal inflicted on News Corp. — and on both Lachlan Murdoch's father and his brother James, chief executive of News' British newspaper group at the time — helped pull Lachlan back to the company.
"He was watching the family tear itself apart over the phone-hacking scandal," Manning said. Lachlan was "instrumental in trying to circle the wagons and turn the guns outwards, and stop Rupert from sacking James."
While it took more convincing, Lachlan eventually returned to the company in 2014 as co-chairman of News Corp. alongside James.
Not long afterward, Ailes was forced out of his job at Fox News following numerous credible allegations of sexual harassment.
Lachlan Murdoch has drawn criticism from media watchdogs for what many called Fox News' increasingly conspiratorial and misinformation-promoting broadcasts. The network hit a nadir following the 2020 election when voting machine company Dominion Voting Systems sued Fox News for $1.6 billion, alleging that Fox knowingly promoted false conspiracy theories about the security of its voting machines.
Fox settled that suit for $787.5 million in March of this year. A similar lawsuit filed by Smartmatic, another voting-machine maker, may go to trial in 2025, Fox has suggested.
In certain respects, though, Lachlan Murdoch's behavior suggests some ambivalence about his role at News Corp. In 2021 he moved back to Sidney and has been mixing commuting and remote work from Australia ever since. "I think there's a legitimate question about whether you can continue to do that and for how long" while running companies based in the U.S., Manning said.
Ukraine war: US to give Kyiv long-range ATACMS missiles
US President Joe Biden plans to give Ukraine advanced long-range missiles to help Kyiv with its ongoing counter-offensive, US media report.
They quote US officials familiar with the issue as saying Ukraine will get some ATACMS missiles with a range of up to 190 miles (300km).
This would enable Kyiv to hit Russian targets deep behind the front line.
A Ukrainian military source told the BBC that the attack in the port of Sevastopol used Storm Shadow missiles, which are supplied by Britain and France.
Such missiles have a range of just over 150 miles.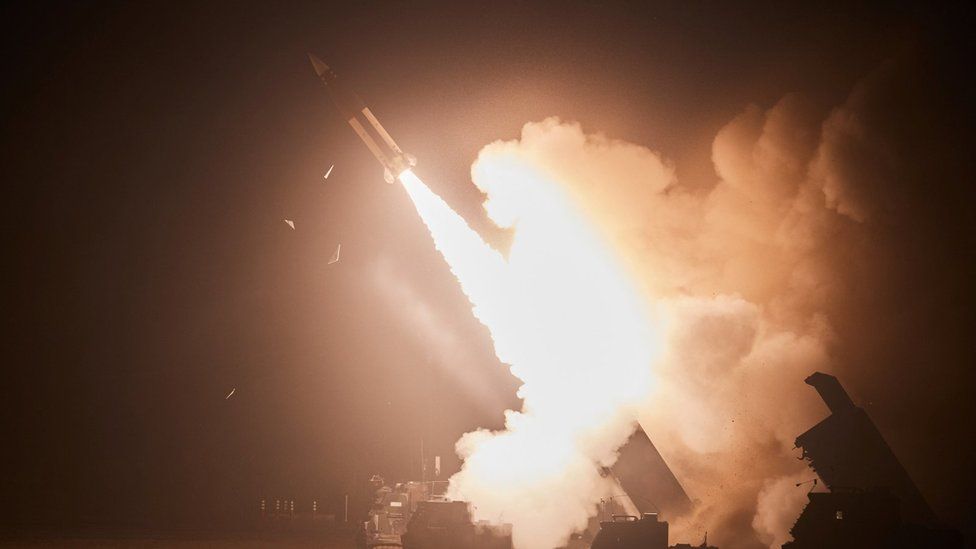 NBC News and the Wall Street Journal quote unnamed US officials as saying Mr Biden told his Ukrainian counterpart Volodymyr Zelensky that Kyiv would get "a small number" of ATACMS (Army Tactical Missile System) missiles. The two leaders met at the White House on Thursday.
The WSJ adds that the weapons will be sent in the coming weeks.
Meanwhile, the Washington Post cited several people familiar with the discussions as saying Ukraine would get ATACMS armed with cluster bomblets rather than single warheads.
Neither the US nor Ukraine have officially confirmed the reports.
After the Biden-Zelensky talks Washington announced a new tranche of $325m (£265m) in military aid – including artillery and ammunition – for Ukraine. America's Abrams tanks will be delivered to Kyiv next week.
However, both presidents have been evasive on the ATACMS issue.
"I believe that most of what we were discussing with President Biden yesterday… we will be able to reach an agreement," Mr Zelensky said on Friday during a visit to Canada.
"Yes, [this is] a matter of time. Not everything depends on Ukraine," he added.
Kyiv has for months been pushing for ATACMS to boost its tough and bloody counter-offensive in the south.
It says key Russian supply lines, command positions and other logistical hubs deep behind the front line would then be within striking distance, forcing Moscow to move them further away and thus making it harder to resupply troops and weaponry.
Russian positions in the occupied Ukrainian regions in the south – including Crimea – would be particularly vulnerable, Ukraine says.
President Vladimir Putin launched a full-scale Russian invasion of Ukraine in February 2022, and the Biden administration was initially hesitant to provide Ukraine with modern weaponry.
But its stance has since shifted dramatically, with Kyiv getting high-precision Himars long-range rocket systems and Patriot air defence missiles.
President Biden has been hesitant on ATACMS amid fears that such missiles could bring a direct clash with nuclear-armed Russia closer.