Monday's fall economic statement will try to bridge current and future needs – iPolitics.ca
The Liberal government is ready to table a fall economic statement that attempts to balance the current needs of the COVID-19 response with plans for Canada's post-pandemic economy and social-safety net.
On Monday, Finance Minister Chrystia Freeland will present her first fiscal and economic update since replacing Bill Morneau after the latter's resignation in August.
The statement will provide detailed fiscal projections for the years ahead, something the Liberals haven't done since the pandemic began in the spring.
The Liberals will also present new measures to fight COVID-19, and lay the groundwork for longer-term and higher-cost priorities, such as national affordable child care, pharmacare, and fighting climate change — measures that interest labour, but concern business groups.
"I expect the government to be clear … that they remain committed to the priorities identified in the throne speech, and ensure that those things are going to be delivered on," Hassan Yussuff, president of the Canadian Labour Congress, told iPolitics.
The throne speech included a long list of promises to green the economy and strengthen the country's social safety net — efforts Yussuff says are vital, if Canada is to emerge from the pandemic stronger than before.
The fiscal update coincides with a second wave of COVID cases, which have prompted new public-health restrictions that have shuttered businesses and rattled the confidence of consumers entering the holiday season.
Levels of consumer confidence for November are now at their lowest since May, according to the Conference Board of Canada's index.
Perrin Beatty, president and CEO of the Canadian Chamber of Commerce, said COVID will still be around for the foreseeable future, so Canada must have a plan to manage, rather than merely react to, the pandemic.
"Unfortunately, up until now, the focus of governments has been: 'Shut down and write a cheque,' " he told iPolitics.
Beatty said governments need to craft a more coherent strategy that better uses data and science to bring down infection rates, and allows Canadians to safely resume their lives soon as possible, while also ensuring resources get to the most vulnerable communities and economic sectors.
He said it's wrong to think of a vaccine as a "silver bullet," because it might not entirely eliminate the threat of COVID, and its distribution will take considerable time. The fiscal update should focus on current concerns, he said.
READ MORE: Ford asks Trudeau for details of vaccine types, quantities, and timing
Speaking to reporters on Friday, Prime Minister Justin Trudeau said there are "very good chances" most Canadians will be vaccinated by September 2021.
He added that the fiscal update will include more support for Canadians during the pandemic, as well as plans to rebuild a "strong, resilient economy for everyone."
Kevin Page said he expects the Liberals to punt some of their longer-term priorities to the next budget, while still presenting a comprehensive document.
"I think it will be more than a typical update; something probably looking like a mini-budget," said Page, a former parliamentary budget officer and head of the University of Ottawa's Institute of Fiscal Studies and Democracy.
The update should focus first on getting Canadians through the current crisis, said Elliot Hughes, a former policy adviser of Morneau's.
"There's going to be lots of time to sketch out those bigger things down the road," he said. "What people want to know now is that the government's got their backs."
Hughes, now a senior advisor at Summa Strategies, cautioned that the government needs to keep its messaging "clean and straightforward," but should be ready to answer questions about what to expect in the near future, as well in the recovery phase.
"It's a tricky balance, but it's one that you need to strike," he said.
READ MORE: Female, racialized and young Canadians less likely to benefit from jobs increase
The statement will also update the deficit, which is expected to be Canada's largest since the Second World War. It's also expected to be without a fiscal anchor to manage debt levels, though Freeland has previously said there's no "blank cheque" for spending.
A report released by RBC on Friday forecasts the annual deficit to approach $370 billion, higher than the $343 billion projected in July. The report says spending announcements will add at least $90 billion to the 2021-22 deficit, and extensions to the wage subsidy and recovery benefit could add even more.
Yussuff, who hopes the fall update will include money for infrastructure, child care and employment insurance, said now is not the time for fiscal restraint: Spending will both prevent an economic disaster and support women and people of colour, who've been disproportionately affected by the pandemic, he said.
"They're going to need to be supported if we're going to get to a full recovery."
Beatty, who has supported Ottawa's emergency spending thus far, said there should be a short-term child-care program to get mothers back into the workforce. But such spending must be targeted, and this is not the time for costly programs such as universal pharmacare, he said.
"Don't get into programs that we can't afford: permanent recurring programs that are simply going to build in a structural deficit."
At what exact point Canada's debt becomes a serious concern is being fiercely debated, Page said, but bond agencies might lower their credit ratings if Ottawa doesn't re-introduce a fiscal anchor in the near future and the debt significantly increases.
Canadian retail sales jump in November, but December looks gloomier
By David Ljunggren
OTTAWA (Reuters) – Canadian retail sales jumped by much more than expected in November, but preliminary figures for December suggest a sharp drop as novel coronavirus restrictions were re-imposed, Statistics Canada said on Friday.
Food and drink sales rose by 5.9% and helped push overall retail trade up by 1.3%, its seventh consecutive monthly gain and significantly greater than the 0.1% increase predicted by analysts in a Reuters poll.
Most retail businesses were open in November but as the second wave of the coronavirus spread, many provinces imposed clamp downs. Statscan said December retail sales looked set to drop by 2.6% but stressed this was a preliminary estimate.
"The expected tumble in December retail sales following the pop in November conforms to the Bank of Canada's outlook, which sees weakness at the turn of the year," said Ryan Brecht, a senior economist at Action Economics.
The Bank of Canada forecast on Wednesday that the economy would shrink in the first quarter of 2021 due to the impact of temporary business closures.
Shortly after the data were released the Canadian dollar was trading 0.5% lower at 1.27 to the greenback, or 78.74 U.S. cents, with the currency giving back some of this week's gains as oil and global shares fell.
Statscan is due to issue November GDP data on Jan. 29 and Royce Mendes, a senior economist at CIBC Capital Markets, said the agency's flash estimate of 0.4% growth still seemed reasonable. The estimate was released on Dec. 23.
Overall November sales were up in 7 of 11 sub-sectors, representing 53.4% of retail trade, while in volume terms, retail sales rose 1.2%.
(Reporting by David Ljunggren in Ottawa and Fergal Smith in Toronto; Editing by Ken Ferris)
Biden's rescue plan will give U.S. economy significant boost: Reuters poll – TheChronicleHerald.ca
By Indradip Ghosh and Richa Rebello
BENGALURU (Reuters) – U.S. President Joe Biden's proposed fiscal package will boost the coronavirus-hit economy significantly, according to a majority of economists in a Reuters poll, and they expect it to return to its pre-COVID-19 size within a year.
Biden has outlined a $1.9 trillion stimulus package proposal to jump-start the world's largest economy, which has been at the epicenter of the COVID-19 pandemic having lost over 400,000 lives, fueling optimism and sending Wall Street stocks to record highs on Thursday.
Hopes for an upswing in U.S. economic growth, helped by the huge stimulus plan, was reflected in the Jan. 19-22 Reuters poll of more 100 economists.
In response to an additional question, over 90%, or 42 of 46 economists, said the planned fiscal stimulus would boost the economy significantly.
"There are crosswinds to begin 2021 as fiscal stimulus helps to offset the virus and targeted lockdowns. The vaccine rollout will neutralize the latter over the course of the year," said Michelle Meyer, U.S. economist at Bank of America Securities.
"And upside risks to our…growth forecast are building if the Democrat-controlled government can pass additional stimulus. The high level of virus cases is extremely disheartening but the more that the virus weighs on growth, the more likely that stimulus will be passed."
For a Reuters poll graphic on the U.S. economic outlook:
https://fingfx.thomsonreuters.com/gfx/polling/oakveynqovr/Reuters%20Poll%20-%20U.S.%20economy%20outlook.png
The U.S. economy, which recovered at an annualized pace of 33.4% in the third quarter last year from a record slump of 31.4% in the second, grew 4.4% in the final three months of the year, the poll suggested.
Growth was expected to slow to 2.3% in the current quarter – marking the weakest prediction for the period since a poll in February 2020 – amid renewed restrictions.
But it was then expected to accelerate to 4.3%, 5.1%, 4.0% in the subsequent three quarters, a solid upgrade from 3.8%, 3.9% and 3.4% predicted for those periods last month.
On an annual basis, the economy – after likely contracting 3.5% last year – was expected to grow 4.0% this year and 3.3% in 2022, an upgrade from last month.
For a graphic on Reuters Poll – U.S. economy and Fed monetary policy – January 2021:
https://fingfx.thomsonreuters.com/gfx/polling/azgpoljbkvd/U.S.%20economy.PNG
Nearly 90%, or 49 of 56 economists, who expressed a view said that the U.S. economy would reach its pre-COVID-19 levels within a year, including 16 who expected it to do so within six months.
"Even without the stimulus package, we had already thought the economy would get back to pre-COVID levels by the middle of this year," said Jacob Oubina, senior U.S. economist at RBC Capital Markets.
"With the new stimulus package there will be more direct money in people's pockets, easily boosting the economy, provided a vaccine rollout progresses in a constructive manner."
But unemployment was not predicted to fall below its pre-pandemic levels of around 3.5% until 2024 at least.
When asked what was more likely for inflation this year, only one said it would ease. The other 40 economists were almost evenly split between "a significant pickup" and price pressures remaining "about the same as last year."
Still, the core Personal Consumption Expenditures (PCE) price index – the Federal Reserve's preferred inflation gauge – was forecast to average below the target of 2% on an annual basis until 2024 at least, prompting the central bank to keep interest rates unchanged near zero over the forecast horizon.
"I don't think it will be an increase in underlying (inflation) trend, it is sort of a rebound in prices that have been depressed during the pandemic," said Scott Brown, chief economist at Raymond James.
(For other stories from the Reuters global long-term economic outlook polls package:)
(Reporting by Indradip Ghosh and Richa Rebello; Additional reporting by Manjul Paul; Polling by Mumal Rathore; Editing by Rahul Karunakar and Hugh Lawson)
The U.S. economy likely grew 4.1% at the end of 2020, but GDP seen masking weakness in some sectors – MarketWatch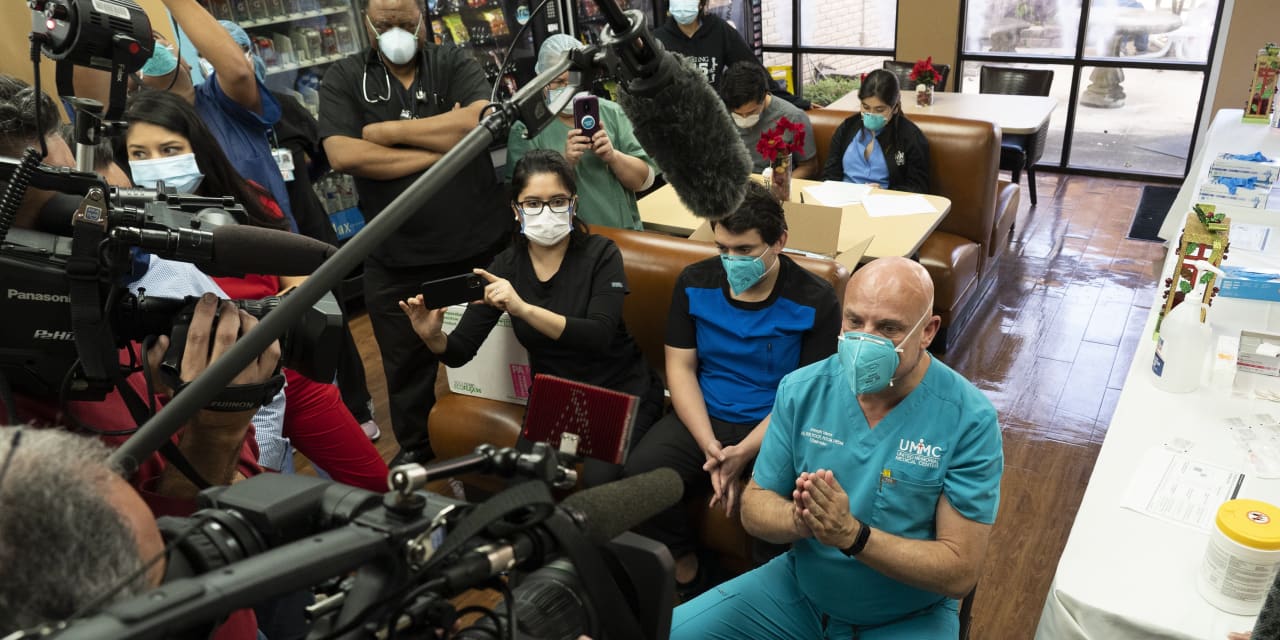 The U.S. economy may have grown about 4% in the final three months of 2020, a great showing even in the best of times.
These are not the best of times.
The economy still has lots of ground to make up, for one thing, after the deepest recession on record. And growth slackened off toward the end of 2020 after the coronavirus pandemic roared back and caseloads reached a record high, pointing to a loss of momentum in the economy early in the near year.
Read: The U.S. lost 140,000 jobs in December. How bad was it?
The U.S. fourth-quarter report on gross domestic product, due on Thursday, will still offer a useful diagnosis of the economy. It will tell us which parts have mostly recovered and which are still ailing.
Wall Street
DJIA,
-0.57%
economists polled by the Dow Jones/The Wall Street Journal predict a 4.1% increase in fourth-quarter GDP on an annualized basis. While that would mark a steep drop from the 33.4% increase in the third quarter, it still shows the economy forging ahead even as the coronavirus pandemic spiked again.
The details are unlikely to look quite as good.
The biggest component of the U.S. economy, consumer spending, almost certainly softened to mediocre 3% growth or less. Most government aid for the economy had faded away by the start of the quarter and businesses facing new government restrictions laid off more workers at the end of the year.
Business investment in structures such as oil rigs or office buildings was also weak.
Other drags on the economy included lower state and local spending and a bigger international trade deficit.
The economy got some sizzle from a surprising boom in the housing market. Low mortgages rates and people seeking more space outside the cities have lifted sales of previously existing homes to a 14-year high.
Businesses also started to rebuild their inventories — goods for future sale, that is — after letting them draw down early in the pandemic. That's a good sign for 2021 since it suggests companies are expecting stronger sales.
Indeed, a pair of surveys of business executives in January suggest companies are banking on a better 2021, mostly because of rollout of coronavirus vaccines.
How soon the vaccinations levels are high enough to really help the economy, however, is still an open question.
Read: Fauci says two more COVID-19 vaccines could be approved within 'weeks'
"We only expect vaccination rates to be high enough to accelerate the economic recovery from mid-2021 onward," said Cailin Birch, global economist at The Economist Intelligence Unit.
The promise of more federal financial aid from the Biden White House is also adding to the optimism, but the stimulus could take awhile to reach households and businesses. It's also unclear how much aid Congress will approve.
What could also help the economy after a rocky start in the new year is rising consumer confidence. Americans historically spend more when they are confident and push the economy to greater heights.
A pair of surveys this coming week, consumer confidence and consumer sentiment, will give another glimpse into whether the hopes inspired by the vaccines are outweighing the angst caused by the record number of coronavirus cases.