Monuments Men group bets on playing cards to find lost art – pentictonherald.ca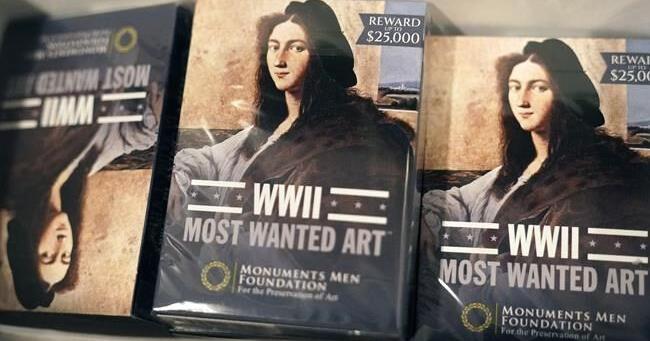 DALLAS (AP) — A group dedicated to finishing the work of World War II's Monuments Men is betting on a deck of playing cards — and reward money — to help find missing works of art taken by the Nazis.
Inspired by the U.S. military's history of creating playing cards related to missions, the Dallas-based Monuments Men Foundation for the Preservation of Art on Wednesday announced the creation of the deck focusing on works — including paintings, sculptures and reliquaries — they believe still exist.
"What is needed is to raise awareness about what is missing," said Anna Bottinelli, the foundation's president. "Because you might know of a friend who has a beautiful painting on the wall and you don't even question that that painting belongs to someone else."
The group, which is offering rewards of up to $25,000 for information leading to the recovery of each cultural object featured in the deck, will highlight a few of the cards each week on their social media.
Bottinelli said the foundation worked with museums, law enforcement and owners of lost art as they narrowed down which works to feature, which include those by Vincent van Gogh, Caravaggio and Claude Monet.
One, a pastel by Edgar Degas titled "Portrait of Mlle. Gabrielle Diot" that was taken by the Nazis from a home in France in 1940, is known to have been sold in the mid-1970s to an unknown Swiss collector.
"Many of these have resurfaced in the recent past — even as late as 2008 — in auctions," Bottinelli said.
The deck, being sold through the foundation and the National World War II Museum in New Orleans, is a nod to a U.S. military tradition that includes a deck featuring the most-wanted fugitives from the Iraq War and one from WWII designed to help soldiers identify aircrafts, Bottinelli said.
FBI Special Agent Christopher McKeogh, a New York-based member of the agency's Art Crime Team, said he thinks there's a misconception that because it's been nearly 80 years since the end of the war, that most of the missing art has been found.
"There's still a lot of artwork to still be on the lookout for," McKeogh said, noting that the Nazi's looting was "on a scale that is really hard to comprehend."
McKeogh said that in some cases, people haven't realized an artwork's past until taking it to a gallery or an auction house.
"In those cases, we'll take steps to seize it and hopefully repatriate the artwork," McKeogh said, adding that once such a history is uncovered, "owners are usually very willing" to have it returned.
"We can never undo the atrocities of the war, but any little thing that we can do to reunite one of these works with the heirs, it's an important thing," McKeogh said.
Robert Edsel, founder and chairman of the Monuments Men foundation, said that for those who do realize they own looted art, "this is a chance for people to do the right thing, to come forward, to address the problem."
Edsel started the foundation in 2007 to honor the Monuments Men, the group of men and women from Allied countries, many with art expertise, who served during WWII to protect cultural treasures as battles waged, and after the war helped return artwork plundered by the Nazis to the rightful owners.
He has written several books on the Monuments Men, including one that the movie "The Monuments Men" starring and directed by George Clooney was based on.
The foundation gets frequent calls from people wondering about objects from the war, and has over the years helped return more than 30, including a 16th century tapestry taken by a U.S. officer from Adolf Hitler's Eagle's Nest retreat near the end of the war. The officer's family gave the tapestry to a German museum in 2016.
In addition to the 52 works of art in the deck, two cards — the jokers — each feature a set of Nazi photo albums of artwork which have missing volumes.
There's reason to hope someone might come across one: The foundation has already found five that had been brought home by U.S. soldiers after the war as souvenirs.
"It has always been a joy for us to see how much gratitude there was on both parties: The party that was returning something and the party that was receiving," Bottinelli said.
___
This story has been updated to correct the spelling of Christopher McKeogh's name.
France buys new masterpiece for Orsay museum with LVMH gift – CP24
The Associated Press

Published Monday, January 30, 2023 8:14AM EST


Last Updated Monday, January 30, 2023 8:14AM EST

PARIS (AP) — France has acquired a stunning Impressionist masterpiece for its national collection of art treasures, with a donation from luxury goods giant LVMH paying the 43 million euros (nearly $47 million) for "A Boating Party" by 19th-century French artist Gustave Caillebotte.
The oil on canvas shows an oarsman in a top hat rowing his skiff on languid waters. The work, remarkable in its realism, delicate colors and almost cinematic perspective, as though the artist was in the boat with the rower, went on display Monday in the Musée d'Orsay. It is the latest addition to the Paris museum's already impressive collection of Impressionist art.
The painting was sold by Caillebotte's descendants. It had been one of the last Impressionist masterpieces still in private hands, said Jean-Paul Claverie, an adviser to LVMH boss Bernard Arnault.
Builder's clothing drive, tiny art show in Cowichan – Victoria Times Colonist – Times Colonist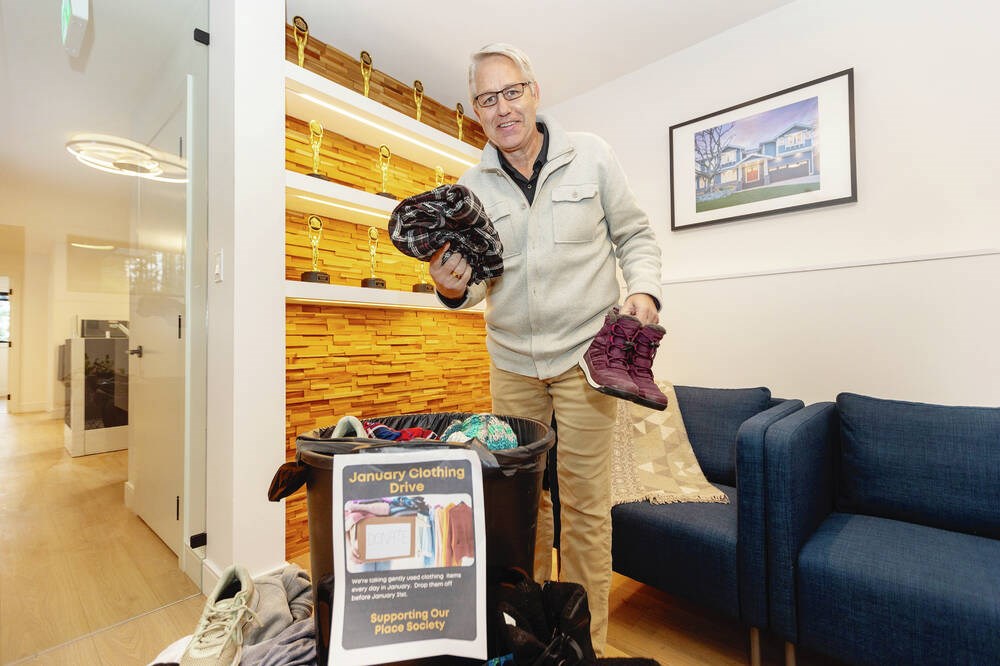 Builder's clothing drive to boost families in need
Donations of gently used clothing, shoes and ­accessories for all ages and sizes are being sought for a clothing drive hosted by LIDA Homes, now until Jan. 31.
All donated items will be given to Our Place Society to be distributed to families in need in the community.
"As a community-focused business, we feel it is our responsibility to give back to the families and ­individuals who have supported us throughout the years," said Dave Stephens, president of LIDA Homes. "We hope that this clothing drive will make a ­meaningful impact on those in need and encourage ­others to do their part as well."
Stephens has also issued a challenge to other ­builders to see who can collect the most clothing and have ­bragging rights.
The hashtag #LIDAclothingdrive has been created to encourage everyone to use it in their social media posts.
Donations will be accepted at LIDA Homes, 6015 Patricia Bay Hwy.
Tiny art show in Cowichan
More than 100 original artworks will be up for auction at the Six by Six Art Show and Auction, a special one-week fundraiser for the Cowichan Valley Arts Council, Feb. 3 to 11.
The name for the show stems from the fact that each of the locally produced original artworks is limited to six by six inches in size. In addition to paintings, the show includes some sculptures.
Janet Magdanz, president of the group, says working at that scale can be a real challenge for artists used to creating larger pieces.
"Yet our talented local artists have produced some outstanding work, creating landscapes, abstracts and pieces both whimsical and thoughtful," she said. "For buyers, the auction is a chance to pick up a small piece of work by a professional artist at a great price."
The art will be available to view and bid on both online and in person, with bids starting at $30.
Proceeds from the auction will support and expand the art council's youth programs and bringing regional shows to the gallery.
The finale of the week-long event will be a gala reception featuring live jazz, gourmet food and a cash bar, at the gallery Saturday, Feb. 11. Tickets are $25 and are available by calling the office at 250-746-1633 or at cowichanvalleyartscouncil.ca.
In your neighbourhood
Victoria council has voted to increase the maximum amount available for its My Great Neighbourhood Grants to $7,500 for placemaking and resiliency projects and up to $1,500 for activities in 2023.
The money is expected to support up to 36 community projects.
"The My Great Neighbourhood Grant program is incredibly important during these times when community is coming together again," said Mayor Marianne Alto. "It is exciting to see residents start to reconnect with the goal of adding vibrancy and resiliency to their neighbourhoods."
The funds are contingent upon matching equivalent contributions from applicants, including volunteer time and in-kind donations.
Grants are available to residents and community groups in the city. Not-for-profit organizations, schools or groups of residents can apply, although a sponsor is required for those without not-for-profit status.
In 2022, the city funded 13 community activities, 12 placemaking projects and 11 community resiliency projects.
Intake for the 2023 program will open in April, with city staff available to help residents through the application process.
Opera's the ticket
Pacific Opera Victoria is making a night at the opera more attainable by distributing more than 1,000 free tickets to more than 40 community organizations for a second year.
The organizations hand out the tickets to members of the community who may be experiencing barriers, giving them the opportunity to attend one of three Pacific Opera's 2022/23 mainstage live performances at the Royal Theatre.
"The North Park Neighbourhood Association was thrilled to participate in Pacific Opera's Ticket Access Program," said Sarah Murray, executive director of the association. "This program eliminates financial barriers to access, making Victoria's thriving arts and culture scene a more equitable and inclusive space."
Community organizations interested in taking part in the program should contact Pacific Opera. More information about the program is available at pacificopera.ca/ticket-access-program.
Art for Prospect Lake
The Prospect Lake District Community Association is looking for donations of artwork for its upcoming Art at the Lake fundraising online auction.
Proceeds from the event will be used for the maintenance of the heritage Prospect Lake Hall on the Saanich Peninsula, one of the last community-owned and maintained halls in British Columbia.
"Downsizing or just tired of looking at certain pieces? Give your old art pieces new life by donating them to Art at the Lake," said Barbara Newton, a volunteer organizing the sale.
The association is looking for donations of any type of art — prints, watercolours, pastels, oils, posters, collectibles, statuary, vases or objects d'art.
• To donate, email jackie.wrinch@shaw.ca or telephone Mavis at 250-361-3236 by March 19.
$400M recovery fund
Community service organizations, non-profit organizations, Indigenous governing bodies and charities on Southern Vancouver Island and the Cowichan Valley can apply for funding through the federal government's $400-million Community Services Recovery Fund, now until Feb. 21.
The money will help fund one-time projects focused on people, systems and program innovation. Organizations can apply for one of two tiers. Tier one includes funding ranging from $10,000 to $100,000, while tier two covers $100,001 to $200,000 for applicants that meet specific criteria.
United Way Southern Vancouver Island, the Canadian Red Cross and the Victoria Foundation will accept applications locally.
All unincorporated non-profits should apply to the Canadian Red Cross for funding for one-time projects that focus on how organizations recruit, retain, engage and support their personnel, including staff, volunteers and boards of directors.
Apply to the Victoria Foundation with projects that invest in systems and processes involved in creating the internal workings of an organization's overall structure.
The United Way Southern Vancouver Island will accept applications for funding to support projects primarily focused on program and service innovation and redesign using information gained during the COVID-19 pandemic.
"United, we champion initiatives, programs, and projects that integrate and make a significant, positive change in people's lives," said Danella Parks, director of community impact with United Way Southern Vancouver Island. "As society recovers and rebuilds, United Way is honoured to support this investment by the Government of Canada with a focus on program and service innovation and redesign in the nonprofit sector."
• For more information, go to communityservicesrecoveryfund.ca.
parrais@timescolonist.com
Inuvialuk sculptor David Ruben Piqtoukun's work shaped by cultural stories
When veteran Inuvialuk sculptor David Ruben Piqtoukun hears stories from his culture, they sprout images in his mind.
Remembering these stories, and combining them with modern elements, has influenced his work for decades.
A solo exhibition at the Art Gallery of Ontario in Toronto is celebrating 50 years of Piqtoukun's work. It features more than 60 sculptures, including recent pieces.
"Every work is special for me," he says. "It comes from my heart."
The exhibit is called Radical Remembrance. Piqtoukun says his work is an act of cultural resistance, reclaiming history that was stolen from him by the residential school system.
Piqtoukun, who now lives in Ontario, was born in 1950 in Paulatuk, N.W.T., an Inuvialuit community in the western Arctic, where his family led a traditional lifestyle. He was taken away when he was five years old to attend residential school.
Piqtoukun said his work is inspired by the Inuit stories he's heard over his lifetime, as well as songs, environmental issues, elders and the materials he works with, which include stone, antler, metal and bone.
"I often embellish certain stories," he says, adding a major one he incorporates into his work is that of a shaman who travels to the moon.
"A lot of people don't understand how much memory and remembering is such an act of resistance and an act of building the future for all of us," said Wanda Nanibush, curator of the exhibit and of Indigenous art for the Art Gallery of Ontario,
Nanibush said she "fell in love" with Piqtoukun's work and hopes people will come away from the exhibit with a new way of thinking about the Arctic.
"I also think that a lot of people have never seen the diversity of what he creates, nor the absolute beauty of it," she said. "I wanted to make peoples' jaws drop."
Piqtoukun said he learned how to carve stone in the early 1970s watching his brother Abraham Anghik Ruben, also a world-renowned artist who studied at the Native Arts Centre at the University of Alaska. He said he also learned through trial and error.
"There's something magical about this material. It felt like silk," he recalled of his first experience carving stone.
Early in his career, Piqtoukun credits art patron Allen Gonor with encouraging him to collect traditional Inuit stories and use them in his work.
"I've been following that advice ever since," he said.
While Piqtoukun no longer lives in the N.W.T., he still has many family members and friends there. He said he's planning a trip to the North for 2024.
Piqtoukun's work has been displayed in institutions across Canada and internationally. His pieces have been in the Canadian Sculpture Centre and the National Gallery of Canada, and are collected around the world.
He was the first Inuk artist to be appointed to the Sculpture Society of Canada in 2000. He was recognized with a Governor General's Award for visual and media arts in 2022.
The opening of Radical Remembrance was celebrated by a performance from the Paulatuk Moonlight Drummers and Dancers in Toronto. It runs through June 25.