More Americans Want Their Church to Share Their Politics | News & Reporting
As churchgoers head to the ballot box for midterm elections, most expect the rest of their congregation to be voting the same way they do.
Half of US Protestant churchgoers say they'd prefer to attend a church where people share their political views, and 55 percent believe that to be the case at their congregation already, according to a study from Lifeway Research.
"Studies have shown that voting patterns and political affiliation correlate with the type of church and amount of church involvement someone has," said Scott McConnell, executive director of Lifeway Research. "But when asked if churchgoers want political similarity to flow back into their church relationships, this is desirable for only half of churchgoers."
Political preference
While 50 percent of churchgoers prefer a politically homogenous congregation, 41 percent disagree, and 10 percent aren't sure. Overall, the percentage of those looking to attend a church where people share their voting preferences is similar to a 2017 Lifeway Research study, when 46 percent said the same. However, more churchgoers are adamant about worshipping alongside their political peers. Around 1 in 5 (19%) now strongly agree they prefer to attend a church where people share their political views, up from 12 percent in 2017.
"While almost 1 in 5 churchgoers is adamant that they want to attend church with those who share their political views, there are just as many who strongly disagree with that perspective," said McConnell. "The 23 percent who strongly disagree are clearly saying the source of unity they have with others in their church has nothing to do with partisanship."
Younger churchgoers are more likely than older ones to prefer sharing a pew with someone of the same politics. Almost 3 in 5 of those under 50 (57%) want a congregation with people who share their political views, compared to 47 percent of those 50 to 65 and 41 percent of those 65 and older.
Ethnicity and education also play a role. White (54%) and African American (53%) churchgoers are more likely to want a church with shared politics than Hispanic churchgoers (25%). Those who are high school graduates or less (44%) are among the least likely.
Denominationally, Methodist (88%) and Restorationist movement (80%) churchgoers are more likely to say they want their congregations to have a common political perspective than Baptists (47%), Presbyterian/Reformed (47%), Lutherans (38%) and those who attend a non-denominational church (38%).
Churchgoers with evangelical beliefs (44%) are less likely than churchgoers who don't strongly agree with the four core evangelical theology statements (54%) to say they prefer a church where people share their political opinions.
Despite their preferences, churchgoers may stick around even if the rest of the congregation doesn't share their views. Another 2017 Lifeway Research study found only 9 percent of Protestant churchgoers said they would consider changing churches over political views.
Political perception
Regardless of their preferences, most churchgoers believe they're among their political tribe when at church. More than half (55%) of US Protestant churchgoers say their political views match those of most people at their church. Fewer than a quarter disagree (23%) or aren't sure (22%).
Just as more churchgoers strongly prefer a congregation of similar politics today, more churchgoers also strongly believe they are a part of such a congregation. In 2017, 51 percent felt their church was politically homogenous, with 11 percent strongly agreeing. Today, 21 percent strongly agree.
Additionally, fewer churchgoers are seemingly unsure about the political opinions of their fellow congregation members. In 2017, 30 percent said they weren't sure if their political views matched those of most others at the church. That dropped to 22 percent in 2022.
"If one looks at the culture today, you might assume that most churches have been arguing over politics as well. While it appears more churchgoers notice the political views of other attendees, only 28 percent of pastors agree (14 percent strongly) that their church has experienced significant conflict in the last year," said McConnell. "Those who want political continuity may simply want a respite from political strife at church, and others may want to move together in political action."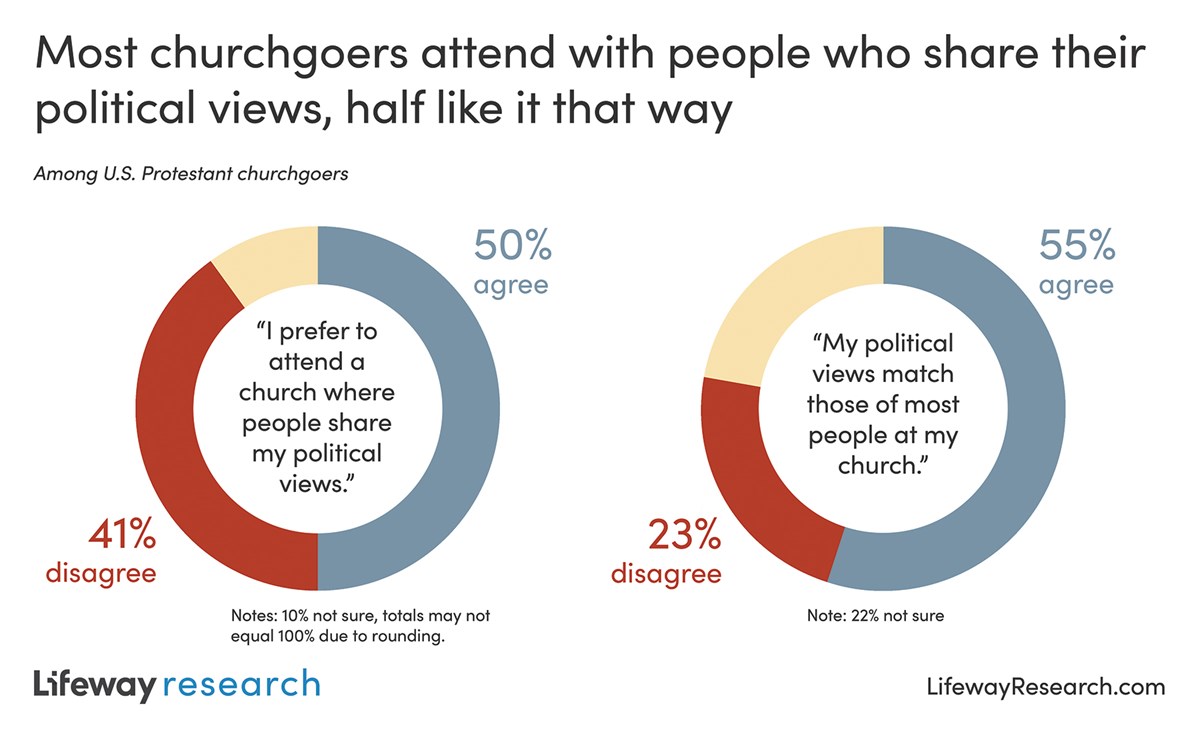 For many groups, their perception of their church matches their preferences. Older churchgoers, those 65 and older, are the least likely to think most people in their church share their politics (46%) and the most likely to say they aren't sure (32%). African American (60%) and white (58%) churchgoers are also among the most likely to agree. Denominationally, Methodists (89%) and those a part of a Restorationist movement church (76%) believe most of the fellow churchgoers share their political views.
Churchgoers who don't qualify as evangelical by belief are just as likely to say they prefer to worship in a church that shared their politics (54%) as they are to believe that is the case (53%). Churchgoers with evangelical beliefs, however, are different. They're more likely to believe they belong to a congregation that predominantly agrees with them politically (59%) than they are to say that's what they'd prefer (44%).
Based on an online survey of 1,002 Americans was conducted September 19-29, 2022. For more information, view thecomplete reportand visitLifewayResearch.com.
B.C. Premier David Eby unveils his new cabinet
Here is a list of British Columbia Premier David Eby's ministers following his first major cabinet shuffle since taking over as leader:
Agriculture and Food — Pam Alexis (new to cabinet)
Attorney General — Niki Sharma (new to cabinet)
Children and Family Development — Mitzi Dean (unchanged)
Citizens' Services — Lisa Beare
Education and Child Care — Rachna Singh (new to cabinet)
Minister of state for child care — Grace Lore (new to cabinet)
Emergency Management and Climate Readiness — Bowinn Ma
Energy, Mines and Low Carbon Innovation — Josie Osborne
Environment and Climate Change Strategy — George Heyman (unchanged)
Finance (includes Columbia River Treaty) — Katrine Conroy
Forests and minister responsible for consular corps. — Bruce Ralston
Health and minister responsible for Francophone affairs — Adrian Dix (unchanged)
Housing and government house leader — Ravi Kahlon
Indigenous Relations and Reconciliation — Murray Rankin
Jobs, Economic Development and Innovation — Brenda Bailey (new to cabinet)
Minister of state for trade — Jagrup Brar (new to cabinet)
Labour — Harry Bains (unchanged)
Mental Health and Addictions — Jennifer Whiteside
Municipal Affairs — Anne Kang
Post-Secondary Education and Future Skills (includes immigration/foreign credentials) — Selina Robinson
Minister of state for workforce development — Andrew Mercier (new to cabinet)
Public Safety and Solicitor General (ICBC) — Mike Farnworth (unchanged)
Social Development and Poverty Reduction — Sheila Malcolmson
Tourism, Arts, Culture and Sport — Lana Popham
Transportation and Infrastructure (BC Transit and Translink) — Rob Fleming (unchanged)
Minister of state for infrastructure and transit — Dan Coulter (new to cabinet)
Water, Land and Resource Stewardship — Nathan Cullen
This report by The Canadian Press was first published Dec. 7, 2022
Bob Rae heads to Haiti in attempt at political consensus, amid possible intervention
OTTAWA — Canada is trying to dislodge a political impasse in Haiti by sending one of its top diplomats to Port-au-Prince.
Bob Rae, Canada's ambassador to the United Nations, started an in-person push for negotiations Wednesday.
Haiti is facing a series of crises as armed gangs block access to fuel and essentials, leading to water and power outages that are worsening a cholera outbreak.
The Haitian government has asked for a foreign military to intervene and push out the gangs, but opponents argue that might only prolong an unpopular government in a country that has not had elections since before the COVID-19 pandemic.
Prime Minister Justin Trudeau has said Canada might be part of an intervention, but only if there is a consensus across Haiti's fractured political scene.
Rae's three-day visit will include talks with politicians, grassroots groups and United Nations officials on how Canada could play a role in what the Liberals say would be "Haitian-led solutions."
Defence Minister Anita Anand gave no sense of what that might look like.
"We are making sure to be prudent in this situation," she told reporters Wednesday.
"We are studying those contributions, potential contributions, and we will have more to say on that in short order."
This fall, Canada has sanctioned 11 prominent Haitians over alleged ties to gangs, sent military vehicles to the country, and had Trudeau's former national security adviser conduct an assessment mission.
This report by The Canadian Press was first published Dec. 7, 2022.
Dylan Robertson, The Canadian Press
An anti-environmental group is shaping Oregon politics and policy – Oregon Capital Chronicle
Shortly after this year's midterm elections, an anti-government group in Oregon called Timber Unity posted a call to action on Facebook. It asked its followers to "bombard" Portland City Council members during an upcoming hearing over a proposed change to a motor vehicles fuel code.
The changes in the code would reduce dependence on nonrenewable fossil fuels by "increasing the required percentage of renewable fuels blended with petroleum diesel."
In its post, Timber Unity called this a "special eletist [sic] blend" that would raise the price of diesel, lead distributors to disinvest in Oregon and cause biodiesel and renewable diesel to "not meet specs."
All of these claims were false, according to the City of Portland Bureau of Planning and Sustainability.
Timber Unity has been active in Oregon politics since its founding three years ago.
This year, it endorsed Republican Christine Drazan for governor. Even though she lost, other conservative candidates won and did so with help from Timber Unity, an increasingly active conservative organization with a decidedly anti-conservation agenda.
County commissioners backed by Timber Unity flipped several seats this year, including Ben West who won in Clackamas County, unseating an incumbent. In Lane County, Ryan Ceniga defeated Dawn Lesley, an environmental engineer who prioritized climate change.
Taking over these hyper-local positions has been central to Timber Unity's strategy of political influence.
Timber Unity's origins
In June 2019, truckers and loggers living mainly in logging country between the coast and Portland became fed up and angry over a proposed carbon emissions bill.
Many of them, including the trucker and movement's founder, Jeff Leavy, viewed the bill as a means of killing jobs.
In fact, the bill would have financially benefitted rural communities, such as theirs, affected by climate change.
But the proposal galvanized workers in the industry who mistakenly thought that China would be able to trade in the marketplace and, as Leavy put it to me, "keep polluting this earth on our dime."
After hearing about the bill, Leavy used Facebook to organize a protest at the Capitol in Salem.
Over the course of several weeks in June, truckers and haulers staged their rigs, coordinated a convoy and held speeches in front of the Capitol.
They called themselves Timber Unity.
Soon after that protest, right-wing figures, including anti-vaxxers and secessionists, joined Timber Unity.
The protests attracted national media attention and statewide political interest.
That month, each of the 11 Republican state senators walked out of the legislative session and effectively killed the bill.
Political alignment
Now over three years later, Timber Unity is still energized, even after some initial internal splintering and leadership changes (Leavy says he resigned).
The group endorsed several winning candidates in the 2020 election, and even helped flip a House seat that hadn't voted for a Republican in two decades.
In a September 1 Facebook post leading up to this year's elections, the group applauded then candidate and former House minority leader Drazan for joining a 2020 Legislature walkout by Republicans over a bill aimed at reducing greenhouse gas emissions.
The news that Timber Unity endorsed Drazan wasn't a complete surprise despite the fact that an early Timber Unity supporter, Betsy Johnson, ran this year as an independent.
Angelita Sanchez, a co-director of the Timber Unity PAC, told me, vaguely, that Johnson was "a yes vote on a gas tax," which Sanchez considered a "bad vote."
And Mike Pihl, a former Timber Unity president, was already listed as an endorsement on Drazan's website.
Anti-conservation agenda
In interviews, Timber Unity leadership distances itself from extremism and right-wing figures, but posts on Facebook and other promotional materials reveal far-right ideologies.
In October, Timber Unity screenshotted a Vox story headlined "How logging, a Nike founder, and the alt-right warped the Oregon governor's race" and wrote, "Well, well, WELL!!! Look at what we have here!!! The FAR LEFT EXTREMIST came out with a story today, and lets just say they are running scared and they give ALL THE CREDIT TO YOU!!!"
The group also previously promoted a rally with a poster that included a QAnon banner and members of the private Facebook group in 2020 included election deniers, QAnon conspiracy theorists and at least one man calling for war ahead of the Capitol riots.
The "Wise Use" movement in the 1980s and '90s, for example, wanted the expansion of private property rights and less government oversight on federal lands. Its anti-government and anti-environmental rhetoric was similar to that used by Timber Unity, which sees environmental and government regulation as an infringement on freedom and rights.
Pihl, the former president, told me there's already too much regulation of the timber industry.
"We already have the Forest Protection Act, which is very deep and it's 87 pages of regulation," he says. "I have it sitting on my desk, I read it all the time and there's so many protected already, like the Siuslaw National Forest. You can't do anything there."
Timber Unity has successfully tapped into deep-seated resentments over environmental regulation, and its statewide support seems here to stay—at least for now.
This story was originally published in Columbia Insight, an independent environmental journalist news site.