More job gains point to a solid economy and Fed rate hikes – CambridgeToday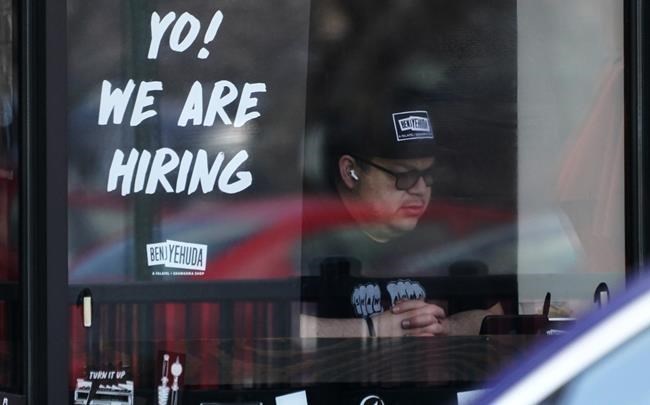 WASHINGTON (AP) — U.S. employers added 390,000 jobs in May, extending a streak of solid hiring that has bolstered an economy under pressure from high inflation and rising interest rates.
Last month's gain reflects a resilient job market that has so far shrugged off concerns that the economy will weaken in the coming months as the Federal Reserve steadily raises interest rates to fight inflation. The unemployment rate remained 3.6%, just above a half-century low, the Labor Department said Friday.
The job growth in May, though healthy, was the lowest monthly gain in a year. But it was high enough to keep the Fed on track to pursue what's likely to be the fastest series of rate hikes in more than 30 years. Stock market indexes fell Friday after the government released the jobs report, reflecting that concern.
Businesses in many industries remain desperate to hire because their customers have kept spending freely despite intensifying concerns about high inflation. Americans' finances have been buoyed by rising pay and an unusually large pile of savings that were accumulated during the pandemic, particularly by higher-income households.
"Given all the talk we've heard about recession and economic headwinds, it was very reassuring to see a solid jobs number," said Mark Vitner, senior economist at Wells Fargo.
One encouraging sign, Vitner said, was that hiring was broad-based across most of the economy.
"When the economy loses momentum," he said, hiring tends to occur in just a few sectors, "and that's not what we're seeing today."
Nearly every large industry added workers in May. One major exception was retail, which shed nearly 61,000 positions. Some large retailers, including Walmart and Target, have reported disappointing sales and earnings. Last month, Walmart said it had over-hired and then reduced its head count through attrition.
Construction companies added 36,000 jobs, a hopeful sign for Americans who have bought new homes that aren't yet built because of labor and parts shortages. Shipping and warehousing companies, still struggling to keep up with growing online commerce, added 47,000 jobs. Restaurants, hotels and entertainment venues hired 84,000.
Last month, Friday's report showed, more Americans came off the sidelines of the workforce and found jobs, a sign that rising wages and plentiful opportunities are encouraging people to look for work. Still, the proportion of people who either have a job or are looking for one remains below pre-pandemic levels.
Rising prices might also have led some to take jobs: The number of people ages 55 or over who are working rose last month, suggesting that some older Americans are "unretiring" after leaving their jobs — or being laid off — during the pandemic and its aftermath.
Average hourly wages rose 10 cents in May to $31.95, the government said, a solid gain but not enough to keep up with inflation. Compared with 12 months earlier, hourly pay climbed 5.2%, down from a 5.5% year-over-year gain in April and the second straight drop.
Still, more moderate pay raises could ease inflationary pressures in the economy and help sustain growth.
Workers, in general, are enjoying nearly unprecedented bargaining power. The number of people who are quitting jobs, typically for better positions at higher pay, has been at or near a record high for six months. Layoffs are at their lowest level on records dating back 20 years.
Yet there are signs that some companies, facing rising costs for parts and labor, are starting to resist demands for higher pay.
One such executive is Jackie Bondanza, CEO of Hounds Town, a chain of doggie daycares with 30 locations in 14 states. Bondanza said people are applying for jobs at the company's headquarters in Garden City, New York, who don't necessarily have relevant experience yet are demanding pay above the listed salary.
"People are coming in demanding 30% more," she said. "We can't afford to overpay for somebody."
Even so, Bondanza plans to keep hiring to support the company's expansion. Hounds Town, which expects to open 50 new franchised outlets in the next 18 months, is seeking to fill three jobs, including a training director and a marketing director. The company now has 17 employees at its corporate office, up from five a year ago.
Inflation, she said, has yet to discourage most customers from seeking the company's services, which include daily care for dogs and boarding.
"We are seeing more dogs in our facilities than some of our stores know what to do with," Bondanza said.
Tom Gimbel, chief executive of the LaSalle Network, a staffing firm in Chicago, said his client companies are still eager to hire and to offer solid pay to new employees. But they're also being choosier about job applicants as a result.
After making clear to companies in the aftermath of the pandemic that they would have to pay more, he said, his firm is now starting to warn job seekers that they may not secure the huge raises they're seeking, given the higher costs many companies are struggling with.
"We're now getting to a more normalized, healthy place," Gimbel said.
A report Friday by Reuters said that Tesla's chief executive, Elon Musk, was considering laying off 10% of the company's workers, causing its shares to tumble. Musk also expressed concern about the economy in an email to executives in which he said to "pause all hiring worldwide."
By contrast, on Thursday Ford Motor Co. said it planned to add 6,200 jobs in three states over the next several years as part of its expansion of electric vehicle production.
Nationally, the strength of the nation's job market is contributing to inflationary pressures. With wages continuing to rise across the economy, companies are passing on at least some of their increased labor costs to their customers in the form of higher prices. The costs of food, gas, rent and other items – which fall disproportionately on lower-income households — are accelerating at nearly the fastest pace in 40 years.
Inflation had begun surging last year as spiking demand for cars, furniture, electronic equipment and other physical goods collided with overwhelmed supply chains and parts shortages. More recently, prices for such services as airline tickets, hotel rooms and restaurant meals have jumped as Americans have shifted more of their spending to those areas.
To try to cool spending and slow inflation, the Fed last month raised its short-term rate by a half-point, its biggest hike since 2000, to a range of 0.75% to 1%. Two additional half-point rate increases are expected this month and in July. And some Fed officials have suggested in recent speeches that if inflation doesn't show signs of slowing, they could implement yet another half-point increase in September.
The Fed's moves have already sharply elevated mortgage rates and contributed to drops in sales of new and existing homes. The rate hikes have also magnified borrowing costs for businesses, which may respond by reducing their investment in new buildings and equipment, slowing growth in the process.
Christopher Rugaber, The Associated Press
Key Indicator Shows China's Economy Set For Further Slump – Forbes
Just when you thought China might be back on track, a key economic indicators suggests the opposite is coming down the pike.
Recently the price of iron-ore slumped, indicating that demand for this key ingredient in steel making is slipping as well. Recently one metric ton of the or would fetch $116, down more than 25% from almost $160 in early March, according to data from TradingEconomics. That's quite a tumble.
As the largest maker of steel, China is also by far the largest buyer of iron-ore, and so when prices are slipping it strongly suggests that China isn't buying as much iron-ore as it normally does. In 2020, the communist country produced 57% of all steel or around 1.1 billion tons, according to World Steel Association data. No other country comes close.
Typically when China's steel production falls then its economy stalls. We saw this back in mid 2015 when its output of the metal dropped for the first time in more than three decades. The resulting fallout came in August when the Chinese stock market took a tumble and shook other securities markets around the globe.
The question now is what will happen next in China. Likely there'll be further softness in the economy. If the the price of iron-ore remains soft or even falls further then its a clear sign that China isn't planning on its usual output of steel.
That matters because steel has long been the lifeblood of that country's economy. Teh huge real estate construction that has happened over the past two decades required steel for building skyscrapers, factories and dwellings across the massive Asian country. Steel has also been needed as feedstock for the country's huge manufacturing industry which produces key components for automobiles across the globe.
What's shocking here is that while China is in midst of undoing some of its recent COVID-19-related lockdowns that brought vast swathes of the communist country to an economic standstill. If those locked-down cities were now getting back to work, then why aren't we seeing signs of an industrial resurgence?
So far, that's not clear. If things were getting back to any form of normal then we should see demand for iron-ore creep up and along with it the prices of the mineral should rally. Investors in Chinese stocks or even those listed in Hong Kong should remain cautious until we see evidence of a real recovery.
China's Economy Improves in June From Lockdown-Induced Slump – BNN
(Bloomberg) — China's economy showed some improvement in June as Covid restrictions were gradually eased, although the recovery remains muted.
That's the outlook based on Bloomberg's aggregate index of eight early indicators for this month. The overall gauge returned to the neutral level after deteriorating for two straight months.
Economic activity picked up in June after financial hub Shanghai lifted its lockdown, allowing businesses to restart and most residents to leave their homes. That can be seen in a rebound in small business confidence, which started growing again after contracting for two months.
A survey of more than 500 smaller firms showed that "demand and production recovered strongly among manufacturing," and export-oriented smaller firms outperformed, according to Hunter Chan and Ding Shuang, economists at Standard Chartered Plc.
However, "the manufacturing recovery was more significant than services," they said. Contact-intensive industries such as retail and catering continued to be a drag, while real estate, transport and information technology reported an acceleration in activity and construction jumped.
Rising activity isn't translating into higher demand for some building materials yet. More steel plants have been idled and inventory levels at major Chinese steel mills have climbed 10.7% in mid-June from earlier in the month, and are about 82% higher than the start of this year. Stocks of steel rebar, which is used in construction, rose slightly in June.
Beijing has pledged to boost policy measures to support growth, with President Xi Jinping saying last week China would strive to meet its goals for the year. Stocks were up for a fourth week on optimism of stimulus and as lockdowns ended, with foreign inflows rising.
However, the housing sector continued to be a drag on the economy. Property sales declined in the first three weeks of June in the top four cities in China, even though sales in Shanghai last week had mostly recovered to the level before the lockdown.
An official index that tracks apartment and home sales has now declined for 11 straight months — a record since China created a private property market in the 1990s. The slump likely continued into June, with weekly sales in the top 50 cities contracting from the level last year.
Read more: China's Property Slump Is a Bigger Threat Than Its Lockdowns
The car market is making a gradually recovery after the lockdowns. Based on sales in the first two weeks of this month, more cars were sold in June than the same period in 2021. Sales fell in the past three months as Covid restrictions caused car plants and dealerships to shut and also prevented people across the country from leaving their homes to go shopping.
Total retail sales also dropped in that period, with the economies of Beijing and Shanghai the worst hit.
The recovery in the services industry will likely take longer than for goods. Consumers are still unwilling or unable to go out as much as before since China's strict Covid Zero policy means they face being quarantined for weeks if they've been in the same location as a positive case.
The restrictions and factory closures of the past months have also curbed the incomes of many businesses and workers, even if they weren't locked down.
Read more: Even Without a Lockdown, Beijing's Economy Struggled in May
The export sector likely supported demand in June, as companies ramped up shipments that had been delayed and ports worked to clear the backlog of containers. Although South Korean exports in the first 20 days of the month fell for the first time in more than a year, that was largely because of fewer working days this year than last.
The daily average value of Korean shipments rose 11% in the period from the same time in 2021. Exports have been a strong driver for China's economy and the strong growth continues to defy predictions that they would slow markedly or start to fall.
Read more: Metals Haven't Crashed This Hard Since the Great Recession
The outlook for those shipments in the rest of this year depends on whether rising concerns about a global recession are correct or not. The price of copper had its steepest weekly loss in a year last week as global recession fears mounted, damping the outlook for demand and battering commodities from oil to metals. The metal used in wires and cables extended its weekly loss to 7%, with prices hitting the lowest level since February last year following disappointing US business activity data that included an abrupt cooling in manufacturing.
Early Indicators
Bloomberg Economics generates the overall activity reading by aggregating a three-month weighted average of the monthly changes of eight indicators, which are based on business surveys or market prices.
Major onshore stocks – CSI 300 index of A-share stocks listed in Shanghai or Shenzhen (through market close on 25th of the month).
Total floor area of home sales in China's four Tier-1 cities (Beijing, Shanghai, Guangzhou and Shenzhen).
Inventory of steel rebar, used for reinforcing in construction (in 10,000 metric tons). Falling inventory is a sign of rising demand.
Copper prices – Spot price for refined copper in Shanghai market (yuan/metric ton).
South Korean exports – South Korean exports in the first 20 days of each month (year-on-year change).
Factory inflation tracker – Bloomberg Economics-created tracker for Chinese producer prices (year-on-year change).
Small and medium-sized business confidence – Survey of companies conducted by Standard Chartered.
Passenger car sales – Monthly result calculated from the weekly average sales data released by the China Passenger Car Association.
©2022 Bloomberg L.P.
BIS warns economies are approaching 'tipping point' where high inflation becomes entrenched – The Globe and Mail
Many economies are approaching a tipping point where high inflation becomes normal while economic growth slows sharply, the Bank for International Settlements warned in its annual report published Sunday.
Countries around the world are facing a dangerous cocktail of high inflation, slowing economic growth and heightened financial vulnerabilities tied to high debt levels and rising interest rates, said the BIS, which acts as a bank for the world's central banks.
This may quickly turn into a period of stagflation resembling the high-inflation and low-growth era of 1970s and early 1980s, the organization said. It argued that economic policy makers around the world need to move rapidly to halt inflation, even if that means causing significant economic hardship.
"We may be reaching a tipping point, beyond which an inflationary psychology spreads and becomes entrenched. This would mean a major paradigm shift," the BIS said.
Liberals fail to act with urgency before a long hot summer of inflation
It might be time to admit we just don't know that much about inflation
Central banks around the world have stepped up the pace of interest rate increases in recent months to try to tame inflation. Two weeks ago, the U.S. Federal Reserve announced the largest interest rate hike since 1994. The Bank of Canada has increased its benchmark rate at three consecutive rate decisions, and hinted that it is considering a supersized 0.75 percentage point rate increase in July. That would be three times the size of a normal rate hike.
Interest rate increases lower demand in the economy, which can help bring down the pace of consumer price growth. But higher interest rates can also push the economy into a recession, as steeper borrowing costs curtail consumer spending and business investment, and push up unemployment.
"The overriding near-term challenge is to prevent the global economy from shifting from a low- to a high-inflation regime. In doing so, policy makers will need to limit the costs to the economy as far as possible and to safeguard financial stability. Some pain, however, will be inevitable," the BIS said.
Getting inflation under control won't be easy, the organization warned. The recent commodity price shock tied to Russia's invasion of Ukraine has added to multiple inflationary pressures that have been building over the past year. This resembles the oil price shocks in the 1970s that pushed the United States, Canada and other countries into a period of high inflation, high unemployment and low economic growth known as stagflation.
The situation today, however, could be even more dangerous than in earlier periods of stagflation because of the amount of debt – particularly housing market debt – that has built up over more than a decade of ultra-low interest rates, the BIS warned. It called the current combination of soaring inflation and elevated financial vulnerabilities "historically unprecedented."
"Unlike in the past, stagflation today would occur alongside heightened financial vulnerabilities, including stretched asset prices and high debt levels, which could magnify any growth slowdown," it said.
As they push interest rates higher, central banks are trying to engineer a soft landing – a situation where inflation comes down without a sharp slowdown in economic activity or significant rise in unemployment. Top central bankers, including Fed chair Jerome Powell and Bank of Canada Governor Tiff Macklem, have said in recent weeks they believe a soft landing is possible, although they acknowledge that it is getting more difficult.
The BIS poured cold water on the probability of a soft landing in its report. BIS economists looked at monetary policy tightening cycles in 35 countries between 1985 and 2018, and concluded that about half of them resulted in a soft landing – that is, did not end in a recession.
However, further analysis showed that recessions were more likely if rate hikes followed a period of ultralow borrowing costs and a build-up of financial vulnerabilities. That is the situation Canada and many other advanced economies are in today.
"A hard landing may not be foreordained," Columbia University professor Adam Tooze wrote in a newsletter commenting on the BIS report. "But what the BIS is telling us, is that central bankers have never attempted to stop an inflation as rapid as the one we have seen in the first half of 2022, with the level of debt build-up we have seen since the early 2000s."
The BIS is not alone in its grim prognosis. Earlier this month, the World Bank cut its 2022 global growth forecast to 2.9 per cent from a 4.1-per-cent forecast in January, and said that "the danger of stagflation is considerable today."
Much of the BIS report focused on the changing dynamics of inflation, which is surging across large parts of the globe for the first time in decades. The annual rate of inflation hit a 39-year-high of 7.7 per cent in May in Canada, the highest since 1983. It averaged 9.2 per cent in April across countries in the Organization for Economic Co-operation and Development.
The BIS noted that once economies shift into periods of high inflation, consumer price increases become self-reinforcing. Businesses and consumers start paying more attention to rising prices and start behaving differently, respectively setting higher prices and demanding higher wages to protect their margins and purchasing power.
"Whether inflation becomes entrenched or not ultimately depends on whether wage-price spirals will develop. The risk should not be underestimated, owing to the inherent dynamics of transitions from low- to high-inflation regimes," the BIS said.
Your time is valuable. Have the Top Business Headlines newsletter conveniently delivered to your inbox in the morning or evening. Sign up today.