More than 6 drinks a week leads to higher health risks, new report suggests — especially for women – CBC News
Having more than six drinks per week leads to an increased risk of a host of health issues, including cancer, according to new proposed guidelines published Monday.
Any level of alcohol consumption had a net negative impact on health for almost every disease reviewed by the Canadian Centre on Substance Use and Addiction (CCSA), a national advisory organization, according to their new report. This includes heart disease, several types of cancer and liver cirrhosis.
The health risks become "increasingly high" when someone has six or more drinks per week. And for women who have three or more drinks per week, the risk of health issues increases more steeply compared to men, research shows.
"The key message out of this project is that when it comes to alcohol, less is better. Everyone should try to reduce their alcohol use," said Catherine Paradis, senior research and policy analyst at CCSA and co-chair of Canada's Low Risk Alcohol Drinking Guidelines.
WATCH | New alcohol guidelines suggest no amount is safe:
A new report from a scientific body that advises the federal government on alcohol consumption has dramatically revised the recommendations for low-risk drinking. Evidence suggests there is no safe amount of alcohol because it is associated with heart disease and stroke, and the risk of cancer rises with every drink.
It's no secret that alcohol is not good for you, experts say. It's been classified as a Group 1 carcinogen (carcinogenic to humans) for decades by the International Agency for Research on Cancer.
But not everyone is aware that alcohol use has been associated with numerous health risks, including at least seven types of cancer, Paradis said.
That's why the guidelines — which the public can weigh in on— speak to the health risks and how that increases with the number of drinks.
Dr. Fawaad Iqbal, a radiation oncologist at Durham Regional Cancer Centre in Oshawa, Ont., who was not involved with the report, said he strongly supports its overall messaging.
"These updated, evidence-based guidelines will save lives. I commend the work of the team that put this all together," said Iqbal in an email interview after the report was released.
WATCH | Why don't most Canadians know about alcohol's cancer risks?
Alcohol is one of the top three causes of preventable cancer, so why aren't Canadians being informed about the risks? Health experts say it's time to put warning labels on alcohol — something the industry has pushed back against.
'People in Canada have a right to know'
But experts say the risks associated with alcohol consumption need to be made more clear beyond these recommendations. Iqbal and those who worked on CCSA's guidelines want to see cancer warnings and the number of standard drinks listed on alcohol bottles or cans.
"Whether consumers choose to use that information or not, it's up to them. But there's plenty of evidence out there that says if you say front and centre, 'this is damaging your health and you could get cancer because of this,' people will change their decision-making about just how much they're drinking," Iqbal said.
Since the last alcohol drinking guidelines were released in 2011, the evidence around health issues and alcohol consumption has changed a lot, Paradis says. That's why four committees —including three scientific expert panels— were formed to review the evidence for updating the guidelines.
Those involved looked at several dozen studies on alcohol and health issues as part of the new guidelines. Several data sources —including death and disability data for 2017 to 2019 from Statistics Canada —were used to form the risk calculations. They also used mathematical modelling, according to the report.
Although all levels of alcohol consumption come with some risks, their report shows a range of risks depending on how many glasses of wine or bottles of beer a healthy person has each week.
They found that health risks are negligible or low with two or fewer glasses of wine per week. If the number of drinks goes up to somewhere between three and six standard drinks a week, the risk of health issues is moderate.
But having more than six glasses of wine or ciders per week makes the risk of health issues "increasingly high."
For example, men who consume about five grams of alcohol per day on average have almost a 16 per cent increased risk of liver cirrhosis. That risk balloons to more than 306 per cent if the man has 50 grams of alcohol per day, according to the report.
"We know that's going to be surprising and some people might even be upset about that. But we did not embark on this project to win a popularity contest. We're scientists," said Paradis.
"Our whole perspective throughout this project is that people in Canada have a right to know."
Drinking increases breast cancer risk
The new findings are significantly different from the 2011 guidelines created by CCSA. Those suggested no more than 10 standard drinks a week for women and 15 standard drinks a week for men.
Paradis says one of the reasons the 2011 recommendations were higher was because of a belief that alcohol had some good health benefits for cardiovascular disease. But now, new research shows that is probably not the case anymore, she said.
"Actually, in our own study, we found that alcohol was neither good or bad at low levels for protection against some cardiovascular diseases. At higher levels, it really has a detrimental impact," she said.
Alcohol use in Canada causes nearly 7,000 cases of cancer deaths each year in Canada, according to the report.
And specifically for women, having three or more drinks a week comes with a greater risk of health issues when compared to men, according to the report's data. They include several reasons why, including differences in metabolism.
The risk of breast cancer increased with more alcohol, Paradis said, adding that one in 35 women will die because of breast cancer in Canada.
"If you take six drinks per week, you increase by 10 per cent your chances of being that woman," she said, adding that the risk starts at one or two standard drinks per week.
Allison Garber, a communications business owner in Halifax and sobriety advocate, said she wishes she knew more about the increased cancer risk sooner. Both her mother and grandmother had breast cancer, and she lost her mother to cancer.
"I think that this report is going to save a lot of lives," she said, adding it's good to see an increased focus on education.
"I do believe that it's an individual choice whether people drink alcohol or not, but I I do think that it's fundamentally important that that is an informed choice."
Label the health risks
Some Canadians have reported increased binge drinking over the last few years.
A Statistics Canada survey released in 2021 shows many Canadians are not just pouring themselves a single glass. Almost one in five who responded to the survey said they consumed five or more drinks — the equivalent of a bottle of wine — on the days they reported drinking alcohol in the previous month.
The agency says this is higher than before COVID-19 hit.
The CCSA report was started before the pandemic, but Paradis says adults need to know more about the alcohol they purchase and how it can affect their health.
Paradis and the other authors of the report, along with Iqbal, say bottles of wine and other alcohol should clearly outline the health warnings and nutrition information. She adds that people need to be able to count their drinks to know how much alcohol they're consuming, but can't do that if it's not explicitly outlined on a label.
"The main message that we want to put out with this is that overall, alcohol is not good for your health and that when it comes to alcohol, drinking less is better," Paradis said.
The guidelines will likely become official guidance sometime this fall.
Fiona smashes into Atlantic Canada, washing away homes and knocking out power – CBC.ca
​​​​​​Hundreds of thousands of customers in Eastern Canada are without power as post-tropical storm Fiona brings intense, hurricane-strength winds and torrential rains to swaths of Nova Scotia, Prince Edward Island, New Brunswick, Newfoundland and Quebec's Magdalen Islands.
Part of the town of Port aux Basques, N.L., has been placed under an evacuation order after storm surge swept away multiple homes and structures to sea. It's unclear if there are any casualties. The town has also declared a state of emergency.
Fiona made landfall in Nova Scotia shortly after 4 a.m. AT between Canso and Guysborough.
The Canso Causeway, which links Cape Breton to mainland Nova Scotia, is closed to high-sided vehicles.
As of 10:45 a.m. AT, more than 405,000 Nova Scotia Power customers were without electricity. The company says it has more than 525,000 customers. It said people can go the utility's outage map for estimated restoration times.
CBC Radio is providing live updates on Hurricane Fiona around the clock. Listeners are invited to call in to share their storm experiences and any emergency updates from their communities at 1-800-565-5550. Listen online via CBC Lite, which uses less data, or over the air (90.5 FM in Halifax, 92.1 FM in Sydney, 96.1 FM in Charlottetown or check your local frequency here).
P.E.I.'s Maritime Electric said more than 82,000 out of a possible 86,000 customers were without power.
N.B. Power was reporting more than 55,000 outages, concentrated in the province's southeast. The outages are mostly in areas the company groups as "Shediac Cap Pelé," "Moncton Riverview Dieppe" and "Sackville Port Elgin."
Conditions are like nothing we've ever seen. We are logging reports of downed trees and wires but will only be responding to emergency calls. -Dispatcher Kelly ☎️ <a href="https://t.co/gX7YPTPDSN">pic.twitter.com/gX7YPTPDSN</a>

&mdash;@ChtownPolice
Newfoundland Power was reporting 1,133 customers without power, and Hydro Quebec reported 4,232 without power in the Gaspésie–Îles-de-la-Madeleine region and1,684 in the Magdalen Islands.
Hurricane or tropical storm warnings are in place throughout most of Atlantic Canada and southern Quebec.
State of emergency declared in Cape Breton
The Cape Breton Regional Municipality and neighbouring Victoria County have declared a local state of emergency and are asking residents to stay at home.
The Canadian Red Cross has opened a shelter at Centre 200 in Sydney, N.S., however it was without power on Saturday morning. The municipality is planning to open additional comfort centres when local travel is safe.
North Sydney fire Chief Lloyd MacIntosh spoke with CBC News as he was transporting a woman from her home to a safe location after the roof blew off her house.
"We pulled up, well, literally half of the roof was gone," MacIntosh said. "It's been an adventurous night to say the least."
MacIntosh said there's been a lot of damage in North Sydney.
"Every intersection, every block of North Sydney is filled with trees. Trees have come down on homes, trees have come down on cars, there's buildings that have collapsed and there's quite a bit of damages," he said.
"The daylight will bring quite a few surprises for a few people."
Part of a steeple came down from St. Joseph Church in Cape Breton Regional Municipality, a building that's more than 100 years old.
Cellular networks spotty
Cellular networks were spotty across Nova Scotia and P.E.I. Saturday. Many were unable to get a cell signal to make calls or access internet.
Bell Aliant acknowledged the outages in a tweet posted Saturday morning. The telecom company they were working with utility companies to restore full power to their cellular sites as soon as possible.
"Numerous wireline and cell sites in Atlantic are impacted by power outages across the provinces. As battery back up power will begin to deplete, our teams will be activating generators to keep sites up and running," the company tweeted.
Rogers also tweeted they are aware of the outages and their local crews will work to get services up and running.
CBC News has contacted Bell Aliant and Rogers for an update on restoration times.
Tree fell on fire truck with crew inside
Erica Fleck, the assistant chief of Halifax Regional Fire and Emergency, said a tree fell on a fire truck that had a crew inside. There were live wires.
She said the fire crew stayed in the truck as Nova Scotia Power technicians worked to get the crew out safely.
"The power lines are down everywhere," she said. "It's not safe to be on the roads."
Fleck cautioned that response times will be longer because fire crews will have to remove downed trees that are in their way.
In a tweet, Environment and Climate Change Canada said the highest wind gust reported in Nova Scotia has been 179 km/h in Arisaig, north of Antigonish on Nova Scotia's coast.
CBC meteorologist Tina Simpkin said wind gusts of 100 km/h were recorded in Moncton, N.B., shortly after 6 a.m.
Wind gusts of up to 100 km/h are expected in some areas of the province over the next 24 hours, with sustained winds clocking in at 65 km/h.
'Like nothing we've ever seen': Charlottetown police
In a tweet, Charlottetown police said they are logging reports of downed trees and wires but are only responding to emergency calls.
"Conditions are like nothing we've ever seen," the force said in a post on Twitter.
CBC meteorologist Ryan Snoddon said the storm approached Nova Scotia at 64 km/h but slowed significantly as it arrived in the province. This will be a long-duration event for P.E.I. and eastern Nova Scotia, he said.
By 9 a.m., the centre of the storm will be moving to the western side of Cape Breton and it will slowly depart Nova Scotia.
Winds will ease in mid-to-late morning for central Nova Scotia and late afternoon or evening for eastern Nova Scotia, he said.
Nova Scotia Power's efforts to restore electricity are being hampered by strong winds.
"We're still seeing significant wind gusts, specifically Cape Breton," said Peter Gregg, company president and CEO. "Until those wind gusts come down, we won't be able to get crews out there. But we're making progress in Halifax."
Environment Canada said Fiona will reach the Quebec Lower North Shore and southeastern Labrador by late Saturday night.
The agency said severe winds and rainfall, large waves and storm surges were all occurring.
Environment Canada said rainfall will be significant, particularly north and west of Fiona's track, where it could lead to flooding. Some areas could see as much as 200 millimetres of rain. About 120 millimetres had already been reported in some weather stations in eastern Nova Scotia by 3 a.m.
Some waves along Nova Scotia's Eastern Shore could build to be more than 10 metres, with waves along southern Newfoundland on Saturday morning reaching higher heights.
"Waves over eastern portions of the Gulf of St. Lawrence and Cabot Strait could be higher than 12 metres," Environment Canada said.
While we wait for the NHC's official call, it looks like <a href="https://twitter.com/hashtag/Fiona?src=hash&amp;ref_src=twsrc%5Etfw">#Fiona</a> has recently made landfall between Canso and Guysborough. With an unofficial recorded pressure at Hart Island of 931.6 mb, this makes Fiona the lowest pressured land falling storm on record in Canada. <a href="https://t.co/TYo9G05sUz">pic.twitter.com/TYo9G05sUz</a>

&mdash;@ECCC_CHC
It said the western Gulf will see waves from the north up to eight metres in some places, "which will probably cause significant erosion for north-facing beaches of Prince Edward Island."
The forecaster said the Magdalen Islands will also see some coastal erosion from waves.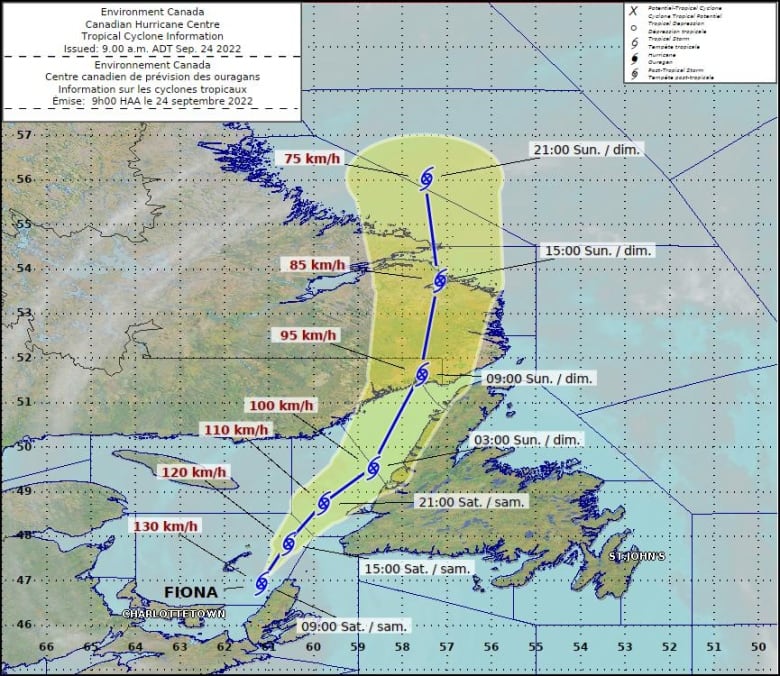 Coastal flooding is a big concern for Nova Scotia, Prince Edward Island, the Magdalen Islands, eastern New Brunswick and southwest Newfoundland.
"The highest risk for coastal flooding will be a combination of storm surge with large waves moving onshore," Environment Canada said.
Hurricane Fiona arrived in Nova Scotia as a post-tropical storm Saturday morning. In Halifax, the largest community impacted, as CBC's Ellen Mauro reports, there were widespread power outages and downed trees throughout the city.
"This is is definitely going to be one of, if not the most powerful tropical cyclones to affect our part of the country," said Ian Hubbard, meteorologist for the Canadian Hurricane Centre in Dartmouth, N.S. "It's going to be definitely as severe and as bad as any I've seen."
MORE TOP STORIES
Canada has picked a new ambassador to China – CTV News
Prime Minister Justin Trudeau has tapped Jennifer May to be Canada's new ambassador to China, filling a nearly year-long vacancy in the key diplomatic post.
The government announced May's appointment on Friday, after sources told CTV News and other outlets on Thursday that May—who speaks Mandarin— had been selected to take on the position and that China had signed off on Canada's pick.
"I am deeply honoured to take up this important post on behalf of Canada and Canadians," May tweeted on Friday.
In taking on this new role, she'll become Canada's lead on stickhandling a fraught relationship with China and will be responsible for advancing business and economic ties between the two countries, as well as "standing up for democratic values, human rights, and the rule of law," according to the release from Trudeau's office.
May, who until August was Canada's ambassador to Brazil, joined Canada's foreign affairs department more than 30 years ago. Over her career, May has held a series of positions, including executive director of defence and security relations, director of Eastern Europe and Eurasia relations, and has she served in Bonn, Hong Kong, Beijing, Vienna, Bangkok and Berlin.
"A dedicated public servant, Ms. May's many years of diverse experience on international missions, and her deep understanding of Asia, will serve to manage this important bilateral relationship and advance Canadian interests in China," Trudeau said in the statement.
Canada has been without an ambassador to China since the end of 2021, when Dominic Barton moved out of the Beijing offices.
Canada has an embassy in Beijing, as well as consulates general in Chongqing, Guangzhou, Hong Kong, and Shanghai.
Asked by CTV News a few months back what the holdup was when Canada hit the six-month mark without an ambassador, Foreign Affairs Minister Melanie Joly's office had pledged a representative would be named in "due course," saying officials continued to engage with China at the "highest levels."
At the time, former ambassador to China Guy Saint-Jacques said that the notable absence was an indication that the federal government "does not understand" the value of a strong diplomatic presence on the ground.
"Having an ambassador gives you intelligence… because here's a person who can have access to high-level [information] that other people at the embassy can't," he said. "You are depriving yourself from all that useful information."
Barton publicly announced his resignation on Dec. 6, 2021, just months after helping to secure the release of former diplomat and entrepreneur Michael Kovrig and Michael Spavor.
The two men were arbitrarily detained and held in a Chinese jail for more than 1,000 days. Their arrests are widely seen as retaliation for the Vancouver arrest of Huawei executive Meng Wanzhou on a U.S. extradition request.
Those events launched what would become nearly three years of icy relations between Canada and China.
May's appointment comes just ahead of Canada marking the one-year anniversary of the two Michael's release.
It was late on the night of Sept. 24, 2021 when Trudeau made a national address, announcing that Kovrig and Spavor had boarded a plane in China with Barton, and "they're on the way home."
With files from CTV National News Ottawa Bureau Chief Joyce Napier, CTV National News Producer Mackenzie Gray and CTVNews.ca Producer Sarah Turnbull
RCMP 'did their best' in response to N.S. mass shooting: federal Justice Department
HALIFAX — The RCMP's response to the 2020 shooting rampage that left 22 Nova Scotians dead was far from perfect, but police did their best, the federal Justice Department said Friday.
During the final day of public proceedings at the federal-provincial inquiry into the mass shooting, Lori Ward, general counsel for the federal Department of Justice, said there's always room for improvement for all policing agencies.
"No response to a critical incident of this magnitude could be perfect, but when this crisis hit, the RCMP showed up, did their best and acted with courage, determination and dedication," Ward said.
It's difficult, she added, to separate what was known when the killer was at large on April 18-19, 2020, from what has been uncovered in the years since the tragedy. While hindsight is a valuable tool when used to learn lessons and make changes, it "can also impede a fair and objective evaluation of decisions made in real time."
On the night of April 18, 2020, a man disguised as a Mountie and driving a car that looked exactly like an RCMP cruiser started killing neighbours and strangers in rural Portapique, N.S.
Ward said she is aware of the criticism levelled at the RCMP for allegedly dismissing witness accounts of the marked police car that the gunman was driving during the 13-hour rampage. She said the idea that the killer could have built such a car himself was beyond reasonable comprehension and was unlike anything police had seen before.
When the RCMP were sent photos of gunman Gabriel Wortman's replica police cruiser the morning of April 19, 2020, it was initially viewed with "disbelief and incomprehension" by all members, Ward said.
"To assert that (RCMP) should have continued to search for a car identical to their own as opposed to turning their minds to alternatives like decommissioned cars is to view the events through the lens of someone who has now been familiar with the existence of the replica car for more than two years," she said.
Ward, who at times before the inquiry had tears in her eyes, highlighted that among the "problems and failings" of the RCMP in the aftermath of the shootings was the delay in discovering some of the killer's 22 victims.
Harry and Cory Bond, the sons of Peter and Joy Bond — a couple murdered in Portapique, N.S., the night of April 18, 2020 — started hearing from acquaintances the next morning about shootings near Cobequid Court, the road where their parents lived.
The summary from the inquiry into the mass shooting says it was about 18 hours after the killings started before an RCMP officer found the Bonds' bodies inside their home.
"The anguish felt by the families of those victims at the thought of that lapse of time is unimaginable," Ward said, adding that the delay is among the things the RCMP "wishes it could go back and change."
To close out the final day of public inquiry proceedings, the three commissioners thanked all those who participated for their contributions and the public for its engagement.
A final report detailing recommendations from the inquiry will be released March 31, 2023.
Commissioner Leanne Fitch said that the inquiry has heard commitments from RCMP leaders and other "institutional representatives" that they will be open to the recommendations and are prepared to receive them.
"We are encouraged by these commitments and call on policymakers, institutions, community groups and members of the public to take action based on the coming recommendations," Fitch said.
The commission of inquiry said it has conducted interviews with more than 230 people, including 80 RCMP officers, and has released 31 summaries of evidence — known as foundational documents — alongside more than 3,800 supporting materials and exhibits. As well, more than 900 members of the public shared their experiences of the mass shooting through the commission's online survey.
Members of the public may submit suggestions for recommendations through email, mail or over the phone until Sept. 30.
This report by The Canadian Press was first published Sept. 23, 2022.
—
This story was produced with the financial assistance of the Meta and Canadian Press News Fellowship.
Lyndsay Armstrong, The Canadian Press