N.B. COVID-19 roundup: 2 new travel-related cases, nearly 57% of eligible population double-dosed – CBC.ca
Public Health reported two more travel-related cases of COVID-19 in New Brunswick on Friday and issued a reminder about requirements for travelling into and outside the province.
The two new cases in the Moncton region, Zone 1, come on the heels of seven travel-related cases announced Thursday that broke a nine-day streak with no new cases.
No information about the vaccination status of the individuals, where they're from or whether they were isolating at the time they tested positive will be released for privacy reasons, Department of Health spokesperson Bruce Macfarlane has said.
He did confirm, however, that the two cases announced Friday are not related to Thursday's cases.
"Travellers returning to or coming to New Brunswick from outside Canada must follow both provincial requirements for people entering New Brunswick as well as the federal government's requirements for people entering Canada," Public Health said in a news release.
"Similarly, New Brunswickers travelling to another province, territory or country must follow the requirements of that jurisdiction."
More information about travel requirements is available online.
Nearly 395,000 New Brunswickers aged 12 and older are now fully vaccinated against COVID-19.
Another 12,759 administered second doses of COVID-19 vaccines have been added to the COVID-19 dashboard, pushing the two-dose vaccination rate to 56.9 per cent, up from 55 per cent on Thursday.
At least 75 per cent of eligible New Brunswickers must receive both doses before the province moves to the green phase of COVID recovery and lifts all Public Health restrictions, Health Minister Dorothy Shephard has said.
The province has set a target of Aug. 2, New Brunswick Day, to reach that threshold.
Meanwhile, the first-dose vaccination rate now stands at 80.3 per cent after 1,506 people rolled up their sleeves Thursday to get their first shot, the dashboard shows. That's up from 80.1 per cent Thursday.
Ray Harris, a data analyst in Fredericton who maintains a COVID-19 tracking website, observed the split between second and first doses has been exactly 89.4 per cent to 10.6 per cent for four of the past five days.
"#ItsJustWeird," he posted on Twitter.
Monday was the odd day out at 88.4 per cent to 11.6 per cent.
4 of the last 5 days have been an 10.6% / 89.4% 1st dose 2 dose split <a href="https://twitter.com/hashtag/ItsJustWeird?src=hash&amp;ref_src=twsrc%5Etfw">#ItsJustWeird</a> <a href="https://t.co/2SKQq8hzEv">pic.twitter.com/2SKQq8hzEv</a>

&mdash;@RayDoesData
The province has been holding a series of mobile walk-in Moderna clinics this week to help make getting first and second doses more convenient, and has scheduled more clinics for next week.
On Friday, clinics were held in Plaster Rock and Salisbury.
Next week, the following clinics will be held:
Saint John — Bowlarama, 248 Lancaster Ave., on Monday, between 10 a.m. and 4 p.m.
Drummond — Community Hall, 1412 Tobique Rd., on Monday, between 10 a.m. and 4 p.m.
Clair — Saint-Francois-d'Assise, 678 Rue Prinicipale, on Tuesday, between noon and 6 p.m.
Village of Gagetown — Recreation Centre, 38 Mill Rd., on Wednesday, between 5 p.m. and 9 p.m.
Sainte-Anne-de-Madawaska — Municipal Hall, 75 Rue Prinicipale, on Wednesday, between noon and 6 p.m.
Kedgwick — La Salle du Citoyen, 4 St-Jean St., on Thursday, between noon and 6 p.m.
Southampton — Middle Southampton Community Hall, 1782 Route 105, on Thursday, between 11 a.m. and 4 p.m.
St. Martins — Four Seasons Complex, 2551 Route 111, on Friday, between noon and 5 p.m.
Saint-Léonard — Ambulance New Brunswick station, 523 St-Jean St., Unit A, on Friday, between noon and 6 p.m.
Anyone 12 or older is eligible to receive a COVID-19 vaccine, and anyone who has received a first dose can get a second dose after 28 days. They don't have to wait for the 28 days to pass to schedule their appointment, Russell stressed.
People can book an appointment online through a Horizon or Vitalité health network clinic or through a participating pharmacy.
They are asked to bring their Medicare card, a signed consent form and, for those receiving a second dose, a copy of the record of immunization they received after getting their first dose.
People who booked an appointment but were able to get vaccinated sooner elsewhere are asked to cancel the appointment they no longer need.
8 active cases
Two more people have recovered from COVID-19 since Thursday, Public Health reported Friday.
With the two new confirmed cases in the Moncton region, Zone 1 — a person in their 20s and a person in their 40s — the province's active case count stands at eight.
No one is hospitalized with the respiratory disease.
A total of 372,206 COVID-19 tests have been conducted to date, including 713 on Thursday.
New Brunswick has had 2,345 confirmed cases of COVID-19 since the pandemic started, with 2,290 recoveries so far and 46 COVID-related deaths.
P.E.I. opens to Canadians before reaching vaccination goal
Prince Edward Island will open up Sunday to Canadian travellers from outside the Atlantic region, even though it hasn't met its vaccination goal.
Chief Public Health Officer Dr. Heather Morrison said she expects 40 per cent of eligible Islanders will be fully vaccinated by the end of the week.
That's when fully vaccinated Canadians who have a PEI Pass will be able to enter without isolating.
The province was aiming to have half of Islanders aged 12 and older doubled-dosed before taking this step.
Morrison previously said that target was an important factor in her comfort about further opening the border 10 days ahead of the original planned date of July 28.
"I certainly will be less worried knowing that if there are cases of COVID, we'll be better protected."
On Thursday, Morrison said she thinks opening up is a "positive step."
"We are all trying to manoeuvre our way and walk our way out of this pandemic," Morrison said in an interview with Louise Martin on CBC News: Compass. "I'm sure I share with many Islanders that feeling of wanting to reconnect with many people outside Atlantic Canada."
The province has received more than 24,000 PEI Pass applications from outside Atlantic Canada as of Thursday.
Canadians from outside the Atlantic region who have only one vaccine dose will be required to isolate for eight days and receive a negative test before leaving isolation.
P.E.I. also dropped its mandatory mask requirement for most indoor spaces last week.
Horizon explains mask policy
The Horizon Health Network's mask policy for visitors has raised some eyebrows and some tempers throughout the pandemic.
Visitors are asked during the screening process to remove their community mask when entering a hospital and are given a medical mask to wear instead — even if their own mask is a superior N95 mask, as one woman recently discovered.
Went to a <a href="https://twitter.com/HorizonHealthNB?ref_src=twsrc%5Etfw">@HorizonHealthNB</a> location today and was required to remove my fantastic, fitted, gap-free <a href="https://twitter.com/masks4allCanada?ref_src=twsrc%5Etfw">@masks4allCanada</a> mask and wear a blue surgical mask. I thought we were smarter than that, <a href="https://twitter.com/Gov_NB?ref_src=twsrc%5Etfw">@Gov_NB</a>. Can we pls revise this awful new policy? <a href="https://twitter.com/hashtag/CovidIsAirborne?src=hash&amp;ref_src=twsrc%5Etfw">#CovidIsAirborne</a> <a href="https://twitter.com/DFisman?ref_src=twsrc%5Etfw">@DFisman</a> <a href="https://twitter.com/imgrund?ref_src=twsrc%5Etfw">@imgrund</a>

&mdash;@NinjaBellFencer
Horizon's masking policy aligns with guidance from the Public Health Agency of Canada regarding personal protective equipment use during the COVID-19 pandemic, according to Merita MacMillan, regional infection prevention and control lead for the regional health authority.
Since March, members of the public have been provided with a medical mask "to ensure all masks being worn in our health care facilities meet consistent standards to help mitigate the risk of potential spread and protect the health and safety of our patients and staff," she said in an emailed statement.
MacMillan did not directly respond to questions about the potential risks posed by requiring people to remove their masks in a room where others have just removed theirs, given the potential for airborne transmission.
She did say medical exemptions are granted for those individuals who are required to wear an alternate mask or respirator.
Atlantic COVID roundup
Nova Scotia reported no new cases of COVID-19 on Friday, and has eight active cases.
Newfoundland and Labrador reported no new cases Friday. There are 46 active cases in the province, all but one — a person in the Eastern health region — aboard two ships anchored in Conception Bay.
Prince Edward Island has no active cases, as of Friday.
What to do if you have a symptom
People concerned they might have COVID-19 can take a self-assessment test online.
Public Health says symptoms of the illness have included a fever above 38 C, a new or worsening cough, sore throat, runny nose, headache, a new onset of fatigue, and difficulty breathing.
In children, symptoms have also included purple markings on the fingers and toes.
People with one of those symptoms should stay at home, call Call Tele-Care 811 or their doctor, and follow instructions.
Toronto Pearson Airport begins separating arrivals based on vaccination status – CP24 Toronto's Breaking News
International passengers arriving at Toronto Pearson Airport will now be separated by vaccination status before heading through customs, the airport confirmed Saturday.
"Passengers entering Canada from the U.S. or another international destination may be split into vaccinated and non/partially-vaccinated queues prior to reaching Canada Customs," Beverly MacDonald, Senior Advisor of Communications at Toronto Pearson told CTV News Toronto Saturday,
The airport said the decision was made to help streamline border clearance, as there are different entry requirements for vaccinated and non- or partially-vaccinated travellers.
Currently, fully vaccinated travellers entering Canada may qualify for certain exemptions to quarantine and testing requirements, while non- or partially-vaccinated travellers will not qualify for exemptions to quarantine and testing requirements.
Come Aug. 9, fully vaccinated U.S. citizens will be exempt from quarantine and testing requirements, much like their Canadian counterparts.
"We know that the arrivals experience is different for passengers than it was in pre-pandemic times, and we appreciate passengers' patience," MacDonald said.
Pearson isn't the first Canadian airport to implement this strategy. Vancouver International Airport has also begun separating arrivals by vaccination status, installing signs directing vaccinated and non- or partially- vaccinated travellers into separate customs lines.
Recently, Ontario Premier Doug Ford shut down the idea of "vaccine passports" — proof of vaccination intended to help streamline international travel.
"The answer is no, we're not gonna do it. We're not gonna have a split society," Ford told reporters last week.
However, the Ontario COVID-19 Science Advisory Table issued a 21-page briefing on the potential of a provincial vaccine certification program Wednesday, claiming that one "could be useful in reopening higher-risk settings … sooner."
Ottawa's new COVID-19 cases back in double digits – CTV Edmonton
OTTAWA —
The number of active COVID-19 cases in Ottawa is back above 40 for the first time in two weeks, as the city's vaccine administration pace slows down.
Ottawa Public Health reported seven new cases of the virus in Ottawa on Friday. There were no new resolved cases for the second straight day, so the number of active cases has climbed to 41.
It's the most since July 9, when there were 43 active cases in the city.
There are still no COVID-19 patients in hospital in the city, which has been the case for nine days now.
Earlier provincial officials had reported 10 new cases in Ottawa on Friday. Their numbers sometimes differ from Ottawa Public Health's data due to different reporting times.
Provincewide, officials reported 192 new cases as the seven-day average crept up slightly.
The city administered an average of about 5,500 second shots on Wednesday and Thursday, down from more than 13,000 second doses per day last week.
Eighty-three per cent of eligible residents have received at least one shot. Sixty-nine per cent are now fully vaccinated.
Earlier this week, the city closed several vaccination clinics due to decreasing demand.
OTTAWA'S KEY COVID-19 STATISTICS
Ottawa is now in Step 3 of Ontario's Roadmap to Reopen plan.
Ottawa Public Health data:
COVID-19 cases per 100,000 (July 15 to July 21): 3.9 (up from 2.7)
Positivity rate in Ottawa (July 16 to July 22): 0.5 per cent (up from 0.2 per cent July 14-20)
Reproduction number (seven day average): 1.28 (up from 1.18)
Reproduction values greater than 1 indicate the virus is spreading and each case infects more than one contact. If it is less than 1, it means spread is slowing.
ACTIVE CASES OF COVID-19 IN OTTAWA
There are 41 active cases of COVID-19 in Ottawa on Friday, up from 24 on Wednesday. It's the most active cases in the city in nearly two weeks.
For the second straight day, no more people have recovered after testing positive for COVID-19. The total number of resolved cases of coronavirus in Ottawa is 27,134.
The number of active cases is the number of total laboratory-confirmed cases of COVID-19 minus the numbers of resolved cases and deaths. A case is considered resolved 14 days after known symptom onset or positive test result.
HOSPITALIZATIONS IN OTTAWA
Ottawa Public Health is reporting zero people in Ottawa hospitals with COVID-19 related illnesses for a ninth straight day.
There are no patients in the intensive care unit.
These data are based on figures from Ottawa Public Health's COVID-19 dashboard, which refer to residents of Ottawa and do not include patient transfers from other regions.
COVID-19 VACCINES IN OTTAWA
Ottawa Public Health updates vaccine numbers on Mondays, Wednesdays and Fridays. As of Friday:
Ottawa residents with 1 dose (12+): 765,350 (+2,089)
Ottawa residents with 2 doses (12+): 624,143 (+10,919)
Share of population 12 and older with at least one dose: 83 per cent
Share of population 12 and older fully vaccinated: 69 per cent
Total doses received in Ottawa: 1,237,860 (+8,008)
*Total doses received does not include doses shipped to pharmacies and primary care clinics, but statistics on Ottawa residents with one or two doses includes anyone with an Ottawa postal code who was vaccinated anywhere in Ontario.
VARIANTS OF CONCERN
Ottawa Public Health data*:
Total Alpha (B.1.1.7) cases: 6,830 (+7)
Total Beta (B.1.351) cases: 405
Total Gamma (P.1) cases: 35 (+1)
Total Delta (B.1.617.2) cases: 43 (+5)
Percent of new cases with variant/mutation in last 30 days: 45 per cent
Total variants of concern/mutation cases: 9,117 (+8)
Deaths linked to variants/mutations: 101
*OPH notes that that VOC and mutation trends must be treated with caution due to the varying time required to complete VOC testing and/or genomic analysis following the initial positive test for SARS-CoV-2. Test results may be completed in batches and data corrections or updates can result in changes to case counts that may differ from past reports.
COVID-19 CASES IN OTTAWA BY AGE CATEGORY
0-9 years old: Zero new cases (2,299 total cases)
10-19 years-old: One new case (3,572 total cases)
20-29 years-old: One new case (6,234 total cases)
30-39 years-old: Three new cases (4,246 total cases)
40-49 years-old: Zero new cases (3,649 total cases)
50-59 years-old: One new case (3,332 total cases)
60-69-years-old: One new case (1,962 total cases)
70-79 years-old: Zero new cases (1,095 total cases)
80-89 years-old: Zero new cases (856 total cases)
90+ years old: Zero new cases (520 total cases)
Unknown: Zero new cases (3 cases total)
CASES OF COVID-19 AROUND THE REGION
Eastern Ontario Health Unit: Zero new cases
Hastings Prince Edward Public Health: Two new cases
Kingston, Frontenac, Lennox & Addington Public Health: Zero new cases
Leeds, Grenville & Lanark District Health Unit: Zero new cases
Renfrew County and District Health Unit: Three new cases
Jeff Bezos' very negative rocket launch: One minuscule fix could have avoided it – Inverse
A tsunami of dunks arrived in the wake of Jeff Bezos' 11-minute rocket ride in a questionably shaped New Shepard launch vehicle earlier this week.
It seemed that large percentages of highly-online people were of the opinion that the world's wealthiest man had just squandered enormous amounts of cash on a pointless joyride and that the reportedly $10 billion he's invested so far in Blue Origin, his aerospace company, could have been better spent elsewhere.



Even reporter Soledad O'Brien got in on the pessimistic hot takes: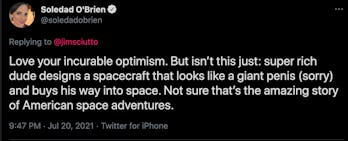 The question is, did Bezos and Blue Origin miss an opportunity to better shape the narrative around their media event? And, if so, what could they have done?
Revelations that Bezos might only pay a true tax rate of 0.98 percent — far less than the average American — and his moves to squash unionizing efforts at his company Amazon, certainly didn't help the matter. The cowboy-hat-wearing CEO's own comments thanking "every Amazon employee and every Amazon customer, because you guys paid for all of this," were similarly tone-deaf, drawing condemnation from U.S. Representative Alexandria Ocasio-Cortez, among others.
But in some ways, those issues are orthogonal to the matter of what kind of value a suborbital flight like Bezos' can bring to the world.
To put it another way, there is one tweak that Bezos could have made to improve the public's perception of space travel and science, which undoubtedly took a severe beating because of his clumsy approach.
It's something that Elon Musk — who is, no doubt just as big a huckster as Bezos — does with ease, and claims an army of space-loving fans because of it: Musk merely often explains there's a larger purpose at play than just a rich boomer going to space.
The technology developed for the dick-shaped rocket can be used for good here, and the scientific discovery and research that tech may enable is potentially good for all humanity.
"People didn't understand why it was important that commercial companies replicate something government did decades ago," Laura Forczyk, owner of the space consulting firm Astralytical, tells Inverse.
"I like to talk about how money spent in space isn't really spent in space; it's spent on Earth. All the technologies created in spaceflight are useful to society."
Forczyk saw the jaunt in terms of its potential for scientific discovery. New Shepard has already carried experiments for universities, NASA, and private companies on previous uncrewed flights and intends to continue to do so. Along with Richard Branson's Virgin Galactic, which has also started taking experimental payloads into suborbital space, a larger market could develop for research opportunities in this region, Forczyk says.
Yet Blue Origin's ham-handed attempts at self-promotion haven't always been the finest. The company, which did not respond to a request for comment from Inverse, sent what appeared to be an extremely petty tweet aimed at their competitor, Virgin Galactic, shortly before the latter's launch a week earlier: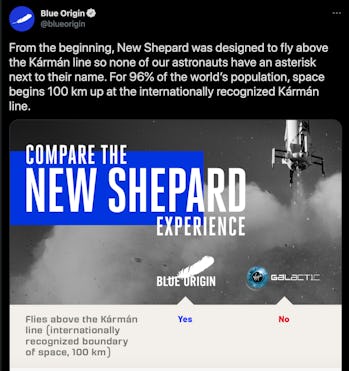 "They were perhaps trying to point out, from a marketing standpoint, that their product and service had superior features," Chris Lewicki, an engineer and space entrepreneur, tells Inverse. "In retrospect that was clearly a bad idea."
Lewicki thinks that the misstep was relatively minor and likely to be soon forgotten. "But it creates a bit of a predisposition for people to be less receptive to the message that follows," he said.
Perhaps Blue Origin won't ultimately pay much of a price for such lapses in judgment. Research has shown that even negative word-of-mouth can increase public awareness of a brand and help sell goods, Jessie Liu, a marketing professor at Johns Hopkins University, tells Inverse.
"Compared to [Elon Musk's] SpaceX, Blue Origin was born with far less hype and publicity in the game of space travel," she writes via email. "So even criticism about Jeff Bezos that gets people to talk about Blue Origin and create awareness is not necessarily a bad thing for the company."
There might be an opportunity for the aerospace company to identify and covert the most engaged consumers through negative word-of-mouth, Liu added, since such comments tend to stem from people's emotional investment, and passion can lead to activity.
Though he understood where some of it was coming from, the negative commentary frustrates Lewicki: "There seems to be a lot of attention on two or three individuals, and a wish that they shouldn't be that wealthy or that they should be using their wealth in some different way."
Both he and Forczyk point out that the fact that Bezos and other billionaires aren't paying as much as they might to the U.S. government in taxes is more a matter for legislators to try to solve, and that Bezos is taking active steps to donate parts of his vast wealth to causes he deems valuable.
"For me, it's an opportunity for self-reflection," says Lewicki. "If I'm complaining that Bezos isn't using his resources to charitably solve problems, then how do I rank up with using my time?"
For us standing at this moment in history, it can be hard to know what future results will come from something like this first passenger launch of New Shepard. Comparing Blue Origin to Amazon, Lewicki says that Bezos seems particularly adept at creating never-before-seen kinds of infrastructure to, say, routinely deliver packages quicker than anyone thought possible.
In the end, the haters are going to say whatever they want about Bezos and his pursuits. It's possible (probable, even) that even if Bezos was clear about the loftier ambitions of Blue Origin — "millions of people living and working space" is the tag line — the launch would still be received poorly.
But the billionaire's passion for space travel is deep-seated, and Lewicki says Bezos has personally told him he's never planning to give up on that dream.
"Right now, the message he's talking about is building the road to space," he said. "That's the theme he's employing."
Advocates for space exploration and the advancement of science and technology can hope that the road to space is a well-thought-out one, with the no-good optics and naked commercialism of this past week's 11-minute flight quickly replaced with efforts that more clearly serve the greater good.