Nasa Moon rocket core leaves for testing – Invest Records

The first core stage for Nasa's "mega-rocket", the SLS, has left its factory in New Orleans for crucial tests to assess its readiness for launch.
The Space Launch System (SLS) is a critical part of the space agency's Artemis programme, which aims to return Americans to the Moon by 2024.
The core stage is the centrepiece of the new rocket and will undergo comprehensive testing in Mississippi.
On Wednesday, it was placed on a barge which will sail it to its destination.
The rocket, which will be taller than a 30-storey building, is being built for Nasa by Boeing.
Nasa deputy administrator Jim Morhard attended the roll-out of the rocket stage from the Michoud Assembly Facility (Maf) in New Orleans where it was built.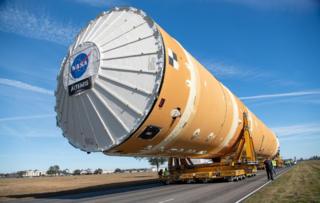 He said it represented "an exciting leap forward in the Artemis program as Nasa teams make progress toward the launch pad".
The rocket programme, which was announced in 2010, has been hit by delays and cost overruns.
Some in the space community believe it would be better to launch deep space missions on commercial rockets. But supporters of the programme say that Nasa needs its own heavy-lift launch capability.
After roll-out from the Maf, the core was loaded on to Nasa's Pegasus barge to travel by water to the Stennis Space Center near Bay St Louis in Mississippi.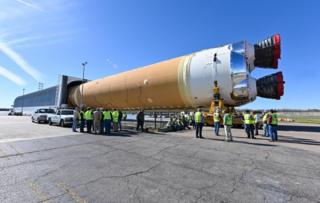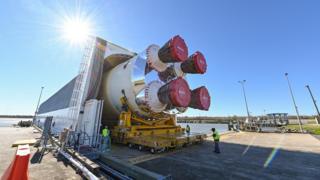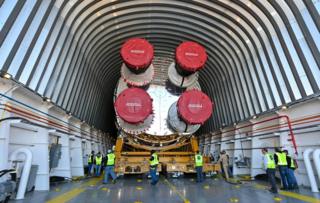 The test campaign at Stennis is called the "Green Run", and will involve operating all the core stage systems simultaneously for the first time.
This will see the four powerful RS-25 engines fired for about eight minutes (or perhaps a little less), and throttled at different settings. This will mimic the levels of thrust needed during launch.
The SLS core stage contains two propellant tanks – one to hold liquid oxygen and another for liquid hydrogen. Together, they hold a combined 733,000 gallons (2.7 million litres) of propellant to power the engines.
The SLS was designed to re-use technology originally developed for the space shuttle programme, which ran from 1981-2011.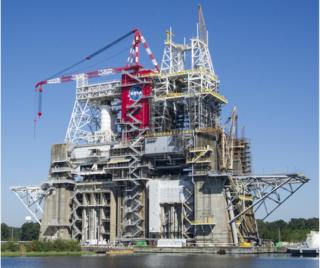 The RS-25 thrusters are the same ones that powered the orbiter, and the SLS core stage is based on the external tank that fed the shuttle engines with propellant (albeit with significant modifications).
Two solid rocket boosters (SRBs) – similar to those that helped launch the shuttle – will sit either side of the SLS core.
The rocket will provide the power required to send the Orion spacecraft – Nasa's next-generation crew vehicle – on its way to the Moon. The rocket's maiden launch (Artemis-1) is expected to occur some time in 2021.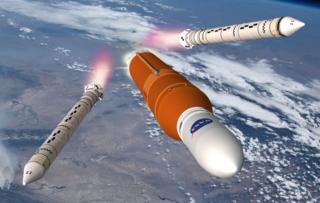 Last year, John Shannon, who has been Boeing's head of the SLS programme since 2015, told me: "I suspect that once SLS is in the national capability, there won't be a need for another heavy-lift vehicle like it for many years. So this is really a once-in-a-generation opportunity."
The core is the largest stage Nasa has ever had built at the Louisiana factory, including the Saturn V rocket stages for the Apollo programme.
"This is a historic moment for Nasa's Artemis programme and a proud time for the… team as the first flight article leaves the factory floor," said Julie Bassler, the Nasa SLS Stages manager.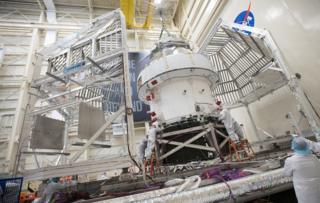 Meanwhile, Nasa and its partners have completed production of the Orion spacecraft for the first Artemis mission. It is currently undergoing final testing at the Plum Brook Station in Ohio.
For the Artemis-1 mission, Orion will be sent on a loop around the Moon to test the hardware in deep space. The spacecraft will carry no crew.
The first mission to carry crew will be Artemis-2, which should send four astronauts on a lunar flyby.
Artemis-3, which is being targeted for 2024, will see a man and a woman land at the lunar south pole – the first time astronauts will have travelled to the lunar surface since 1972.
Follow Paul on Twitter.
.
Why do animals keep evolving into crabs?
A flat, rounded shell. A tail that's folded under the body. This is what a crab looks like, and apparently what peak performance might look like — at least according to evolution. A crab-like body plan has evolved at least five separate times among decapod crustaceans, a group that includes crabs, lobsters and shrimp. In fact, it's happened so often that there's a name for it: carcinization.
So why do animals keep evolving into crab-like forms? Scientists don't know for sure, but they have lots of ideas.
Carcinization is an example of a phenomenon called convergent evolution, which is when different groups independently evolve the same traits. It's the same reason both bats and birds have wings. But intriguingly, the crab-like body plan has emerged many times among very closely related animals.
The fact that it's happening at such a fine scale "means that evolution is flexible and dynamic," Javier Luque, a senior research associate in the Department of Zoology at the University of Cambridge, told Live Science.
Related: Does evolution ever go backward?
Crustaceans have repeatedly gone from having a cylindrical body plan with a big tail — characteristic of a shrimp or a lobster — to a flatter, rounder, crabbier look, with a much less prominent tail. The result is that many crustaceans that resemble crabs, like the tasty king crab that's coveted as a seafood delicacy, aren't even technically "true crabs." They've adopted a crab-like body plan, but actually belong to a closely related group of crustaceans called "false crabs."
When a trait appears in an animal and sticks around through generations, it's a sign that the trait is advantageous for the species — that's the basic principle of natural selection. Animals with crabby forms come in many sizes and thrive in a wide array of habitats, from mountains to the deep sea. Their diversity makes it tricky to pin down a single common benefit for their body plan, said Joanna Wolfe, a research associate in organismic and evolutionary biology at Harvard University.
Wolfe and colleagues laid out a few possibilities in a 2021 paper in the journal BioEssays. For example, crabs' tucked-in tail, versus the lobster's much more prominent one, could reduce the amount of vulnerable flesh that's accessible to predators. And the flat, rounded shell could help a crab scuttle sideways more effectively than a cylindrical lobster body would allow.
But more research is needed to test those hypotheses, Wolfe said. She is also trying to use genetic data to better understand the relationships among different decapod crustaceans, to more accurately pinpoint when various "crabby" lineages evolved, and pick apart the factors driving carcinization.
There's another possible explanation: "It's possible that having a crab body isn't necessarily advantageous, and maybe it's a consequence of something else in the organism," Wolfe said. For example, the crab body plan might be so successful not because of the shell or tail shape itself, but because of the possibilities that this shape opens up for other parts of the body, said Luque, who is a co-author of the 2021 paper with Wolfe.
For example, a lobster's giant tail can propel the animal through the water and help it crush prey. But it can also get in the way and constrain other features, Luque said. The crab body shape might leave more flexibility for animals to evolve specialized roles for their legs beyond walking, allowing crabs to easily adapt to new habitats. Some crabs have adapted their legs for digging under sediment or paddling through water.
"We think that the crab body plan has evolved so many times independently because of the versatility that the animals have," Luque said. "That allows them to go places that no other crustaceans have been able to go."
The crab-like body plan also has been lost multiple times over evolutionary time — a process known as decarcinization.
"Crabs are flexible and versatile," Luque explained. "They can do a lot of things back and forth."
Wolfe thinks of crabs and other crustaceans like Lego creations: They have many different components that can be swapped out without dramatically changing other features. So it's relatively straightforward for a cylindrical body to flatten out, or vice versa. But for better or worse, humans won't be turning into crabs anytime soon. "Our body isn't modular like that," Wolfe said. "[Crustaceans] already have the right building blocks."
Rocket Lab Launches Second Batch of TROPICS Satellites – SpaceWatch.Global
Ibadan, 29 May 2023. – Rocket Lab USA, Inc. has successfully completed the second of two dedicated Electron launches to deploy a constellation of tropical cyclone monitoring satellites for NASA. The "Coming To A Storm Near You" launch lifted off on May 26 at 15:46 NZST (03:46 UTC) from Rocket Lab Launch Complex 1 on New Zealand's Mahia Peninsula, deploying the final two CubeSats of NASA's TROPICS constellation to orbit.
"Coming To A Storm Near You" is Rocket Lab's second of two TROPICS launches for NASA, following the first launch on May 8th NZST. Like the previous launch, "Coming To A Storm Near You" deployed a pair of shoebox-sized satellites to low Earth orbit to collect tropical storm data more frequently than other weather satellites. The constellation aims to help increase understanding of deadly storms and improve tropical cyclone forecasts.
Rocket Lab has now launched all four satellites across two dedicated launches within 18 days, enabling the TROPICS satellites to settle into their orbits and begin commissioning ahead of the 2023 North American storm season, which begins in June.
"Electron was for exactly these kinds of missions – to deploy spacecraft reliably and on rapid timelines to precise and bespoke orbits, so we're proud to have delivered that for NASA across both TROPICS launches and meet the deadline for getting TROPICS to orbit in time for the 2023 storm season," said Rocket Lab founder and CEO Peter Beck. "Thank you to the team at NASA for entrusting us with such an important science mission, we're grateful to be your mission launch providers once again."
'Coming To A Storm Near You' was Rocket Lab's fifth mission for 2023 and the Company's 37th Electron mission overall. It brings the total number of satellites launched into orbit by Rocket Lab to 163.
NASA Astronomy Picture of the Day 29 May 2023: Milky Way Galaxy and the Bioluminescent Sea – HT Tech
Our solar system, with the Sun at the center and 8 other planets besides Earth, reside in an obscure part of a galaxy known as the Milky Way Galaxy. It is a barred spiral galaxy that spans about 100,000 light-years across and was formed approximately 14 billion years ago. According to NASA, the Milky Way Galaxy has over 100 billion stars and all of them orbit a supermassive black hole at the galaxy's center, which is estimated to be four million times as massive as our Sun.
NASA's Astronomy Picture of the Day is a breathtaking snapshot of the Milky Way Galaxy captured over the bioluminescence of the sea in the Maldives. What is the turquoise glow in the water? It occurs due to single-celled Planktons, known as Noctiluca scintillans, which illuminate when stimulated by the sea waves to keep predators away. The Milky Way Galaxy dominates the sky with the Omega Centauri star cluster to the left and the Southern Cross Asterism in the center. The picture was captured by astrophotographers Petr Horalek and Sovena Jani.
NASA's description of the picture
What glows there? The answer depends: sea or sky? In the sea, the unusual blue glow is bioluminescence. Specifically, the glimmer arises from Noctiluca scintillans, single-celled plankton stimulated by the lapping waves. The plankton use their glow to startle and illuminate predators. This mid-February display on an island in the Maldives was so intense that the astrophotographer described it as a turquoise wonderland. In the sky, by contrast, are the more familiar glows of stars and nebulas.
The white band rising from the artificially-illuminated green plants is created by billions of stars in the central disk of our Milky Way Galaxy. Also visible in the sky is the star cluster Omega Centauri, toward the left, and the famous Southern Cross asterism in the center. Red-glowing nebulas include the bright Carina Nebula, just right of center, and the expansive Gum Nebula on the upper right.