NASA's Voyager 2 probe receives first commands since March, sends back a hello
The Voyager 2 probe, one of NASA's most well-traveled spacecraft, has been unable to communicate with Earth for the past eight months. Voyager 2 has been wandering alone at the edge of interstellar space, gathering data some 11.6 billion miles from Earth and sending it back to us.
But we haven't been able to pick up the phone and call back.
The only radio antenna that can communicate with the probe, Deep Space Station 43 (DSS43) in Australia, has been offline while NASA completes a series of hardware upgrades. Some of the transmitters on DSS43 haven't been replaced for over 47 years, according to NASA. To test new hardware, the dish pinged Voyager 2 on Oct. 29 with a few commands. It was the first time since mid-March that a signal was beamed to the spacecraft.
And because the probe is so far away, the communication team had to wait over 34 hours for a reply.
Sure enough, Voyager 2 received the commands with no problems and sent back a "hello."
Fortunately, it appears Voyager 2 remains blissfully unaware of all the terrible things that have occurred on Earth since March.
NASA's Deep Space Network allows Earth-bound scientists to communicate with spacecraft and rovers across the solar system. The network consists of three huge telescopes located in the US, Spain and Australia.
But the US and Spanish telescopes are unable to communicate with Voyager 2 because of its trajectory. When the probe passed by Triton, a moon of Neptune, it was shot out of the solar system's plane. If you think of the solar system like a plate, the probe is like a pea that rolled around a potato and off the side and started traveling toward the floor. From that position, the Northern Hemisphere telescopes can't send a signal — but DSS43 can.
With the cosmic call, engineers and scientists can be confident the hardware upgrades haven't messed with our ability to communicate with deep space probes.
"This test communication with Voyager 2 definitely tells us that things are on track with the work we're doing," said Brad Arnold, Deep Space Network project manager at NASA's Jet Propulsion Lab. The upgrades are scheduled to be completed by 2021.
Although the probe is now 43 years old, it just keeps on truckin'. A year ago, Voyager 2 scientists published new data collected by the probe as it passed into interstellar space. Earlier this year, before DSS43 was taken offline, Voyager 2 suffered a glitch that shut down its science instruments but it was quickly back online and ready to continue performing its experiments.
Source:- CNET
Alphabet"s UK subsidiary DeepMind makes breakthrough protein shape discovery – Proactive Investors USA & Canada
DeepMind, a London-based subsidiary of Google's owner Alphabet Inc, has been praised by the global scientific community after solving a 50-year-old challenge in biology.
Its artificial intelligence system AlphaFold has figured out what shapes proteins fold into, the so-called 'folding problem'.
It is a major scientific breakthrough because it allows to better understand what a protein does and how it works, since its shape is closely correlated with its function.
Proteins are the 'building blocks of life' because they underpin the biological processes in every living thing.
There are currently around 200mln known proteins and another 30mln is found every year.
Each of them has their own shape and it is often expensive and time-consuming to find their 3D composition, so we know only a fraction of the millions known to science.
Proteins are made of amino acids, which make the protein to fold when they interact, meaning there are nearly infinite possibilities for shapes.
The 3-D shape into which proteins fold themselves determines just about everything in biology. To predict that shape from the 1-D sequence of amino acids is a truly stunning achievement. If a computer program were eligible for a Nobel Prize . . .https://t.co/n8QxINE5M0

— Richard Dawkins (@RichardDawkins) December 1, 2020
AlphaFold was trained on the sequences and structures of 100,000+ proteins mapped out by scientists around the world and can now predict a protein's shape based on the sequence of amino acids.
As a result, scientists worldwide will have extra help in finding solutions, such as developing treatments for diseases or finding enzymes that break down industrial waste, because of the key role of proteins.
The system was officially recognised as a solution to the issue by the biennial Critical Assessment of protein Structure Prediction, a community created in 1994 by scientists that were looking to solve the protein folding problem.
Farrell calls for consideration of city bylaw to stop street harassment in Calgary – Calgary Herald
Article content continued
Some other Canadian cities have rules to deal with street harassment. In London, Ont., you can be fined for using "abusive or insulting language" in a public space.
Street harassment takes many forms, from unwanted sexual comments to whistling to flashing or groping, and it's based on someone's perceived gender or sexual identity. It's a point of focus for gender equity advocates, as an example of how control tactics make people feel unsafe in public spaces.
Sagesse executive director Andrea Silverstone said Monday that street harassment can't be dismissed as one-off comments or isolated incidents.
"It's a structured pattern of behaviour that occurs in society that makes certain people feel unsafe," she said. "Whether they're women or 2SLGBTQ individuals or visible minorities feeling unsafe on the street."
Jake Stika, executive director of Next Gen Men, said street harassment is a symptom of how boys absorb the message that being a man is about power and dominance, and they start defining their interactions that way.
Street harassment, he explains, is overwhelmingly perpetuated by men, but men are also key to stopping it.
"It's not a women's issue. Women are impacted by it … but what we need to do as guys is take this up as our issue," he said. "We're the problem, but we're also the solution."
Stika's organization works to redefine manhood and masculinity with youth and community programs as part of working "upstream" to stop gender-based violence and improve men's health and relationships.
AI Solves 50-Year-Old Biology 'Grand Challenge' Decades Before Experts Predicted – ScienceAlert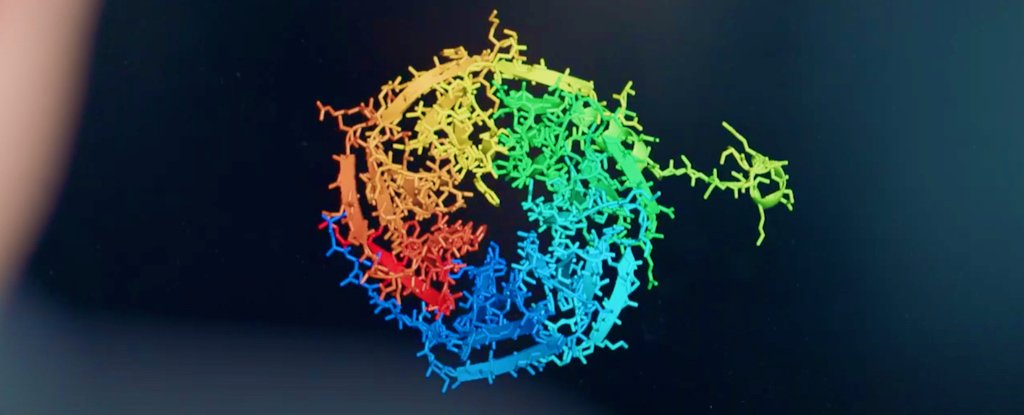 A long-standing and incredibly complex scientific problem concerning the structure and behaviour of proteins has been effectively solved by a new artificial intelligence (AI) system, scientists report.
DeepMind, the UK-based AI company, has wowed us for years with its parade of ever-advancing neural networks that continually trounce humans at complex games such as chess and Go.
All those incremental advancements were about much more than mastering recreational diversions, however.
In the background, DeepMind's researchers were seeking to coax their AIs towards solving much more fundamentally important scientific puzzles – such as finding new ways to fight disease by predicting infinitesimal but vitally important aspects of human biology.
Now, with the latest version of their AlphaFold AI engine, they seem to have actually achieved this very ambitious goal – or at least gotten us closer than scientists ever have before.
[embedded content]
For about 50 years, researchers have strived to predict how proteins achieve their three-dimensional structure, and it's not an easy problem to solve.
The astronomical number of potential configurations is so mind-bogglingly huge, in fact, that researchers postulated it would take longer than the age of the Universe to sample all the possible molecular arrangements.
Nonetheless, if we can solve this puzzle – known as the protein-folding problem – it would constitute a giant breakthrough in scientific capabilities, vastly accelerating research endeavours in things like drug discovery and modelling disease, and also leading to new applications far beyond health.
For that reason, despite the scale of the challenge, for decades researchers have been collaborating to make gains in developing solutions to the protein-folding problem.
A rigorous experiment called CASP (Critical Assessment of protein Structure Prediction) began in the 1990s, challenging scientists to devise systems capable of predicting the esoteric enigmas of protein folding.
[embedded content]
Now, in its third decade, the CASP experiment looks to have produced its most promising solution yet – with DeepMind's AlphaFold delivering predictions of 3D protein structures with unprecedented accuracy.
"We have been stuck on this one problem – how do proteins fold up – for nearly 50 years," says CASP co-founder John Moult from the University of Maryland.
"To see DeepMind produce a solution for this, having worked personally on this problem for so long and after so many stops and starts wondering if we'd ever get there, is a very special moment."
In the experiment, DeepMind used a new deep learning architecture for AlphaFold that was able to interpret and compute the 'spatial graph' of 3D proteins, predicting the molecular structure underpinning their folded configuration.
The system, which was trained up by analysing a databank of approximately 170,000 protein structures, brought its unique skillset to this year's CASP challenge, called CASP14, achieving a median score in its predictions of 92.4 GDT (Global Distance Test).
That's above the ~90 GDT threshold that's generally considered to be competitive with the same results obtained via experimental methods, and DeepMind says its predictions are only off by about 1.6 angstroms on average (about the width of an atom).
"I nearly fell off my chair when I saw these results," says genomics researcher Ewan Birney from the European Molecular Biology Laboratory.
"I know how rigorous CASP is – it basically ensures that computational modelling must perform on the challenging task of ab initio protein folding. It was humbling to see that these models could do that so accurately. There will be many aspects to understand but this is a huge advance for science."
It's worth noting that the research has not yet been peer-reviewed, nor published in a scientific journal (although DeepMind's researchers say that's on the way).
Even so, experts who are familiar with the field are already recognising and applauding the breakthrough, even if the full report and detailed results are yet to be seen.
"This computational work represents a stunning advance on the protein-folding problem, a 50-year old grand challenge in biology," says structural biologist Venki Ramakrishnan, president of the Royal Society.
"It has occurred decades before many people in the field would have predicted."
The full findings are not yet published, but you can see the abstract for the research, "High Accuracy Protein Structure Prediction Using Deep Learning", here, and find more information on CASP14 here.