NBA, Bleacher Report Launch Art Series To Celebrate League's 75th Anniversary – Forbes
Throughout the past 75 years, the NBA has transcended the hardcourt, crossing over into fashion, music, art, politics, lifestyle and pop culture.
In an effort to not only celebrate the league's anniversary but also further its involvement in the art world, the NBA and Bleacher Report teamed up with five artists across a variety of disciplines and mediums to create a one-of-its-kind collaboration.
NBA 75: Artist Series features original 1-of-1 works of art, 75 exclusive artist editions and an apparel collection designed by Frank Miller, Sue Tsai, Greg Yuna, Bandulu and Hank Willis Thomas.
"Basketball has become more than just the on-court product—it melds fashion, art and lifestyle elements, and bringing that to the forefront and having artists celebrate some of our past logos, teams and designs in these different ways is representative of where we see the league at this point," says Adrienne O'Keeffe, NBA associate vice-president of global partnerships and media. "It's looking back on the past 75 years but also looking forward to what lies ahead, and we thought this really captured that intersection."
Known for his gritty noir aesthetic across comics, novels and films, Miller made three pencil-and-ink illustrations reimagining the logos of the Boston Celtics, Los Angeles Lakers and Toronto Raptors. Thomas, a conceptual artist whose themes relate to perspective, identity, commodity, media and popular culture, made a large-scale quilted NBA logo from a collection of team jerseys. Tsai, a visual artist whose bold-yet-feminine aesthetic crosses into art, fashion and pop culture, created four paintings celebrating the Chicago Bulls, New York Knicks, Brooklyn Nets and Lakers.
Prominent luxury jeweler Yuna made three pendants encrusted with precious gems of the Knicks, Lakers and 75th anniversary NBA logos featuring more than 1,200 precious gems, including 500 diamonds. Bandulu, the label founded by artist Pat Peltier known for transforming vintage clothing and sportswear into one-of-a-kind garments through custom embroidery, made three hand-embroidered tapestries honoring the Philadelphia 76ers, Miami Heat and Celtics.
"For me it was an amazing opportunity because I am a huge fan of basketball because it was my bonding thing with my family growing up," Tsai says. "My art and brand crosses over into basketball a lot, so it was the perfect opportunity to actually use NBA IP and their amazing history and fuse all of that into my artistic style while working creatively alongside some other amazing artists as well."
To complement each 1-of-1 original artwork, each artist created 75 artist editions, including numbered and hand signed giclee prints, embroidered patches, pigment prints on aluminum and printed blankets of quilt. The apparel collection, available online starting today, includes long and short sleeve T-shirts, hooded and crewneck sweatshirts, embroidered bomber jackets and sweatpants.
For Bleacher Report, NBA 75: Artist Series is another significant collaboration with the league, following successful e-commerce collaborations and collections including Space Jam, Allen Iverson World Tour, NBA Remix and Homecoming. Bleacher Report has been collaborating with the NBA on merchandise since 2019 and became an official licensee last year.
"In large part because we're a media company, people don't come to Bleacher Report and expect to see products, never mind be sold products," says Jake Cohen, Bleacher Report senior director of e-commerce. "So we want to make sure everything we do, specifically these larger collaborations and collections, tells a story, so it's not just, 'Hey, we're Bleacher Report, buy some products from us.'
"It's really important for us to be the storytellers ourselves and collaborate with all the artists. We get very involved in the creative process and it's really important for all of our work to stand apart. We want it to stand on its own and tell a story, and of course the products need to look great."
For the NBA, the collection further expands its presence in the art world following the league's exhibition at Art Basel Miami Beach in 2019 which featured never-before-seen memorabilia and video installations among the immersive experience.
"We are always trying to push the boundary and find new ways for fans to engage with the league," O'Keeffe says. "We don't just want to stay in one lane and dive deep, we want to make sure we're engaging with fans in as many ways as possible. What we've seen from our fan base is that they have an appreciation for art and we felt we would meet them and provide this product to them in a way that would be engaging and celebrate the 75th year of the league."
Artwork details/tombstones
Frank Miller
Boston Celtics
Pencil and ink on art paper
11" x 17"
Los Angeles Lakers
Pencil and ink on art paper
11" x 17"
Toronto Raptors
Pencil and ink on art paper
11" x 17"
Hank Willis Thomas
Untitled
Basketball jerseys and mixed media
2' x 4'
Greg Yuna
Diamond NBA 75th Anniversary
Pendant of gold, white diamonds, blue sapphires and rubies; 23 grams, 3.5 carats
Gold, 23 grams
White diamonds, 135 pieces, 0.9 carats
Blue sapphires, 160 pieces, 1.2 carats
Rubies, 203 pieces, 1.4 carats
Statement: This piece was created to honor the 75th anniversary of the NBA, and the design started with the logo. We wanted to bring the logo into our world. Greg and the design team began to plot out how the piece would be created and the way the stone layout would work the best. We kept this one super classic and true to the logo. The precious stones consisted of white diamonds, blue sapphires and rubies. The rubies and sapphires were carefully picked to match the tones of the color used in the logo. The piece features 498 individually hand set stones totaling 3.5 carats and is made of solid 14kt white gold.
Diamond Los Angeles Lakers
Pendant of gold, orange sapphires, amethysts and diamonds; 19 grams, 2.46 carats
Gold, 19 grams
Orange sapphires, 64 pieces, 0.5 carats
Amethysts, 163 pieces, 1.2 carats
Green diamonds, 81 pieces, 0.54 carats
Black diamonds, 18 pieces 0.2 carats
White diamonds, 6 pieces, 0.02 carats
Statement: The Diamond LA Lakers piece was about incorporating an element of LA into the famed logo. We decided to remix the classic logo by incorporating a palm tree, a symbol that has grown to be synonymous with the west coast. The edges of the piece feature polished edges to contrast with the luminous stones and bring the shape to life. The piece includes 332 handset stones ranging from colored diamonds, amethyst and sapphires.
Diamond New York Knicks
Pendant of gold, diamonds and sapphires; 36 grams , 3.29 carats
Gold, 36 grams
Black diamonds, 110 pieces, 0.75 carats
Blue diamonds, 59 pieces, 0.45 carats
Yellow diamonds, 58 pieces, 0.42 carats
Red diamonds, 51 pieces, 0.4 carats
Blue sapphires, 74 pieces, 0.52 carats
Red sapphires, 59 pieces, 0.4 carats
Orange sapphires, 42 pieces, 0.35 carats
Statement: The Diamond NY Knicks was inspired by New York City itself. The color palette, look and feel of the piece came from the sunset over the NYC skyline. There is something special to be said about a summer sunset in the city and bringing that twist to the Knicks logo. Within the basketball a nod to the NYC skyline is depicted with gradient stones to bring to life the sunset behind the shapes of the city. The piece includes 453 stones totaling 3.29 carats of diamonds and sapphires.
Sue Tsai
Los Angeles Lakers
Acrylic on canvas
30" x 30"
Statement: Sue Tsai reimagines the Lakers logo embellishing it with a floral basketball hoop. The artwork showcases the tropical botanics of Los Angeles and glamour of the city by adorning the net with crystal drops. A crystal "75" dangles to commemorate the 75th anniversary of the NBA.
New York Knicks
Acrylic on canvas
30" x 30"
Statement: Inspired by the "concrete jungle", Sue turns the iconic Knicks' secondary basketball logo into her signature flower bomb. The Rafflesia jungle flower bomb represents the power and explosiveness of the game while paying a small homage to the 88-89 Knicks "Bomb Squad". At the root is a stem mimicking a NY street sign and leaves sprouting the 7th ave and 33rd street intersection of Madison Square Garden. A concrete block NY shows the strength of the city while wall stickers pay homage to the 75 years of the NBA. A young fan waters the Knicks flower helping it to blossom and reminds us that growth has no off-season.
Chicago Bulls
Acrylic on canvas
30" x 30"
Brooklyn Nets
Acrylic on canvas
30" x 30"
Bandulu
Boston Celtics
Single needle hand embroidery on heavy weight canvas
17" x 22"
Hand-framed in studio
Philadelphia 76ers
Single needle hand embroidery on heavy weight canvas
18" x 23"
Hand-framed in studio
Miami Heat
Single needle hand embroidery on heavy weight canvas
17" x 23"
Hand-framed in studio
Statement: Bandulu celebrates the 75th anniversary of the NBA through three East Coast teams that connect authentically to the Bandulu values and community: the Boston Celtics, Philadelphia 76ers and Miami Heat. Being born in New England, being inspired by the heritage of Philly's iconic city and players, and fueled by the artistic community in Miami, Bandulu sought to tell a narrative that uplifts the East Coast. Each piece took over eight hours of meticulous hand embroidery to create a visual extension of these iconic teams' logos. Each team has a compositional twist to the way the logo comes to life through pictorial abstractions.
Mystery black diamond called 'The Enigma' goes up for auction
A black diamond weighing a staggering 555.55 carats is going up for auction at Sotheby's and living up to its name "The Enigma."
Bidding opens on Feb. 3 at 6 a.m. PST (1400 GMT) and closes on Feb. 9, Sotheby's said, adding cryptocurrency will be accepted for payment of the diamond.
Sotheby's said it is the largest faceted Fancy Black Diamond known to ever appear at auction and was listed as the largest cut diamond in the world in the 2006 Guinness Book of World Records.
Also known as a carbonado diamond, it is possible the black diamond came from outer space. Carbonados of this structure have only been found in Brazil and the Central African Republic, and scientists have long theorized about their origins.
"They are shrouded in mystery as to the origin or formation because there's not that many of them found on Earth," geologist Aaron Celestian, the curator of mineral sciences at the Natural History Museum of Los Angeles, told Reuters on Wednesday.
Celestian said most carbonados are about 2.6 to 3.2 billion years old. As Earth itself dates back to 4.65 billion years ago, carbonados were formed when Earth's plates were still moving and the oxygenation of the atmosphere was taking place, he said.
"We think that they could have formed super deep within the Earth's interior, far deeper than what we know already of diamonds. There's hypotheses that suggest that they formed at impact sites where a large asteroid hit Earth," Celestian said.
"There's also interstellar hypotheses that suggest that they grew in space and then later fell on the surface of Earth."
The Enigma has not been exhibited before and is expected to sell for between $4 million and $7 million. Its owner has had it for two decades, but little is known about its history before that.
Celestian believes research into the diamond would tell us a lot about deep-Earth mineralogy or the evolution of our solar system.
The diamond, which was exhibited in Dubai last week, was shown in Beverly Hills this week before heading back to London for the auction.
(Reporting by Rollo Ross; Editing by Karishma Singh and Sandra Maler)
Picasso heirs launch digital art piece to ride 'crypto' wave – Coast Reporter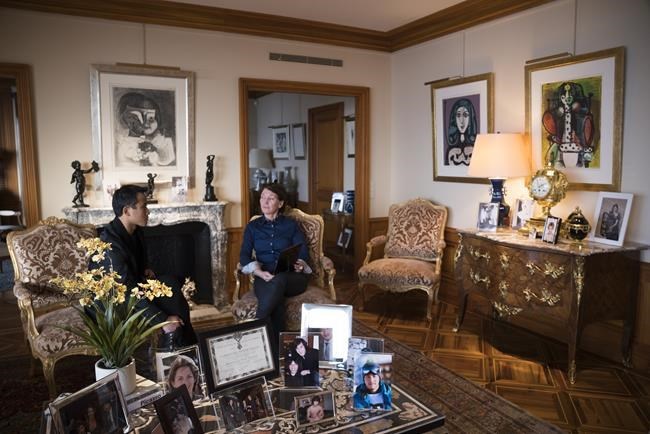 GENEVA (AP) — Pablo, meet Crypto.
Heirs of Pablo Picasso, the famed 20th-century Spanish artist, are vaulting into 21st-century commerce by selling 1,010 digital art pieces of one of his ceramic works that has never before been seen publicly — riding a fad for "crypto" assets that have taken the art and financial worlds by storm.
For an exclusive interview before the formal launch this week, Picasso's granddaughter, Marina Picasso, and her son Florian Picasso opened up their apartment — which is swimming in works from their illustrious ancestor — in an upscale Geneva neighborhood. There they offered up a glimpse, however tantalizingly slim, of the piece behind what they're billing as an unprecedented fusion of old-school fine art and digital assets.
They're looking to cash in on and ride a wave of interest in non-fungible tokens, or NFTs, which have netted millions for far-less-known artists and been criticized by some as environmentally costly get rich schemes.
A Picasso, his family's promoters say, would mark the entry of a Grand Master into the game.
In economics jargon, a fungible token is an asset that can be exchanged on a one-for-one basis. Think of dollars or bitcoins — each one has the exact same value and can be traded freely. A non-fungible object, by contrast, has its own distinct value, like an old house or a classic car.
Cross this notion with cryptocurrency technology known as the blockchain and you get NFTs. They are effectively digital certificates of authenticity that can be attached to digital art or, well, pretty much anything else that comes in digital form — audio files, video clips, animated stickers, even a news article read online.
"We're trying to build a bridge between the NFT world and the fine art world," said Florian Picasso, the artist's great-grandson.
The artist's descendants are playing close to the vest, to drum up interest and protect — for now — a family heirloom. They're showing only a sliver of the underside of the work linked to the NFTs, a ceramic piece about the size of a large salad bowl. The exposed parts show forms like a thick yellow line, a dribbling green splotch, and a brushed-on number "58" at the base.
Marina Picasso says the cherished pottery piece dates to October 1958, when she was a child.
"It's a work that represents a face, and it's very expressive," she said. "It's joyful, happy. It represents life … It's one of those objects that have been part of our life, our intimate lives — my life with my children."
Sotheby's is hosting an auction in March that will include a unique NFT as well as the actual ceramic bowl. A first-phase, online sale of more than 1,000 other NFTs starts Friday through the Nifty Gateway and Origin Protocol platforms.
Florian Picasso said they agreed on the colorful ceramic piece because it was "a fun one" to start.
An NFT Picasso brings with it almost epochal symbolism, something like when the Beatles collection was finally put up on iTunes. The family and its business managers say the aim is to create a younger community of Picasso fans.
"Everything is evolving," said Florian Picasso, insisting that the NFT honors the great artist.
"I think it fits within Picasso's legacies because we are paying tribute to him and his way of working, which was always being creative," he said.
How quaint seem those days of yore when Picasso, as the legend has it, would simply doodle on a napkin as payment for a restaurant meal — his handiwork supposedly carrying a value far in excess of the cost of the food and drinks he had enjoyed.
Some of the proceeds will be donated — one portion to a charity that aims to help overcome a shortage of nurses, and another to a nongovernmental organization that wants to help reduce carbon in the atmosphere. The NFTs will also come with music put together by Florian Picasso, who is a DJ and music producer, along with songwriter John Legend and rapper Nas.
Even a full rendering of that track isn't being publicly released just yet: Florian Picasso played a snippet for a reporter, then turned it off.
"And to hear more, you gotta purchase the NFT," he quipped.
___
AP video journalist Boris Heger contributed to this report.
Jamey Keaten, The Associated Press
Art Basel to Run New Paris Art Fair. Just Don't Call it 'Art Basel Paris.' – The New York Times
Art Basel already runs glamour-filled art fairs in Switzerland, Miami Beach and Hong Kong. Now, it's heading to Paris.
In an announcement likely to stun the art world, the organization that runs the glittering Grand Palais in Paris announced on Wednesday that MCH Group, the owner of the Art Basel brand, would set up a new contemporary art fair to run in the venue each October.
MCH Group will take over the slot previously held by the FIAC contemporary art fair, the organization, the Réunion des Musées Nationaux-Grand Palais, added.
The news will surprise many in the art world, as FIAC was a venerable French institution that has held fairs there for decades. Last year, President Emmanuel Macron of France held a reception for the fair, calling it the "nerve center of the art world."
But a president's backing was not enough to stop the change.
Chris Dercon, president of the Réunion des Musées Nationaux-Grand Palais, said in a telephone interview that he hoped Art Basel would set up an event that was more than an art fair, something he hoped would be "immersive."
"That means art plus fashion, art plus design," he said. "The plus is very important."
He said that he wanted to see an art fair that engaged with the wider culture of Paris. Dercon, previously director of the Tate Modern art museum in London and the Volksbühne theater in Berlin, has long been known for pushing an interdisciplinary approach to art.
Although Art Basel was "the mother" of art fairs, Dercon said, he did not want the new art fair to simply be another outpost for the brand. The new event will not be called Art Basel Paris, he said, adding that its name would be unveiled soon.
Marc Spiegler, Art Basel's global director, said in a telephone interview that the company only had "a short runway" to the first event, but that he hoped to work with Paris's whole "creative class," not just its art galleries, museums and dealers. Much of that work would occur "outside the halls."
The fair will have "a French touch," he added. "People coming to Paris will expect to see the various French movements of the last 12 decades well reflected at high-level quality from strong galleries."
The number of French galleries appearing in the fair will not be below the number seen at FIAC, he said, and the new fair will be organized by a largely French team.
RX Group, the organizers of FIAC, did not respond to a request for comment. Last December, they challenged the decision to call for bidders to host a new art fair at the Grand Palais.
Spiegler wouldn't comment on how the fair would be an improvement on FIAC, but said his cellphone had been "blowing up with text messages and DMs all day long" from galleries hoping to work with the fair given "the type of promotion we can do for them all over the world."
The first two events will take place at the Grand Palais Éphémère, a temporary venue on the Champ-de-Mars in Paris, as the Grand Palais itself is undergoing renovations.