NBA Finals 2021: Five stats that loom large over the Milwaukee Bucks and Phoenix Suns – NBA CA
Here. We. Go.
In defeating the Atlanta Hawks in Game 6 of the Eastern Conference Finals, the Milwaukee Bucks punched their ticket to the NBA Finals for the first time since 1973-74.
Their opponent? The Phoenix Suns, who defeated the LA Clippers in the Western Conference Finals to advance to the NBA Finals for the first time since 1992-93.
MORE: Preview for 2021 NBA Finals
It's going to be a battle between two of the best teams in the league this season, one that will feature four multi-time All-Stars in Chris Paul, Devin Booker, Giannis Antetokounmpo and Khris Middleton, as well as some of the league's best defenders, including two-time All-Defensive First Team selection Jrue Holiday and Mikal Bridges.
From Antetokounmpo's success against the Suns during the regular season to where both of these teams excel, here are five stats that loom large entering the 2021 NBA Finals.
40.0: Antetokounmpo's scoring average against Phoenix in regular season
Antetokounmpo put up some big numbers against the Suns this season.
In the first meeting between Milwaukee and Phoenix, Antetokounmpo exploded for 47 points, 11 rebounds and five assists on 15-for-23 shooting from the field and 17-for-21 from the free throw line. The result? A one-point win for the Suns, who were led by Booker's 30 points.
Antetokounmpo was a little quieter in the second meeting, but he still finished with 33 points and eight assists on 12-for-22 shooting from the field and 9-for-10 from the free throw line, once again coming in a one-point loss.
Averaging 40.0 points over those two games, it made for Antetokounmpo's highest scoring output against an opponent on the season.
Antetokounmpo did the bulk of his scoring in the paint against the Suns, going 21-for-28 (75.0 percent) in the restricted area. He was 6-for-17 (35.3 percent) from everywhere else.
According to NBA.com's matchup data, Deandre Ayton defended Antetokounmpo more than anyone else on the Suns in those games.
Despite Antetokounmpo's gaudy averages, the numbers point to Ayton actually doing a good job against him, limiting the two-time MVP to 34 points on 10-for-24 (41.7 percent) shooting from the field. Antetokounmpo did a lot of his damage from the free throw line against Ayton, drawing seven shooting fouls and making him pay by going a perfect 14-for-14 from the charity stripe.
Ayton isn't a big-time rim protector, but he's a smart defender who matches up well physically with Antetokounmpo. He's also shown that he can hold his own against some of the league's biggest stars in these playoffs, having defended Anthony Davis in the first round and Nikola Jokic in the second round.
Jae Crowder defended Antetokounmpo the second-most on the Suns. The results weren't great – Antetokounmpo scored 15 points on a perfect 6-for-6 shooting from the field, per the matchup data – but Crowder was able to give him some trouble in the 2020 NBA Playoffs, when he was Heat's primary defender on Antetokounmpo in Miami's stunning second-round win over Milwaukee.
That experience could come in handy in the Finals.
Of course, this comes with the caveat that we still don't know much about Antetokounmpo's condition after he hyperextended his left knee in the previous round.
According to Chris Haynes of Yahoo Sports, there was "belief" that Antetokounmpo would've been able to play in Game 7 of the Eastern Conference Finals had the Hawks extended the series. Bucks head coach Mike Budenholzer said that they're approaching Antetokounmpo's availability for the Finals as a "day-to-day" thing.
If he is able to play, it'll be interesting to see if Antetokounmpo's success against the Suns in the regular season carries over into the Finals.
123.0: Milwaukee's offensive rating in Game 5 and Game 6 vs. Hawks
The good news for the Bucks? They were able to take care of business against the Hawks without Antetokounmpo.
Their defence slipped – more on that in a minute – but the Bucks scored at a high level in the two games Antetokounmpo had to sit out, putting up 123 points in Game 5 and 118 points in Game 6.
Brook Lopez starred in Game 5 with a playoff career-high 33 points, but Holiday (25), Middleton (26) and Bobby Portis (22) each scored in double-figures.
In Game 6, it was Middleton who stole the show with 32 points, 23 of which came in the third quarter alone. Holiday was Milwaukee's second-leading scorer, posting 27 points to go along with nine rebounds, nine assists, four steals and two blocks.
All in all, the Bucks scored at a rate of 123.0 points per 100 possessions in Game 5 and Game 6.
That almost certainly isn't sustainable – the Brooklyn Nets led the league during the regular season with an offensive rating of 117.3, need you be reminded – but the Bucks are going to need Middleton, Holiday and Lopez to continue stepping up in a big way if Antetokounmpo is limited in any way or isn't able to go.
89: How many shots Paul and Booker have made from midrange in the playoffs
Paul and Booker are two of the best midrange shooters in the league.
During the regular season, nobody made more shots from midrange than Paul (197). In second place was Julius Randle (171), followed by Brandon Ingram (169) in third and Booker (168) in fourth.
Entering the Finals, the only player who has made more shots from midrange than Paul (45) in the playoffs is Kevin Durant (57). Booker (44) is once again not far behind, ranking third.
Together, Paul and Booker are 89-for-199 (44.7 percent) from midrange in these playoffs.
Leaders from midrange in 2021 NBA Playoffs

| PLAYER | FGM | FGA | FG% |
| --- | --- | --- | --- |
| Kevin Durant | 57 | 103 | 55.3 |
| Chris Paul | 45 | 92 | 48.9 |
| Devin Booker | 44 | 107 | 41.1 |
| Khris Middleton | 41 | 96 | 42.7 |
| Paul George | 33 | 72 | 45.8 |
| Joel Embiid | 27 | 66 | 40.9 |
| Kawhi Leonard | 27 | 41 | 65.9 |
| Seth Curry | 25 | 35 | 71.4 |
| Trae Young | 25 | 50 | 50.0 |
The reason that's notable: Milwaukee will usually live with its opponents shooting from midrange.
According to NBA.com, teams attempted 14.1 midrange shots per game against the Bucks in the regular season. The only team that gave up more? The Washington Wizards (14.6). It's been a similar story in the playoffs. The Bucks are allowing 15.6 midrange shots per game through three rounds, putting them behind the Philadelphia 76ers (16.9), Denver Nuggets (15.8) and Wizards (15.8) for most in the league.
Whether it's Lopez, Portis or Antetokounmpo, the Bucks like to have their bigs drop to the paint so that they can protect the basket.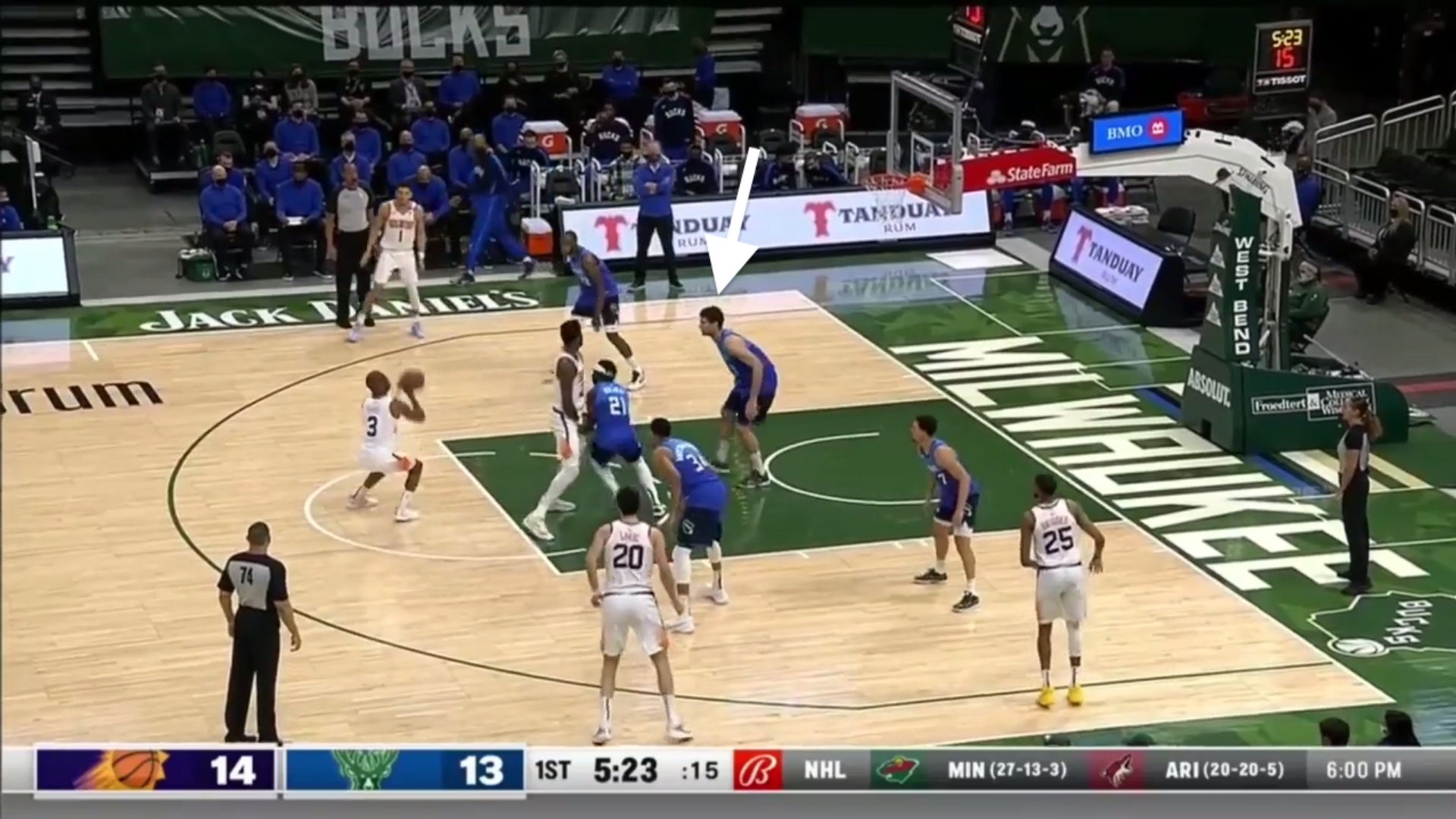 It's worth noting that the Bucks have shown more of a willingness to adapt this season, especially when it comes to switching. They were even switching Lopez aggressively onto Atlanta's guards in the last two games of the Eastern Conference Finals, and he held up pretty well.
The Bucks will almost certainly mix up their coverages throughout the series, but the midrange will still be an incredibly important battleground.
Speaking of defence…
105.0: Milwaukee's defensive rating in the playoffs
The Bucks are holding their opponent to 105.0 points per 100 possessions in the playoffs. Not only is that a pretty big jump from what they posted in the regular season – 110.7, ranking them ninth overall – it's the best defensive rating in the league.
The Suns, meanwhile, are holding their opponent to 106.7 points per 100 possessions in the playoffs, up from 110.4 in the regular season, giving them the … second-best defensive rating in the league.
Milwaukee and Phoenix haven't been quite as sharp on the other end of the court. According to NBA.com, the Suns currently rank 10th in offensive efficiency (113.6) while the Bucks rank 11th (111.2) for the playoffs.
Both the Bucks and Suns still have plenty of offensive firepower, but this series has the makings of a defensive showdown.
1: How many players on the Suns and Bucks have been to the Finals before
The one player from both teams who has been to the Finals before? Crowder, who made his Finals debut last season when he went to six games with LeBron James, Davis and the Los Angeles Lakers as a member of the Heat.
There isn't another player in this series who has appeared in even one Finals game before.
NBA Finals experience:

6 games – Jae Crowder
0 games – Everyone else combined

(Submitted by @DeePee30) pic.twitter.com/9urfWGN5rX

– StatMuse (@statmuse) July 4, 2021
Who says you need experience to win it all?
The views on this page do not necessarily reflect the views of the NBA or its clubs.
Makar gets love from Orr after winning 2022 Norris, Conn Smythe Trophies – NHL.com
Canuck icons Henrik, Daniel Sedin, Sens star Alfredsson lead 2022 Hockey Hall of Fame class – CBC Sports
Henrik and Daniel Sedin entered the NHL together.
The superstar twins then tormented a generation of opponents with the Vancouver Canucks throughout dominant careers that included mesmerizing displays of skill, individual accolades and unprecedented team success.
It's only fitting the talented brothers will walk into the Hockey Hall of Fame side-by-side.
The Sedins headline the class of 2022 elected Monday, one with a decidedly West Coast and Swedish feel that includes former Canucks teammate Roberto Luongo, fellow countryman and former Ottawa Senators captain Daniel Alfredsson, Finnish women's player Riikka Sallinen and builder Herb Carnegie.
"It's not what you think about when you when you play the game," said Henrik Sedin, who along with his brother and Luongo were in their first years of hall eligibility. "We've always just put our head down and tried to put in our work.
"What we were most proud of is that we got the most out of our talent."
"Truly an amazing feeling," Luongo added on a media conference call. "It feels surreal."
WATCH | Daniel and Henrik Sedin have numbers retired in Vancouver:
The Swedish superstars were honoured on Wednesday in an hour-long pregame ceremony.
Alfredsson, who's has been eligible since 2017, thought he might have to wait at least another year until the phone rang at his home in Sweden.
"It's such a privilege to be able to play this sport for a living," he said. "Something I would have played for fun for my whole life without a question."
"I'm probably the second-best Daniel out of this group," joked Daniel Sedin, who along with his brother will be 42 when the induction ceremony takes place in November.
"Couldn't be more honoured."
Henrik Sedin — selected No. 3 overall at the 1999 draft, one spot behind Daniel — is Vancouver's all-time leader in assists (830), points (1,070), games played (1,330) and power-play points (369).
The centre won the Hart Trophy as NHL MVP and the Art Ross Trophy as its leading scorer in 2009-10. He added 23 goals and 78 points in 105 playoff games, including the Canucks' run to the 2011 Stanley Cup final.
If Henrik was the passer on what was one of hockey's most dangerous lines, Daniel Sedin was the trigger man.
His 393 goals are first in team history, and the winger sits second in assists (648), points (1,041), games played (1,306) and power-play points (367).
Daniel Sedin won the Ted Lindsay Award as the league MVP as voted by NHL Players' Association members in 2010-11 to go along with the Art Ross Trophy. He added 71 points in 102 playoff games.
"Just watching them work with each other on the ice and literally knowing where they are without even seeing each other was something that always blew my mind," Luongo said of the Sedins. "They're great teammates. Everybody loved them, great people.
"Not so great card players, but that's for another day."
The hall's 2020 edition was finally inducted last November after a delay because of the COVID-19 pandemic after officials decided against naming a class of 2021.
The 18-member selection committee met in-person this year for the first time since 2019.
Luongo's storied career began with Islanders
Luongo started his career with the New York Islanders and wrapped up with the Florida Panthers.
His best moments, however, were on the West Coast.
When he retired, Luongo ranked third in NHL history with 489 wins, a number that's since been surpassed by Marc-Andre Fleury.
The 43-year-old sits second behind Martin Brodeur in three goaltending categories — games played (1,044), shots against (30,924) and saves (28,409).
Luongo twice won 40 games with the Canucks, including an eye-popping 47 victories in 2006-07, and made at least 70 appearances in four straight seasons.
"He was the difference for us to get the next level," Henrik Sedin said. "If you're talking about a winner, he's the guy.
"Never took a day off."
A finalist for the Vezina Trophy as the league's top netminder on three occasions, Luongo sat behind only Sidney Crosby in Hart Trophy voting following his 47-win campaign.
The Montreal native won two Olympic gold medals, leading Canada to the top of the podium in Vancouver in 2010 before backing up Carey Price in Sochi four years later.
"It's a really, truly humbling experience," Luongo said before adding of the Sedins: "And the best part of the whole thing is that I get to go in with two of my favourite teammates of all time and two of the greatest people I know."
Best line in hockey <br><br>Luongo-Sedin-Sedin

&mdash;@strombone1
Alfredsson scored 444 goals in 18 seasons
Alfredsson put up 444 goals, 713 assists and 1,157 points during his 18 NHL seasons.
The face of the Senators for a generation in the nation's capital won the Calder Trophy as the NHL's rookie of the year in 1996, and added 100 points in 124 playoff contests.
"We looked up to the way he plays hockey and what kind of person he is," Henrik Sedin said.
Alfredsson, who won Olympic gold with the Sedins in 2006 and led Ottawa to the 2007 Cup final, thanked Senators fans for helping him get over the hall hump, including a social media campaign this spring that included boosts from the organization and former teammates.
"Really special with the support I've had from Ottawa throughout my career from the beginning until this day," said the 49-year-old, who owns the franchise record for goals, assists and points. "They've been a real big supporter of mine and trying to help me get into the Hall of Fame.
"They're behind me all the way … it goes both ways."
Sallinen played 16 seasons with the Finnish women's national team, winning Olympic bronze in both 1998 and 2018.
She added a silver at the 2019 world championships to go along with six third-place finishes. In all, the 48-year-old scored 63 goals and added 59 assists in 81 games for her country.
Hall of Fame selection committee chair Mike Gartner, who was inducted in 2012, said on the media call that Sallinen had yet to be informed of the honour, but quipped she should pick up the phone and dial in if she was listening.
Carnegie, who died in March 2012 at age 92, has often been mentioned as the best Black hockey player to never play in the NHL.
Following a long career in senior hockey where he faced racism that kept him from achieving his ultimate dream, Carnegie founded Future Aces, one of Canada's first hockey schools, in 1955.
He was inducted into Canada's Sports Hall of Fame in 2001, the Ontario Sports Hall of Fame in 2014, and was also named to the Order of Ontario and the Order of Canada.
"This is so important to so many people out there who believed in my father," said Herb Carnegie's daughter, Bernice. "Whether he was golfing or whether he was in business or whether he was working with thousands upon thousands of young people, it always came back to hockey and how his how he learned so much from the game.
"I am so proud."
Report: Nets' Kyrie Irving opting into $37M player option for 2022-23 season – Sportsnet.ca
NEW YORK — Kyrie Irving has decided to exercise his $36.9 million option for the coming season and will remain under contract with the Brooklyn Nets, two people with knowledge of his decision said Monday.
The people spoke on condition of anonymity to The Associated Press because the Nets had not confirmed the decision publicly.
The Athletic first reported Irving's decision. "Normal people keep the world going, but those who dare to be different lead us into tomorrow. I've made my decision to opt in. See you in the fall," the outlet quoted Irving as saying.
On Twitter, Irving posted a separate statement: "I know who I am," was the message there.
For now, that still means a member of the Nets.
The seven-time All-Star averaged 27.4 points and 5.8 assists this past season for the Nets, with whom he has spent the last three seasons. He's about to enter the final season in a four-year, $137 million deal with Brooklyn.
Irving had until Wednesday to inform the Nets of his opt-in decision. It closes one element of the ongoing saga regarding Irving's future, which has been one of the biggest storylines as the league prepares for the start of free agency later this week.
He appeared in only 29 regular-season games this past season, largely because of his decision to not be vaccinated against COVID-19. That made him ineligible to play in most of Brooklyn's home games, until getting an exemption to New York City's mandate in the spring.
The Nets entered this past season thinking they would have a core of Irving, Kevin Durant and James Harden. It didn't work out anywhere near as planned; Irving wasn't with the team for the majority of the season, Harden ended up getting traded to Philadelphia, the Nets needed to survive the play-in tournament just to make the playoffs and wound up getting swept in the first round by eventual Eastern Conference champion Boston.
Back in March, Irving was asked if he was planning to return to Brooklyn for next season. He gave no indication otherwise.
"I love it here," Irving said at the time. "Once that summertime hits, I know that we'll have some conversations. But there's no way I can leave my man 7 anywhere."
Summertime hit. The conversations apparently didn't go as first planned.
And "my man 7" — that meant Durant, who wears jersey No. 7 for the Nets — may have been seeing his point guard departing, a move that certainly could have led to Durant pondering his own future in Brooklyn.
But with Irving presumably back, and with Ben Simmons — who didn't play at all this season and was acquired by the Nets in the Harden trade — set to team up alongside Irving and Durant this coming season, Brooklyn could quickly return to contender status.
Irving could have made this all go away over the weekend, or at least turned the full boil down closer to simmer, when asked by Complex News at the BET Awards if he still wants to play for the Nets. He declined to answer. He wasn't rude about it, did it with a smile, but didn't provide so much as a hint.
A tiny one came Monday when the clip was posted to Instagram and Irving was among those to comment.
"When I smile like that, it means there's more to the story," Irving wrote Monday, several hours before his opt-in decision was revealed. "I'll have my time to address things."
NBA free agency opens Thursday at 6 p.m. ET.