NBA Finals 2021: Five stats that loom large over the Milwaukee Bucks and Phoenix Suns – NBA CA
Here. We. Go.
In defeating the Atlanta Hawks in Game 6 of the Eastern Conference Finals, the Milwaukee Bucks punched their ticket to the NBA Finals for the first time since 1973-74.
Their opponent? The Phoenix Suns, who defeated the LA Clippers in the Western Conference Finals to advance to the NBA Finals for the first time since 1992-93.
MORE: Preview for 2021 NBA Finals
It's going to be a battle between two of the best teams in the league this season, one that will feature four multi-time All-Stars in Chris Paul, Devin Booker, Giannis Antetokounmpo and Khris Middleton, as well as some of the league's best defenders, including two-time All-Defensive First Team selection Jrue Holiday and Mikal Bridges.
From Antetokounmpo's success against the Suns during the regular season to where both of these teams excel, here are five stats that loom large entering the 2021 NBA Finals.
40.0: Antetokounmpo's scoring average against Phoenix in regular season
Antetokounmpo put up some big numbers against the Suns this season.
In the first meeting between Milwaukee and Phoenix, Antetokounmpo exploded for 47 points, 11 rebounds and five assists on 15-for-23 shooting from the field and 17-for-21 from the free throw line. The result? A one-point win for the Suns, who were led by Booker's 30 points.
Antetokounmpo was a little quieter in the second meeting, but he still finished with 33 points and eight assists on 12-for-22 shooting from the field and 9-for-10 from the free throw line, once again coming in a one-point loss.
Averaging 40.0 points over those two games, it made for Antetokounmpo's highest scoring output against an opponent on the season.
Antetokounmpo did the bulk of his scoring in the paint against the Suns, going 21-for-28 (75.0 percent) in the restricted area. He was 6-for-17 (35.3 percent) from everywhere else.
According to NBA.com's matchup data, Deandre Ayton defended Antetokounmpo more than anyone else on the Suns in those games.
Despite Antetokounmpo's gaudy averages, the numbers point to Ayton actually doing a good job against him, limiting the two-time MVP to 34 points on 10-for-24 (41.7 percent) shooting from the field. Antetokounmpo did a lot of his damage from the free throw line against Ayton, drawing seven shooting fouls and making him pay by going a perfect 14-for-14 from the charity stripe.
Ayton isn't a big-time rim protector, but he's a smart defender who matches up well physically with Antetokounmpo. He's also shown that he can hold his own against some of the league's biggest stars in these playoffs, having defended Anthony Davis in the first round and Nikola Jokic in the second round.
Jae Crowder defended Antetokounmpo the second-most on the Suns. The results weren't great – Antetokounmpo scored 15 points on a perfect 6-for-6 shooting from the field, per the matchup data – but Crowder was able to give him some trouble in the 2020 NBA Playoffs, when he was Heat's primary defender on Antetokounmpo in Miami's stunning second-round win over Milwaukee.
That experience could come in handy in the Finals.
Of course, this comes with the caveat that we still don't know much about Antetokounmpo's condition after he hyperextended his left knee in the previous round.
According to Chris Haynes of Yahoo Sports, there was "belief" that Antetokounmpo would've been able to play in Game 7 of the Eastern Conference Finals had the Hawks extended the series. Bucks head coach Mike Budenholzer said that they're approaching Antetokounmpo's availability for the Finals as a "day-to-day" thing.
If he is able to play, it'll be interesting to see if Antetokounmpo's success against the Suns in the regular season carries over into the Finals.
123.0: Milwaukee's offensive rating in Game 5 and Game 6 vs. Hawks
The good news for the Bucks? They were able to take care of business against the Hawks without Antetokounmpo.
Their defence slipped – more on that in a minute – but the Bucks scored at a high level in the two games Antetokounmpo had to sit out, putting up 123 points in Game 5 and 118 points in Game 6.
Brook Lopez starred in Game 5 with a playoff career-high 33 points, but Holiday (25), Middleton (26) and Bobby Portis (22) each scored in double-figures.
In Game 6, it was Middleton who stole the show with 32 points, 23 of which came in the third quarter alone. Holiday was Milwaukee's second-leading scorer, posting 27 points to go along with nine rebounds, nine assists, four steals and two blocks.
All in all, the Bucks scored at a rate of 123.0 points per 100 possessions in Game 5 and Game 6.
That almost certainly isn't sustainable – the Brooklyn Nets led the league during the regular season with an offensive rating of 117.3, need you be reminded – but the Bucks are going to need Middleton, Holiday and Lopez to continue stepping up in a big way if Antetokounmpo is limited in any way or isn't able to go.
89: How many shots Paul and Booker have made from midrange in the playoffs
Paul and Booker are two of the best midrange shooters in the league.
During the regular season, nobody made more shots from midrange than Paul (197). In second place was Julius Randle (171), followed by Brandon Ingram (169) in third and Booker (168) in fourth.
Entering the Finals, the only player who has made more shots from midrange than Paul (45) in the playoffs is Kevin Durant (57). Booker (44) is once again not far behind, ranking third.
Together, Paul and Booker are 89-for-199 (44.7 percent) from midrange in these playoffs.
Leaders from midrange in 2021 NBA Playoffs

| PLAYER | FGM | FGA | FG% |
| --- | --- | --- | --- |
| Kevin Durant | 57 | 103 | 55.3 |
| Chris Paul | 45 | 92 | 48.9 |
| Devin Booker | 44 | 107 | 41.1 |
| Khris Middleton | 41 | 96 | 42.7 |
| Paul George | 33 | 72 | 45.8 |
| Joel Embiid | 27 | 66 | 40.9 |
| Kawhi Leonard | 27 | 41 | 65.9 |
| Seth Curry | 25 | 35 | 71.4 |
| Trae Young | 25 | 50 | 50.0 |
The reason that's notable: Milwaukee will usually live with its opponents shooting from midrange.
According to NBA.com, teams attempted 14.1 midrange shots per game against the Bucks in the regular season. The only team that gave up more? The Washington Wizards (14.6). It's been a similar story in the playoffs. The Bucks are allowing 15.6 midrange shots per game through three rounds, putting them behind the Philadelphia 76ers (16.9), Denver Nuggets (15.8) and Wizards (15.8) for most in the league.
Whether it's Lopez, Portis or Antetokounmpo, the Bucks like to have their bigs drop to the paint so that they can protect the basket.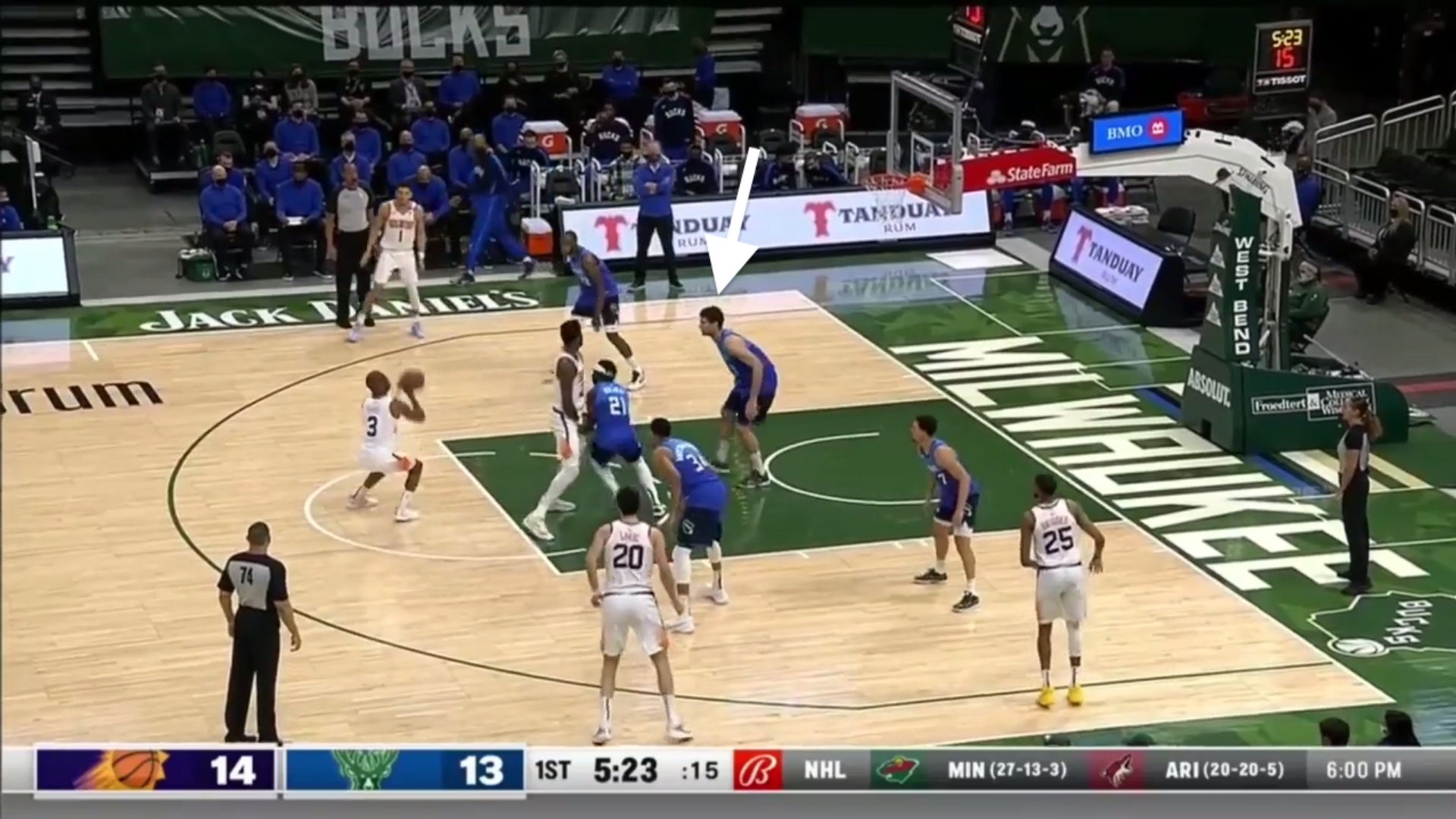 It's worth noting that the Bucks have shown more of a willingness to adapt this season, especially when it comes to switching. They were even switching Lopez aggressively onto Atlanta's guards in the last two games of the Eastern Conference Finals, and he held up pretty well.
The Bucks will almost certainly mix up their coverages throughout the series, but the midrange will still be an incredibly important battleground.
Speaking of defence…
105.0: Milwaukee's defensive rating in the playoffs
The Bucks are holding their opponent to 105.0 points per 100 possessions in the playoffs. Not only is that a pretty big jump from what they posted in the regular season – 110.7, ranking them ninth overall – it's the best defensive rating in the league.
The Suns, meanwhile, are holding their opponent to 106.7 points per 100 possessions in the playoffs, up from 110.4 in the regular season, giving them the … second-best defensive rating in the league.
Milwaukee and Phoenix haven't been quite as sharp on the other end of the court. According to NBA.com, the Suns currently rank 10th in offensive efficiency (113.6) while the Bucks rank 11th (111.2) for the playoffs.
Both the Bucks and Suns still have plenty of offensive firepower, but this series has the makings of a defensive showdown.
1: How many players on the Suns and Bucks have been to the Finals before
The one player from both teams who has been to the Finals before? Crowder, who made his Finals debut last season when he went to six games with LeBron James, Davis and the Los Angeles Lakers as a member of the Heat.
There isn't another player in this series who has appeared in even one Finals game before.
NBA Finals experience:

6 games – Jae Crowder
0 games – Everyone else combined

(Submitted by @DeePee30) pic.twitter.com/9urfWGN5rX

– StatMuse (@statmuse) July 4, 2021
Who says you need experience to win it all?
The views on this page do not necessarily reflect the views of the NBA or its clubs.
Tokyo's daily COVID cases hit record high during Olympics – Al Jazeera English
New infections in Tokyo surged to a record high of 4,058, a day after Japan decided to extend states of emergency.
Newly reported COVID-19 cases in Olympic host city Tokyo surged to a record high of 4,058 on Saturday, exceeding the 4,000-mark for the first time and overshadowing the Summer Games.
Nationwide cases totalled 12,341 as of 6:30pm (09:30 GMT), public broadcaster NHK said, the highest for Japan and up 15 percent on the day, underscoring a rapid rise in infections across the country.
The new records come a day after Japan decided to extend states of emergency to three prefectures near Olympic host Tokyo and the western prefecture of Osaka to the end of August in light of the recent spike in infections.
Emergency measures will remain until after the Olympics and well into the Paralympic Games which start on August 24.
Amid intensifying concerns, Tokyo Olympics organisers said on Saturday they had revoked the accreditation of games-related people for leaving the athletes' village for sightseeing, a violation of measures imposed to hold the Olympics safely amid the pandemic.
The organisers did not disclose how many people had their accreditation revoked, whether they were athletes, or when the violation took place.
This is the first time accreditation has been revoked since the start of the Tokyo Olympics on July 23. Without it, a person cannot enter any Olympic facilities.
Residents of the athletes' village are not allowed to go out for purposes not related to games, such as sightseeing.
Meanwhile, officials have warned Tokyo's daily infections may hit 4,500 within two weeks.
The government's top coronavirus adviser has also warned against overburdening the health system in light of the rapid increase in the number of infections and the spread of the Delta variant.
The Japanese government is relying on the cooperation of the population. Hard curfews have never been imposed in Japan since the beginning of the pandemic.
The government has repeatedly urged citizens to stay at home and watch the Olympic Games on TV. In addition, an appeal has been made to younger people to get vaccinated against the virus, as most Japanese aged above 65 have already been inoculated.
The country has kept its cases and deaths lower than many other countries, but its seven-day rolling average is growing and now stands at 28 per 100,000 people nationwide and 88 per 100,000 in Tokyo, according to the health ministry.
This compares with 18.5 in the United States, 48 in Britain and 2.8 in India, according to data from Johns Hopkins University.
Maple Leafs sign Nick Ritchie to toughen roster – Toronto Sun
Article content
The Maple Leafs continue another attempt to toughen up for the playoffs by adding some muscle to their Core Four.
Article content
Latest to come aboard Saturday morning was UFA left winger Nick Ritchie, whose return to his GTA birthplace has long been rumoured. The former Boston Bruin signed for two years with an AAV of $2.5 million US and could possibly fill the Zach Hyman vacancy on the first line.
The 6-foot-2, 230-pound Ritchie had 26 points in 56 regular season games with Boston, for which he played 19 post-season games in two years. That alone would give him seniority on a Toronto team that has stalled in the first round five straight springs.
Ritchie also did well with his draft team, the Anaheim Ducks, taken 10th overall in the 2014, two spots behind William Nylander, one of the Leafs' centrepieces whose large salaries have prevented more well-known UFAs from fitting under Toronto's cap.
Article content
Speaking of that, the Ritchie signing and that of forward Ondrej Kase late Friday night puts the club over $81.5 million, but that's allowable in the off-season. Ritchie joins Michael Bunting and Kurtis Gabriel among a number of budget signings of players who general manager Kyle Dubas hopes will show a passion through 82 regular games and into playoffs.
The additions of Wayne Simmonds and Joe Thornton last season clearly were not enough. Ritchie has a high penalty minutes total and a couple of league suspensions, but rarely crosses the line. Primarily groomed with the Peterborough Petes of the OHL, he spent a final junior year with Dubas's beloved Sault Ste. Marie Greyhounds, showing the Soo Flu permeating the Leafs' roster and hockey office shows no signs of abating.
Article content
In six NHL seasons between the Bruins and Ducks, Orangeville native Ritchie has 137 points in 350 regular season games and appeared in 38 playoff contests. He was also on Canada's 2015 IIHF World Junior Championship squad. Older brother Brett is with the Calgary Flames.
In a Zoom call with the media, Ritchie said once he wasn't qualified by Boston and unexpectedly found himself on the market, a Leafs deal came together quickly.
"I got to talk to some teams, but definitely the lure of Toronto, how good of a team they have and being from here was part of the decision. It's a dream to play for a hometown team.
"Knowing (Dubas and Soo coach Sheldon Keefe) made things more comfortable. Lots of teams were interested, but I chose what I thought was the best team and best fit at this stage of my career. You want to play with good players and there's lots on the Leafs. I'll have a good summer (training) and see where the chips fall (with a regular line).
"This has been a great team for a few years, I know they have not got the reward of winning a close series. Sometimes in hockey, that's the way it goes. You have to lose a few times before you get over that hump and it's at that point now that the team is ready to take that next step. Hopefully I can help."
Rugby Canada fires coach over social media posts ridiculing the women sevens Olympic team – The Globe and Mail
Rugby Canada fired Jamie Cudmore, a former star player in charge of developing the next generation of talent, on Friday for a series of social media posts belittling the women's sevens team.
His posts took aim at the sevens squad for its disappointing performance at the Tokyo Olympics.
Much had been expected of the Canadian women in Tokyo, given their performance in Rio and the fact they were tied with Australia on points for second in the World Rugby Sevens Series standings when the pandemic shut down the season last year.
But the Canadian women lost to Fiji and France after beating Brazil to miss out on the quarter-finals. Their next game in Tokyo is for ninth place.
Cudmore, an enforcer in the rugby field during his playing days, served as an assistant coach with the Canadian men's 15s team and ran Rugby Canada's national development academy.
The fact that the comments came from within has added to a year of turmoil for the governing body and the sevens women, who launched a formal complaint in January under Rugby Canada's bullying and harassment policy.
Cudmore apologized for the posts but was relieved of his duties soon after. Rugby Canada called the posts "unacceptable and in breach of organization policy."
"It was an emotional event for a good friend and I let that get the better of me," Cudmore said on Twitter. "I've always played/coached with my heart on my sleeve for this great country. I'm sorry if I've offended anyone."
The good friend is former sevens coach John Tait.
In the wake of the complaint filed by 37 current and former team members, an independent review concluded that while the conduct described in the complaint reflected the experiences of the athletes, it did not fall within Rugby Canada's policy's definition of harassment or bullying.
Tait, while maintaining he had done nothing wrong, subsequently stepped down.
A former Canadian international, Tait was one of Rugby Canada's most successful coaches, leading the sevens team to the bronze medal at the Rio Olympics.
The controversy has divided Rugby Canada, with most of Tait's staff leaving.
It appears Cudmore could not resist taking a shot at the women given their Olympic performance under interim coach Mick Byrne.
"Karma is a bitch! #Survivorsmyass," read a since-deleted Cudmore tweet.
"Rugby Canada stands with our women's 7s athletes," the governing body said in its initial response on social media. "We support the team in their efforts both on and off the rugby pitch and are proud of the way they have represented our country. Rugby Canada is aware of recent social media comments made about the team and worked to ensure they were removed as quickly as possible.
"Our organizational values include solidarity and respect, and everyone on our staff is expected to help create an inclusive environment for all. We condemn any inappropriate comments directed at the team and our leadership will be meeting to address this matter immediately."
Rugby Canada upped the ante hours later, relieving Cudmore of his duties. CEO Allen Vansen said in a series of tweets that the organization had concluded "that immediate action must be taken."
"Rugby Canada's core values, including integrity and respect, must be exemplified in all our rugby programs and we are determined to promote a healthy, inclusive culture now and in future," Rugby Canada board chair Sally Dennis said in the statement.
Cudmore won 43 caps for Canada, playing in both the 2003 and 2007 World Cups. The 6-foot-5, 257-pound lock forward is one of Canada's most famous exports – a hard man on the rugby pitch who was no stranger to suspensions for taking matters into his own hands on the field.
Several of Cudmore's deleted tweets were captured and posted by sevens player Charity Williams.
"I wanted to take this moment to talk about our performance and how proud I am of this team beyond any result," Williams wrote on Instagram. "Because I am, and what we accomplished this year is far greater than one weekend. What this team stands for and who we have become means that young female athletes across Canada can play their sport and feel safe. I'm proud of that.
"But instead I have to sit here once again and share what we've been going through as a team. The consistent hatred we have received from people in our own organization. I'm only sharing because this is what we have been dealing with for months. From private texts, to public stalking online and in person. The bullying and harassment that we have received for coming forward is outrageous and scary at times. This is the reason we called for an internal investigation because we haven't been safe."
In the wake of that probe, the players said they had been let down by Rugby Canada's harassment and bullying policy – which has since been updated and replaced.
Rugby Canada says it plans a "detailed, independent review of all performance rugby programs starting next month with a goal of positioning teams for success in supportive, inclusive environments."
Captain Ghislaine Landry also took to social media from Tokyo.
"We always knew this was about more than rugby, about more than one tournament, even if it's the Olympics. We knew the last nine months might put our Olympic dream in jeopardy, we had that discussion as a group, and still the decision was clear. We were ready to put our dreams at risk for change.
"This has not been a distraction but it has taken a toll on us. And so, while we are heartbroken not to have been able to play our best, we are proud and united."
In a statement released April 28, the players said their complaint "explained the psychological abuse, harassment and/or bullying these athletes feel they were subjected to in the centralized training environment."