New art exhibit in Kitchener explores decolonization through Indigenous work – KitchenerToday.com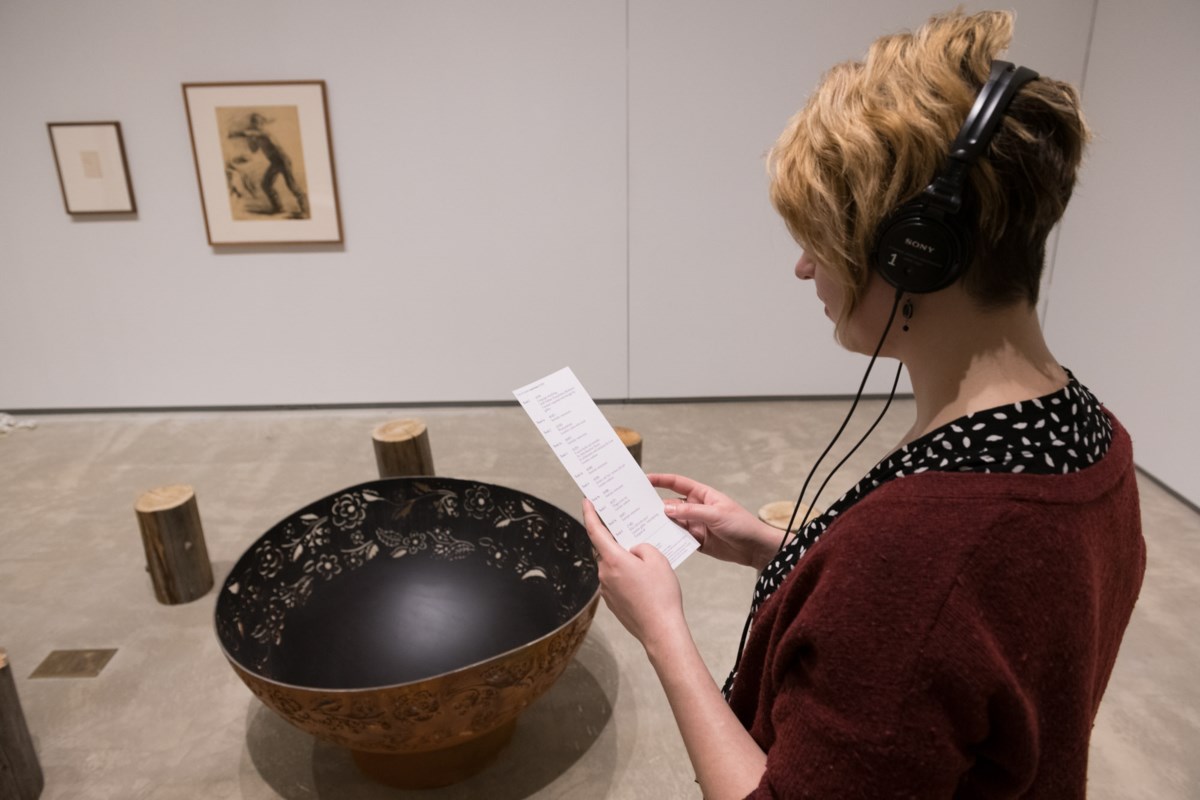 A new exhibit in Kitchener is exploring decolonization in the form of a collection of work and sounds from Indigenous and other artists.
Soundings: An Exhibit in Five Parts is taking place until August 9 at the Kitchener-Waterloo Art Gallery (KWAG).
According to a release, artists look to answer the question on how a score can be used as a call or tool for decolonization through scores, performances, sculptures and sound. Scores are represented in beadwork, videos, objects, graphic notation, historical belongings and written instructions.
The exhibit works like an unfolding sequence, with scores being activated at specific times by musicians, performers, dancers and participants, filling the gallery with action and sound. The result of the exhibit is a collection of ever-changing artwork, experiences and engagement that add to the call for change and action among individuals.
KWAG states the exhibit and additional events attached to it were organized by Independent Curators International (ICI), and would not be possible without the support of multiple organizations, including The Musagates Fund from the Kitchener Waterloo Community Foundation and the Ontario Arts Council.
Senior Curator for the KWAG, Crystal Mowry, says installing the exhibit during the pandemic offered a unique learning experience.
"Since Soundings was conceived to include multiple "acts" or changes during its run, constant care and purposeful adjustments are ongoing." said Mowry in the release. "By virtue of its design, Soundings ensures that its host commits not only to the work of Indigenous artists but also to a critical examination of what decolonization looks like in our institutions."
Mowry goes on to say as communities choose to act over making statements on decolonization, the exhibit encourages residents to consider how art can be a catalyst for change.
Shirley Madill, the executive director of the KWAG, says as Canadian art institutions continue to understand their role in perpetuating colonization, cultural workers can choose to either be agents of change or remain idle on Indigenous issues.
"The team at KWAG has chosen to be proactive in supporting and strengthening our relationship with Indigenous artists and their communities through programming initiatives that are inclusive of Indigenous voices," said Madill in the release, "We are pleased to present this significant exhibition as a reflection of this commitment."
For more information about the exhibit, head to kwag.ca.
'The art was lonely:' Ottawa galleries, museums begin to reopen – OttawaMatters.com
Ottawa's museums and galleries have started reopening after COVID-19 restrictions, but there are some changes that patrons will need to heed before paying a visit.
The Ottawa Art Gallery opened its doors on Wednesday, with the first day reserved for frontline workers. The general public was allowed to tour the gallery beginning on Thursday.
"The art was lonely," jokes CEO Alexandra Badzak. "We're very happy to have people back in the building, that's our job; we're here to bring a connection between art and our community."
In a very abnormal time of navigating a world of COVID-19 restrictions and precautions, Badzak notes that a visit to a gallery can help provide some relief.
"We know that art is a really important part of making you feel relaxed and connected to community," said Badzak.
In Carp, the Diefenbunker has re-opened its blast doors, but with a few changes to reduce the risk of COVID-19 transmission: sanitizing stations and physical distancing markers have been placed around the bunker, and staff are limiting the number of people allowed inside at one time.
"There's a couple of exhibitions that we did have to close, due to high-touch areas or spaces we couldn't ensure physical distancing," said Christine McGuire, the Diefenbunker's executive director. "But really, the majority of the museum is open to the public, as it was before."
The Ottawa Art Gallery requires visitors to book their visit in advance, online. Visits are limited to a three-hour block of time, but people can roam freely in the gallery without having to follow a set path.
Purchasing tickets to Diefenbunker online is optional, but the museum is restricting payment to online and cards only.
Additional precautions required are on the Diefenbunker's and Ottawa Art Gallery's websites.
Many other galleries and museums in the capital remain closed while they adapt to COVID-19 restrictions.
Sooke Fine Art Show gears up for July 24 launch – Victoria News
One of Sooke's most relished events is just a few brush strokes away.
The Sooke Fine Art Show is gearing up to showcase a wide selection of local art, but this year the show takes place virtually. Artist submissions are in, and organizers are ready to launch the new website for the show.
Terrie Moore, executive director of the Sooke Fine Arts Society, said organizers worked hard to reflect the same feel of the in-person art show as much as possible.
"It's been a 180-degree switch from previous years, and getting as many aspects of the live show up online has been a huge learning curve. Overall it's been a really rewarding process," Moore said.
This year, people can visit the show online anytime from July 24 to Aug. 3, although Moore added it might be possible to buy art from the website until the end of September. There is no fee to view the galleries.
A wide range of categories is featured in the show, including more than 375 juried works of paintings, drawings, sculptures, photography, fibre arts, jewelry, glass, and ceramics in a virtual format.
Despite the pandemic and the changes to this year's format, the show had 87 per cent of its usual amount of submissions.
There will also be interactive elements included in the virtual show, such as artist demos, virtual performances, a youth art gallery, an online auction, senior's tea, Artz4Kiz, and more.
"The nice thing about our online show is providing access to people who may not have been able to visit the show otherwise," Moore said.
"We'll miss the excitement and camaraderie of working together on the physical show, but our priority is the well-being of our volunteers, artists, and our guests with respect to COVID-19 concerns. And while we're excited about the opportunities this year's online show presents, we are looking forward to returning to a physical show next year for our 35th anniversary."
This year's Purchasers Preview night will be held on July 23, where art lovers can get the first look at this year's show. Local chef Pat Hogan of 4 Beaches Catering, has created a special appetizer box that people can purchase and enjoy while they "attend" the event at home.
Moore said this year's show inspired a lot of connections between local businesses, organizers, artists, and community members, who all were willing to help out and make the event possible.
For more information, to donate or to sponsor the event, please go online to sookefinearts.com.
Like us on Facebook and follow us on Twitter
Special event for frontline health workers kicks off Ottawa Art Gallery reopening to public – capitalcurrent.ca
After 18 weeks closed, the Ottawa Art Gallery is reopening to the public today.
Taline Jirian, OAG's deputy director of marketing, says the gallery wanted to open as soon as possible to offer the public a safe way to engage the community during the pandemic.
"We consider ourselves a community hub, central to the city and a welcome space," she said. "In addition to feeling that the art is kind of a respite for people, especially at this time, (we're) giving people the opportunity to really engage in something that might take their mind off what's going on."
OAG is ensuring safe visits, based on recommendations from the City of Ottawa, including the mandatory wearing of a face mask.
"The last few weeks have been dedicated to ensuring safety and cleaning measures are in place," gallery CEO Alexandra Badzak said in a press release announcing the opening.
The gallery is asking visitors to pre-book two-hour time slots, by phone or online. OAG's new hours are 10 a.m. to 6 p.m, from Wednesday to Sunday. The 10 a.m. to noon period is reserved for seniors or people who are immunocompromised.
Only a certain number of people will be allowed into the gallery at a time, in order to maintain physical distancing. Walks-in are not allowed and people will be asked to present an e-ticket or a printed version on arrival.
Hand sanitizer will be available on every floor, and the gallery will be cleaned every 30 minutes during visiting hours. More thorough cleaning will be done on Monday and Tuesday, when OAG is closed.
Accessibility tools are still available upon request. The cafe will be open, but all payment is contactless.
Rideau-Vanier Coun. Mathieu Fleury, whose ward includes the Daly Avenue galley, said he was delighted that OAG was welcoming back Ottawa residents.
"The OAG is a cultural epicentre for Ottawa and its reopening is a major step in reopening our downtown," he said in a press release.
OAG has collaborated with Ottawa Tourism to encourage residents to help get the city's tourism economy back on its feet.
"With the Ottawa Art Gallery's doors reopening to the public, together, we are sending a message that our city is ready to embrace, engage and kick-start our recovery," said Michael Crockatt, president and CEO of Ottawa Tourism, in the media release.
OAG hosted a special event on July 8, which opened up the gallery specifically for frontline health workers before the official reopening.
Jirian says it was a no brainer to offer the healthcare workers this opportunity as a thanks for all of their efforts in combatting COVID-19 in recent months.
"We just wanted to make sure they had a safe space and that they knew that we were appreciative of the continued work that's being done in the community," she said.
Mayor Jim Watson arrived at 10 a.m to mark the gallery's reopening, with the rest of the day being reserved for healthcare professionals from The Ottawa Hospital to enjoy the exhibits.
Jirian said she's excited that OAG is able to extend the exhibits that are on display; they had only been on display for three days before the gallery had to shut down.
"This is our opportunity to really share a lot of work the gallery has put into showcasing, so we're excited to have the public back."
Visitors are being asked to use the 10 Daly Ave. entrance of OAG to enter and leave the building. Admission is still free.
Said Jirian: "We're confident in the processes that are in place to make sure that staff and visitors are well taken care of."
---
More Stories