New Blanton Museum of Art Exhibition Showcases the Talents of Artist Terry Allen – The Alcalde
Terry Allen's creative process is a mystery—even to him. In fact, he never knows where inspiration will take him. Though he creates works in many disciplines, Allen first became well-known as one of the greatest narrative songwriters in country music, beginning with the cult outlaw 1975 concept album Juarez. Though he's still writing and releasing complex country albums—the most recent being 2020's Just Like Moby Dick—Allen's work as a visual artist at least equals that of his storied musical career.
But the former Guggenheim Fellow and multiple NEA grant awardee with pieces in collections across the world, including at the Museum of Modern Art and the Museum of Contemporary Art, Los Angeles, creates art without much consideration for its resulting media. He doesn't find inspiration and think to himself, that's a song, or, that's definitely just a painting. Hell, sometimes it's both. Such is the case in many of his pieces in MemWars, an art exhibition that opened at the Blanton Museum of Art on Dec. 18, that deals with, as Allen puts it, "that battlefield of memory, I suppose."
"Wolfman of del Rio (MemWars)," for instance, a mixed media on paper piece created between 2018-19, shares a title with the fourth track on Allen's 1979 double album Lubbock (On Everything). In the painting, images of a man and a wolf merge, just as the past does with the present, and, above all, Allen's musical life becomes indistinguishable from his visual art. Essentially, that's how he creates.
"They've always been one thing to me. Playing music or making visual pieces—whatever your sense of curiosity or wherever that takes you, I'm game for it," Allen says. "That thing of trying to categorize things … I'm really not interested in that."
"Wolfman" joins approximately 21 other drawings, "hung densely," per Allen's request of Blanton Deputy Director of Curatorial Affairs Carter E. Foster, on one side of a long, black curtain in the Contemporary Gallery upstairs at the museum. Opposite that is a multi-screen video installation, with Allen on one side and his wife, artist and writer Jo Harvey Allen, on the other. They alternate telling stories about possible origins of songs, after which both faces disappear and Allen appears on a third screen, performing with his back to the audience as he and his piano roar down a long, flat highway for over an hour. The video is not necessarily connected to the other visual pieces, according to Allen, but similar themes arise when the exhibition is considered holistically.
"It's always a mystery where a song comes from, even at the most obvious, it's still a mystery that it becomes a song to me," Allen says. "That piece kind of deals with that idea."
Allen met Foster through a mutual friend, museum director Kippy Stroud, who ran a residency each year in Maine for artists, writers, and curators. About 10 years ago, both were in Maine, and Foster saw Allen's artwork at a residency presentation. Foster says it "seemed crazy not to" put on a contemporary art show for Terry Allen at the Blanton when another colleague suggested it. Before then, though, in 2015, Stroud died suddenly during one of the residencies. In acknowledgement of Stroud bringing Allen and Foster together, MemWars includes a piece called "Song For Kippy."
"She had an everlasting influence on everyone she came into contact with, and I'm not sure if she even really knew it, the impact that she had on people," Allen says. "But then that to me was a real anchor in this show."
Much of the exhibition touches on people like Stroud, whose experiences have made deep impressions on Allen. One piece is about his cousin's failed attempt at a second act as a professional archer following a dishonorable discharge during his fourth tour of Vietnam. "The war basically killed him, but it took about 40 years to do it," Allen says.
Another, "Roadrunner," is about a high school friend who was killed during the early days of Vietnam. A champion high school track and field athlete, he had roadrunners tattooed on his calves, and when he died in battle, he was identified by those markings. Astute Allen listeners might recognize the name from "Blue Asian Reds (for Roadrunner)," a 1979 song written from the perspective of his friend's grieving girlfriend.
"He was the first person that made the war real to me," Allen says. "I was at art school in California and got a call that he had been blown up in Vietnam. And it was just inconceivable to me to this human that I knew and was a friend of mine was there. There's some pieces in the show that address that."
Allen says that though these pieces deal with the battlefield of his memory—and often real war settings—his work is not born out of some cathartic triumph over emotion.
"It's pretty cold-blooded when you make something," he says. "You just make this thing and then you stand back and maybe try to come to terms with it and figure out what it is. But it's really about the thing. It's not about you; it's about what you make."
MemWars runs until July 10, 2022, at the Blanton Museum of Art.
CREDITS: © Terry Allen, Courtesy of L.A . Louver, Venice, CA
Library Line: Parrott Art Gallery open to viewers online – Belleville Intelligencer
Article content
By Wendy Rayson-Kerr
Although the Parrott Gallery is closed until at least January 26 due to public health restrictions, we are still working to bring you art. We hope that our awesome gallery supporters will sign onto our website to view new virtual exhibitions, participate in online art workshops and register for free Armchair Traveller presentations on Zoom. We'll also be increasing our social media posts, so please follow us on Twitter, Facebook and Instagram to view artwork from our current exhibitions as well as from our permanent collection, because everyone could use a little more art in their life right now!
Article content
Coming next: The Bay of Quinte Modern Quilt Guild is presenting an exhibition called, "Outside the Block" which will be available to view online through our website starting on Saturday, January 22. The traditional Log Cabin Quilt design, generally speaking, starts with a center shape which is surrounded by strips of coloured pieces that follow a specific sequence of light and dark patterning. Colours have meanings in these quilts, whose shapes can be seen to symbolize log cabins with both dark and sunny corners, and much has been written about their connection to North American pioneers. In our upcoming exhibition, this traditional pattern has been given a modern interpretation. The twenty quilters represented in this group show have all used the Log Cabin Quilt pattern as their inspiration, resulting with an assortment of unique designs. Each artwork is as original as the artists themselves, and we certainly hope you will log in to view them on our website (for now) as well as get the chance to view them in our gallery in the near future.
Another exhibition that will soon be available to view online is called "Corona and Friends" by George Kratz. This prolific Stirling artist has assembled a large collection of paintings that he has been working on over the past two decades. He describes his Corona series as, "an abstract journey" which he completed during the pandemic. The earlier work in his Friends series is equally intense, full of symbolism both borrowed and unique to the artist. George Kratz is a story-teller and this exhibition tells the story of vivid colour, strong lines and imagery you will not soon forget.
Article content
Both of these online shows will be available to view in person when we are allowed to re-open our doors once again.
We continue to offer Online Acrylic Pouring Workshops at the Parrott Gallery. These monthly projects are meant for beginners and skilled artists alike, and are the perfect way to learn knew creative skills. Prepared and presented by Warkworth artist Sheila Wright, these workshops are fun and easy to complete. Each kit costs thirty dollars and contains all you will need to create a unique artwork, including materials and video instructions. The January project is a painting called "Rainbow Swipe" and the deadline to register is Saturday, January 22. Please email us at gallery@bellevillelibrary.ca or call us as 613-968-6731 x 2040 if you are interested or would like more information.
On February 19, Photographer Lydia Dotto will be sharing her online Armchair Traveller presentation on the Antarctic. From the comfort of your own home you can take a journey across the globe, for free! "The Antarctic: Abundance of Life" is your chance to view a place that most of us will never have the chance to visit. You can register for this live Zoom presentation through our website. When we re-open our doors, our Corridor Gallery will feature the photography of Susan and Clint Guy, in a show they have called "India: The Golden Triangle". Plans for an in-person presentation are also under way, so stay tuned for this next part of our Armchair Traveller Series.
We know 2022 is going to be an exciting year of exhibitions and programs here at the Parrott Gallery, so we won't let the current closures discourage us. We hope that we will be open for in-person viewing again soon.
Wendy Rayson-Kerr is the Acting Curator of the John M. Parrott Art Gallery
Eden Deering Started Her Art Career at 8 – The New York Times
She is the director of PPOW, a venerable art gallery in TriBeCa co-founded by her mother in 1983.
Name: Eden Deering
Age: 30
Hometown: New York City
Now Lives: In a one-bedroom apartment in the Williamsburg section of Brooklyn that she shares with her boyfriend, Weston Lowe, who also runs a gallery.
Claim to Fame: Ms. Deering is a director at PPOW, a contemporary art gallery in TriBeCa that grew out of the 1980s East Village art scene. She curates book-fueled exhibitions that comment on social life. "Everything, for me, starts with reading," Ms. Deering said. "Writers and artists have always been in conversation with each other. Books give me a tool to think about the importance of art." Her first group exhibition in 2019, "Do You Love Me?," focused on "the unbalanced power dynamic between those that desire love and those in our culture who have the power to give it," she said.
Big Break: Ms. Deering unofficially began her art world internship at age 8, when her mother, Wendy Olsoff, one of PPOW's founders, took her to Art Basel in Switzerland, the Venice Biennale in Italy, and various artists' studios. In 2016, while working as an assistant at Gladstone Gallery, she started a roving art collective, Duplex, with Sydney Fishman. Duplex now has a permanent gallery on Essex Street in Lower Manhattan. "All of my friends are artists," she said. "It is why I am."
Latest Project: Ms. Deering will lead the programming at PPOW's second downtown gallery, opening later this year a block away. It's "a space for experimentation," she said. "We don't always get to work with the artists that I bring in for group shows."
Next Thing: PPOW's summer 2022 exhibition will feature feminist landscape paintings, including works by Carolee Schneemann, women artists in their 20s, as well as some from the 19th century. "Carolee always said she was a painter," Ms. Deering said. "The general culture does not think of her as one."
Personal Space: Her mother and Penny Pilkington, who co-founded PPOW in 1983, are still involved with the gallery. "I feel very honored to work for such incredible women," Ms. Deering said. She credits the co-founders for their clarity of purpose. "Artists need money and space to work," she said. "And that's always been Wendy and Penny's No. 1 priority."
City eyeing a temporary downtown art exhibit through grant funding – Energeticcity.ca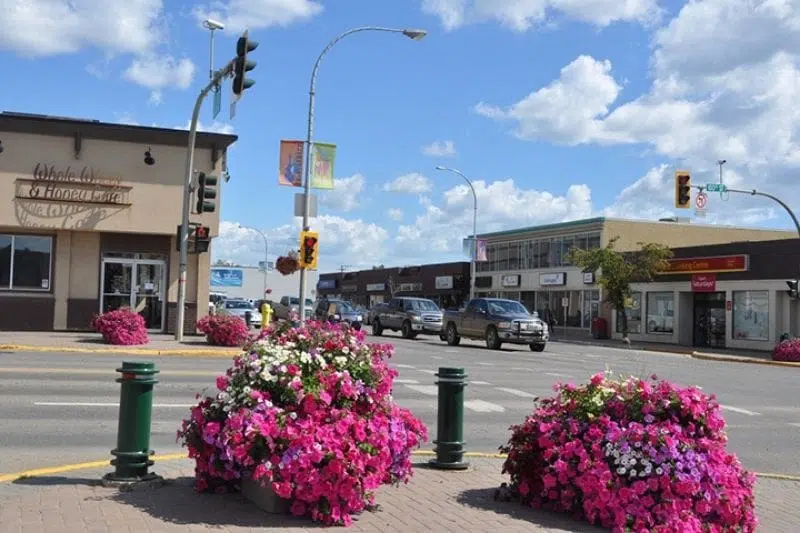 The city is hoping the exhibit will encourage more residents to go downtown and visit its businesses in the process while celebrating "the reconnection of our communities in the aftermath of the
pandemic."
"This project directly supports free, accessible delivery of arts and culture programming to the community while enhancing the downtown core," said a January 24th report for council.
The city can apply for up to $100,000 and must do so before the end of March 2023.
Council meets on Monday, January 24th, 2022.